River Dell's late rally falls short against Midland Park in Bergen Invitational Tournament Title Game
Image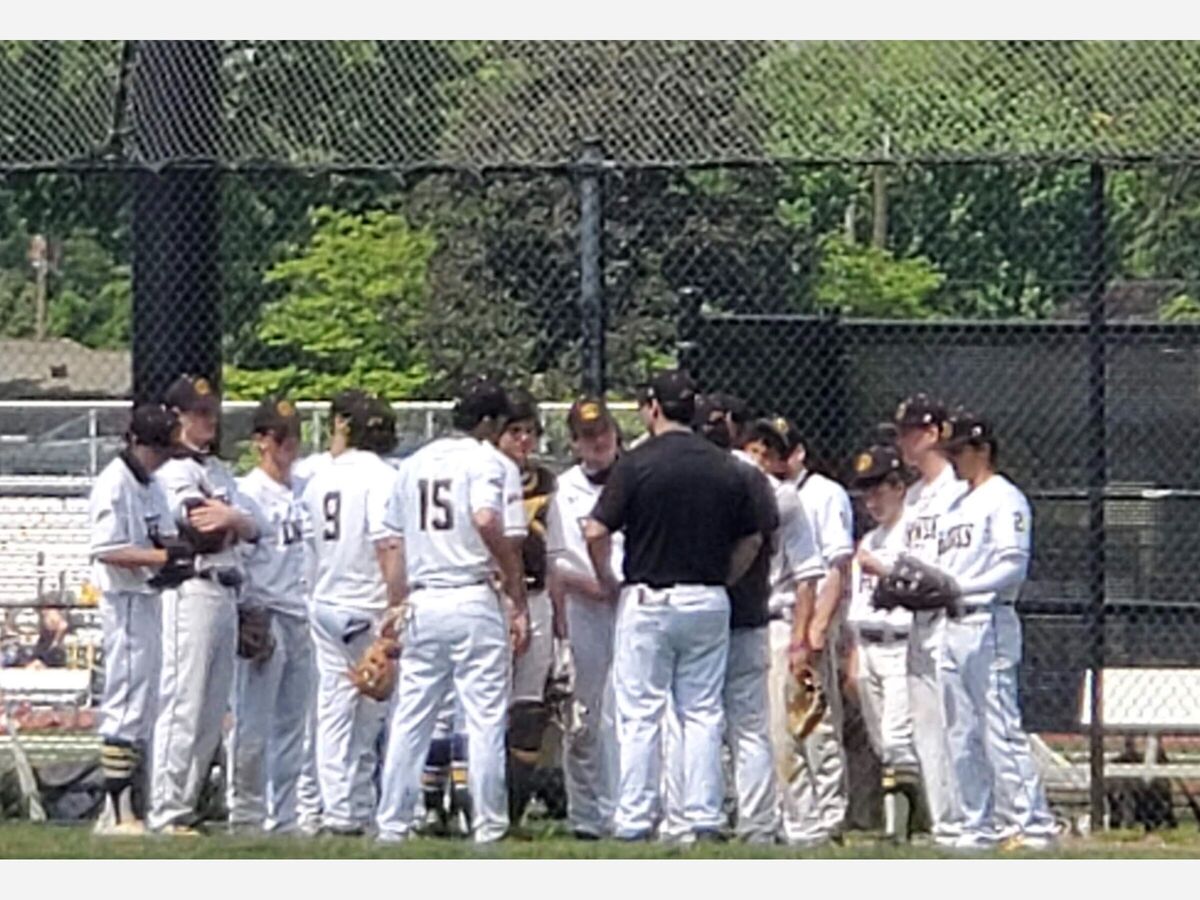 Losing two out of three games, including a pair to Pascack Hills, the River Dell Golden Hawks(11-12, 7-11 Big North) varsity baseball team bounced back with a 7-4 win against Tenafly in the semifinals of the Bergen Invitational Tournament. Despite a grueling schedule, the River Dell offense was firing on all cylinders scoring 21 runs in victories over Ridgefield Park and New Milford.
With Midland Park(10-6-1, 7-6-1 NJIC) upsetting the top seed Park Ridge allowed the Golden Hawks to host the championship game on Sunday morning at River Dell High School.
The Panthers were off and running in the first inning against Golden Hawks, starting pitcher Aidan Cochran collecting a one-out hit. Testing the Golden Hawks outfielders throwing accuracy, Tyler Sansone attempted to go for two on a line drive hit to left field, but senior James Monaco fired a strike to second base to cut down Sassone.
In the bottom half of the frame, centerfielder Matt Kelm led off with a walk. Delivering on the offensive side, James Monaco bashed a double over the centerfielder's head as Matt Kelm motored around the bases for the first run of the game.
Following Monaco catcher, Christian Hay drew a free pass. Midland Park starting pitcher Billy Anema uncorked a wild pitch allowing Monaco and Hay to move up to a base. Shortstop Brendan Walker belted a fly ball to deep centerfield, allowing James Monaco to tag up and cross home plate.
Aidan Cochran retired the first two hitters in the second inning, but an error and infield single started a domino effect in the inning. The Panthers strung together five consecutive hits together that led to six runs. Head Coach Dennis Sasso made a pitching change with senior Ryan Wittkamp on the mound. Midland Park did not let up as they tacked on two additional runs.
Despite a large deficit, the Golden Hawks roared back to life in the third inning. Aidan Cochran led off with a sharp single to right field while Christian Hay drew his second walk. Brendan Walker stepped up to the plate and crushed a three-run missile over the left-field fence.
Looking to narrow the gap even further, third baseman Jack Guerrero hammered a double to right field, and designated hitter Mike Mellett reached on an error. Still, Billy Anema managed to retire the last two hitters to end the inning.
Jack Guerrero sac fly made it a 9-6 game in the fourth inning, but the Panther's two-out clutch hitting led to another run in the Top 5th. Ryan Wittkamp managed to wiggle out of a jam with runners on first and second with two outs in the sixth with a strikeout.
"Ryan(Wittkamp) settled us down for a bit, he was going well for us, but he's been a reliever for us, and we're starting to extend his pitch count," Head Coach Dennis Sasso explained.
The bottom half of the frame started on the right foot for River Dell with back-to-back singles from Christian Hay and Brendan Walker. Destined for a big inning, a baserunning error on a fly ball hit by Jack Guerrero to centerfield led to a critical out. However, senior Nick Altamura entered the game at the right moment socking a single into left field as Hay came into score.
With two outs in the inning, Mike Mellett drew a walk to load up the bases. Displaying patience at the plate, Matt Kelm also drew a free pass that forced in a run. Just when it seemed the Golden Hawks were on the verge of tying the game up, Midland Park pitcher Anthony Sasso retired James Monaco on a fly ball to right field.
In the Top 7th, River Dell Head Coach Dennis Sasso called upon Brendan Walker to take over the pitching duties. Before facing the first batter in the inning, Walker left the game due to an injury sustained during the warm-up tosses. Senior Matt Tucker got the pitching assignment. Sensing a shift in momentum, the Panthers capitalized on the move scoring 10 runs in the inning for the 20-8 win.
Head Coach Dennis Sasso on the loss, "I'm not surprised that we got back into it, we fight and compete, and the boys were going to give it a good run in that spot." "We just had a lot of games this week; you get to a spot; we're just running short on pitchers, and it's two innings that got away from us."
"Our guys have thrown strikes pretty much all year, and one of those days where early just had a tough time filling the strike zone a little bit and give Midland Park credit they were swinging, and you just have to tip your cap to the other side and to do what they're supposed to do."
"It's great to get this type of experience; I like the concept of this tournament, and it gives guys that extra level of repetitions where you go out, and it shouldn't get too fast when you get to the states(tournament) so I think it's a positive thing and hoping to keep showing up."