River Dell Varsity Girls Softball Team rolls to a 6-0 win over Lodi Immaculate in the first round of the Bergen County Tournament
Image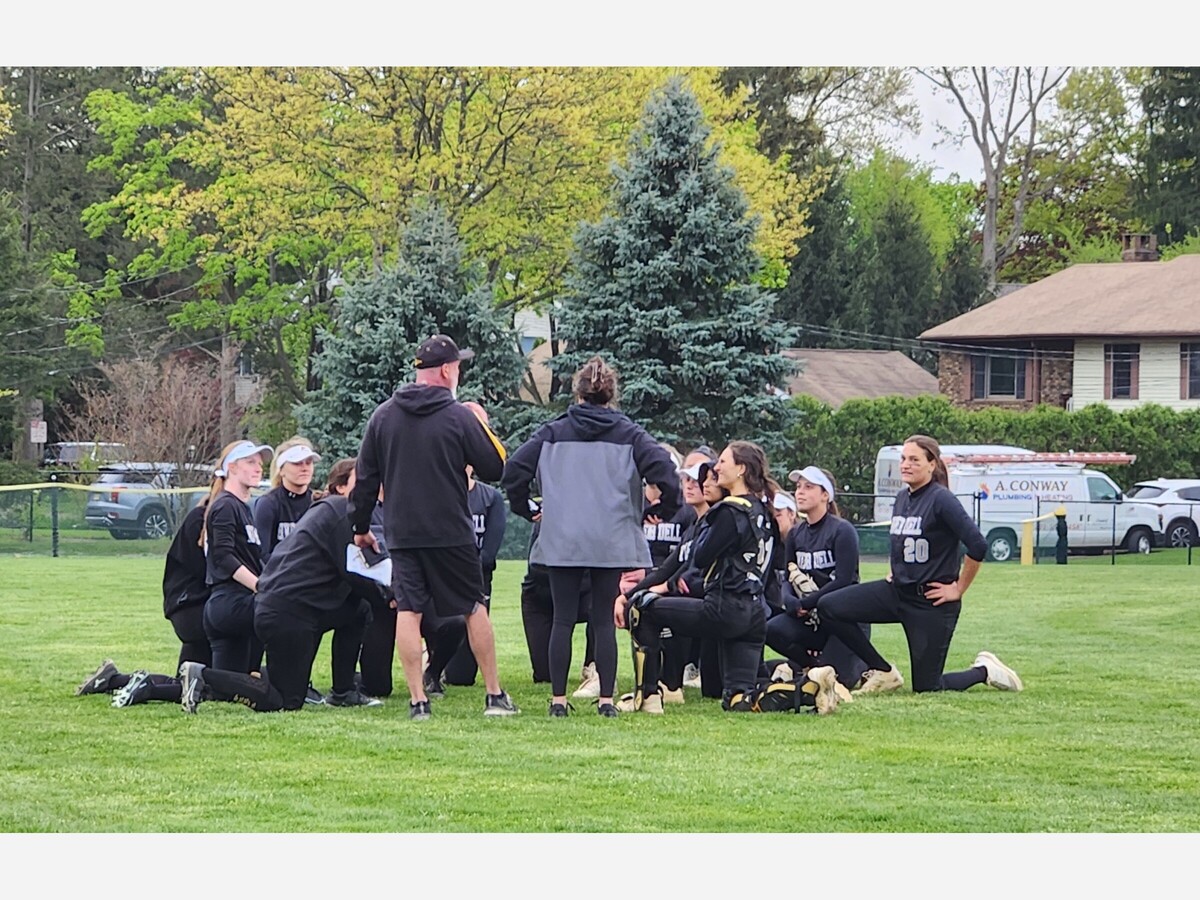 The River Dell Golden Hawks Varsity Softball Team(9-6, 5-5 Big North) hosted the Lodi Immaculate Blue Wolves(9-3, 5-1 NJIC-Meadowlands) in the first round of the Bergen County Tournament on an overcast and chilly day with at River Dell High School in Oradell, New Jersey.
The Golden Hawks wasted no time jumping out to an early lead against Lodi Immaculate in the first inning. A pair of singles from Helena Marcus and Maddie Roth combined with Gabby DeGroat drawing a walk led to the bases loaded.
With one out, Grace Basil stepped up to the plate and belted a two-run double deep into the left-center gap. "What a clutch hit by Grace and she comes up with a lot of those," River Dell Head Coach Brian Calabrese described. "She's a very good hitter and always confident in herself."
Meanwhile, starting pitcher Gabby DeGroat dominated from the opening pitch, retiring the first nine hitters in a row. DeGroat encountered a jam in the fourth inning after yielding a pair of singles. However, DeGroat wiggled out of the tight spot by getting a Blue Wolves hitter to ground out to shortstop Kasey Ziegler.
Moving to the bottom half of the frame, Erin Brady drew a one-out walk. Shannon Lynch came in to pinch run for Brady and advanced to second base on a wild pitch.
Next up in the batter's box was Olivia Hanna, and Hanna cranked a single to shallow centerfield as Lynch motored around the bases and easily crossed home plate to extend the River Dell advantage to 3-0.
"That was important to continue with the runs and pushing forward through the game and keep solidifying the lead," Olivia Hanna explained. "The more people we have on base is beneficial." It's just not having the triples and home runs, but those base hits, and we get the people on bases home eventually."
In the fifth inning, Gabby Degroat set down the first two hitters she faced but then gave up a pair of singles. Once again DeGroat maneuvered out of a difficult position as she retired a Lodi Immaculate hitter on a fly out to center field.
"We were well prepared for this game and knew the tendencies of the hitters," Head Coach Brian Calabrese noted. "We had a game plan and Gabby pitched to perfection and her best game pitching." "She hit every spot, knew where she had to throw and just dialed in."
After DeGroat threw a spotless top sixth, the Golden Hawks broke the game wide open in the bottom half of the inning. Erin Brady led off with a single, followed by Samantha Campos drawing a free pass.
Brady and Campos advanced to second and third bases on a wild pitch. That set the stage for Olivia Hanna as Hanna clubbed a two-run double into the left centerfield gap that widened the River Dell margin to 5-0.
"I knew it was important for me to get on base and tried to bunt but the first two times didn't work out," Olivia Hanna stated. "I knew that I had two strikes, had to protect the plate and do something with the next pitch." "I knew it was close enough and decided I had to swing, and it worked out."
Head Coach Brian Calabrese on Olivia Hanna's production at the plate, "She has very fast hands and a lot of power, so I wasn't surprised by her hitting into the gap." "She messed up on the two bunt attempts but had the ability to drive the ball which she showed."
Helena Marcus reached on a one-out infield single, and then on a fly ball hit to shallow right field Hanna and Marcus did not hesitate by successfully tagging up and taking off for second and third bases.
"Everything you see we practice, and our practices are directed towards, and we always have a situation of a day," Head Coach Brian Calabrese cited. "We do practice base running and tagging up and from the report I had from my assistant coach their right fielder didn't have the strongest arm." "I knew right there we were going to challenge her, and we discussed it before the game."
The Blue Wolves pitcher uncorked a wild pitch with Maddie Roth up at the plate. Displaying an astute awareness, Olivia Hanna raced down the line and slid in safely at home plate to expand the Golden Hawks' lead to 6-0.
"It felt really good and important you don't hesitate because the moment you do you're losing valuable time," Olivia Hanna mentioned. "Just knowing the ball went as far as it did and pass the catcher I had more time to get to the plate and before she was able to get me out."
Gabby DeGroat capped off a dominating performance on the mound by retiring the side in order in the top seventh for the complete game and shutout. River Dell rolled to the 6-0 victory and advanced to the second round of the Bergen County Tournament.
The Golden Hawks square off against Emerson in the Round of 16 of the Bergen County Tournament. The game is at Emerson High School in Emerson, New Jersey, on Wednesday, May 3rd, with the first pitch set for 4:15 p.m. On April 6th, the Cavaliers emerged victorious in a close game 2-1.
Head Coach Brian Calabrese on the match-up against Emerson," First of all we have to put the bat on the ball and their pitcher is one of the top pitchers in the county." "Their number two pitcher shut the door on us the last time in the seventh inning up 2-1."
"We have to force them to make plays and number two we have to play defense behind Gabby(DeGroat)." "She always has great control, gets a couple of out on strikeouts and has great control and precision with getting ground balls and gets the ball where we want it to go." "We have to come in with the same focus and intensity as we had against Immaculate Conception."
On the rematch against Emerson, Olivia Hanna said, "If we take the energy from this one and bring it over to Emerson and continue to stay locked in and work hard and be aggressive, it will be a close game and get the win." "We just need to stay focused and stay together as a team."
"This is a really good group of girls and everyone's nice and inclusive." "Everyone is here to learn and how to play better." "You don't have to hesitate at all going to any of the seniors and teach you if you have any questions." "The same goes for the freshman, sophomores and juniors." "As a team having that confidence in one another and being able to rely on them for things that you need is extremely important."