Brianna Azevedo makes it a trifecta in late-game heroics to lift River Dell Golden Hawks Varsity Girls Soccer Team past Pascack Valley 1-0 and into North Jersey Section 1, Group 2 Final
Image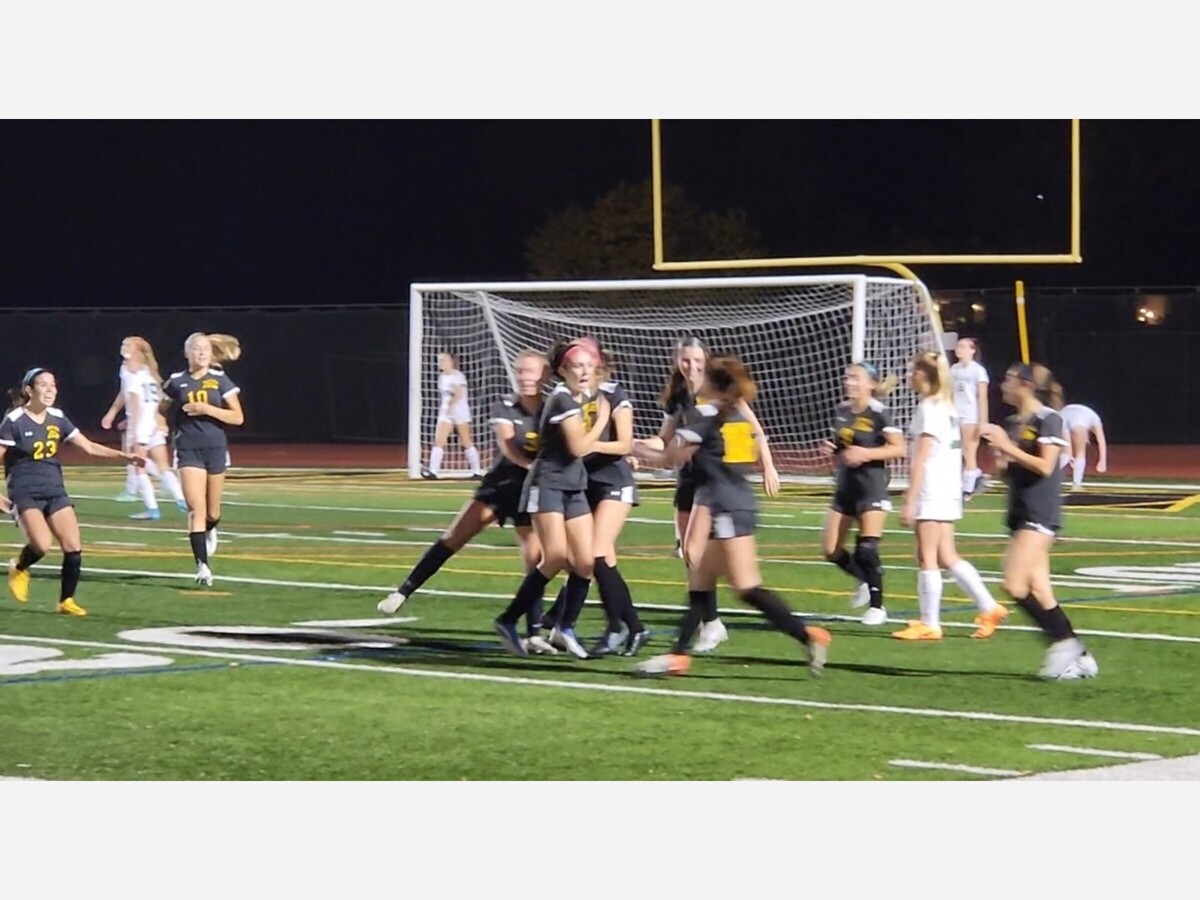 The River Dell Golden Hawks varsity soccer team(14-6) hosted the Pascack Valley Panthers(14-6-1) in the North Jersey Section 1, Group 2 Semifinals at River Dell High School.
River Dell was coming off another dramatic win at home in the North Jersey 1, Group 2 Sectional Tournament. The Golden Hawks defeated Jefferson 2-1, with senior Brianna Azevedo scoring both goals, including the game-winner on a penalty kick with 12 minutes left in the second half.
The Golden Hawks faced a blazing Panthers squad that had won straight games, including posting three consecutive shutouts. Pascack Valley edged past Mahwah 1-0 in the quarterfinals.
Instead of playing an afternoon game, River Dell and Pascack Valley played under the lights with a 6:00 p.m. start time. Supporters filled the bleachers, the River Dell High School student section, and people standing behind the fences.
"It's probably one of the biggest high school crowds I have seen in my coaching career at a soccer event and been part of," River Dell head Coach Adam Herman noted. "Pascack Valley traveled well, and you heard their fans and parents and that was fantastic but I can't say enough about the student-athletes, administration and everybody else that was there and electric."
The action was very strategic in the first half as both teams attempted to figure out when to drive the ball into the offensive zone.
The intensity picked up rapidly as the half wore on, with the Panthers getting the most scoring opportunities. However, Golden Hawks sophomore goalkeeper Kasey Ziegler was up to the task making several outstanding saves.
Head Coach Adam Herman on the first half, "It felt like both teams were trying to feel each other out and that's what happen in big games." "You're waiting to see what they do and vice versa for them."
"We sort of sat back a lot more than I wanted to and we couldn't get out of that situation, and we were okay with being on our heels a little bit which forced Kasey(Ziegler) to make a couple of great saves." "We have such confidence in her and just showed and she's always going to be there for the team win or lose and going to give her max effort like everybody else and it's great to watch."
In the first half, Head Coach Adam Herman's message to the team at intermission was scoreless. "I told them, here we go again, and it has been a theme the past couple of weeks." "The girls had a pretty good understanding of the situation and knew we wanted to clean up some things and wanted to get almost of the 50-50 balls." We wanted to play in small segments in the second half.
The second half was a fierce battle as both teams pushed the pace with lots of hard fouls committed. River Dell's offense started to advance the ball deeper into Pascack Valley territory and get quality shots on goal.
"Two high-level teams playing a big game, and there is going to be some extra contact, Head Coach Adam Herman explained. "There's going to be some extra physicality, trying to win a ball and put your team in a situation to win a game."
With time winding down in the second half and anticipation and nerves building along the team's sidelines and in the stands came the defining moment in the game.
"I felt it with all the girls on the bench," Head Coach Adam Herman described. "Everyone stood up on every little play and bit tenser." We had the whole game mapped out, but it was one of those games you don't want to go into overtime. If you misplay a ball or a bad bounce occurs, anything can happen.
On a free kick at midfield, Golden Hawks senior Emma Concannon belted the ball that soared into the air and curved deep inside the Panthers' zone.
The ball bounced high over a couple of players then senior Brianna Azevedo sprinted into the box precisely to chest bump the ball just before the goalkeeper attempted to punch ball away.
Azevedo dribbled the ball and flicked a low shot into the wide-open net as she tumbled to the ground with 58 seconds remaining, thus setting off a jubilant celebration with teammates with the home crowd sent into a frenzy.
Brianna Azevedo on the goal, "It was a free kick and bounced, I ran into the box and I chested the ball and I hit it through." "Everyone said once chance we have to get and put it in."
Head Coach Adam Herman on the tally, "We knew in that position it was going to be our last and best chance before overtime and minute in change left on the clock." "We had a play, and the girls knew what we wanted to run."
"Emma(Concannon) just put the ball in a fantastic spot and Ariany(Cheley) jumped up trying to flick it and took a couple of defenders with her." "Bri(Brianna Azevedo) knew this was going to be her one moment and chance and chested it down and hit a beautiful ball into the back of the net."
"She knew that she was going to have split second to make the decision where she's putting the ball and you have a goalie and two girls chasing it from the side and coming head on and you have no time to think, and she reacted, and she's been doing this all year for us."
There was still an eternity left for Pascack Valley to tie the game up, but the Golden Hawk's defense drew a line in the sand, preventing the Panthers' offense from moving into position to get a decent shot on goal.
As the scoreboard hit zero and the buzzer sounded, the players off the River Dell streamed onto the field to hug goalkeeper Kasey Ziegler and each other. The home crowd erupted in celebration as the Golden Hawks held on for the 1-0 victory and advanced to the sectional final.
"The 58 seconds felt like 58 minutes," Head Coach Adam Herman remarked. "You're trying not to watch the clock and watching the ball, and we practice situations like that and send an extra person back there but not trying to do anything crazy." "That horn sounds and seeing the girl's faces and running and enjoying and coaches giving a big hug was just a huge sigh of relief." It's an outstanding opportunity to play soccer for another couple of days in November, and it's fantastic.
River Dell now squares off against fifth seed Old Tappan(10-6-3) in the North Jersey Section 1, Group 2 Final on Saturday, November 5th, at River Dell High School at 11 a.m. The Golden Knights knocked off the top-seed Ramsey in a penalty shootout in the semifinals.
Head Coach Adam Herman on the match-up vs. Old Tappan, "it's going to take a full team effort, attention deal has to be spot on and max effort." "I'm just so proud of this group, and it's been a fun ride, but I know what they're capable of doing and working hard, and everything will take care of itself." We'll have to play great soccer, Old Tappan is fantastic, and you only make the sectional finals if you play that way.
"The girls believe in themselves, and they've had these goals since I've known this group." "They're trusting the coaching staff, had ups and downs in their career and high school career." Everything from the onset of COVID to post and pre-COVID to big wins and losses and overtime defeats. They've been a part of a lot of big games and moments. They're well prepared, know they will respond, and I fully trust this group.