River Dell varsity girls softball team holds off a late surge by Glen Rock in the 2022 season opener
Image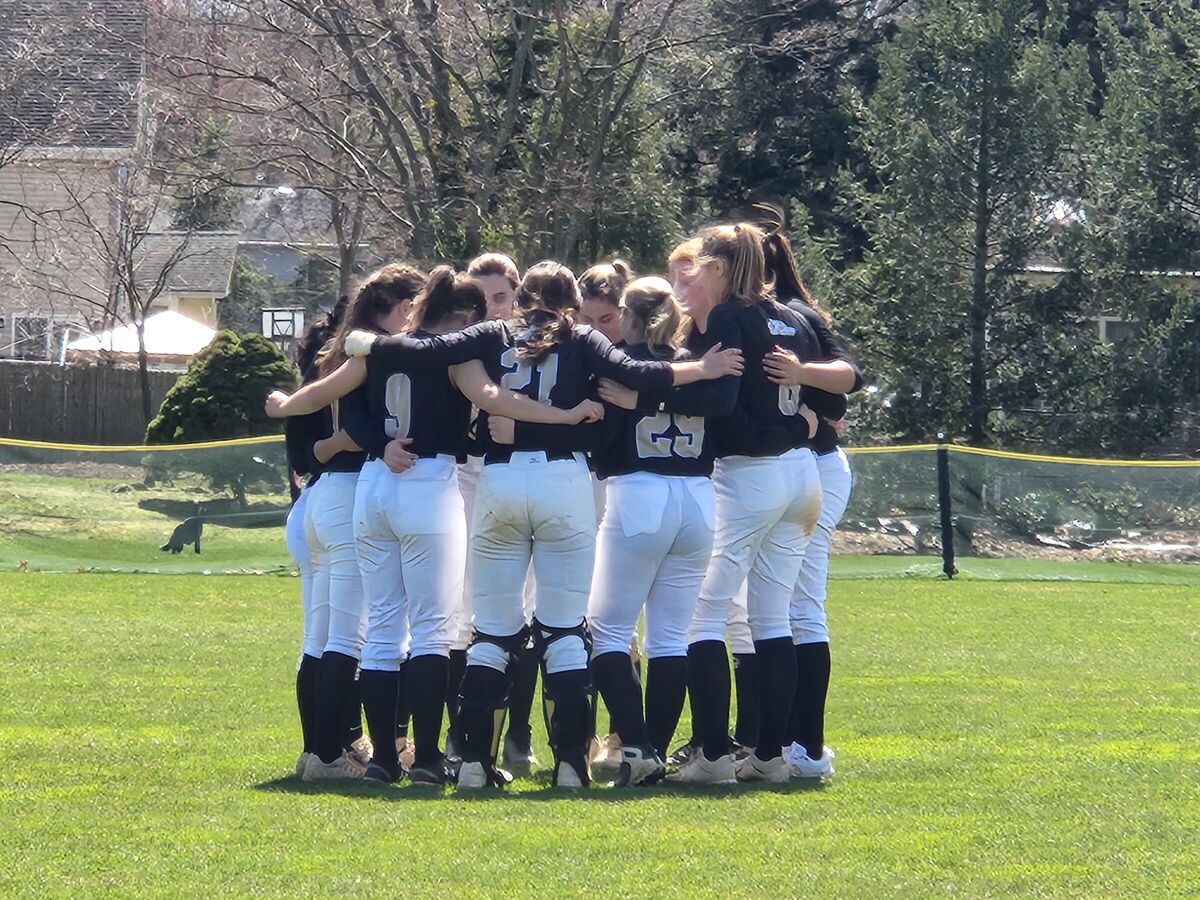 The River Dell varsity girls softball team (1-0) had to wait for an extra to open up the 2022 regular season. It was initially scheduled to play at Paramus Catholic but postponed due to inclement weather. River Dell was coming off a 15-9(3-5 Big North Patriot) record, including reaching the state tournament last season.
That paved the way for the Golden Hawks to play their home opener at River Dell High School against Glen Rock. Before the first pitch on a spectacular spring day with deep blue skies, golden sunshine, and brisk winds, there was a special pre-game ceremony to rename the field Brenda Canal Field.
At the pre-game ceremonies, River Dell varsity softball head coach Brian Calabrese said, "First of all, I can't say enough about what Coach (Lindsay Steffner) said on how hard she worked putting this together." "How much preparation Mr. (Denis) Nelson put into this unbelievable job with the scoreboard's photos, banners, and dedication." It was so exciting and made the game have a county feel and energized the players on the team and me.
"I have been in a lot of other places and coached in Belleville, Newark, Tenafly and Little Ferry and have not had this type of support give not only by Denis Nelson and the administration at River Dell." "Our general manager basically Ken Krautheim who runs Regal and my fall and summer teams."
"I couldn't find a better place to coach at River Dell and been black and gold from Paramus Catholic to Bergen Tech and now River Dell and this is where I belong." "This really is a dream come true and you see the facilities."
At the pre-game ceremony, Golden Hawks sophomore third baseman Helena Marcus said, "It was heartwarming, and I didn't know she was, but it was a great way to learn what she did for the River Dell softball program and female athletes."
Once the festivities concluded, it was time to play a game, and junior Gabby DeGroat got the starting nod for River Dell. DeGroat locked in from the start and struck out two out of three hitters in the top first.
"Head Coach Brian Calabrese on Gabby DeGroat on the mound, "She was spot on, hitting her spots and had some zip on it." "She kept hitters off-balance inside and outside and slowing the pitches down with a change-up." She executed the game plan and kept rolling along.
Helena Marcus led off belting a single to left field in the bottom half of the frame and then advanced to second base on a passed ball. Gabby DeGroat(3 for 3, 1 RBI, and one run scored) stepped up to the plate next and ripped a single to right field as Helena Marcus came into score.
Head Coach Brian Calabrese on Helena Marcus, "She's that type of person that gets nervous, putting her in that spot(leadoff) she's played enough softball where she knows what she is doing." "She came into the game with a little bit of butterflies but very prepared from playing club ball and whole life and she's a special player."
Helena Marcus on her varsity game and start, "It was my first game, and I was nervous." "It's an honor to be one of the youngest players because the girls you are playing with are good, and you need to keep up with them because we are a Top 15 team, and it's going to get harder as you get further into the season and be prepared."
Moving to the top 2nd, the Panthers tied the game up. Glen Rock kept the pressure up with runners @ second and third base with one out, but Gabby DeGroat managed to wiggle out of the jam retiring the last two hitters.
Once the bottom half of the inning reached, the Golden Hawks offense erupted, scoring five times as well as power on display with triples from senior shortstop Sophia Firneno(2 for 4, 1 run scored) and Helena Marcus(3 for 3, 2 RBI's, one walk and one run scored). Left fielder Taylor Troncoso's RBI ground put River Dell up 3-2.
"Everything was working, and our base running has phenomenal during the preseason and something we continue to work on," Head Coach Calabrese noted. "The small ball was working as well as the long ball." "It was a great feeling to respond, and good teams always respond after another team scores and that's what happened there."
On the team's six-run outburst in the bottom 2nd and hitting a triple, Helena Marcus said, "I knew we would hit, and so did the team." Hitting that triple made me feel comfortable because it was a little rough at the beginning of the game.
River Dell's offense continued to flourish at the plate tacking on three additional runs between the third and fourth innings to extend their advantage to 9-3.
When it appeared, the Golden Hawks were on their way to a comfortable win Glen Rock stormed back, tallying three runs in the top sixth. Gabby DeGroat departed the game after 5 1/3 innings yielding six runs on six hits, walking one, and fanning four.
Head Coach Brian Calabrese turned the pitching duties over to junior Grace Basil, who did not wilt under the pressure of managing to escape a jam with runners on base.
"Gabby(DeGroat) was rolling along, and she only had pitched one full game; during the scrimmages, she played corner infield and hasn't pitched as much as she might and started to tire." We were rolling, and I made a big coaching mistake not having Grace up loose. She just came in and just gutted it out and showed tremendous grit.
"There has been competition for pitcher all preseason and they knew the spot was open and always told them if you want to go get it." "Both of them are very good and it was neck and neck competition and they're going to be used and I was super impressed."
Once the top seventh reached River Dell's defense backed up Grace Basil with solid plays in the outfield from Taylor Tronocoso and centerfield Samantha Campos. Basil worked a spotless inning to secure the 9-6 victory.
This upcoming week, the Golden Hawks face a grueling test with four games in five days. On the flip side, three of the four games are at home, starting against Ramsey on Monday, April 4th at 4:15. Next up is Paramus Catholic on Tuesday, April 5th at 4:15 p.m., vs. Cliffside Park on Wednesday, April 6th at 4:15, and wrapping up the hectic schedule on Friday, April 8th against Westwood at Westwood High School with the first pitch set for 4:15 p.m.
"We just have to be mentally prepared this week and know we can play against these teams," Helena Marcus remarked. "We are a great team overall, and if we play with the same mindset and skill, we can beat these teams coming up. I feel we can go far because we work together and trust each other.
"Coach (Brian Calabrese) is probably one of the best softball coaches I've had and is one of the coaches that if you mess up with tell you what you did wrong and help you fix it." "He really can talk to you about your position and help you with anything."
Head Coach Brian Calabrese on the rigorous schedule, "What we're trying to do as a program is looking for teams that are ranked, and I'm always looking to get us ready for the big ones to the states and counties." "The schedule is going to keep getting harder and it's only going to make the girls get better." They want to get better and put the work in, and we're just going to keep getting better.