River Dell varsity girls lacrosse team rolls to 13-1 victory over Passaic Valley in the 2022 home opener
Image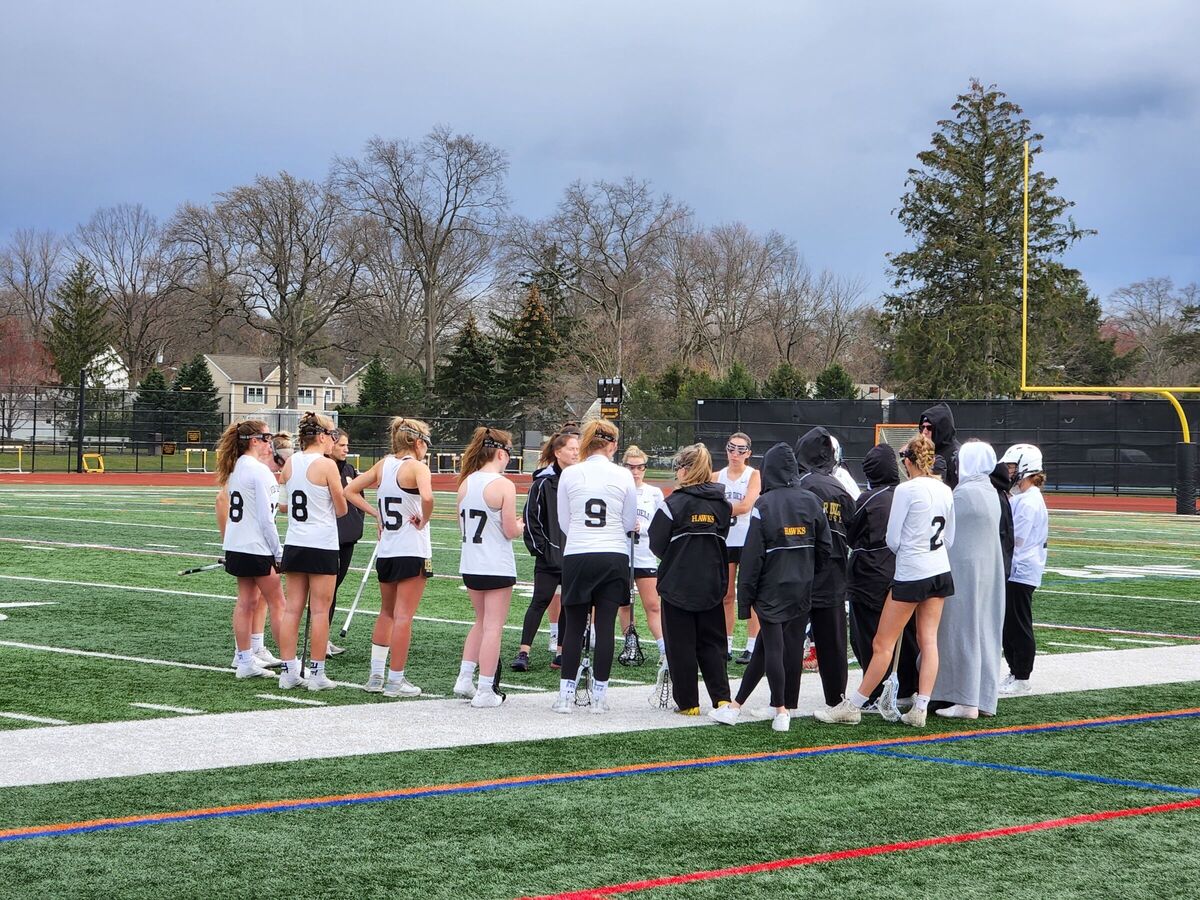 The River Dell Golden Hawks varsity girls lacrosse team (2-0, 2-0 NJIGLL)) was coming off a dominating 11-0 win over DePaul Catholic in the 2022 regular-season opener at DePaul Catholic High School.
Six different players scored a goal, with senior Lauren Gillies leading the way, tallying four goals and three assists. Freshman Samantha Idiculla made her first varsity start in net registered four saves.
River Dell hosted Passaic Valley in the 2022 home opener at River Dell High School on an overcast day that featured rain at the onset, but the chilly temperatures and the howling winds made it feel more like winter than a spring day.
"Not easy weather conditions, but the team was locked in from the start," Head Coach Jessica Rickershauser. "They were so excited for their home opener and never complained about the weather and prepared for strange weather in spring sports. While it isn't ideal, it's never an excuse not to play. They were ready for the game, where they put their energy and focus.
Senior Melissa Goldstein, on the opening start, "We went into the game saying this is our home opener, and we want to come out with a bang." "We knew Passaic Valley was coming off a big loss to Holy Angels, but we didn't let that change how we would play and wanted to go strong and put them away early."
The Golden Hawks blasted out of the gates first, jumping out to a 3-0 lead in the first four minutes of action. Passaic Valley answered back with a goal just about two minutes later.
However, River Dell responded with a flourish the rest of the half, totaling eight goals, with Lauren Gillies, senior Delainey McGovern, and freshman Megan Harnett netting two goals apiece.
"We have been working on how we responded when the opposing team scores," Head Coach Jessica Rickershauser explained. "The team followed our game plan perfectly."
"Lauren(Gillies) is an amazing offensive leader and taken on a lot of responsibility for the team this year, but also constantly working on improving her own skill." "We are lucky to have a college-bound player like Lauren who understands the game so well."
Melissa Goldstein on Lauren Gillies's play on the field, "Lauren is good, committed to play lacrosse D3 at York College and an outstanding captain." "It's motivating to have such a strong player lead everyone and make everyone feel comfortable and encouraged in practice and games." She is one of my best friends, and proud of her.
The Golden Hawks tacked on two additional goals to cruise to the 13-1 win in the second half. River Dell spread the wealth around with the offense as nine different players scored a goal and notched an assist. Freshman goalkeeper Samantha Idicualla recorded three saves.
On scoring two goals in the game, Melissa Goldstein said, "It felt excellent scoring those two goals, especially on varsity and exciting." "I started playing lacrosse my freshman year, and this is my third season playing since I didn't have a sophomore year." I was not expecting to be a star player and play all the time.
"Both goals were very similar shots, but we were in the red running our sets in that second goa, and then green was called. "I wanted to score, so I cut in, and someone passed the ball and shot it that went off the post.
"Coming off the bench I went in after 10 or 15 minutes and didn't come out the rest of the game." "It was really a good way for me and other players in my position to build our confidence and get more comfortable playing the game when we go in and the more important games where we won't be nervous."
Head Coach Jessica Rickershauser on the team scoring 24 goals in the first two games, "It was a great team win, nine different players scoring is a coach's dream stat sheet." "I'm really proud of the girls for their hard work and commitment during the pre-season and that work is paying off now."
"Sam(Samantha Idiculla) has had an amazing start; it isn't easy to be a freshman in varsity, let alone a high-profile position in goal and so composed for her age." "Her skill and lacrosse IQ are also very high." We look forward to seeing her grow and develop as she gets more comfortable with the high school game.
Melissa Goldstein on the early success of Samantha Idiculla, "She's very talented; all of us took Sam under our wing and were super encouraging with her in practice." "Our team loves Sam and encourages her whenever we can." I like that she is not scared of the other team and nervous in a critical position.
River Dell hit the road for the next two games starting on Monday, April 4th, at Holy Angels at 4:15 p.m., followed by a match-up against Pascack Hills on Wednesday, April 6th, with the start time at 4:15 p.m.
"We're definitely going into the game really focused and determined," Melissa Goldstein stated. "It's definitely a big game for us because we lost to them in the past but also beat them and an evenly matched game."
"Last year when won the league we had a lot of really talented seniors, so it was definitely going to be difficult to fill their shoes." "We have a good shot of achieving the same going for the league this year and have a good team bond that helps out with a good chemistry on the field and work really hard in practice and our coaches push us really hard."
"Coach (Jessica Rickershauser) is really tough on us which I love and super motivating in practice and if you make a mistake in front of her, she is the first one to help you and improve on it and not going to embarrass you and very constructive." She is super passionate about this team.
Head Coach Jessica Rickershauser on the next road games, "We can only prepare for one game at a time, and it will take a team effort."