River Dell varsity girls basketball team undefeated record ends in loss to Dumont in the Bergen County Tournament Pool Play 3
Image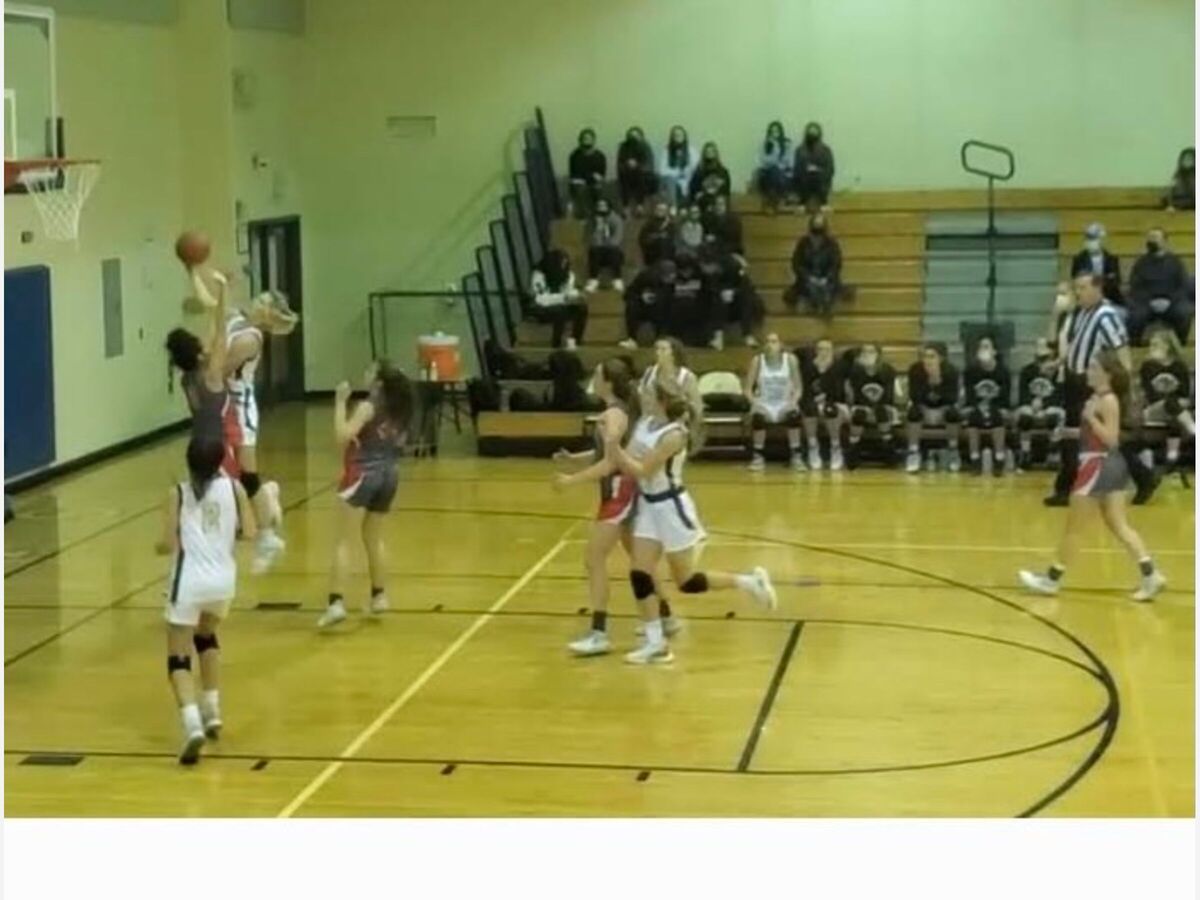 The River Dell Golden Hawks varsity basketball team faced one of the most challenging parts of the 2021-22 season. Still, they answered the bell with gritty wins over Jefferson in overtime and muscling past Westwood in a Big North Patriot league game. The win over Westwood extended their undefeated record to 15-0.
Aiming to win number 16 would not come easy for River Dell, facing a talented Dumont Huskies (14-1) squad that entered the Bergen County Tournament Pool Play 3 game at Northern Valley Regional High School Old Tappan, sporting a record of 13-1.
Due to another Bergen County Tournament Pool Play 3 game played in the school's main gym, both teams had to play in the back gym, where the lighting was very dim.
Early in the first quarter, the teams exchanged the lead several times. Dumont was on fire from behind the arc burying four trifectas as they led 17-16 at the end of the quarter.
River Dell Head Coach Lindsay Steffner on the first quarter, "Defensively we struggled a little bit, not too many teams have scored 17 points against us in the first quarter." "They came out hot; I just kept telling our team we got to weather the storm a little bit and got to get over the screen to get a hand on their shooters." We couldn't focus on one player, which we knew going in, and they showed their shooting ability.
The Huskies picked up where they left off in the first quarter with a 6-0 spurt. River Dell was ice cold from the field, going three minutes without a point until Sarah Vanderbeck ended the dry spell with a lay-in-off glass.
Held scoreless in the game against Westwood, Ari Rodriguez responded, draining two triples that sparked the Golden Hawks. When the first half ended, River Dell trailed Dumont 33-26.
"Ari (Rodriguez) looked good, in the second quarter she came off the bench hot again and that was nice to see, "Head Coach Lindsay Steffner described.
The Huskies bumped the advantage back up to double figures in the third quarter. Behind the sizzling shooting of Colleen Heaney(19 points), who connected on four treys in the first half, Heaney sank two more in the quarter.
For a split second, the Golden Hawks had momentum with Kayla DePol driving strong to the rim for a left-handed lay-in-off glass. DePol got fouled as she made the bucket and sank the free throw to complete the three-point play to make it a 36-32 game at the five-minute mark.
"We were able to have little spurts and show some sort of comeback," Kayla DePol noted. "Every time we made a run, they came back with one at us, and they had one more than we did." Every time we got that slight hint of confidence we could come back, they shut it down right away and kept pushing back harder on us and coming down and scoring again.
Head Coach Lindsay Steffner on the third quarter, "We made a quick little run there and got them in a little bit of foul trouble." "We were going to the rim and had some momentum there, but they answered it, which a lot of teams haven't done this season. I give Dumont a lot of credit; they kept their composure, attacked us where they needed to, and unfortunately, we couldn't capitalize on some possessions we should have.
Once the fourth commenced, Dumont widened the lead to 46-32. The Golden Hawks offense encountered another major scoring drought going almost nine minutes without a point. Finally, Sophia Firneno was able to come up with a steal and convert a transition lay-up with six minutes left.
Dumont maintained a double-digit margin until River Dell cut the gap to 52-45 on a pearl from Sarah Vanderbeck with less than a minute to go. However, the Golden Hawks ran out of time as the Huskies coasted to the 54-45 victory, thus ending the River Dell undefeated record. Kayla DePol led the Golden Hawks in scoring with 11 points.
Head Coach Lindsay Steffner on the loss, "Without practicing yesterday and going over how we were going to move the ball against the 1-3-1, which we have not seen much this season and a big challenge ahead for us." "Coming off a day where we really couldn't get into the gym and get our legs rested, we looked flat, and we can't be flat against a team of that caliber." We are not defined by this at all; we've been playing great basketball, and today was just a little bit of letdown, but it didn't matter in the results with the goals.
"We were coming off a big emotional win on Thursday night to Westwood, which mattered in our league." "Our goals are to win this league and advance in the county tournament." As far as our goals are concerned, everything is intact and fine.
"This game didn't mean anything except for seedings, we move ahead so we're in the Elite Eight and they re-seed the final eight teams one through eight and there will be a bracket tournament." "The committee has a tough job ahead of them and it really depends on how much they're going to weigh some of these wins and losses."
Kayla DePol's comments on the undefeated record ending, "We had a tough week, a hard overtime game against Jefferson and close game against Westwood." "We did not have much energy and a little beat up and tired because those games were physical as well and contributed to how we played against Dumont." We were going to be undefeated for so long and bound to happen.
"Dumont really had an amazing game; they were definitely more ready than we were and shooting a lot better than our shooting percentages." "Colleen Heaney shot the lights out, kind of hard to stop her with the quick release shot and making almost all of them."
River Dell (15-1, 5-0 Big North Patriot) looks to right the ship on Tuesday, February 8th at Mahwah(10-5, 2-2 Big North Patriot), with tip-off set for 7 p.m. Back on January 6th, the Golden Hawks held on for a 45-40 victory at River Dell High School.
"We have an important week coming up, we have Mahwah on Tuesday and even though we beat Westwood twice Mahwah is a league contender, and we have to beat them to secure the league championship," Kayla DePol remarked. "The last time we played them it was a battle, and they are a tough and gritty team."
"They have a sophomore that gets to the basket and is hard to contain." "Last time we played them it wasn't our best game, but we still came away with the win at the end and this time we are not going to be in our home gym." I think we are ready to bounce back after this loss.