River Dell varsity girls basketball team stays undefeated after overtime thriller against Jefferson
Image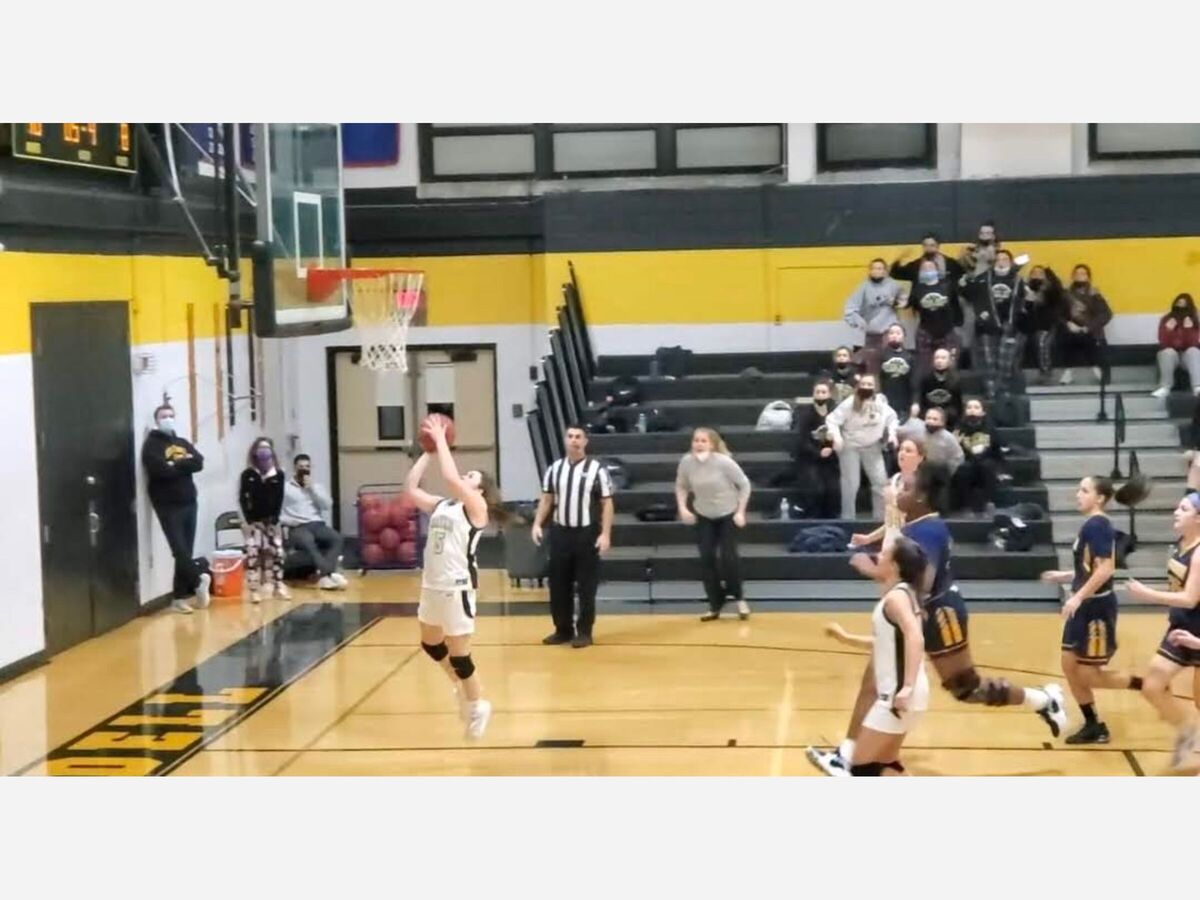 The River Dell Golden Hawks varsity basketball team was coming off another impressive win, rolling past Northern Highlands 67-37 in the Bergen County Tournament Pool Play Two at Northern Highlands Regional High School. The Golden Hawks extended their undefeated record to 13-0.
River Dell returned to River Dell High School to open a two-game homestand. First up, River Dell squared off against Jefferson, a talented Falcons team that entered the contest at 12-2 and unbeaten at 6-0 in the NJAC Freedom Conference.
In the first quarter, the Golden Hawks jumped out to an early 4-0 lead, but Jefferson stormed back with a 12-0 run over a two-and-a-half-minute stretch.
Ari Rodriguez ended a four-minute dry spell burying a trifecta with less than a minute left. By the time quarter concluded, the Falcons had led 16-10, with Emily Poulas accounting for eight points.
Trailing with 21-14 with five and half minutes remaining in the second quarter, the Golden Hawks ignited a rebuttal. A vintage full-court press defense forced Jefferson into committing several turnovers, resulting in a 7-0 spurt over two minutes.
River Dell was aggressive on the offensive end driving to the rim for lay-ins with five players scoring a point led by Kayla DePol, providing a jolt of confidence tallying five points.
"I was proud of the girls keeping their composure, River Dell Head Lindsay Steffner explained. "We haven't had a team come at us like that yet, and to battle back from that type of run was impressive for me to see as a coach to see and how experienced they are in that situation."
"We haven't seen that defense all season, and it's hard to prepare for a team." "I showed them on film, but no one else has played us in an aggressive two-three match-up zone." Once we settled in and figured out where to get our shots from, I knew we would be okay offensively.
Entering the third quarter, the Golden Hawks just trailed by a single point 25-24. Isabella Gilmour tied the game up at 27-27 with less than five minutes to go canning a triple. Following Gilmour, Sarah Vanderbeck drove to the bucket for a lay-in to put River Dell for the first time since the first quarter.
The back-and-forth action continued as Jefferson answered with a 6-0 run to reclaim the advantage 33-29 with less than forty seconds to go. Amanda Nwankho dominated in the paint by utilizing her height and length. Nwankho got easy lay-ins off the glass as she scored eight points in the quarter.
Working the ball around the perimeter as the final seconds ticked off in the quarter, Ari Rodriguez got the ball eventually and sank her second trey of the game at the buzzer to make it a 33-32 game.
Ari Rodriguez, on her success with hitting three-point shots, "I have always practiced the outside shots because it's a big part of my game and being able to put the work in during game is exciting for me and a big accomplishment."
In the fourth quarter, Jefferson maintained the lead the first half of the quarter until Ari Rodriguez drained her third trifecta tying the game up at 38-38. Coach (Lindsay Steffner) wanted us to keep passing the ball around and looking for the outside shots," Ari Rodriguez described. "She said to keep shooting the ball even if they were not going in."
On the next River Dell possession, a missed jump shot led to Kayla DePol crashing into the paint, snagging the ball, and putting it back up as the Golden Hawks went ahead 40-38 at the three-minute mark.
Head Coach Lindsay Steffner on Kayla DePol, "Kayla is like the energizer bunny and she just keeps going." "She ended up with 11 points but had seven rebounds, three steals and two assists."
The lead would be short-lived as the Falcons responded to go back up 42-40 with two and half minutes remaining. Lily Crowder stepped up to register four points, knocking down a jump shot and pair of free throws to put River Dell back on top with less than two minutes left.
"We were struggling to get the ball out of bounds underneath the basket and she slipped the screen and found an opening," Head Coach Lindsay Steffner noted.
Despite being limited to two points in the final frame, Amanda Nwankho hit one of two free throws tying the game up at 44-44 with a minute and a half left. Both teams had opportunities to win the game, including a deep jump shot by Lily Crowder that clanged off the front of the rim, forcing overtime.
In the extra session, both teams traded baskets. Posting four points in the game, Sarah Vanderbeck nailed a triple from the top of the arc with a minute in change left.
"Coach(Lindsay Steffner) definitely kept saying you're going to be able to take your shot if you are open and she keeps on telling me she wants me shooting and I just listened to her," Sarah Vanderbeck stated.
The see-saw affair carried on as Jefferson got to the free-throw, drilling three of four shots to take a 50-47 lead with 21 seconds remaining.
With time winding down in the game, the Golden Hawk's offense swung the ball around the perimeter for a good look at the basket. Working late-game heroics, Ari Rodriguez(13 points) was several feet behind the arc when she launched a high-arching shot that found nothing but net as the River Dell players on the court and bench and crowd erupted in applause.
"It was an amazing pass by Sarah(Vanderbeck) and Coach(Lindsay Steffner) told us to keep passing the ball around so we could shoot and once it went it was crazy," Ari Rodriguez remarked.
Jefferson still had one last opportunity to win the game by inbounding the ball from their end of the court. The Golden Hawks defense was in full-court press mode. A pass intended from Ivana Tisma to Amanda Nwankho went beyond Nwankho's reach.
The ball got tipped a couple of times before Lily Crowder secured the ball and started dribbling the ball before firing a pass that was slightly deflected by Isabella Gilmour and into the hands of Sarah Vanderbeck.
Vanderbeck sprinted to the basket and rose for the lay-up just as the buzzer sounded, setting off a jubilant celebration amongst the players on the court and fans in the stands as River Dell won 52-50 and extended their undefeated record to 14-0.
Sarah Vanderbeck( 9 points) on the game-winning lay-up, "Those six seconds were the longest of my life, Lily(Crowder) got the steal and picked her eyes up, and once she saw me passed the ball, and Isabella(Gilmour) got a tip on it." "I don't know how much time there was, but I just had to get the ball in the basket." The whole gym just kind of went silent, and I didn't hear anything and kind of went deaf for a couple of seconds.
"Just being at home wearing the white jerseys was a nice environment." "Jefferson is a great team, they gave us a battle and we needed a good game like that to prepare us for later on in the season."
Head Coach Lindsay Steffner on the overtime victory, "Honestly, it's probably one of the biggest wins we've had at River Dell." "There were a lot of fans, alumni, and parents in the gym, and a nice win for the community." We had been struggling without fans there for us; excellent to have people there to watch us versus seeing us on the live stream.
"At the end of the game, it was all about their composure." "We haven't been in a situation like that and gone to overtime in two or three seasons, so to play through that it's hard to simulate in practice." The girls listened in the timeout to the instructions and applied them in those stressful situations.
Ari Rodriguez on this year's 2021-22 team, "We had an excellent team coming into this year, and the seniors are always a good influence, and we all work well together." "We weren't expecting 14-0, but I'm not surprised now because we're doing amazing." It's been a crazy few weeks, but it's an honor to put on the Hawks jersey, and Coach (Lindsay)Steffner is a great coach and leader.
The Golden Hawks (14-0, 4-0 Big North Patriot) now shift their attention to an important league game. River Dell faces off against Westwood in a re-match at River Dell High School on Thursday, February 3rd, with tip-off set for 7 p.m. On January 28th, River Dell fought off a stiff challenge from the Cardinals 41-28.
"It's a big game; we got to win this to keep going and win this league," Head Coach Lindsay Steffner said. "Our girls know that's the target right now and the next opponent and game." We're not looking ahead against anyone else, and we got to take care of business on Thursday.