River Dell varsity girls basketball team remains undefeated in win over Northern Highlands in Bergen County Tournament Pool 2
Image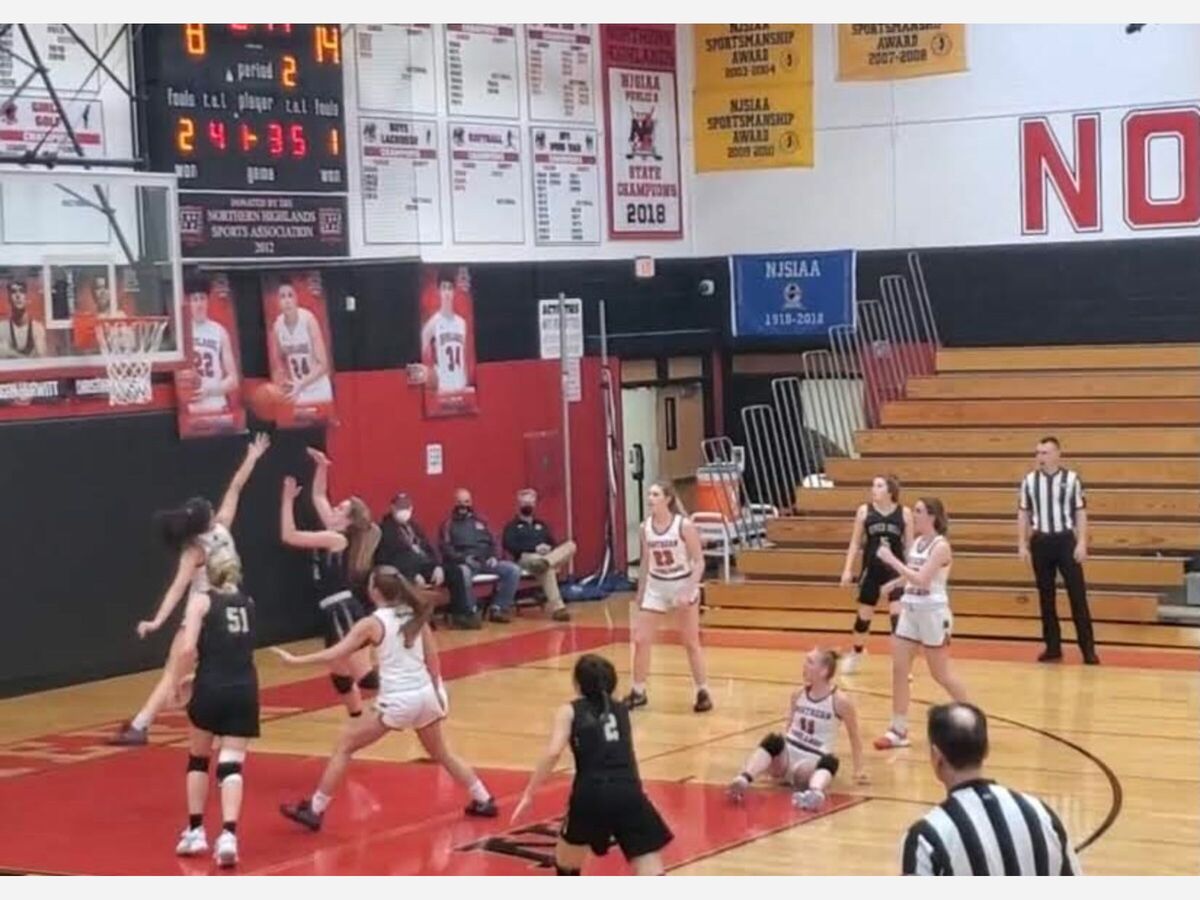 After a hard-fought victory over Westwood in a Big North Patriot conference match-up that kept their undefeated season rolling along at 10-0, the River Dell Golden Hawks had one more game before the Bergen County Tournament Pool Play commenced.
Traveling to Ridgefield Park, there was no letdown from the battle against Westwood as the Golden Hawks offense erupted for season-high points, thumping the Scarlets 81-35. Kayla DePol paced the output with 17 points. Fifteen players got playing time, with 14 scoring at least two points.
Returning home to River Dell High School for the Bergen County Tournament Pool One game against Paramus Catholic in an afternoon tilt in the Upper Gym, River Dell cruised to a 53-27 win.
Continued to flourish on the offensive end, Kayla DePol registered her second consecutive double-digit game pouring in 14 points, while Sarah Vanderbeck contributed 13 points and Lily Crowder added 10 points.
Kayla DePol on the team's play this season, "Honestly, it's just crazy, especially the past two weeks just how well we started playing together and clicking." "We have always been playing well, we are undefeated, but it's just on a whole other level." In the games that haven't been that close, everything is just working for us on the offensive and defensive end.
"It's great to have a team where I know I can rely on every single player on the court at any given time, and we're so well-balanced." "On any given day, anyone can be the leading scorer, and it's not always on a person every time." "We all can distribute and have so much variety.
Due to a Nor'easter, the Bergen County Tournament Pool Play 2 Game against Northern Highlands at Northern Highlands Regional High School was pushed back a day.
Even a change in the schedule did not affect the Golden Hawks early on. Jumping out to a quick 8-0 lead with six points of coming way of burying shots from behind the arc. Lily Crowder tallied five points as River Dell went ahead 10-3 with less than five minutes remaining.
However, Northern Highlands answered with a 5-0 spurt to trim the lead to 10-8. Senior Sophia Firneno stemmed the tide driving to the bucket for a lay-in as River Dell led 12-8 at the end of the quarter.
"I was impressed with Sophia's performance, especially in the first quarter," River Dell Head Coach Lindsay Steffner said. "She came out focused, turning that corner to get to the rim, and did a great job." She got us going there offensively, and we got that confidence to get to the rim all day.
Despite a fierce man-to-man and full-court press defense that the Highlanders employed in the second quarter, the Golden Hawks kept churning out points. Kayla DePol netted six points as the margin expanded to 20-8 at the five-minute mark.
"It was definitely close in the beginning of the game, we didn't get the momentum right away," Kayla DePol described. "Northern Highlands is a good team; they are under .500 but I really don't think their record does injustice because they really play a hard schedule and lost to a lot of good teams."
"Finally, everything started clicking for us, especially Lily(Crowder) had an amazing game." "She was confident in her shooting and drives and finishing around the rim and had two corner threes." Ari (Rodriguez), Bella(Isabella Gilmour), and Sophia(Firneno) as well.
River Dell continued to push the pace with fast breaks and getting out in transition as the period progressed. Ari Rodriguez came off the bench to score five points, including unleashing a pearl that capped an 18-0 run.
The Golden Hawks defense was dominant in the quarter, holding Northern Highlands without a point until 45 seconds remaining, with Emma Starr(12 points) knocking down a trey. Lily Crowder punctuated a flawless first half for River Dell, connecting on a trifecta with 12 seconds left that boosted the advantage to 31-11.
"It stemmed from our defensive pressure as well as running a little bit," Head Coach Lindsay Steffner noted. "Kayla(DePol) was able to get some steals and hand on the ball and Sarah(Vanderbeck) played great defense on their top star(Emma Starr)." The only shot that went up for them was a deep three.
"I told Sarah that played a phenomenal defensive game on that kid(Emma Starr) and if that's the best they can do is hit a three to get any points on the board in a quarter we've done a great job." "We pressured them defensively that led them to taking shots that were rushed and didn't want necessarily which led us to getting transition buckets and got the pace of the game going in that second quarter."
Lily Crowder, on the first half, "My shooting was excellent, two for two on threes, and I was able to finish at the rim, and it's just all about patience." "We're not one of those teams that have one amazing player who takes on all the points, and everybody chips in their fair share of points and each game a different person." It's great to have that comfort knowing if I or Kayla (DePol) is not going to have a good game, then anyone else can.
In the third quarter, the Golden Hawks kept up the intensity relentlessly, driving to the rim for lay-ups and knocking down jump shots in the paint and from the perimeter. When the quarter ended, the lead had swelled to 49-23.
The sizable advantage enabled Head Coach Steffner to put players off the bench in the fourth quarter. Lizzy Puentes and Kasey Ziegler combined to deliver seven points.
River Dell cruised to the 67-37 victory over Northern Highlands to improve to 13-0 on the season. Kayla DePol finished with 18 points, 12 coming in the second half, while Lily Crowder supplied 16 points.
"We talked about it before the game; the last game we played against Northern Highlands was a five-point game, and they showed three different types of defenses and a little bit of pressure," Head Coach Lindsay Steffner mentioned. "I just had the team focused on what we were going to see and had a good game plan going into it." I know that we put up 67 points today, but I'm prouder holding a team to 37 points."
"Kayla(DePol) is playing unstoppable right now and a big reason we're putting up a lot of points." "She is extremely athletic, but her defensive pressure leads to transition bucks and is very unselfish." She is averaging 16 points a game with probably around eight or nine rebounds.
"Lily's (Crowder) confidence is getting better every game and showing right now." "She can hit a three when teams are playing zone, and I have no problem with her stepping outside, and even in man-to-man, I have her on the perimeter." She is getting better at getting to the rim and establishing herself inside.
The Golden Hawks(13-0, 4-0 Big North Patriot) face a challenging schedule this week. However, two out of three games are at River Dell High School. On Tuesday, February 1st facing off against a Jefferson squad that has won 11 games at 6:00 p.m.
Followed the Jefferson game a rematch against Westwood on Thursday, February 3rd, and wrapping up the week with a Bergen County Tournament Pool Play 3 game against Dumont at Northern Valley Regional High School at Old Tappan on Saturday, February 5th.
"This is the biggest week we've had so far, and Jefferson is a tough team, and I watched them on film," Head Coach Lindsay Steffner remarked. "They have a very athletic team and a 6'2/6'3 kid who is very dominant inside." They play a very aggressive two-three zone, and we haven't seen that all season. I'm glad we will be at home; we got a good test and glad they're willing to make the trip to come to play us.
"Westwood is a big game; we got to keep fighting for first place in our league." We're looking forward to playing Dumont and glad we're on a neutral site for that and should be a fun game."
Kayla DePol on the upcoming slate of games, "This is definitely a super important, we know Jefferson has played a lot of hard opponents like Sparta and should be good competition and an interesting game." "Westwood is a rematch and important game in our league and if we want to capture the league, we have to play like we did last time and shut them down."
"Dumont on Saturday for the counties, and they are a good team." "They're super-fast-paced and push the ball in transition like us and put up a lot of shots." They always have high-scoring games, so it's an excellent match-up for us, and we need to show them what we can do and beat them and want to stay undefeated in the counties right now.