River Dell freshman boys basketball team stretches sizzling winning streak to nine
Image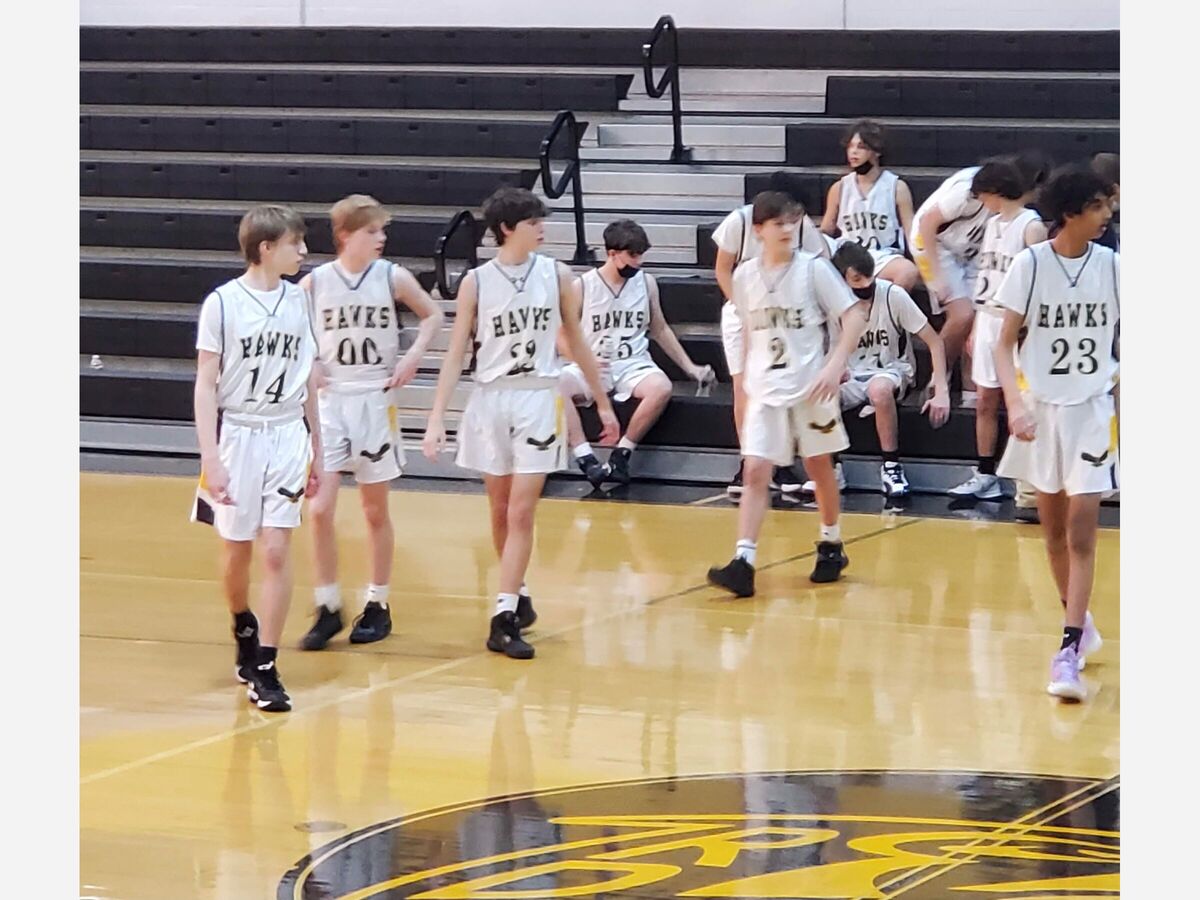 The River Dell Golden Hawks freshman basketball team(10-1) passed a big test last week, registering back-to-back victories that extended their winning streak to seven games, returned to River Dell High School, kicking off a three-game homestand.
However, the Golden Hawks would face a similar set-up with back-to-back games. They faced Ridgefield Memorial in the first game but encountered issues right off the bat as the Royals squad showed up practically right before tip-off, forcing a delay in the start of the game.
Once the game got underway, a back-and-forth contest early in the first quarter. Ridgefield Memorial started to take command as the quarter progressed on. By the time the quarter ended, the Royals were up 15-10.
River Dell Head Coach Ben Orth on the delayed start of the game, "That's something we talked about from week one, I knew from the past as an assistant for years and played there are going to be two or three games where your opponent shows up five minutes before the game and we have to be able to handle that." "I don't thing we handled that and we're very flat."
Moving to the second quarter, the Golden Hawks hit a major stumbling block as Ridgefield Memorial pitched a shutout outscoring River Dell 8-0 to take a commanding 23-10 lead at halftime.
"We just kind of looked like we were walking on eggshells for the first half," Head Coach Ben Orth explained. "We discussed where our attitude and mentality need to be for the next 16 minutes." It wasn't much in the scheme but just effort and making the right plays.
In the third quarter, the Golden Hawks offense erupted behind the play from Will Brunner. He stroked back-to-back trifectas that narrowed the deficit to 25-16 with less than six minutes remaining.
"He's usually not one of the kids putting up a ton of threes for us but someone that's been working at in practice and gym glass and something he's worked on and improved on," Head Coach Ben Orth described. "It was nice to see that kind of shining through and when we needed most and to give us a quick 6-0 run." That was a significant boost to give us in the first couple of minutes of the third.
Despite trailing 27-16 at the five-minute mark, River Dell answered with a 7-0 spurt over the next two minutes plus of action. Patrick Sweeny connected on a triple, making it a 30-26 game heading into the fourth quarter.
"It was all about getting open against the zone, we were spreading the ball around and eventually after 20 seconds they were getting tired and made so more versatile," Patrick Sweeny described.
Down 33-28 with less than four minutes left, the Golden Hawks ignited a rebuttal with a 7-0 run in one minute. Patrick Sweeny sank a pair of free throws combined with Brendan Miceli driving to the basket for a fast-break, getting fouled on the play and converting the three-point play to even the game up.
Aditya Pandya drained two shots to put River Dell up for the first time since the first quarter with less than two minutes to go.
The lead would be short-lived as Ridgefield Memorial scored the following three points.
The Golden Hawks did not flinch as they kept attacking the basket, resulting in trips to the foul line. Ridgefield Memorial players on the bench kept making loud noises slapping their hands on the bleachers, but that did irk Brendan Miceli as he buried both shots.
Twenty seconds later, Ridgefield Memorial went to the charity-stripe line but only ended up making one of two shots. With less than twenty seconds left, Patrick Sweeny ended up getting fouled. The noise from the Royals bench was palpable Sweeney calmly walked up to the line and knocked down both shots to push his point total to 15.
"We stress-free-throw shooting a ton; we always talk regardless of your opponent it's never going away," Head Coach Ben Orth noted. "It's going to be there, and you have to make the shots at the free-throw line." That was a great example of a game we were 11 for 11 in that fourth quarter. They missed two or three critical free throws down the stretch, which opened the door for us to get the lead or tie the game back up.
"A two-game stretch where Patrick(Sweeny) has been attacking the basket and those free throws at the end he doesn't get bothered much whether it's a three taken in the first quarter or the fourth quarter of a close game and he's just a pure shooter in that respect."
Still, with ample time and opportunities to win the game, Ridgefield Memorial melted the clock down, but in the waning seconds, the Royals hoisted up a shot that banged off the back of the rim as the buzzer sounded. River Dell survived to win 39-38 and extend the winning streak to eight games.
"We learned the lesson of when you don't come out and bring effort and attitude," Head Coach Ben Orth stated. "It's a good lesson to learn in a win than a loss and they grinded it away for that whole second half and didn't give up at any moment."
Not even 24 hours removed from the win over Ridgefield Memorial, the Golden Hawks were back in action against Ridgefield Park.
This time around, a much different start as River Dell raced out to an 18-6 advantage at the end of the first quarter. Ryan Rossig was in the zone, tallying nine points. Contributing to the first quarter led the play from Regan Joyce, netting four points.
"Yesterday after the game I felt I didn't have a confident attitude on the court and that's why I didn't play as much as I usually do," Ryan Rossig mentioned. "Obviously I wanted to play, and I knew something had to change about my attitude and did and impacted my game."
The Golden Hawks maintained a double-digit lead over the Scarlets in the second quarter. Brendan Miceli supplied five points as River Dell led 31-23 at halftime.
"Ryan(Rossig) struggled scoring for a couple of games but he really busted out was able to take the ball to the bucket and really get us going," Head Coach Ben Orth remarked. "Regan(Joyce) hasn't started a game but his impact has been huge and in some games scoring but a lot of games rebounding and being in the right spot and steady for us." Someone I can trust to put in there any time.
Dropping in 11 points in the first half, Ryan Rossig did not cool off in the second half totaling ten points, including six in the third quarter. Brendan Miceli, Patrick Sweeny, and Regan Joyce combined to score 11 points as the margin grew to 48-33 at the two-minute mark.
Heading into the final frame up 50-40, Ridgefield Park erupted for a 7-0 run to trim the Golden Hawks lead down to 52-45 at the four and half minute stage.
With less than four minutes remaining, Ryan Rossig stepped up in the clutch, recording his 19th point by knocking down a jump shot. Following Rossig, Aditya Pandya found an open space at the top of the arc and drained a triple with ice water in his veins.
Head Coach Ben Orth on Aditya Pandya, "He sat on the bench for the majority of the game because of foul trouble but comes in and the fourth quarter and he is open and hits the shot and was able to step up and do so."
Once again, River Dell sank free throws as they cruised to the 60-49 victory while increasing their winning streak to nine wins. Ryan Rossig finished with 21 points, while Brendan Miceli added 10 points.
"Overall, this might have been our best offensive game as a team and we scored 60," Head Coach Ben Orth said. "We ran our offense well and I told the boys after the game our best job of being patient and really working to get good shots and we got so many lay-ups out of that."
The Golden Hawks return to the hardwood court, this time at the Lower Gym in River Dell High School on Thursday when they square off against Bergenfield with tip-off set for 4:15 p.m.
"One of the things we talked about is we've played well, we're on a winning streak but don't get complacent and don't have any letdowns, "Head Coach Ben Orth explained. "We got to bring that effort on Thursday especially in the first few minutes of the game and nothing has changed because we're on a winning streak and how we're playing and attacking the game."