River Dell High School Freshman Deacon McGovern carries on the family football tradition
Image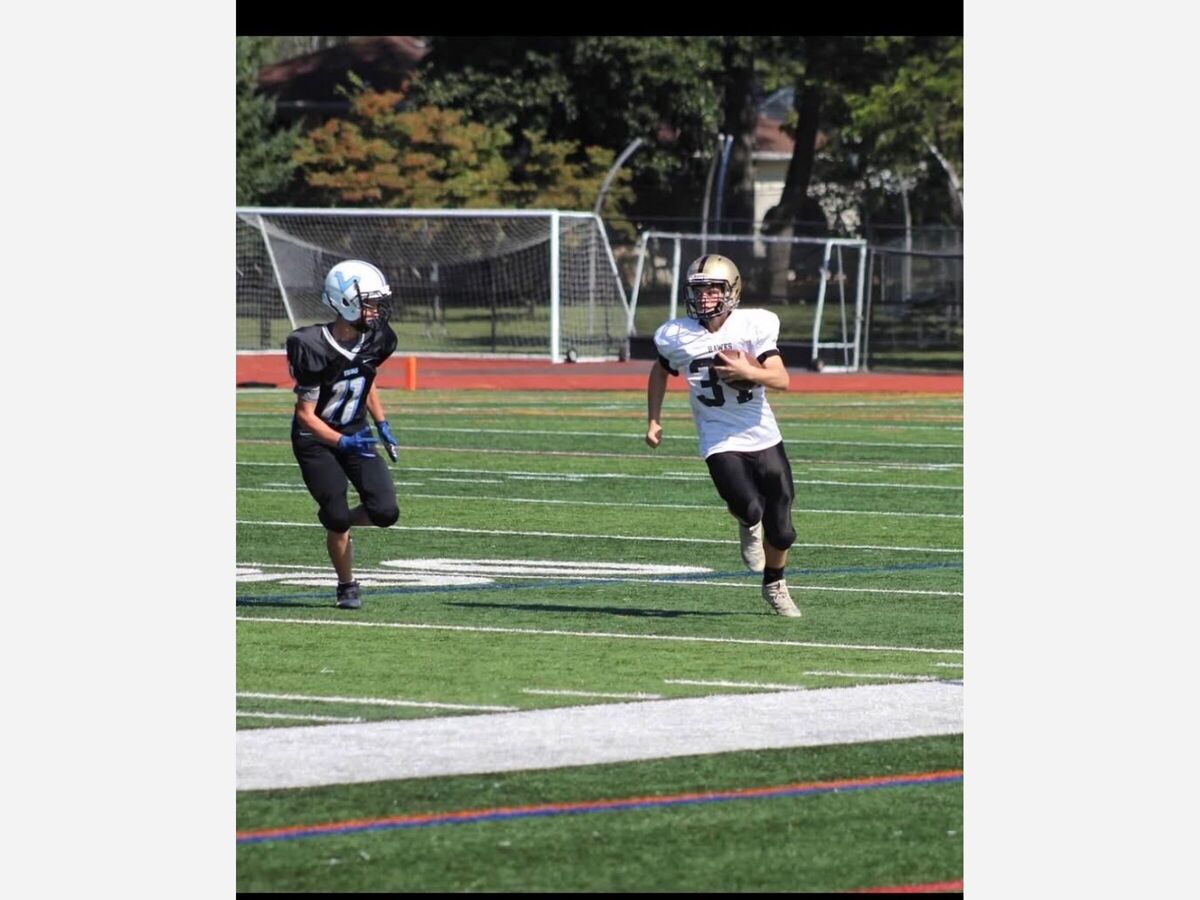 Growing up, Deacon McGovern enjoyed playing lacrosse, basketball, and soccer. He came from a well-known family, the athletic background had a profound impact, especially in football, as McGovern took up the sport in fifth grade.
"My brother Hunter rowed at Bergen Catholic High School and plays football and my sister Riley plays lacrosse at IHA (Immaculate Heart Academy)," Deacon McGovern explained. "They pushed me to do the best I could and supported me."
"My Dad(Mike) and uncles Billy, Jack and Dave played football in high school and college, my uncles Tom and Jimmy played football in high school and uncle Robby played in high school, college and the NFL." "My uncle Bill is the linebackers coach on the Chicago Bears, and I really pay attention to the team."
"My cousins Brendan and Colin played in college and Griffin plays right now at Brown University." "All three of them went to Bergen Catholic and Brendan is the athletic director at Bergen Catholic."
Alternating between offense and defense, McGovern switched to playing linebacker primarily once he reached eighth grade. "This is where I really improved and I became the most physical and strongest I've been," Deacon McGovern described. "You get to play the run and pass and got to be physical and get in there."
Participating in pee-wee and junior football, McGovern and many of his friends played games at Doug Parcells Athletic Complex in Oradell. "My friends and I have been there a lot between practices, games, and hanging out, Deacon McGovern said. "That place means a lot and a part of my childhood."
Preparing for the upcoming River Dell High School freshman football 2021 season started way back in January with early morning lifts. Due to COVID-19 safety protocols, all the players had to wear a mask. "The coaches were tough on because they had to make sure we didn't get shut down," Deacon McGovern noted.
Progressing to the summer, practicing with pads on hot day days did not affect McGovern at all. "It felt good to put on the pads for the first time in a while and to do with your friends and teammates, Deacon McGovern stated."
Before the freshman football team played its first regular-season game, there were scrimmages against Sparta, Mountain Lakes, and Morris Knolls. "It really helped us played football especially at all our positions and get used to the high school level, Deacon McGovern remarked."
The players had to get re-acclimated with practices and return to in-person learning at River Dell High School. Deacon McGovern pointed out the excellent job of the coaching staff as many of them are teachers themselves at the school.
"They made sure we were excelling on and off the field and made sure we stay on our grades," Deacon McGovern described. "They helped us out a lot because they know we haven't been to school in a normal condition and first time really in school and might not be the most prepared."
Opening the season with a 32-6 win over Parsippany Hills, the Golden Hawks edged past West Essex the following week 23-22, then posted back-to-back shutout wins against Westwood and Demarest.
Even with practicing six days a week and 9 a.m. kickoff times on Saturdays, Deacon McGovern said the times spent in the film room and the support and motivation from the coaches were gratifying.
"We put in a lot of time in the film room; we watched the film to get ready and see what works, and that helped us get ready for those Saturday mornings," Deacon McGovern explained. "Coach (Steve) Iafrate helped out the receivers, linebackers, and me a lot." Coach (Sammy) Halabi and Head Coach (Mike) Aliano helped push us to make sure what we were doing and in the right place."
A strong second-half led to a 35-16 victory at Pascack Valley. A late fourth-quarter rally kept an unbeaten season alive in an 8-6 win over Nutley at River Dell High School. In the remaining three games of the season, the Golden Hawks successfully ran the table, outscoring the opponents 99-28, including a 36-14 win over an undefeated Ramsey Rams squad at Ramsey High School.
Contributing to the team in many facets, McGovern was the placekicker. One of his trademarks was perfecting the craft of the onside kick. Knowing exactly where to kick the ball, McGovern kicked the ball to a particular spot where fellow teammate Christian Pennetta would be in position on several occasions to recover the ball in the opponent's territory.
"We practice that play lot, execute it well and pays off," Deacon McGovern stated. "Coach (Mike) Aliano has trust us in recovering those onside kicks and we do a lot." "Christian is the guy I look for every time because he hustles and makes the play when he needs to."
Cruising past Clifton at River Dell High School last Saturday 28-0, the Golden Hawks freshman team secured an undefeated season. The last time a freshman team went undefeated was over a decade ago.
Deacon McGovern on the undefeated season and how he wanted people to remember the team. "It feels great to be undefeated, we started lifting twice in the morning and now we're here undefeated," Deacon McGovern cited. "The whole team has worked so hard this year and it's been a great experience."
"We were not the strongest or the biggest team, but we had the most heart and we worked well together." "We always believed that we were better than other teams, but we had to show it." Remember all of us, every person that we're a team and everyone matters and another reason we won all these games.
Reflecting on this journey this season, McGovern observed the overwhelming support from the school, community, and most importantly, his parents.
"Everyone here at the high school is close, and it's just a great environment," Deacon McGovern noted. "It's great because everyone has known each other for a while and have great relationships." The varsity football team has been watching us, and they're great role models. "My Mom (Kristy) and Dad have been my biggest supporters and helped me through some tough times when I was younger.
In closing, McGovern offered this advice for younger kids and athletes that want to succeed in athletics. "You are going to try your hardest and play multiple sports."