River Dell retains Battle of Midland Ave. trophy for a third-straight year with a 42-7 win over Paramus
Image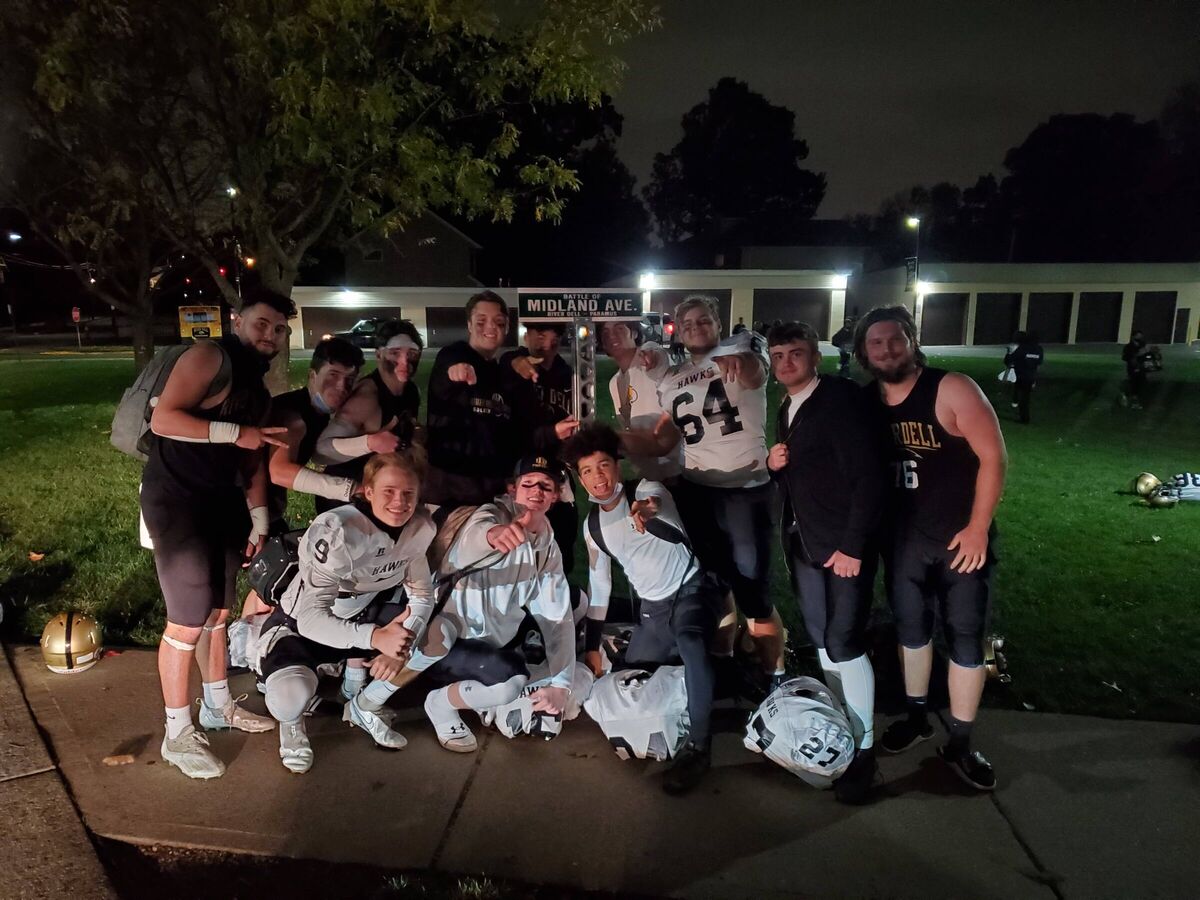 Having won the past games, the River Dell Golden Hawks (7-2) wanted to extend their winning streak in the 2021 regular-season finale against the Paramus Spartans(2-7) at Paramus High School.
Not only marking the final regular-season game for 16 seniors but, more importantly, the Golden Hawks attempting to keep possession of the Battle of Midland Ave. Trophy for a third-straight year.
Senior offensive/defensive lineman Aidan Cochran on the upcoming match-up against Paramus, "We had an amazing week of practice, treating it as though it's our first round of the playoffs and feeling pretty confident." We're just focusing on keeping moving forward from the next step, wanting to get another shutout defensively and have another big week on offense and special teams.
"This is a huge game for us, not just for playoff implications but if we win this, we win the league outright." "It's always fun playing these guys and we have a pretty good rivalry with them."
On a cold and rainy evening with gusty winds, there was a special pre-game ceremony. Aidan Cochran and Paramus junior quarterback Cory Petruzella were honored at midfield as the SFC (Super Football Conference) Young Man of the Year for their respective schools.
"Not everybody gets awarded for that, I felt very happy being able to do that," Aidan Cochran explained. "My teammates and coaches helped me to become a better person every day and I can't thank them enough for that." Coach Nimphius is the best coach I've ever had in my life, he helped me so much throughout my athletic career, and I can't thank him enough and be able to get that award with him out there.
Once the game got underway, River Dell wasted no time at all jumping out to an early lead. Receiving the ball first, a seven-play drive that consumed a little over two and half minutes resulted in an 11-yard touchdown pass from junior quarterback Jake Sconza to senior wide receiver Colin Quinn.
The Paramus special team's unit's muffed punt led to the Golden Hawks with excellent field position at the Spartans two-yard line. Capitalizing immediately on the opportunity, Jake Sconza handed the ball off to senior running back Cavan Hughes.
Hughes plowed straight ahead behind the offensive line into the end zone for the score with less than seven minutes remaining in the quarter.
The River Dell defense forced the Paramus offense into another three and out. With the ball at the 30-yard line after a false start penalty, Jake Sconza completed a 19-yard pass to Colin Quinn, followed by a 36-yard pass to senior running back Will Fletcher that set up first and goal at the Spartans six-yard line.
On first down, Jake Sconza took the snap in shotgun formation, rolled out of the pocket to his right, and fired a strike to Colin Quinn near the sideline marker in the end zone with 3:21 left.
"Having Will back out there he's another knowledgeable guy and target and knows a lot about football," Jake Sconza described. "He is one of my close friends, we talk all the time and gives us more options and if we can run and thrown the ball, we will be a hard team to stop."
"Colin is one of my closest friends, we worked so hard this off-season together." "We would go down to the field and work on the routes." We knew what our role would be this year, and both of us would have to step up and play well this season. He is doing a phenomenal job getting open, getting yards after a catch, and hard to take down. Even when I'm not playing my best, he will tell me that's not you and get back out there and show people how you play the game.
The Paramus offense rolled the dice by going for it on fourth down deep inside their territory following offensive possession. However, the Golden Hawks defense stopped quarterback Corey Petruzella well short of the first down marker forcing a turnover on downs.
Early in the second quarter, with the ball at the Spartans 19-yard line, Jake Sconza lined up in the shotgun formation, dropped back in the pocket, and unleashed a laser pass to wide receiver Ryan Gillies. Gillies absorbed a vicious hit but still maintained to hold onto possession of the ball and barrel into the end zone.
For the first time in the game, the Paramus offense moved the ball into River Dell territory. They faced a fourth down and four, but the Golden Hawks defensive line applied tremendous pressure, forcing an incomplete pass and turnover on downs.
On the second and one from the 38-yard line, Jake Sconza lined up again in shotgun formation, dropped back, and zipped a pass to Ryan Gillies in tight coverage. Reeling in the catch, Gillies turned and rumbled down the right side of the field for the score with less than eight minutes left.
"Ryan is also one of my closest friends, he worked hard in the off-season and a very knowledgeable guy," Jake Sconza noted. "He is always finding open space to get open and routes are very crisp, a very physical runner, got some speed and he's hard to take down."
After forcing the Paramus offense into another three and out, the River Dell offense started with outstanding field position at the Spartans 39-yard line. On second and three at the 32-yard line, lined up initially in the slot, wide receiver Colin Quinn took the pitch from Ryan Gillies and sprinted down the right side of the field into the end zone.
With a running clock in the second half, the Golden Hawks starters could get some much-needed rest as the back-ups got some quality playing time.
River Dell hoped to post a second consecutive shutout, but those hopes were dashed on a 68-yard touchdown from Paramus running back Liam Jones.
River Dell ended up cruising to the 42-7 victory, clinching the SFC American White Division and No. 2 seed in the North 2, Group 2 Playoffs. The Golden Hawks will host seventh-seed Vernon sporting a 6-3 record on Friday, November 5th, at River Dell High School, with kickoff set for 6 p.m.
Aidan Cochran on the win and upcoming playoffs, "We talked about earlier in the year we wanted to keep all three trophies at home, win the league championship and that's an amazing feat and we knew what was at stake." "We were talking pre-game we had to come out with fire and they knew they were not going to make the playoffs and final game as a senior group." Post-game we were talking about who we were playing in the next game, and we wanted to get out there and start playing.
Jake Sconza finished the game against Paramus, completing a perfect 11 for 11 passes for 212 yards. Sconza's final stats for the regular season were 2,454 passing yards and 26 touchdowns.
"It's awesome, I knew that I had a lot of expectations, and I knew what I wanted to accomplish." "To have a great season in my junior year when all the college recruitment starts." "Having a great group of guys that back me up all the time and making plays with all your best friends out there, a division title and a season you'll never forget."
"The offensive line did an awesome job the past two games, they're really starting to work at it and very knowledgeable." "They give me all day back there and having a great group of seniors."
"It's going to be a great environment on Friday night, first-round of playoffs against Vernon and to play another home game and for the seniors also." "We want to show people what we've done this year and as a whole program and a big week of preparation ahead for us."