River Dell varsity softball team drops second straight in 12-1 loss to Ramsey
Image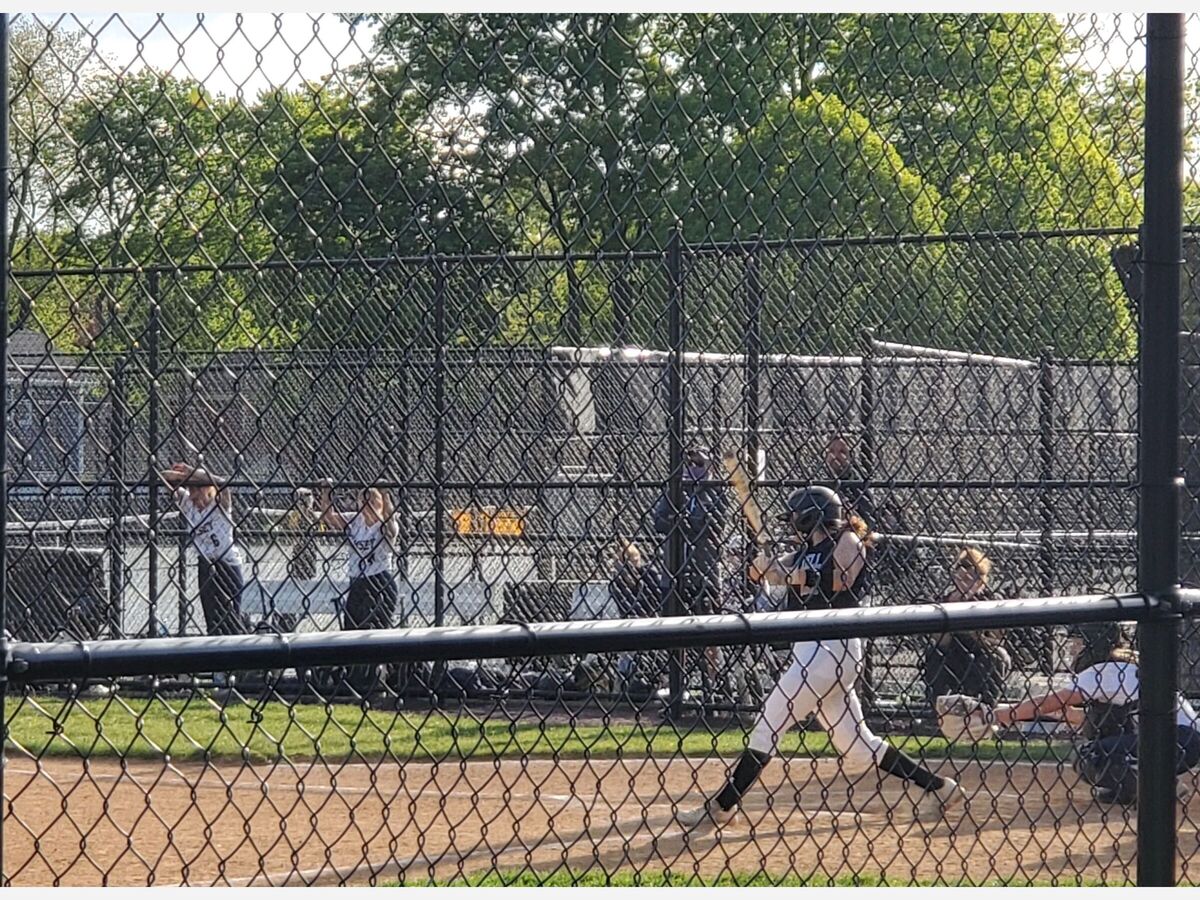 The River Dell Golden Hawks(10-5,1-3 Big North Patriot) varsity softball team were on a roll, having won five games in a row while outscoring their opponents 40-7. However, the winning streak came to an end with a loss at Tenafly on May 12th. Looking to get back on the winning track at home, the Golden Hawks took on a solid Ramsey Rams(8-6, 2-2 Big North Patriot) squad that had won six in a row until a 6-3 road defeat at Indian Hills.
Ramsey wasted no time putting the pressure on River Dell, loading up the bases with one out against Golden Hawks starting pitcher Caitlin Nader in the first inning. Ramsey's first baseman Astrid Corcoran belted a two-run single followed by left-fielder Olivia Jarvis drilling an RBI single to right field. With runners at second and third two outs, Nader managed to escape the jam by striking out Kacey Olshalsky.
In the bottom half of the frame, River Dell ignited a rebuttal. Centerfielder Stephanie Krasas leading off, reached first base on a call third strike that was dropped and misplayed by Rams catcher Kacey Olshalsky while second baseman Gabby DeGroat drew a one-out walk.
Stepping up to the plate, catcher Isabella Molina ripped a single into centerfield as Krasas came around to score. The Golden Hawks had a massive opportunity for a big inning with the bases loaded, but third baseman Sophia Firneno grounded out to the second baseman to end the inning.
River Dell Head Coach Brian Calabrese on Isabella Molina, "Let me tell you, Bella has been one of our hardest workers; she has been driving the ball and hit two home runs this year, one big one against a good pitcher; at Tenafly." "She's on her way to leading this team, definitely very local, and we're looking for big things from Bella as we go forward throughout the year."
Just when it appeared Nader was going to wiggle out of another jam with the bases loaded in the second inning, Astrid Corcoran inflicted more damage with a bases-clearing triple into the centerfield gap.
Nader battled out of another jam situation with runners at second and third base one out by retiring the last two hitters in the third inning. After yielding the seventh run of the game to Ramsey, Head Coach Brian Calabrese replaced Nader with Grace Basil. With runners on second and third one out, the Rams took advantage of the Golden Hawks fourth error of the game on a ground ball that resulted in two more runs.
"We just needed a spark, so we went to Grace(Basil), and Grace did a nice job," Head Coach Brian Calabrese stated. "A lot of people are saying you're taking them out, and I'm not saying Caitlin(Nader), but they just don't understand you need a change of pace, and that's what that was."
Ramsey was continuing to pour it on with three runs between the sixth and seventh innings. Astrid Corcoran, Uma Corcoran, Olivia Jarvis, and Sophie Cunningham with three hits apiece to lead a 19-hit attack.
River Dell could not muster any further offense against Ramsey starting pitcher Julie Regan as she went the distance allowing one run on three hits, walking five, and fanning six.
Head Coach Brian Calabrese on the loss, "We just had a tough day today; if you look at Ramsey, that was a group of girls that were hungry, and they were hungrier." "They're very well-coached, they were ready to play, and I did not get my team to play." They were not aggressive at the plate and in the field. If you watched Ramsey, every ball they charged and throws were accurate, and they backed up their pitcher."
On Saturday, May 15th, the Golden Hawks will look to snap the two-game losing skid at Northern Valley Old Tappan(10-3, 6-0 Big North National), with the first pitch set for 11:00 a.m. Head Coach Brian Calabrese on the game, "We have a huge game coming up over there, the message to the girls is ready to play the game it's supposed to be played, which is aggressive because playing on our heels today didn't get the job done."