River Dell Varsity Girls Softball Team cruises to 6-2 win over Dumont in the 2023 regular-season and home opener
Image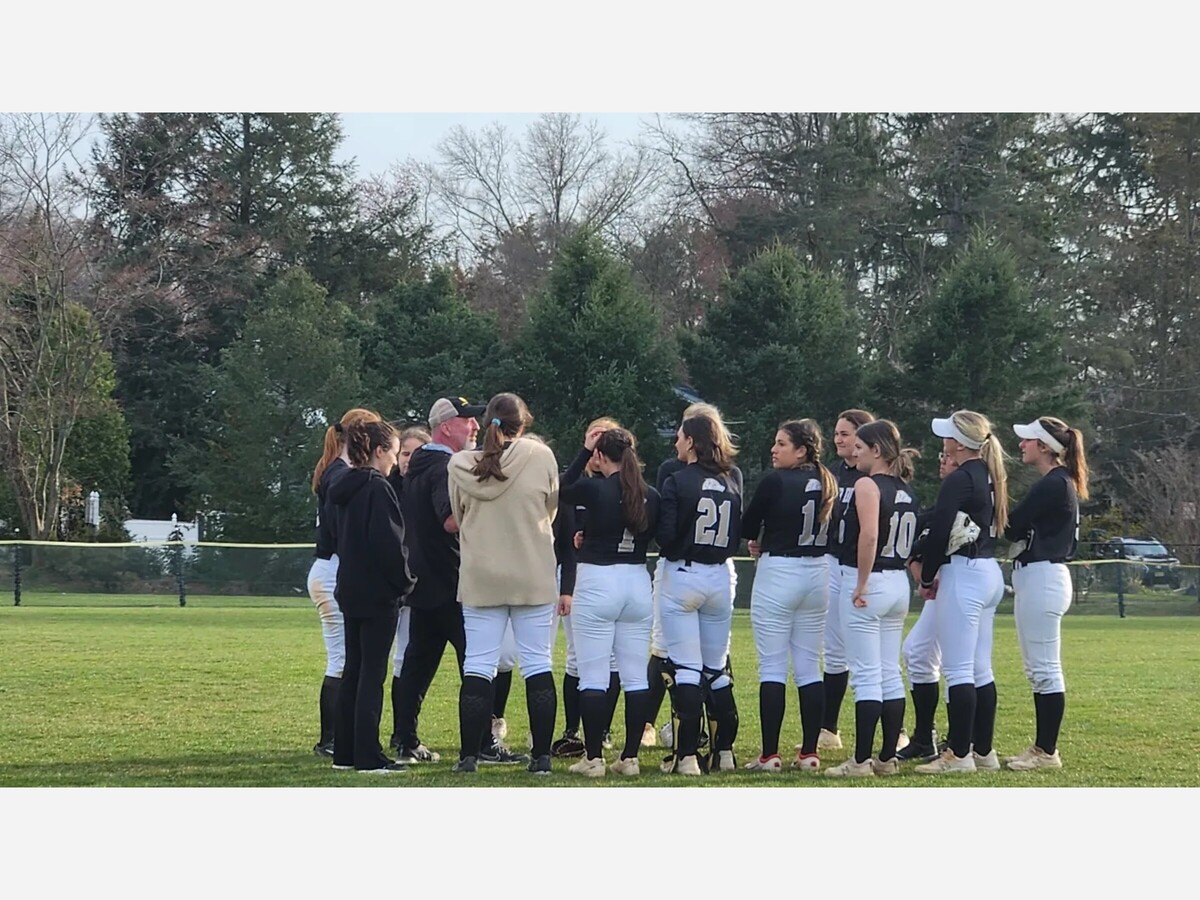 The River Dell Golden Hawks Varsity Girls Softball Team (1-0) squared off against the Dumont Huskies(0-1) on a cool and crisp Spring day with golden sunshine and deep blue skies in the 2023 regular-season and home opener at River Dell High School(Brenda Canal Field) in Oradell, New Jersey.
River Dell senior Gabby DeGroat got the starting assignment for the Golden Hawks. DeGroat ran into a jam in the top 1st with runners on first and second one out but managed to wiggle out of the jam recording the last two outs, including a strikeout.
"When I started out, I was nervous and had a lot of pressure on me because I thought I had to be perfect at all times," Gabby DeGroat explained. "Coach (Brian Calabrese) helped me realize I don't have to be perfect at all, and I have teammates I can rely on, which is great." "It's my senior season, and I'm trying to have fun right now right, which is all I could ask for."
"Coach (Brian Calabrese) and Bella(Molina) know me so well and what pitches are working and not when I'm tired and know how to calm me down and if I'm too anxious." "Bella(Molina) and I have been playing together for ten years and we have that special bond that helps us and supporting each other during the games which is amazing to have and she's great with the pitch calling and knowing how far I can go."
In the bottom half of the frame, River Dell had an opportunity to score their first runs of the season with runners at first and second one out, but Dumont starting pitcher Halle Richard retired the last two hitters.
However, the Golden Hawks broke through in the second inning. Gabby DeGroat belted a bases-loaded RBI single, followed by Bella Molina ripping a two-run single.
"We already know the fierce competitor (Gabby)DeGroat is and she's super comfortable at the plate and she invites those situations and loves the pressure," River Dell Head Coach Brian Calabrese described. "(Bella)Molina, what a great attitude and she's all about the team and I'm so proud of the way she's hitting the ball and more confident than she was last year and right where I want her to be at."
Moving to the third inning, the Huskies responded with a run to trim the River Dell advantage. Gabby DeGroat regrouped and set down the last hitter on a ground out to third baseman Maddie Roth.
"It's always a puzzle and we got to put the pieces in the right spots," River Dell Head Coach Brian Calabrese noted. "Having her (Maddie Roth) at third because she is athletic enough to play shortstop, but the corner position is where she's going to thrive."
Maddie Roth also contributed at the plate with her second hit of the game with one out in the fourth inning. Gabby DeGroat followed, hammering a double, and Bella Molina hit by a pitch to load up the bases.
Grace Basil stepped up the plate and promptly cranked a sharp ground ball mishandled on the exchange from the shortstop to the second baseman as two runs scored.
The Golden Hawks tacked on an additional run as Samantha Camos hit a fly ball to shallow left field. Pinch runner Shannon Lynch tagged up from the third base and flew down the line sliding in safely at home plate before the catcher made the tag.
"In practice we preach base running, and you see we're a very aggressive team on the bases and we're going to make a play," River Dell Head Coach Brian Calabrese stated. "Shannon(Lynch) knew it was coming and I had her on the base and it was chance I was willing to take up five and it paid off because she had her head down and ran as hard as she could and she knows that she's got to get dirty."
Meanwhile, Gabby Degroat continued to dominate as she retired nine hitters in a row at one point. DeGroat increased her strikeout total to six in the sixth inning.
"Knowing that I have an offense that can back me up and helps me If I get into a jam pitching," Gabby DeGroat cited. "I came out a little nervous and there were a lot of people there but once I started to get into a groove, I felt like I couldn't be stopped." "It really put me into a position to go and close out that game for the rest of the innings and I couldn't have done it without Bella(Molina) and Coach(Brian Calabrese)."
Despite yielding a second run, Gabby Degroat regained her composure and spun a perfect seventh inning to secure the River Dell 6-2 victory.
"This all come backs to Coach(Brian) Calabrese and believing in me and one of the best motivators I could ever have," Gabby DeGroat remarked. "Every pitch he's cheering me on and helping me out and having Bella(Molina) there too and the best coach and catcher that I could ask for."
"I have been on the varsity team for four years and this is my last start and last first game and it was emotional for me and all the seniors," Gabby DeGroat remarked. "This jersey has much more meaning behind it than people think." "We've been wearing this jersey for four years but only gotten to play in it for three years so being able to go out there and do the best we can is one of the best feelings in the world."
"My family are my number one fans, and I don't know what I would do without them." "They've been to every single one of my games as long as I can remember and just them being there makes me kind of emotional and it tells me how much they support me and how much they understand that I love what I'm doing."
River Dell Head Coach Brian Calabrese on Gabby DeGroat's complete starting performance, "You have seen the growth in Gabby DeGroat and everything with COVID she's been locked in the last two years and super aggressive." "She's going to do whatever it takes to have us in every game and pure will when she doesn't have her best stuff."
The Golden Hawks have a rigorous start to the 2023 season playing four games in four days with the following three on the road in Tenafly, Glen Rock, and Emerson before returning home on Monday, April 10th against Ramsey with the first pitch set for 4 p.m.
"We have the talent to compete which sometimes doesn't always work out the way you want to but we're going to compete, but we have one of the hardest schedules in Bergen County right now," River Dell Head Brian Calabrese said. "We're playing against four Top 25 teams and our schedule is super competitive." "This year I really challenged my team and I think they're up for the challenge."
"There's no better place in the coach in the county (Bergen) than these girls and they stay together and work hard and they're always asking what they can do to be a better player." "Every player on the roster is willing to do anything needed to win." "The last two or three scrimmages we had people all over the place and we just had to put the pieces together and say the vibe was positive, enthusiastic and with a lot of energy." "Obviously we have a lot of experience, the four seniors are basically the anchor and my two captains (Gabby)DeGroat and (Bella(Molina) and (Sam)Campos and (Grace)Basil and basically we're going to go far as they take us."
"All of this doesn't happen without an athletic director in Denis Nelson and an administration." "Denis Nelson is hard-working, flexible and willing to do whatever it takes to help the coaches and just an amazing athletic director."
Gabby DeGroat on playing four games in a row, "It's stressful especially pitching but anything is possible." "I love playing softball and it's my favorite thing to do and I just love going out there and being with my teammates and pitching and hitting the best I can."