River Dell Varsity Girls Basketball rolls to a win over Wayne Hills in the North Jersey Section 1, Group 3 Tournament First Round
Image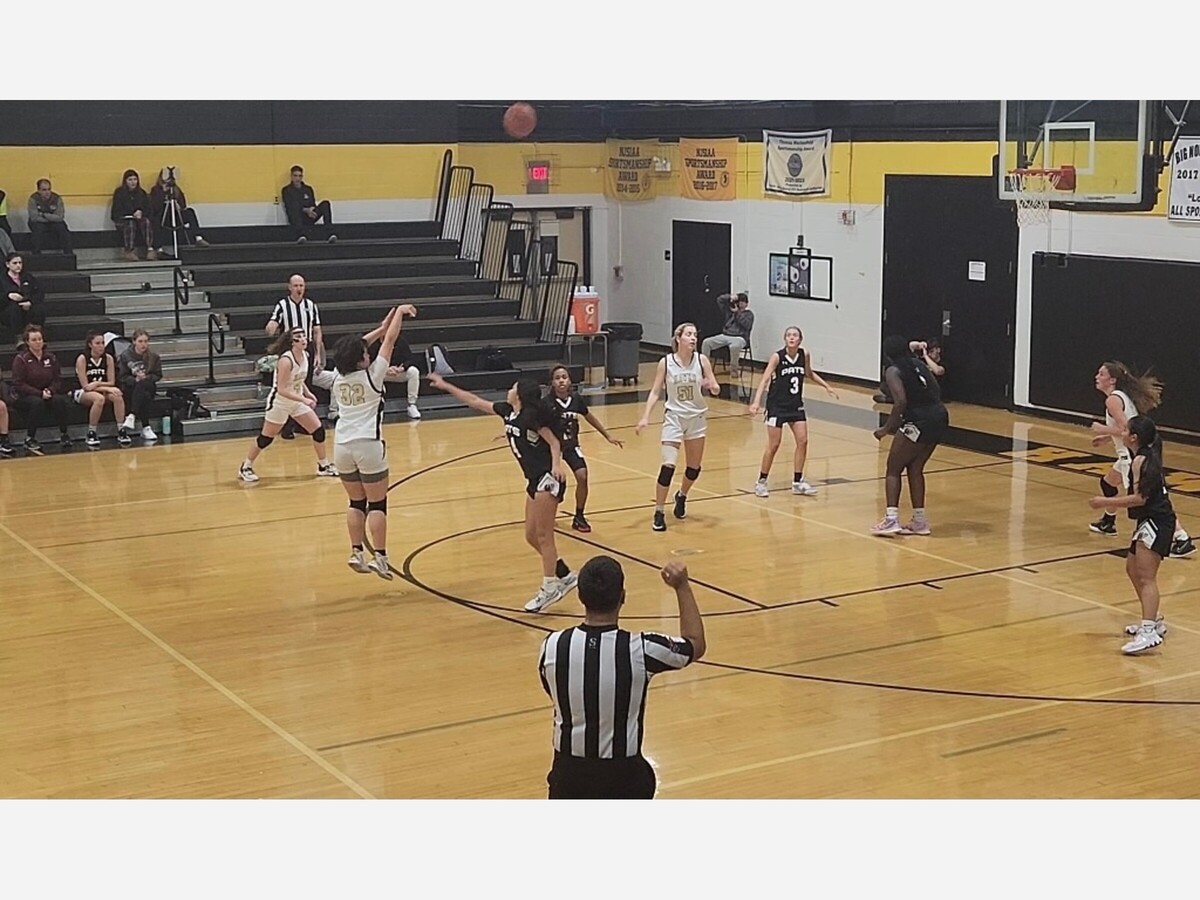 The River Dell Golden Hawks Varsity Girls Basketball Team(20-5) faced off against the Wayne Hills Patriots(20-6) in the North Jersey Section 1, Group 3 First Round at River Dell High School in Oradell, New Jersey. Both teams' parents and fans showed up in great numbers, with the bleachers packed to maximum capacity.
River Dell Head Coach Lindsay Steffner on the home crowd support, "It was nice and that's something I made sure the girls recognize because of their effort and promoting them in the community. We ran a clinic for eighth graders during the day and welcomes all back and a nice way to get a lot of community presence for the program which was awesome for the girls to see."
River Dell got off to a solid start with a 17-9 advantage at the end of the first quarter. Sofia Sanchez buried two trifectas to lead the charge with Isabella Gilmour, Lizzy Puentes, Ari Rodriguez, and Lily Crowder, providing scoring also from the perimeter and in the paint.
"The game plan going in and preparing in practice was going at them and putting the pedal to the metal, Sofia Sanchez explained. We wanted to set the tone and Coach(Lindsay Steffner) told us it's a different type of energy with the states. We're not here to mess around and especially with so many seniors and with a one and done we're not going down without a fight."
"We knew going in they were going to do a 1-3-1 and 2-3 with their two best players being out that led us to rebound and distributing and sharing the ball. Since the beginning of the season, we have improved moving the ball tremendously and looking for each other and if we have the open an open to take it but making those extra passes."
Wayne Hills managed to cut into the deficit in the second quarter, but heading into halftime, the Golden Hawks led 27-17. Sofia Sanchez drained her third triple in the period.
"We had an inside presence that I was hoping for, and we were capitalizing and got a lot of offensive rebounds, Head Coach Lindsay Steffner described. It was a matter of us playing a little bit better defense and our help side wasn't as strong. Number one on their team (Charah Sysounthone) came through with a couple of floaters and banked in those tough shots. She got into our defense a little bit further before she felt pressured to take those shots before we corrected them in the second half."
Once the third quarter got underway, River Dell caught fire from behind the arc, with Ari Rodriguez burying two triples and Sofia Sanchez unleashing her fourth pearl of the game. Sanchez totaled eight points in the period. The Golden Hawks offense erupted, outscoring the Patriots 20-5 to take a commanding 47-22 advantage.
"They Ari(Rodriguez) and Sofia(Sanchez) spread the defense so well and don't miss too many shots, and they're fun to watch," Head Coach Lindsay Steffner noted. If they miss one or two, they have the green light to keep letting it fly."
"I just think it spreads out the other team's defense so much that it does open it up a little more room for Bella(Isabella Gilmour) to drive in, Morgan(Sconza) to get short jump shots in and Lizzy(Puentes) and Lily(Crowder) offensive rebounds, putbacks and post-ups. We become very hard to guard when we have those outside attempts especially early in the game and it makes those guards defend a lot mor space."
Sofia Sanchez in the third quarter, "I just had to hand it off to Morgan, Ari, and Bella, and the way Lizzy, Kasey(Ziegler), and Lily were in the middle with the two guards at the top moving the ball back and forth. Having the defense shift and getting the ball in the middle allowed us to get those outside shots."
"It was outstanding movement, and next thing our shots are falling, and we started picking apart their zone a little bit," Lizzy(Puentes), being the catalyst, dishes out a couple of good passes to Ari(Rodriguez), who made a couple of threes. She hit a backdoor on a cut to the rim and read where it needs to be and to the quality shooters, which made a big difference."
"Morgan(Sconza) came off the bench and provided a lot of good looks and she's the floor so well. The two passes she threw were phenomenal. She's fighting through a bad injury and doesn't show it much and a very strong and stable guard and gutsy and strong."
The Golden Hawks could empty the bench in the fourth quarter as they coasted to the 54-33 victory. Anna Vidaic capped off the win by canning a trey at the top of the key as the players on the court, sidelines, and fans in the stands celebrated.
"I wanted to get the seniors a chance to say goodbye and, on the court, a little bit in front of the home crowd," Head Coach Lindsay Steffner stated. It's such a great group of kids who love each other so much and play for each other."
"That was a big moment for Anna; the team wanted to celebrate it. Anna does a great job getting the starters all the reps and reviewing certain things. She's an intelligent player and gets it and one of the nicest human beings ever, so to see her smile at that moment and kids cheer in the crowd, and she worked with during the day, and that's what it's all about, and we won, but that was a big moment when Anna hit the shot.
Nine different River Dell players scored, with Sofia Sanchez tallying a game-high 17 points. On her first season playing for River Dell, Sanchez said, "The first week of tryouts, I was nervous, but the team made me feel right at home and instantly knew this would be a great season. Right from the start, the girls made my transition very easy and right where I belonged. It clicked right in the beginning, allowing us to build our team chemistry from the start and first game even though it was a little rocky and coming in always the hardest game."
The Golden Hawk's next opponent is a familiar in a rematch with Northern Valley Old Tappan(21-4) in the North Jersey Section 1, Group 3 Quarterfinals at Northern Valley Regional High School at Old Tappan on Wednesday, February 21st, with tip-off set for 4 p.m. On December 30th, 2022, in the Joe Poli Tournament, the Golden Knights prevailed in a low-scoring game, 37-27.
"Obviously we know Old Tappan very well and they're a good team and so many good athletes on their roster, head Coach Lindsay Steffner cited. I have a lot of respect for Brian Dunn and coaches, and I know the girls personally. I teach over there and there's a lot that goes into the game and emotionally."
"My players respect Old Tappan and players know many of the girls through playing and competing in volleyball and soccer and in different sports and off the court as well. It's going to come down to on how we execute on offense, and we got to make shots and slow them down defensively and just stick to the game plan. The one that plays the hardest and longest and fights through the other team's runs is going to come out with the W."
Head Coach Lindsay Steffner on the 2022-23 team said, "You start this season with this project ahead of you and have to figure out how to assemble all those puzzle pieces. The staff and I figured out how to mold them together and get them doing what they need to do to play to their strengths. A great group of girls that respect the game, each other and playing for River Dell. They're senior laden, love each other and play hard for each other and laugh with each other. They spend time on and off the court with each other and all that shows, and I just got to put all the X's and O's in place."