River Dell Varsity Boys Basketball Team cruises past Park Ridge 59-41 in the first round of the Bergen County Jamboree
Image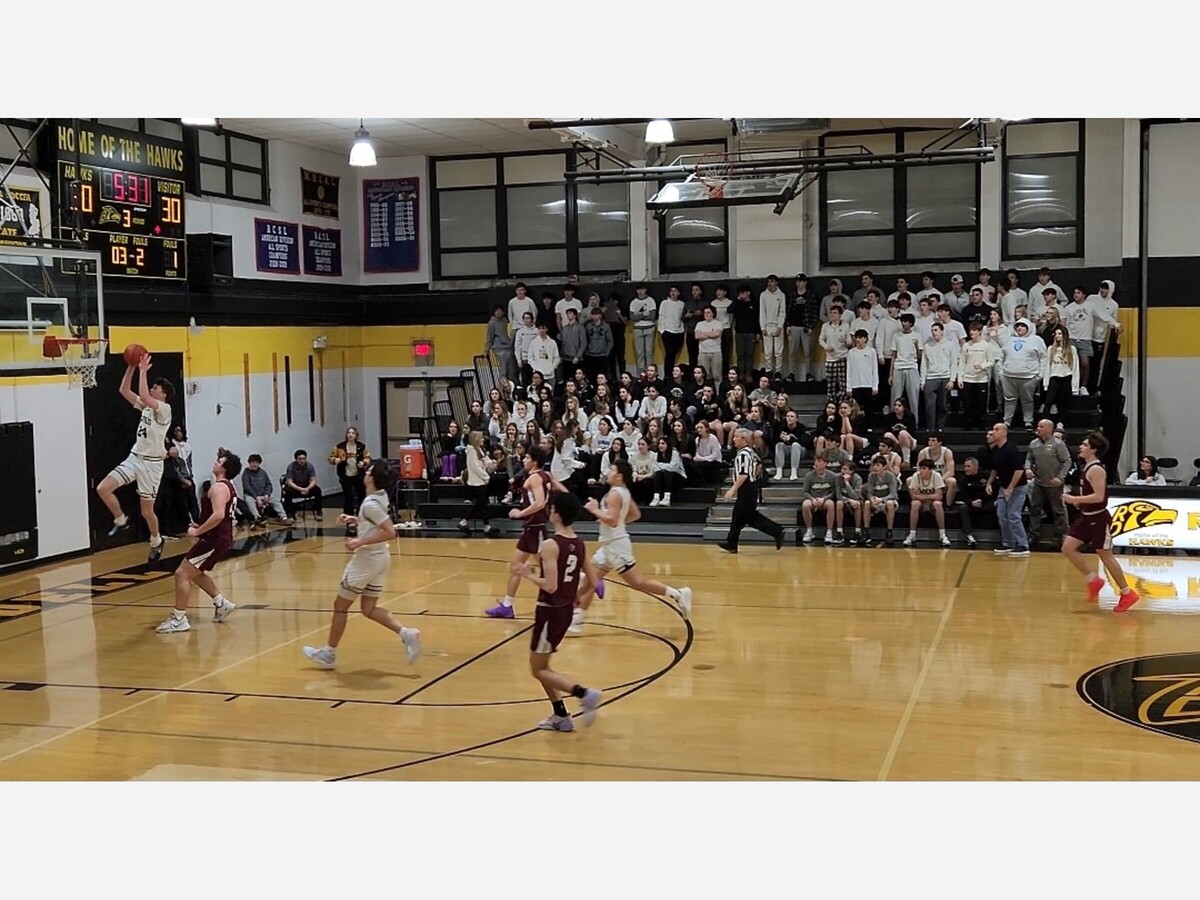 The River Dell Golden Hawks Varsity Boys Basketball Team(13-4, 5-1 Big North Patriot) faced the Park Ridge Owls(12-5, 5-2 NJIC Patriot) in the first round of the Bergen County Jamboree at River Dell High School in Oradell, New Jersey.
River Dell was coming off a 51-36 win over Ramsey, extending the Golden Hawk's winning streak to six games. Senior Matt Kelleher poured in a game-high 18 points.
In the first quarter, River Dell fell behind early, 5-0 but responded with an emphatic 11-0 run to take the lead. The Golden Hawks, with a balanced scoring effort led by senior Andrew Lezaja, scored five points to spearhead the spurt. By the time the period ended, River Dell was up 13-8.
"We knew that Park Ridge would come out and play, so we didn't underestimate them but did come out slow in the first quarter, and that was rough for us, Andrew Lezaja explained.
Senior Larson Walker buried a trifecta to boost the Golden Hawk's advantage to 16-8; Park Ridge ignited a rebuttal with a 10-0 run to reclaim the lead. River Dell junior Sean Golden knocked down a jumper to tie the game up at 18-18.
The Owls jumped back in front with a quick 4-0 run to regain the advantage. With the Golden Hawks leading 22-21 late in the quarter, Park Ridge senior Zach Mallis drained a triple to put the Owls ahead 24-23 at halftime.
Head Coach Ron Van Saders on the first half, "I thought we got outplayed in the first half and I challenged the players to start the second half."
Once the third quarter got underway, Park Ridge upped their lead to 30-25, but once again, River Dell answered back with a thunderous 12-0 run. The Golden Hawks were on fire from behind the arc, sinking three treys with Andrew Lezaja unleashing two. Sean Golden punctuated it with a steal and transition lay-up.
The Golden Hawks fed off the energy and enthusiasm from a packed home crowd with the student section behind the River Dell players and coaching staff bench and opposite with parents in the bleachers and administrative officials.
"The fan turnout really gives us a lot of energy and whenever you're tired the crowd can really help us get energized, Andrew Lezaja noted. River Dell has some loyal fans and we're very grateful for that."
Golden started to heat up in the quarter after being held to two points in the first half by notching six points. River Dell also capitalized in the paint with a put-back shot and drove to the rim for a lay-up. Senior Jack Carey canned a trey to put the Golden Hawks up 42-35 at the end of the period.
"The offense was there and came naturally for us, Andrew Lezaja described. We're a dual-threat team, and we run sets very frequently, and the defense can be very unpredictable when you're in the game.
River Dell cranked the intensity even further in the fourth, consistently driving to the basket for lay-ups as the margin swelled into double digits. The Golden Hawks went on to coast to the 59-41 victory, increasing their winning streak to seven games.
Sean Golden amassed a game-high 12 points, Andrew Lezaja contributed 11 points, and Hamilton Roth chipped in with 10 points.
Head Coach Ron Van Saders on the win, "In that third quarter we played well, and everyone gave us a lift. Andrew Lezaja scored six points and Larson Walker had a couple of threes. Hamilton Roth came in alive in the fourth and Chris Nastasi, Sean Golden and Matt Kelleher were also finishing."
"We have been on a great run lately and had to win this game for power points in the state tournament and nice to be back home. This senior group is great and comes to work every day and put in a lot of time in the off-season and paying off right now."
Next up for the Golden Hawks in the Bergen County Jamboree is a second-round match-up against sixth seed Saddle River Day(8-5, 3-0 NJIC) at Tenafly High School on Saturday, January 28th, with tip-off set for 2:30 p.m.
"Saddle River Day is a good match-up for us, and they're very athletic and strong, but we will be ready, Head Coach Ron Van Saders cited.
Andrew Lezaja on playing Saddle River Day, "It's going to take a lot of effort and determination. Saddle River is an excellent opponent, the best team we have played so far, and a tough match-up for us. I think many people say we're soft, but once we get on the court we're going to prove who we are out there."
"We're stoked to be part of this county tournament and have a very talented squad. All of us (Matt) Kelleher, (Chris)Nastasi, and (Hamilton)Roth are looking to play college basketball. Not just coming into this, but every game means a lot to us, and we're grateful to be playing out there.