River Dell Varsity Girls Basketball Team pushes winning streak to nine with a 56-41 victory over Ramsey
Image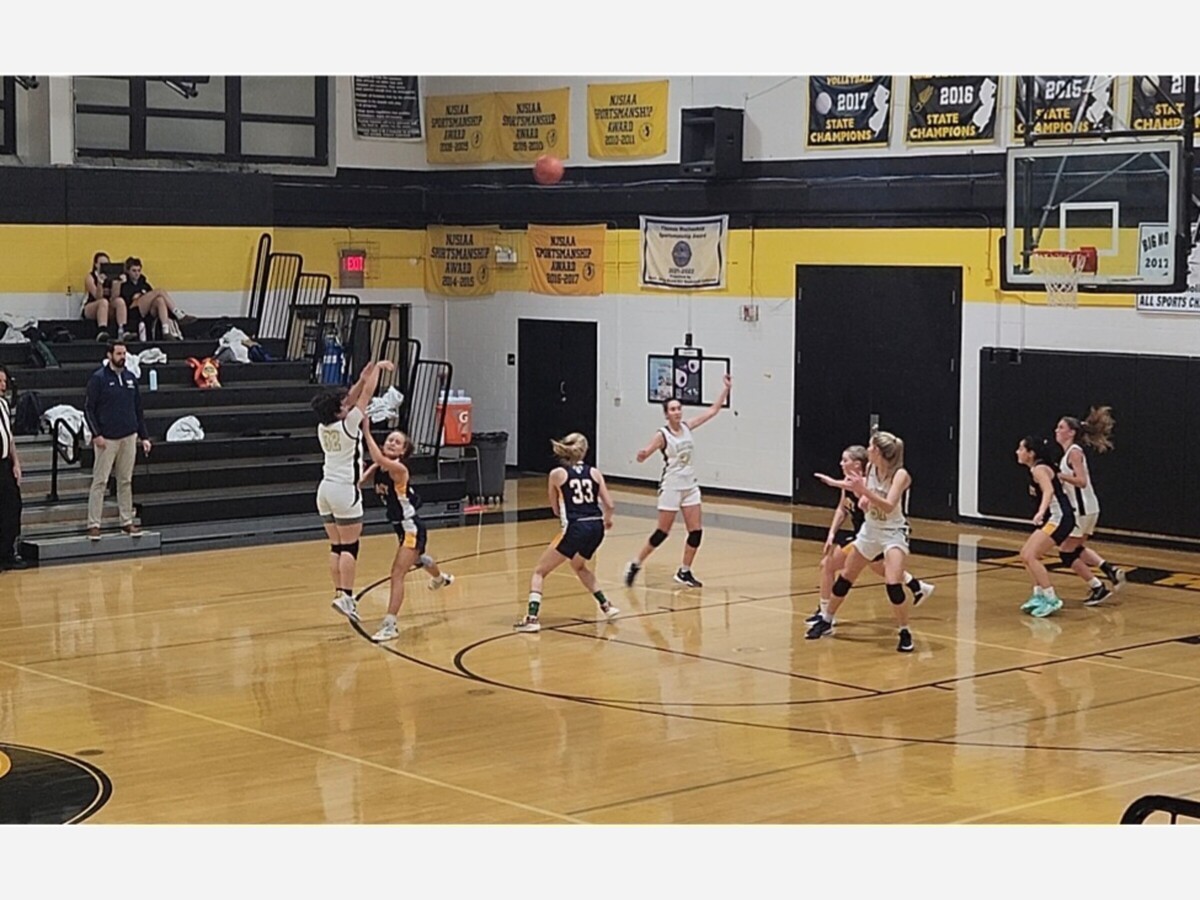 The River Dell Golden Hawks Varsity Basketball Team(12-3, 6-0 Big North Patriot) squared off against the Ramsey Rams(9-6, 4-2 Big North Patriot) at River Dell High School in Oradell, New Jersey.
River Dell was coming off a 55-20 victory over Ridgefield Park at home that increased their winning streak to eight games. Junior Sofia Sanchez dropped a game-high 14 points.
The Golden Hawks fired on all cylinders from the opening tap by jumping to a 10-0 lead. River Dell was sizzling from behind the arc burying three trifectas with senior Ari Rodriguez knocking down two shots.
Ramsey could not put any points up on the scoreboard due to the Golden Hawks smothering defense in the paint and on the perimeter. The Rams finally broke the drought on a free throw at the four-minute mark.
"I was pleased with how we came out and best all year," River Dell Head Coach Lindsay Steffner explained. The girls were excited and a league game and excited about getting back on the court and knew it was going to be a competitive game. They were excited about the match-up, and we only had a few home games left. Ramsey is a very athletic team, physical and well-coached."
River Dell's offense spread the wealth with scoring as Sofia Sanchez tallied five points, Mia Kilmurray notched four points, and Lily Crowder added two points. By the time the period ended, the Golden Hawks were up 17-5.
In the second quarter, River Dell expanded the lead even further. The Golden Hawks drove aggressively to the basket, leading to trips to the free-throw line.
Sophomore Morgan Sconza continued to thrive off the bench by supplying seven points. River Dell capped off an impressive first half and 31-11 advantage with Sconza firing a left-handed outlet pass to Mia Kiamurray, in turn, let loose a perfect two-handed cross-court pass to Kasey Ziegler, who finished it off with a lay-up off the glass.
"Morgan(Sconza) gives us great depth off the bench with that type of scoring," Head Coach Lindsay Steffner described. She sees the court as well as she handles the ball. She is still young and learning the system, but this is her first time in a competitive situation on the court. To see her able to be composed out there, take the shots given to her, and be confident of knocking them down, I'm very impressed with her and where she's at."
"The end of the quarter situation is the kind of the same way we ended the first quarter and we passed the ball through their defense to get a lay-up by Mia(Kilmurray) in the first quarter. The girls know each other strengths and where they're going to be and trust each other to make those plays."
Once the third quarter commenced, River Dell held onto a sizable lead. The Golden Hawks received additional contributions off the bench, with senior Gabby DeGroat netting four points.
River Dell led 41-22 at the end of the period but would come at a hefty cost, with Morgan Sconza sustaining a significant injury on a drive to the basket that left the Golden Hawks players, coaches, and home crowd stunned.
"Gabby(DeGroat) just gives us overall strength, and she understands the game," Head Coach Lindsay Steffner noted. She's an intelligent player, understands her role very well, and has excellent size and awareness. Gabby and Kasey(Ziegler) have grown to play well as a tandem when I put them together, and they're good teammates. Gabby follows the system and does a great job with her minutes.
"Morgan fell hard and it's just a freak injury. The Ramsey player was running by her at the same time. She's a tough kid and going to bounce back."
Ramsey made a brief run behind a total court trap defense that caused River Dell to commit turnovers and reduce the Golden Hawks' commanding advantage to 44-30 with less than six minutes remaining.
The Golden Hawks did a tremendous job limiting the Rams' top player Julia Rosen, to one point through three-quarters of action, but Rosen exploded in the final frame amassing 11 points.
"Rosen is an outstanding player and first-team all-league," Head Coach Lindsay Steffner stated. Lizzy(Puentes) did a great job guarding her the first time; then, I had to put Lily(Crowder) on her this time, and she did an outstanding job making her take tough shots.
River Dell sank their free throws and hit a couple of jump shots down the stretch as they cruised to the 56-41 victory and extended their winning streak to nine games. Sofia Sanchez poured in a game-high 13 points.
The Golden Hawks return to action on Thursday, January 26th facing Wayne Valley(6-9, 3-3 Big North Independence) at River Dell High School with tip-off set for 7 p.m.
"Wayne Valley does an excellent job of changing their defenses and is very well-coached, Head Coach Lindsay Steffner remarked. They have a guard and outside post player, and we need to keep playing the pace we are playing right now and mix up our defenses a little bit. Wayne Valley is traditionally a powerful program, and we're not going to take them lightly.
"The schedule right now works in our favor and the girls are playing a lot of minutes right now. I got a lot of kids helping us that have fresh legs and the depth is helping us where other teams might get worn down this time of the year. Being able to play nine kids and I got 12 in this game is going to help us as the season goes on."
After the Wayne Valley game, River Dell hits the road for four away games, including facing the winner of the Tenafly/Paramus game in the Bergen County Women's Coaches Association Tournament on Saturday at Northern Valley Regional High School at Old Tappan.
"Being at home is a big perk and not playing a Bergen County Tournament Game on Thursday because we got the buy works in our favor as well and where we need something for power points and not a stressful game."
"I'm hoping it brings the community and the fans out and what makes River Dell such a special place and everyone's there to support and rooting us on. Knowing some of the younger fans out there watching how special this team is and that's really important for them to see."