River Dell Varsity Girls Basketball Team winning streak reaches eight with a 55-20 victory over Ridgefield Park
Image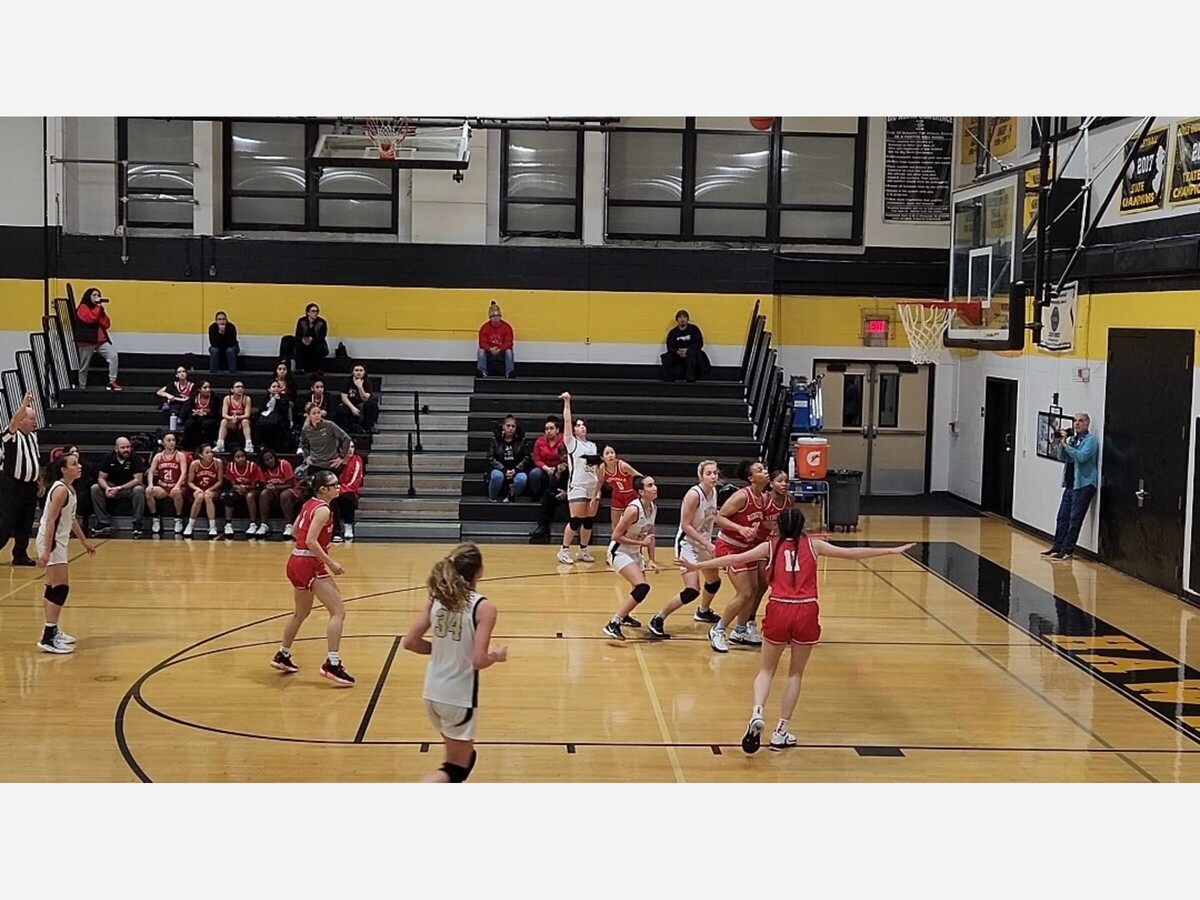 The River Golden Hawks Varsity Girls Basketball Team(11-3, 3-0 Big North Patriot) faced off against the Ridgefield Park Scarlets(8-7, 3-1 Big North American) at River Dell High School in Oradell, New Jersey.
River Dell was coming off a 38-19 win over Mahwah that increased the Golden Hawks' winning streak to seven games in a row.
In their previous games, the Golden Hawks followed a similar blueprint by jumping to a double-digit lead. Junior Sofia Sanchez paced the scoring output by tallying seven points as River Dell led 16-5 at the end of the first quarter.
River Dell Head Coach Lindsay Steffner on the matchup against Ridgefield Park, "I watched some film on Ridgefield Park and they had a nice win over Lyndhurst two days before. I told the team they had to play a great game because Ridgefield Park has a good defense and player in the middle that score inside and nice touch outside. I challenged the team to come out and protect home court."
"Sofia(Sanchez) is a doing a great job offensively, she finds players and hitting her outside shots especially against the zone. She's in that groove shooting right now."
In the second quarter, the Scarlets managed to trim the Golden Hawks' lead down to 22-13. However, River Dell ended the period on a solid note with a 7-0 spurt. Playing her first home game, sophomore Morgan Sconza came off the bench to score seven of her nine points on the night in the period. Senior Ari Rodriguez contributed four of her nine points in the game, including burying a triple.
"I was happy to get her in, and she adds a lot more depth, Head Coach Lindsay Steffner explained. "She has the experience, is confident, and is a great shooter. "
In the third quarter, the Golden Hawks widened their advantage even further. Sofia Sanchez firing on all cylinders, dropped in seven additional points to finish with a game-high 14 points.
River Dell dropped the hammer defensively, limiting Ridgefield Park to three points as the Golden Hawks led 43-23 at the end of the period.
"I told the team that we got to treat the third quarter as part of beginning of the game and come out focused and strong, Head Coach Lindsay Steffner described. I wanted to press a little bit more in the second half and we did in the third quarter and came out flying and then I was able to get everyone in and a lot of time."
Once the fourth quarter got underway, most of the players off the bench were able to see action on the court. Despite a relatively low-scoring period, River Dell outscored the Scarlets 12-4 as they cruised to the 55-20 victory and extended their winning streak to eight games.
"I have so much depth in every position right now which is a nice position to be in as a coach, Head Coach Lindsay Steffner noted. Teams can't really defend us full court because we have so many ball handlers on the court. You play us in the zone, and we have good outside shooters. If you play us man-to-man, we can get to the rim because we have players have the quick first step and move very well. We're really putting it all together right now and I like where we're at right now."
Next up for the Golden Hawks is a rematch against Ramsey on Tuesday, January 24th, at River Dell High School, with tip-off set for 7 p.m. On January 3rd, River Dell defeated the Rams 47-35 at Ramsey High School.
"I told the girls it gets only harder as we move forward, Head Coach Lindsay Steffner stated. We must face all these teams a second time around and we have Ramsey at home but the rest of them on the road. Ramsey gave us a great the first time around but we also had Lizzy(Puentes) in that game and have change the starting lineup quite a few times."
"Ramsey can score the basketball and very effective getting Amanda Rosen the ball in positions where she can score, and she's can an excellent shooter and the other kids around her are stepping up. We really attacked it inside the last game and the goal again is to get our big players inside, press them a little bit and make their guards have a hard time getting Rosen the ball."
After last year's 15-0 start to the season, the Golden Hawks are enjoying another successful run. Head Coach Lindsay Steffner on how the players handle the winning streak and the coaching staff.
"They're all mature and older so it's easier to keep them focused. We have 13 seniors and all different types of leadership and roles. They bring something different to the team and this is their last year of playing. I keep telling them like it's their last time and embrace every moment because we're halfway through the season. Every game you are taking it more seriously when the end gets kind of closer."
"The last opportunity to win a county tournament and league, so that's on my side, and because of their presence, they practice harder than any other team I've ever had because we have so many kids. They're showing the younger kids how to do it and good role models at practice. We mix it up, and I keep it fresh with new drills to keep them on their toes. It's tricky because every week's different, with sometimes three games. We're in a good spot and a fun group to be around.
"There's a lot of time that goes into coaching and time away from our families. A lot of time watching film and behind the scenes stuff that I don't think people that aren't involved know how much that goes into it. You might go as a family and watch a game but don't realize how many hours these coaches prep those players for the opponents and how many hours those kids have been practicing running their plays effective and understand the matchups."
"Especially at the high school level most high school coaches have other jobs. I really appreciate parents over the years that recognize and generally say thank you and show how grateful they are for the experience their kids are getting. Whether you lose or win every game if you're coming out with a good experience and that's my goal."
"I'm making sure those kids understand how to be a good person on and off the court and academics come first and make sure they're good role models for the next generation. Also how to be a good leader and there's so many things that sports teaches kids and that's what my goal is as my assistant coaches."