River Dell Varsity Girls Basketball Team rolls past Westwood for a third straight win
Image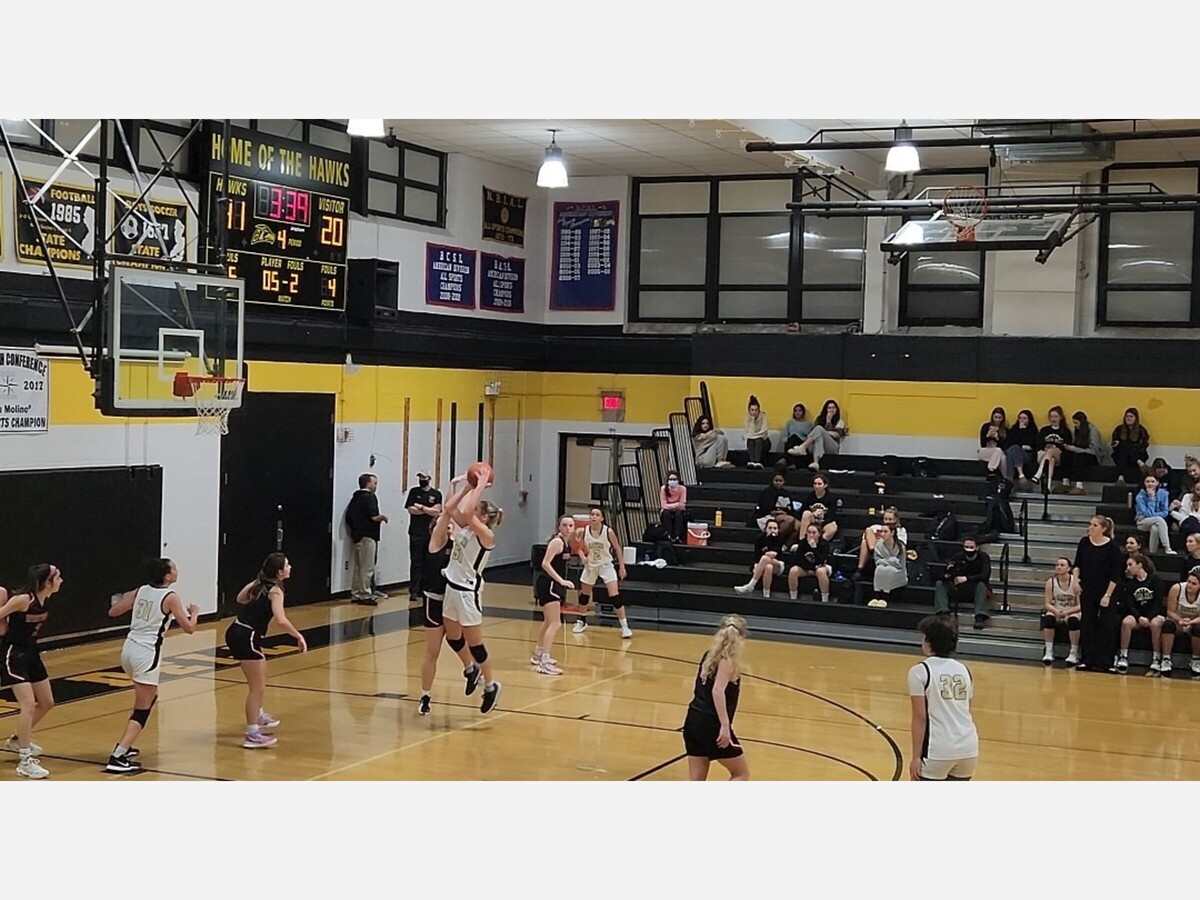 The River Dell Golden Hawks Varsity Basketball Team(6-3, 2-0 Big North Patriot) faced off against the Westwood Cardinals(7-2, 1-1 Big North Patriot) at River Dell High School in Oradell, New Jersey.
River Dell was coming off a 47-35 win over Ramsey at Ramsey High School, marking the Golden Hawks' second straight win and improving to 5-3 on the season.
The Golden Hawks were minus one of their critical starters against Westwood, with senior Lizzy Puentes out a couple of weeks due to a finger injury. Senior Mia Kilmurray got the starting assignment in place of Puentes.
"Lizzy has been playing great and every game she's improved," River Dell Lindsay Steffner explained. "She played a phenomenal game at Ramsey and held their top scorer to 14 points." Defensively she's been a solid player for us and gets her hands on the ball.
"Late in the third quarter she hurt her finger and ended up playing through it because she's tough and the momentum of the game and adrenaline took over but by the next day it swelled up and she's going to be out about two to three weeks."
River Dell came out firing on all cylinders, jumping to an 11-0 advantage in the first four minutes of the first quarter. The Golden Hawks scored from both the perimeter and inside the paint.
The Golden Hawks employed a smothering defense that denied the Cardinals' offense from driving into the paint and getting quality shots from the perimeter. Westwood's first points came with two and a half minutes left on a free throw.
River Dell Sofia Sanchez tallied six points in the period, including a sensational play that capped off an impressive beginning to the game. Sanchez grabbed a defensive rebound the, dribbled the length of the court, and, just before the buzzer sounded, hoisted a spectacular off-balance baseline jump shot as the Golden Hawks led 15-5.
"There's a lot that goes into each game; we watch the film for about 20 to 30 minutes before each game and go over a scouting report," Head Coach Lindsay Steffner described. "We go over the strengths and weaknesses of opponents and where we're going to attack and play defense and overall game plan." The players are becoming more learners of the game in that way.
"You can see it slowly happening on the court, the basketball IQ, the ball movement and different areas of where they can score." "It was a really nice display of making outside shots, use screen and roles and finding each other on the court."
"It was about taking away what Westwood does very well, and they have some outstanding outside shooters and get to the rim quite well." "On film, they showed their ability to score inside and outside." We took that away and frustrated them a little bit, which worked in our favor.
In the second quarter, River Dell kept pressing forward. Senior Lily Crowder provided the bulk of the offense with six points. By halftime rolled around, the Golden Hawks were up 26-12.
"This game is about trusting your teammates," Lily Crowder noted." "Our coach (Lindsay Steffner) tells us you have to work, screen the right people and get the passes there every time." It's starting to work; I'm trusting my teammates, and they're charging me, and the passes are getting there." At the end of the game, I must finish.
Head Coach Lindsay Steffner, in the message to the team at halftime, "My challenge for them was to every day we had to learn and get better from our mistakes which were two days ago when we were up 11 against Ramsey and sat the starters a little bit in the second and Ramsey made a nice run at us." "Let's ensure the third quarter is ours and keep the momentum."
The Golden Hawks followed the script to a tee in the second half. Despite a low-scoring third quarter River Dell was up 33-14 at the end of the period.
As the margin grew exponentially in the fourth quarter, a few of the Golden Hawks bench players got some quality playing time. River Dell went on to cruise to the 47-25 and their third straight win. Lily Crowder poured in a game-high 17 points, while Sofia Sanchez supplied ten points.
"Anytime you can get wins in the league, it's a great accomplishment," Head Coach Lindsay Steffner stated. "Our league is challenging, and we're trying to get as many power points as we can for the (Bergen County) Tournament and high seed, and that's where our focus is." Westwood came in with a 7-1 record and played a great game against Mahwah, and they return a lot of great athletes league games mean a lot for everyone, and it's always going to be a battle.
"The Big North Patriot League is a great league and coaches are competitive." "We're friendly and coaching against each other for years now and always thinking in the back of my mind what they're going to through as us every time and get us off our rhythm." It's a chess match between the league opponents.
River Dell returns to action with an away game on Saturday, January 7th, at Jefferson(6-1), with tip-off set for 1 p.m. at Jefferson High School. Last year the Golden Hawks defeated the Falcons in a thrilling overtime classic 52-50 at River Dell High School.
Lily Crowder's upcoming match-up: "It's going to be tough, and obviously Jefferson wants revenge from last year." "Now we're going up there, and we have to keep our focus." It will be a test to see if we can keep our composure and get a significant win on the road.
Head Coach Lindsay Steffner on facing Jefferson, "It's going to take a very good outside shooting game which I'm confident we can have." "They're going to play a two-three zone and going to extend and trap it." We worked on where to get our shots off and attack.
"We'll play hard defense and hopefully get their guards to turn the ball over and get some easy transition buckets." "When you're on the road after a long bus ride, it takes focus and discipline, and the bottom line is it doesn't matter what they or we do and about the mental game and whether are we ready to play.