River Dell Varsity Girls Basketball Team rallies late for a dramatic 47-46 win over Cresskill in the Joe Poli Holiday Tournament
Image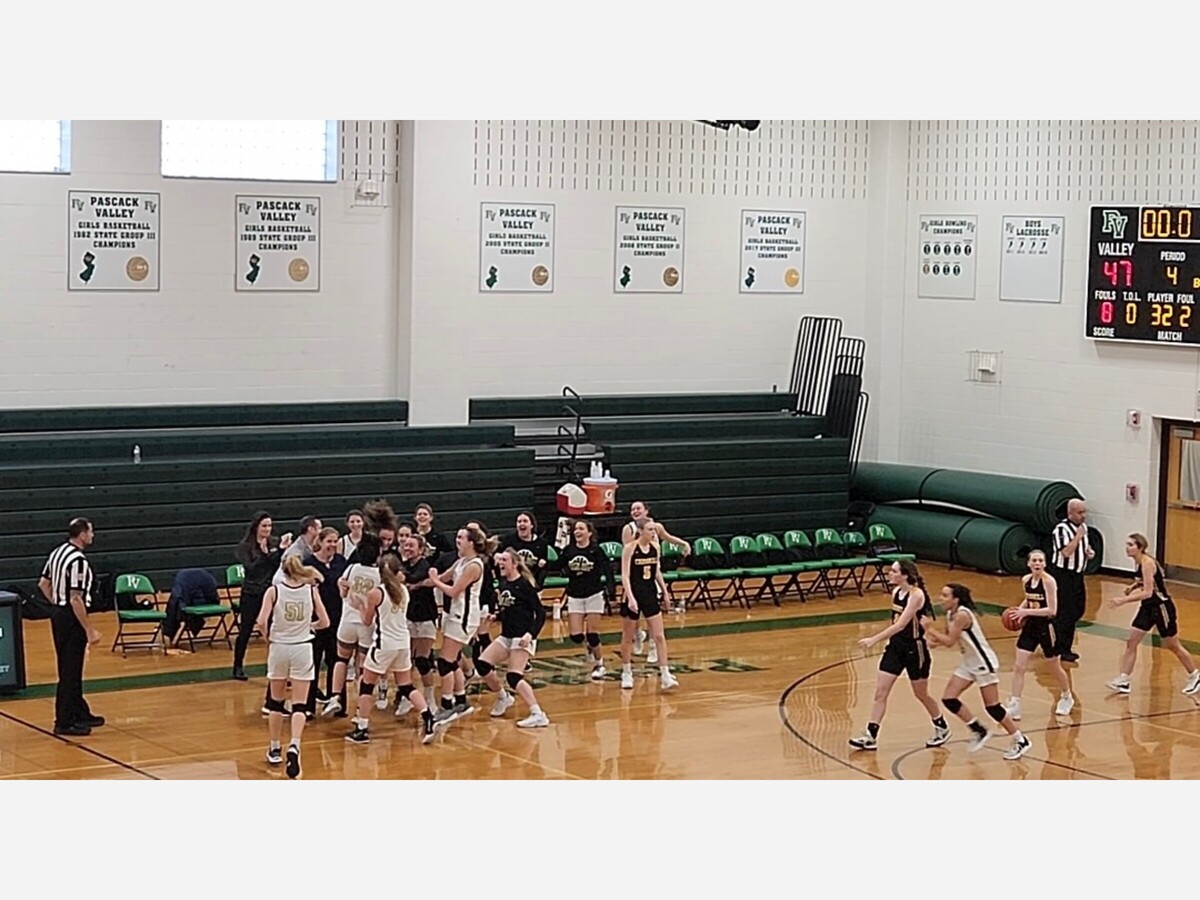 The River Dell Golden Hawks Varsity Girls Basketball Team(4-3) squared off against the Cresskill Cougars(4-2) in the third-place game of the Joe Poli Holiday Tournament at Pascack Valley High School in Hillsdale, New Jersey.
River Dell battled gave Old Tappan, one of the best teams in Bergen County/North Jersey, fits for all four quarters, but ultimately the Golden Knights prevailed 37-27.
The Golden Hawks got off to a solid start in the first quarter, with senior Lily Crowder scoring the first five points for the team and a 5-2 advantage.
With River Dell leading 8-7 at the four-minute mark, Cresskill erupted for an 11-0 over the next three minutes of action. By the time the period ended, the Cougars had led 20-11.
"They(Cresskill) really attacked our defense and put us on the back of our heels a little bit," River Dell Head Coach Lindsay Steffner explained. "They went after our post players and the first time a team has really gone inside and score inside and outside on us and gave us a run for our money from the opening tip." No team has put up 20 points on us that I can remember.
In the second quarter, the Cougars extended their lead to double digits. However, the Golden Hawks answered back in the last minute of the period with a 6-0 spurt.
Junior Sofia Sanchez dropped four points, including a jump shot in the paint with two seconds remaining, as River Dell trimmed the deficit to 29-23.
"I told the team we got to keep fighting, play harder and more physical," Head Coach Lindsay Steffner described. "Cresskill had the momentum, and we had to change that around now because they weren't intimidated and scared. We played weak inside, getting our shots blocked, hanging our heads slightly, and looking somewhat stunned.
"That was a really good run we needed going into halftime and I could make adjustments." "It's hard going into halftime down by double digits versus six and felt more manageable." I challenged them at halftime to step up and play harder.
River Dell heard the message loud and clear as they came out aggressive on the offensive end in the third quarter. The Golden Hawks pounded the ball inside, leading to trips to the foul line and knocking down shots to draw within three points on several occasions. Senior Lizzy Puentes sizzled from the charity stripe line sinking four shots.
With time winding down in the quarter, Puentes stepped up in the clutch, driving into the paint for a lay-up and getting fouled. Puentes drained the free throw to even up the game at 35-35 at the end of the period.
Puentes in the zone provided another pivotal moment for River Dell, converting a lay-up that put the Golden Hawks up 37-35 early in the fourth quarter and for the first time since the first quarter.
"Lizzy is playing physically, and she's got the right tempo that we need right now," Head Coach Lindsay Steffner noted. "She makes excellent post moves inside, gets to the foul line, and makes her foul shots." When she makes her foul shots, it puts us in a situation where we change our defense a little bit.
Cresskill responded with a 6-0 run to reclaim the lead art 63-37 with less than five minutes to go. Appearing as though the Cougars might break the game wide-open, River Dell senior Isabella Gilmour knocked down free throws to stem the tide.
The Golden Hawks trailed 45-39 with less than four minutes left when Gilmour banked in a remarkable trifecta that hit off almost the top of the backboard and glass to make it a one-possession game.
"I've always been someone who likes to drive to the hoop instead of shooting it but when I get the opportunities and I'm able to get open especially through the help of my teammates and we ran a lot of screens," Isabella Gilmour stated. "My teammates did a wonderful job of setting screens and it's very exciting to see how everything's starting to come together."
River Dell trailed 46-42 with 35 seconds remaining when Sofia Sanchez took possession of the ball, sidestepped a Cresskill player that fell to the ground, and then buried a trifecta.
The Golden Hawks had an opportunity to re-take the lead but missed a baseline jump shot and thus forced to foul a Cougars player. However, River Dell caught a break on a pair of missed free throws.
That set the stage for Sofia Sanchez, who pulled down a rebound then dribbled with a burst of energy up the court and into the paint, hoisting a high-arching shot that hit off the glass, rattled around, and into the bucket with under three seconds left that put the Golden hawks up 47-46.
Cresskill could not inbound the ball in time and advance the ball down the court as the clock hit zero and set off a jubilation celebration on the court and bench with the River Dell players and coaching staff.
"I have been challenging the team to rebound better and guards to get involved," Head Coach Lindsay Steffner remarked. "Sofia rose and got the rebound and went coast-to-coast," I told them to get to the rim, and a high-percentage shot will happen, and Sofia did that. She was lucky enough to do what she did and went in our favor today.
"It's a fun way to win a game, this team has a funny little fight in them and coming from behind and showing the resilience and grit and you can never count us out." "We got kids coming off the bench that provided a lot of good minutes and fresh legs." Our girls were making tough shots down the stretch.
Isabella Gilmour on the win," "This what we needed and a relieving feeling going into 2023 on a positive note." "I'm glad we won and a big team effort." We know that we can play better and are capable of it, and it's a new group of players; We're just trying to figure out everyone and their styles.
"There's been a couple of bumps in the road, but we know what we're capable of and can really take it up to that next level and be a really good team and our coaches see that it in us." "We have so many different players with different skill sets."
"It's awesome to see how far we have come since my freshman and being on varsity for four years and how well-rounded we are." "There are little girls that come out to our games and elementary school girls who are watching and supporting.
"It's super cool to see how successful we're going to be in the future with these girls coming up." "I remember growing up and watching the high school girls and waiting to be like them one day and now it's us and how we've been able to accomplish so much."
Head Coach Lindsay Steffner on the team participating in the Joe Poli Tournament and alumni game," "It couldn't have gone any better and a great week between the alumni game coming out of Joe Poli with two out of three and playing a tough Old Tappan one of the top teams obviously in North Jersey." "There's a lot to hang our head on going into league play and feeling a little bit more confident and keep working on some things we need to." They're a resilient and funny group of girls I'm blessed to coach daily.
"Seeing my former players with big smiles and wanting to come back into the gym and supporting the team and community there as well." "That's why River Dell is such a great place to play and coach and be a part of, and it's continuing that legacy that started way before me and continuing with the help of me and my assistants and players.
"It's what River Dell High School sports is all about and does a great job of that, as evidenced by the number of fans we had in our home opener, and the girls' basketball team is exciting to watch." "We're drawing many younger kids coming out with their parents and campers and building a fun environment. My main goal being a coach is to give back and see that growth and fun time for girls' basketball.
River Dell returns to action on January 3rd when they face Ramsey(4-2) at Ramsey High School with tip-off set for 7 p.m.