River Dell Golden Hawks Varsity Football Team caps off the 2022 season with an emphatic 42-0 win over Teaneck
Image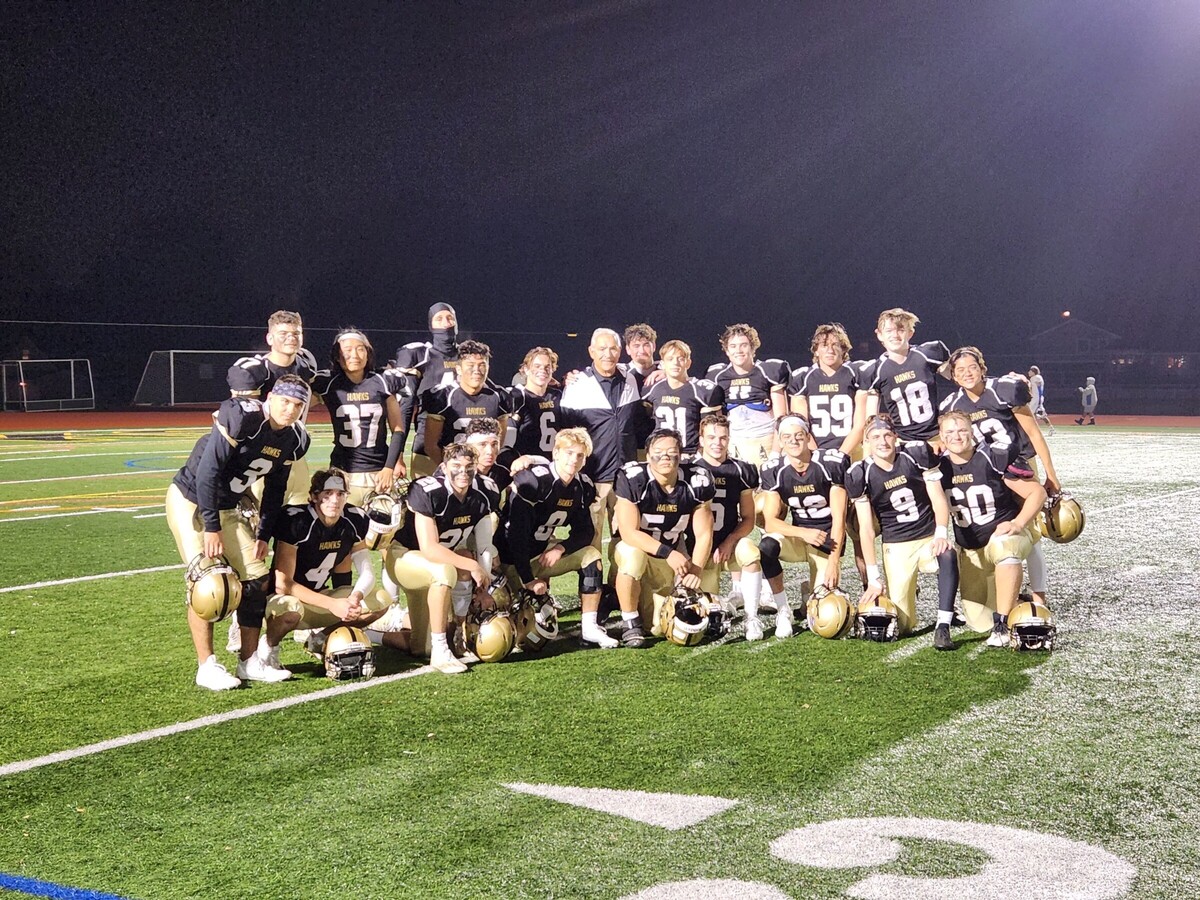 The River Dell Golden Hawks varsity football team(6-5) hosted the Teaneck Highwaymen(7-3) in the 2022 season finale at River Dell High School.
River Dell was coming off a tough 33-13 loss to Hillside in the North 1, Group 3 Semifinals the week before.
Despite the defeat, the Golden Hawks accomplished quite a bit this season by upsetting a top-ten team in Ramapo, crushing Paramus in the Battle of Midland Ave., and defeating Vernon in the first round of the state playoffs.
For 23 River Dell seniors, one last opportunity to play on their home field in front of their families, friends, student section, administration, and athletics. In addition, they walk down the pathway with the green flag, run out onto the field, and crash through the banner that the cheerleaders held up.
Golden Hawks senior quarterback Jake Sconza on the build-up to the game against Teaneck. "No matter the outcome, Coach(DJ)Nimphius said we're going to play 11 games." "It was a tough loss to Hillside, but we know we left everything out on the field and battled." Even though it was emotional, the senior group and the whole team wanted one more opportunity to be out there in front of our best friends and the home crowd.
"That green flag means a lot to us, I'm not sure how long we've had that flag but it's symbol that we're ready to go." "That represents who we are as a program and to put it all out on the field."
"We practiced on Monday and Tuesday on the field; then Wednesday, we had meetings and a little jog through." "I looked up, and it was daylight savings, and it was dark." I felt like I was going down to play a game, and as soon as Coach Nimphius blew that final whistle and said to bring up that I was going to be out last time practicing on the field and it hit me that I would never be practicing on this field ever again.
River Dell was shorthanded going into the game against Teaneck, with starters Andrew Spano and Max Froonjian out with injuries sustained in the Hillside game. However, both players dressed and wore their uniforms, with Froonjian going to midfield for the coin toss.
"I knew that Max and Andrew wanted to play so bad and felt awful for them because it was one last time for all of us to be out there on the field," Jake Sconza explained. "I talked to Max, and he was super upset that he was not able to put that helmet on one last time." Putting on that uniform meant they were a part of this for four years and how much it meant to them.
Once the ball kicked off in the first quarter, the Golden Hawks wasted no time jumping to the lead. Jake Sconza completed a deep pass to wide receiver Jack Carey, pushing the ball into Highwaymen territory.
On the next play, Sconza pitched the ball to sophomore Chris Kelm on an end-around play, with Kelm driving to the Teaneck 11-yard line. Sconza then dropped back into the pocket on first down and launched a pass to sophomore wide receiver Ryan Rossig in the left corner of the end zone.
"That was definitely awesome, and I believe his first touchdown of the year," Jake Sconza described. "For a younger kid, he's only a sophomore to score his first varsity touchdown is a confidence booster."
Sconza connected with Ryan Rossig for the second time in the second quarter. Sconza took the snap, faked a handoff as he rolled to his left, and fired a strike to Rossig in the end zone.
After the River Dell defense forced a quick three and out, the offense had an excellent starting field position at the Teaneck 35-yard line. Jake Sconza completed a pass to wide receiver RJ Weiss that moved the ball down to the four-yard line.
On first and goal, Sconza faked the handoff to Chris Kelm, then put on a nifty move that dropped a defensive lineman to the ground before barreling into the end zone.
"I knew we were going to get into the end zone no matter what," Jake Sconza stated. "The offensive line did a great job all night." I was excited knowing that this was one of my last touchdowns.
"Those are a great group of guys up front and pretty much a new line with the guys that graduated last year." "For them making all these blocks and kids progressing and showing how hard they worked all season it paid off."
The Golden Hawk's defense continued to dominate as they forced the Teaneck offense into another three and out. River Dell's offense worked with a short field at the Highwaymen's 40-yard line due to a terrific punt return by senior Jack Carey.
Sconza completed a pass on the first ball to push the ball to the 25-yard line. Facing a third down and long at the 24-yard line Sconza utilized his running speed gaining 15 yards on a quarterback keeper.
Once inside the ten-yard line, the Golden Hawk's offense hit a barrier. Another third-down situation popped up for River Dell. Jake Sconza dropped back in the pocket and lofted a nine-yard touchdown pass to RJ Weiss in the right corner of the end zone.
River Dell's defense was stifling all night long, especially with the pass rush, as junior defensive lineman Connor Yeandle registered a sack. Senior linebacker Nick Sybel shut down the running lanes with a vicious tackle on third down, resulting in a punt.
On the Golden Hawk's next offensive series, a pass from Jake Sconza to Jack Carey put Sconza over 5,000 career yards and the first River Dell quarterback to do so. "I had no idea it was coming and had been working on this the past few years," Jake Sconza noted. "I wanted to work hard and show the team I'm a leader." Showing up for lifts does pay off.
"They say if you miss a lift, it doesn't mean a lot, but that's reflecting on you and who the guys are as a program." "Hitting over 5,000 career yards is an awesome achievement, and I couldn't do it without my offensive line for both years and wide receivers making plays." Knowing the home crowd gave me a little cheer and celebration and my last moment with all my best friends, and I just wanted to go out and finish.
The next three plays were on the ground, with Sconza handing the ball off to Chris Kelm as the Golden Hawks reached midfield. Sconza then completed back-to-back passes that advanced the ball to the Teaneck 15-yard line.
On third down at the 12-yard line, Sconza dropped back in the pocket, surveyed the field, then rolled to his right before airing out a touchdown pass to a wide-open Jack Carey backpedaling in the end zone. "Jack has been good all year; he found a wide-open space in the end zone, and I put it up there for him," Jake Sconza remarked. e
The fourth quarter witnessed most seniors leaving the playing field for the very last. Freshmen got their first action on the varsity level.
On first and goal at the two-yard line, running back Cain Lanza took the handoff from quarterback Zion Yoon and plowed into the end zone for the score to cap off the scoring. "It was awesome seeing the younger kids get into the end zone." "I hope they don't take it for granted because it's the best four years of your life and might not seems like it right away, but once it's over, you're going to realize that it was the most fun you ever had." The tough wakeups during the summer and practices are moments you won't ever forget with your best friends and buds for life.
With the final second ticking down in the fourth quarter, the River Dell players streamed onto the field in celebration. Once the handshake line concluded, there were emotional hugs amongst the seniors and the rest of the team with the coaching staff. Head Coach DJ Nimphius spoke to the team as well.
"It was very emotional for me as I watched it and now preparing for the next level, "Jake Sconza said. "It was awesome knowing these four years worked out and did pay off, and I got my last final victory at home." Something I will never forget, and as I ran off, I told my good buddies I love you all, and these were the best times of my life, and I wouldn't forget this."
"We haven't had a losing record since 2006 and knew we were going to put it all put there on that field." "It's awesome seeing such a good program like River Dell finish that way."
Coach Nimphius is a great coach, I loved playing for him for four years, and he helped you out with everything." "He's been there for every single one of us and pushed us to the max and definitely noticed what we can do and always wants to win."
In closing, Jake Sconza reminisced on what high school football has meant to him. "High school football is just different, you're out there with your best friends and guys you know forever from the same town and looking out for you." "Your friends still watch you even if they don't play football." There was no better feeling as I was going up the pathway to see all my good buddies and the same path we came down.