River Dell Varsity Boys Basketball Team cruises past Tenafly in the North Jersey Section 1, Group 3 Tournament First Round
Image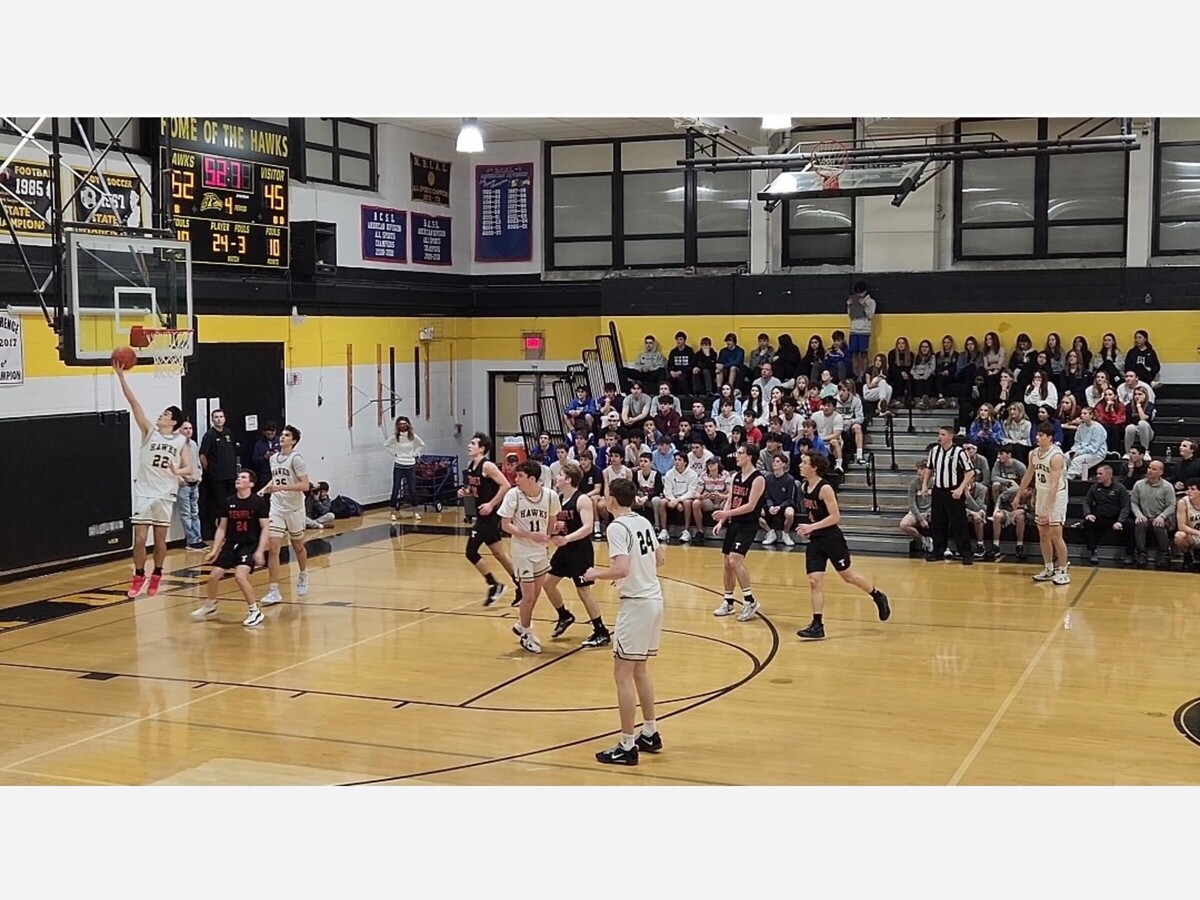 The River Dell Golden Hawks Varsity Boys Basketball Team (20-6) hosted the Tenafly Tigers (11-12) in the first round of the North Jersey Section 1, Group 3 Tournament at River Dell High School in Oradell, New Jersey, and gym at maximum capacity and filled with plenty of energy mainly from the River Dell student section.
Matt Kelleher on the energy and passion from the home crowd, "I just remember last year watching the state game and how electrifying it was in the gym. I didn't get into the game, so I was waiting for this year to have a chance to play in a state game and in front of all those people who come out."
"It completely changes the game when we have the student section and everyone's feeding off the energy. Every time you have big stop you have the student section rumbling and gym going crazy. It brings a momentum switch that you can't have sometimes in an away game. Having your friends and representing the school is the best."
River Dell jumped out to a 10-5 lead at the end of the first quarter. Hamilton Roth led the way notching five points, while Matt Kelleher and Sean Golden contributed the remaining points.
In the second quarter, the Golden Hawks outscored Tenafly 10-9, with Matt Kelleher totaling eight points. Kelleher consistently attacked the basket for layups. River Dell went into the halftime break up 20-14.
"Teams know especially later in the year how many threes I have hit this season, so it's opened so many opportunities for me to drive to the hoop because I'm more than a shooter, Matt Kelleher explained. I can get inside and feel I'm crafty when I get underneath there and being able to finish in different way."
"When teams are running out on me every single time, I catch the ball and they're yelling shooter and always looking to find it. So if I got the ability to get inside it's going to make it so much harder guard then if they backup I'm going to shoot it."
Matt Kelleher on the message from Head Coach Ron Van Saders at halftime, "He basically told us not to be our last game and we want to get to that 20-win mark which not a lot of teams in River Dell history has ever done. He just kept saying let's have one more practice and put those jerseys on one more time."
In the third quarter, the Golden Hawks fed off the halftime message with Hamilton Roth totaling seven points, along with Matt Kelleher, Andrew Lezaja, and Sean Golden chipping in as River Dell boosted their advantage to 37-23 at the end of the period.
Once the fourth quarter got underway, the Golden Hawks expanded the margin further. Still, the Tigers kept clawing back, with Aidan McGinty (15 points), Reilly Benowitz(12 points), and Yuvcil Guttman(8 points) combining to score 17 points to keep Tenalfy in the contest.
However, every time the Tigers aggressively employed a full-court press ended up in a foul, thus sending River Dell to the foul line. The Golden Hawks cool under pressure at the charity stripe, with Matt Kelleher sinking seven shots, Andrew Lezaja five shots, and Sean Golden four shots.
"It was big because they had to play catch up and playing so high on their presses with man-to-man, Matt Kelleher described. They just kept fouling us and knocking down those free throws is how you win games and we shot 28 out of 30."
"We're all playing for each other and unselfish especially in the fourth quarter and looking for each other. No one's out there to score as many points as they possibly could and we're all on the same page to just win the game and all that matters. We have a lot of chemistry this year."
The Golden Hawks stretched out the margin as the quarter wore on as they netted 27 points and eventually cruised to the 64-47 victory and registered their 20th win of the season. Matt Kelleher poured in a game-high 29 points, with 14 coming in the fourth quarter, Hamilton Rother totaled 14, and Sean Golden netted 10.
"Growing up I wasn't really a player and played a lot and wasn't given much of an opportunity, Matt Kelleher noted. Just to able to do this my senior year and if you told me I was going to score that many points in a playoff game my freshman year everybody would have told you were crazy."
"I'm showing people what I'm capable of and at end of the day it doesn't matter unless we're winning. I'm going to cherish this game forever. My whole family was there, cousins, my brother and Dad, aunts, and uncles and that's so good to play in front of all of them."
"It's incredible to win 20 games, and if I'm right, only been done four times before. We are more of a football school, but we want the younger generation and kids coming up to know if you work hard, there's always the basketball program.
"We wanted to put the basketball program in the right direction for the younger generation and be a good example and the 20 wins is a huge achievement because we knew we could do it at the start of the year and finally to do it just feels so good and in a state game."
River Dell turns its attention to a quarterfinal showdown against Demarest on Wednesday, February 21st, at River Dell High School, with tip-off set for 6 p.m. The Norsemen defeated West Essex 66-50 in the first round.
"We need to play together, Demarest is a very good team and play super hard and run good stuff, Matt Kelleher stated. As long as we're on the same page as we've been doing all year and go in with that mindset to win the game, we should be fine."