River Dell Varsity Girls Basketball Team shows grit and mettle in an overtime loss to Tenafly in the Bergen County Women's Coaches Association Tournament Round of 16
Image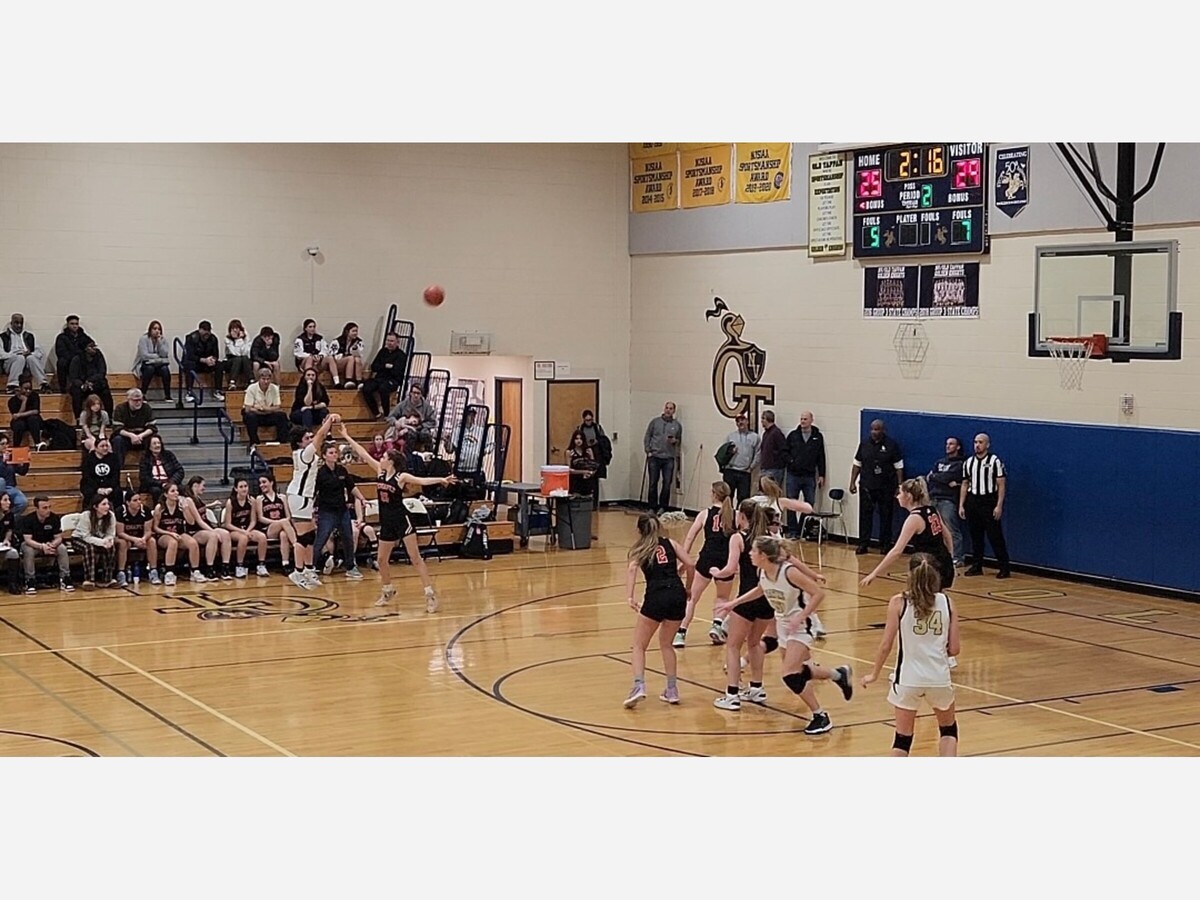 The River Dell Golden Hawks Varsity Girls Basketball Team (13-4, 6-0 Big North Patriot) squared off against the Tenafly Tigers (13-4, 3-3 Big North National) in the Bergen County Women's Coaches Association Tournament Round of 16 at Northern Valley Regional High School at Old Tappan in Old Tappan, New Jersey.
River Dell was coming off a 54-44 victory over Wayne Valley at River Dell High School, extending the Golden Hawks' winning streak to ten games. Junior Sofia Sanchez poured in game-high 25 points, including knocking down five trifectas.
In the first quarter, both teams came out shooting the ball effectively. River Dell senior Isabella Gilmour jumpstarted the offense by scoring six points. At the end of the period, Tenafly led 15-13.
"Bella( Isabella Gilmour) found her spots where she could score early on which was very helpful, River Dell Head Coach Lindsay Steffner explained. Their defense started collapsing which opened for the outside shooting."
Moving to the second quarter, the Tigers extended their advantage to 22-16 with six minutes remaining. The Golden Hawks answered back to cut the gap to two points. However, Tenafly responded with a 6-0 spurt.
Sofia Sanchez picked up where she left off against Wayne Valley by hitting shots from behind the arc. Sanchez was on fire, burying three triples that narrowed the Tiger's advantage to 29-28 at the two-minute mark.
Sophomore Morgan Sconza displayed her toughness despite breaking her nose in a game earlier in the week against Ramsey and wearing a face mask.
Sconza came off the bench, boosting energy and offensive production by scoring seven points. She hit a jump shot to put River Dell up 32-31 and sank a trey as the Golden Hawks led 35-31 at halftime.
"I knew my shots were going to be there from watching film and pulling up for jump shots to help get us the lead back, Morgan Sconza described."
"I hit the floor pretty hard against Ramsey and at first I thought I had a bloody nose but then I knew I broke my nose. It was probably the hardest because at first, I didn't know if I was going to be able to play. When I went to the hospital, they told me I broke my nose in three places. They gave me a mask and I was just so happy I could play and be on the court."
Head Coach Lindsay Steffner on Morgan Sconza, "She's a warrior and tough kid. We have a bunch of kids on the team like her, but the fact she got hit again, you worry as a coach, but she just played through it and never said anything about it and did her job.
Once the third quarter commenced, River Dell widened the margin to double digits at 46-34. When it appeared the Golden Hawks were ready to open the game, Tenafly ignited a furious rebuttal.
After tallying 12 points in the first half, Tigers Anna Taufield(22 points) unleashed three pearls that propelled Tenafly to trim the deficit to 51-47.
"Tenafly responded very well and every time we doubled the ball, they ended up making the right pass, Head Coach Lindsay Steffner noted. We rotated a little bit slow because of their shooting and they made tough shots."
In the fourth quarter, the Tigers managed to even the game up on several occasions—a heavyweight duel with the lead fluctuating back and forth. Tenafly led by Rylie Theuerkauf, after dropping 13 points through three-quarters of action, Theuerkauf supplied nine points.
Morgan Sconza put River Dell up 60-57 with less than four minutes left. Sconza dribbled up the court, then accelerated into the paint and spun around for a jump shot while fouled in the process. Sconza drained the free throw to complete the three-point play.
"I forgot all about the mask and it was game time, Morgan Sconza remarked. I knew that I had to drive to the baseline and shot it and got the and one."
Down the stretch became a free-throw shooting contest, with the teams once again exchanging the lead. With the Tigers up 65-63 and time winding down, Golden Hawks sophomore Kasey Ziegler notched her 12th point of the game dramatically with a putback shot that tied the game at 65-65 with five seconds remaining.
"Kasey(Ziegler) shows me this in practice all the time, Head Coach Lindsay Steffner stated. It was just a matter of time for her to get comfortable in games and she's taking small steps and getting comfortable with every single game. Against Wayne Valley, she handled herself with the inside presence and made some tough shots and carried over that energy today."
"She(Kasey Ziegler) forced Tenafly to play some tough defense inside and she came up with a lot of hustle plays. She had 15 rebounds which is impressive and unbelievable how she got her hands on the ball a lot and really did make extra possessions for us and put Tenafly in foul trouble."
The overtime session resembled the fourth quarter, with the lead switching hands several times. With the game tied at 70-70 and less than a minute remaining, Riley Theuerkauf (24 points) drove to the rim and converted a jump shot off the glass while getting fouled in the process. Theuerkauf knocked down the free throw to complete the three-point play.
River Dell had an opportunity to tie the game up, but Sofia Sanchez's attempted jump shot from behind the arc did not fall through. With eight seconds left, Riley Theuerkauf broke through a full-court press and handed the ball off to Juliet Schwartz (16 points) in the corner.
Under heavy pressure, Schwartz dished a pass to a wide-open Adar Serok for the lay-up off the glass that sealed the Tigers' 75-70 victory and ended the Golden Hawk's 10-game winning streak.
Sofia Sanchez paced the scoring effort for River Dell with 21 points, Morgan Sconza contributed 14 points, Kasey Ziegler finished with 13 points, and Lily Crowder added 10 points.
"It was just crucial turnovers, and we didn't rotate fast enough to get back on defense, Head Coach Lindsay Steffner cited. We were trying to focus on Tenafly's main scorers which we ended up taking away well but unfortunately the ball ended up really close to the basket for an easy bucket late and the way the game goes."
"This is the kind of tournament anything could happen, and we got to play hard and limit our mistakes and turnovers. We really don't give up that many points so defensively it's a tough pill to swallow and Tenafly is a good team and have some good scorers on their team."
"Our girls showed that resilience and went down fighting and that's what it's all about. They made a run, and we made a run, and it was back and forth. There were a few things that we're frustrating and certain calls against us and sometimes more than ours in a game but that happens and way the game goes."
The Golden Hawks return to the hardwood court on Tuesday, January 31st, when they face off against Westwood (13-5, 4-2 Big North Patriot) at Westwood High School with tip-off set for 7 p.m. On January 5th, River Dell coasted to a 47-25 win over the Cardinals at River Dell High School.
"I told the team we got to have short term memory and get better and it's a rival game against Westwood, Head Coach Lindsay Steffner said. It's for the league and this is what we want and we're going to go out there and give our best effort and it doesn't matter who we're playing."
"We want to finish strong in this league and hope we get Tenafly again to be honest. There's a lot of opponents we could play because we're playing good basketball right now and one possession doesn't show us what our team can do. I will roll the dice with my team and they're fighters and warriors and will bounce back and be stronger every single game."
Morgan Sconza on the loss to Tenafly, "It was tough, but we had to keep our composure and keep fighting and stay positive. We play Westwood Tuesday, and our goal is to still win the league and hope to see Tenafly in the states and definitely know we can beat them and prepare for the games coming up."