River Dell Varsity Girls Basketball Team winning streak hits six with a 54-20 victory over Pascack Hills
Image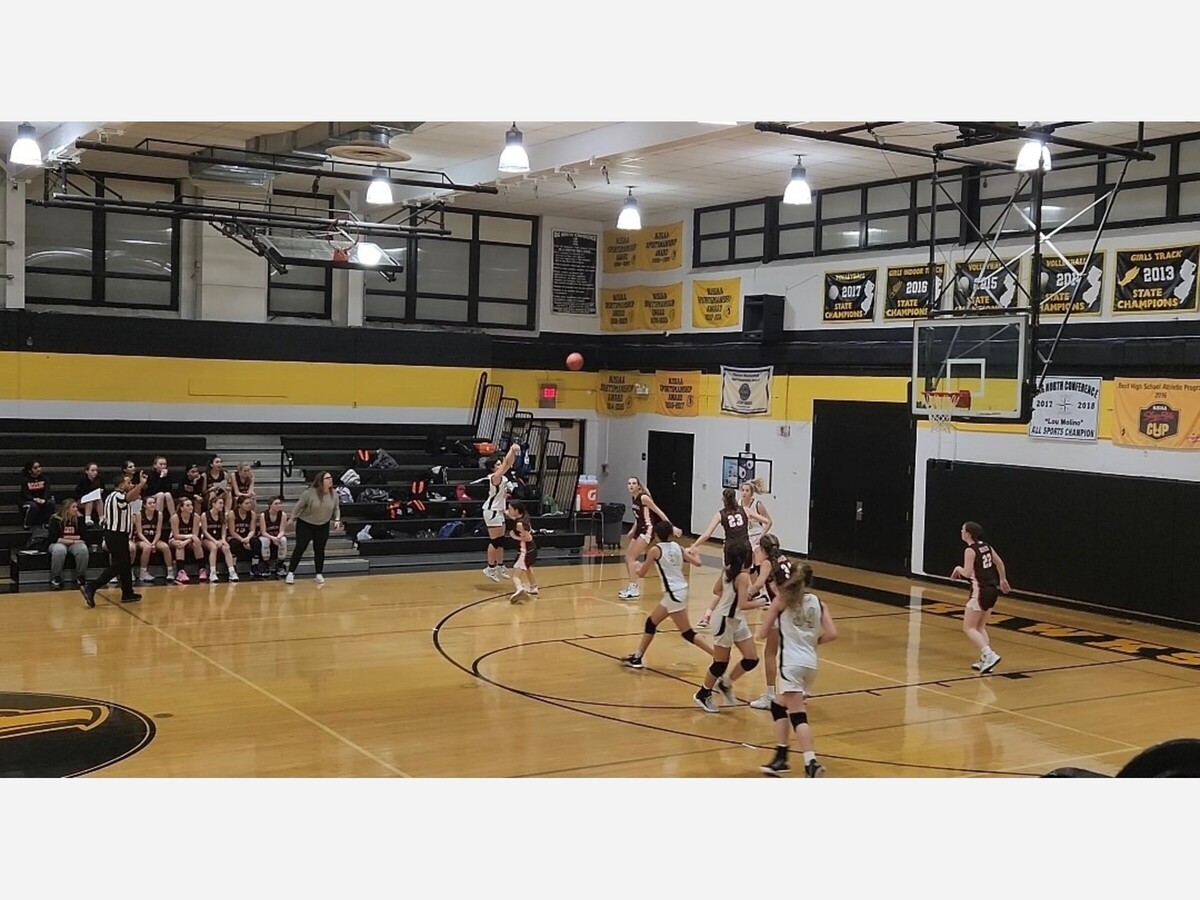 The River Dell Golden Hawks Varsity Girls Basketball Team (9-3, 4-0 Big North Patriot) squared off against the Pascack Hills Broncos (2-9, 0-4 Big North Patriot) at River Dell High School in Oradell, New Jersey.
River Dell was coming off a dominating 55-27 victory over Indian Hills, extending the Golden Hawks' winning streak to five games. Junior Sofia Sanchez and Senior Gabby DeGroat each tallied ten points apiece.
The Golden Hawks led 5-4 with five and half minutes in the first quarter, then erupted for a 12-0 run the rest of the period. Sofia Sanchez again served as the primary messenger offense, registering ten points, and burying two trifectas.
River Dell Head Coach Lindsay Steffner on the team's performance in the first quarter, "It's fun to see, and there are years of hard work with this crew." "I'm blessed that they're an older group that understands how to play together, and they've been playing for a long time." They fed off last year's energy and wanted to be just as good, and it's nice to see when it all comes together.
"I give Sofia (Sanchez) a lot of credit; the transition for any high school kid to change schools is a lot, and she wasn't with us in the summer and had to learn a lot fast." "She's done a great job connecting with other players and able to fit on the court." It takes a lot of effort and time on her part and the team, but when you see it mesh well, they enjoy each other on and off the court and seem like she's been with us forever.
"You can tell she spent a lot of time in the gym and the court vision she has." "I haven't had a player with a good vision and ability to see and put that ball in transition and half court."
Sofia Sanchez punctuated her outstanding offensive night in the second quarter, unleashing her third pearl of the game that widened the advantage to 24-6 over the Broncos.
With most of the starting players exiting, the game gave way to several Golden Hawks bench players seeing extensive court action.
Gabby DeGroat picked up where she left off in the Indian Hills game scoring seven of her nine points in the period. When the halftime rolled around, River Dell was comfortably 33-8.
"Gabby(DeGroat) does a great job down low and with that presence and her and Kasey(Ziegler) are playing well together," Head Coach Lindsay Steffner explained. "Gabby stepped up in the absence of Lizzy (Puentes) in such a big way so I'm really proud to say Gabby's showing the big minutes right now."
Once the third quarter commenced, additional players off the bench started to filter into the game. Senior Olivia O'Donnell led the charge on the offensive end notching all her seven points in the quarter as the Golden Hawks stretched out their lead to 49-15 at the end of the period.
"We've been working together a lot as a team, and especially all of us being seniors," Olivia O'Donnell described. "We have played together in the past, and now being able to work together as one collective unit is nice." It helps to execute the plays we need on offense and work on defense. The starters went out, got the lead, and allowed the people to come off the bench and maintain.
"I was just trying to see what was happening on defense and get as many hustling plays and move the ball up the court as possible." "On offense being able to pass the ball around and even when you couldn't shoot to get the better shot inside and a bunch of driving kicks." We worked the ball around that got the offense going. There were a lot of high-low looks, and they were the ones who got me the shots.
Head Coach Lindsay Steffner on Olivia O'Donnell's contributions off the bench, "Olivia followed up her offensive game with the defensive game and she had six steals in between the third and fourth quarter." "She did a great job and understands the passing lanes well and aggressive and quick and very strong."
Even with a low-scoring fourth quarter where River Dell totaled five points presented no significant issues at all as they coasted to the 54-20 victory and sixth win in a row. Altogether 14 players got playing time, with the bench contributing 30 points.
"We continue to shoot the ball well and the nice feature we got a lot of people in and moved the ball very well against the Pascack Hills defense," Head Coach Lindsay Steffner noted. "I was really impressed with our offensive rebounding and post players starting to look for each other in the high-low against the zone and we work on that a lot, and I was very impressed with them."
On the victory at home, Olivia O'Donnell says, "It's great to play home games, and you have family and friends coming out to watch you play." "As seniors, it's such a special thing because it's your last year, and you're playing on your home court and winning and a great feeling." Being able to contribute is part of the River Dell spirit.
"Coach(Lindsay)Steffner means everything to the team and how she sees and loves the game." "It transfers into how she coaches and how we play." She cares about everything we do and makes sure we're doing our best and want to win as she does too.
The Golden Hawks return to action after a couple of days off on Tuesday, January 17th, when they face Mahwah (6-6, 2-2 Big North Patriot) at Mahwah High School with tip-off set for 7 p.m.
"Mahwah is going to show a lot more zone and they have a kid averaging seven or eight steals a game," Head Coach Lindsay Steffner stated. "We have to make sure we're detail-oriented and running the lanes right and passing the ball and using the ball fakes."
"As a coach, you want your team playing better and better as the season goes on, and rankings don't matter." "People are coming and going and getting injured, and transfers are starting to play this weekend." It's shuffling the deck a little bit and going to interesting how the (Bergen County) Tournament all shakes out. "I'm proud of our girls in handling three games this week and three wins with the Jefferson game to start with, then two league games. If we continue working hard, this team has a high ceiling.