Oradell 14U Baseball Team completes remarkable journey by winning the Bergen County Charity Classic Championship Title
Image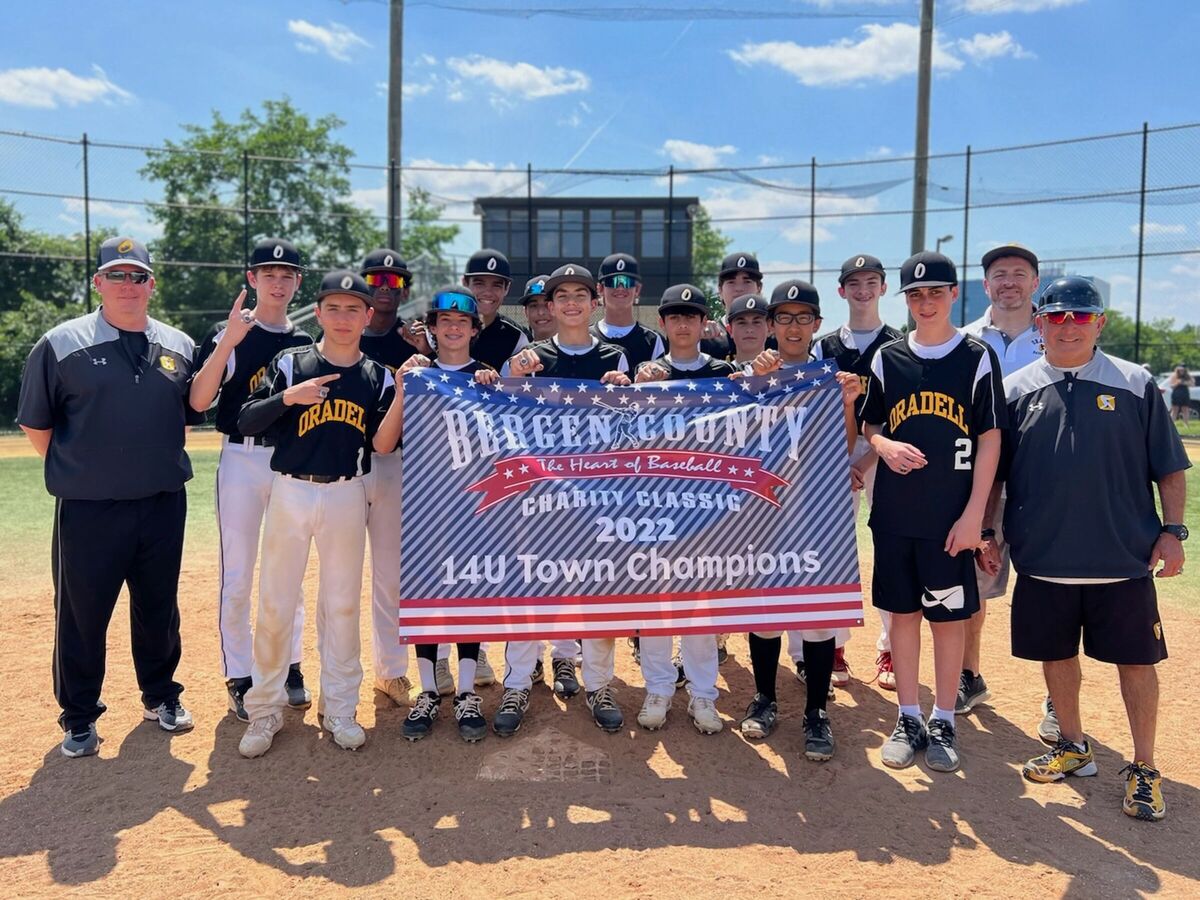 Coaching baseball at Fordham University for 35 years, Anthony Mellaci never thought of the idea of coaching youth baseball. Mellaci could not coach his oldest son due to his commitments at Fordham.
When his younger son Jordan started playing for the Oradell travel baseball team, Mellaci's wife persuaded Mellaci to jump at the opportunity. "My wife said you're going to have to start coaching them and I had never coached little kids."
The team practice held its first practice in the summer, which descended into an adventure for Mellaci. "Our very first practice, I didn't know anything, the kids couldn't fit into the uniforms and were too big, and I said, what did I get myself into." "When we first started playing, I felt like Walter Matthau in the Bad News Bears."
However, the team began to right the ship in the next couple of years. "Within a year or two, you could see the progression and development," Anthony Mellaci explained." "You could see these kids maturing and developing at seven, not just athletically but as young men."
Implementing structure with the coaching staff was pivotal for Mellaci, who brought Tom Ross. Mike DeMarco and John Saylik are on board. "Tom Ross is my right-hand man; he and I have been together since these kids were seven years old and third base coach."
"Mike DeMarco is our first base coach, and his son Dominic is on the team and my last coach John Saylik along with his son has been with us for about five years since they moved into the town."
Even more essential for Anthony Mellaci was the preparation for the season, especially when it came to practices and games. "Baseball is baseball; it doesn't matter what level you are on," Anthony Mellaci stated. "It starts with pitching and throwing strikes; when I took over this job, I never got paid for it and volunteered to coach this team."
"When I had my first parent meeting, they were only seven years old and didn't know how to throw and catch." "I only knew how to do it one way, and I had to run my practices the same way I run college practices and games." I set the ground rules and boundaries with the parents and needed a commitment that the kids are on time."
"We set the groundwork right away in being on time, where your pants were on the belt, just telling them to listen and respecting the other coaches and following those core values and that was drilled into them at an early age." "Every practice there was a plan, purpose and we had fundamentals."
"We don't practice no more than an hour and fifteen/thirty minutes and do the same thing with our games." "We get to the games 45 minutes before game time and there's a pregame routine to go through."
Fast-forwarding several years, Anthony Mellaci was coaching a very talented 14u team comprised of Jordan Mellaci(#1, Shortstop), David Nunez(#28, Third Base), Jayden Thomas(#5 First Base), Nathan Silverstein(#14 Catcher), Lucas Itturate(#44, Left Field), Matteo Bosco(#16, Right Field), Joseph Saylik(#10 Centerfield), Aiden Ross(#25, Second Base), Matt Young(#9), Irei Hashimoto(#51, Pitcher), Milo Tarascio(#15), Dominic Demarco(#48) and Rig Mathur(#48).
"We had nice balance as a 14-year-old team, 15 players on the team, and good team leadership, Anthony Mellaci explained. "They got along well, picked up each other, and never bickering, arguing, and fighting."
"Nate Silverstein has been a pretty good leader for us." One of our outstanding players has been David Nunez." Our Pitcher Irei Hashimoto has been our starting pitcher since he was nine years old and on the mound whether it's the regular-season, playoffs, or championship tournament games." Lucas Itturate did an excellent job for us, and Matt Young has been our catcher and outfielder for a while and has done a great job.
"Overall, it's a team work ethic, it's not one or two players that really brought this team together." "They just picked up one another up, when one kid happened not to be there and make it or not doing well another kid will pick it up and where other kids leave off and it's been a lot of fun."
The Oradell 14U participated in the Bergen County Charity Classic Tournament that featured New Jersey and New York teams squished between the regular-season and travel ball playoffs.
With eight teams in the tournament playing three games, four teams would advance to playoffs, but rain forced a two-game format.
The Oradell 14U team got off to a great start in the first games, defeating Waldwick/Midland Park in the opening match 8-6, then rallying to beat Ridgewood 4-2 to advance to the championship game.
"Irei(Hashimoto) again was my starting pitcher against Waldwick/Midland Park and he pitched really well and then Rig Mathur came in to relieve Irei and did a phenomenal job, Anthony Mellaci remarked."
Facing off against Ridgewood, the Oradell 14U team was down 1-0 early on when Anthony Mellaci's son Jordan belted a two-run double to put the team ahead. "There were second and third two outs, and he hit a double into the gap and over the centerfielder's head, and then we scratched another run across," Anthony Mellaci said."
Ridgewood countered with a run to tie the game up at 2-2, but the Oradell 14U team answered with two runs and eventually went on to win the game.
In the Bergen County Charity Classic Tournament Championship Game, the Oradell 14U baseball team squared off against a potent Somers Red Storm team from Somers, New York. Somers dominated in the tournament outscoring their opponents 20 to 1.
Oradell 14U wasted no time jumping to a 5-0 lead, but Somers Red Storm responded with three runs to cut the deficit. Oradell 14U countered with three runs to boost the advantage.
Anthony Mellaci on the championship game, "Lucas Itturate had a couple of big hits." "I think the biggest turning point of the game as they had the bases loaded and nobody out, and I brought in Irei Hashimoto to relieve my son (Jordan Mellaci), and he got two strikeouts." He gave up a run, but when you come into a bases-loaded situation with none out, that's a great challenge, and then he got a ground ball to second base.
The Oradell 14U put the game away by scoring six runs in the fifth inning that invoked the mercy rule, and the game ended with a final score of 14-4. "I didn't know there was a mercy rule," Anthony Mellaci explained. "As far as hitting wise, Irei and Nate Silverstein with big hits and Jayden Thomas." It was nice because Somers Red Storm scored 20 runs in previous games, and we held them to four.
"The players are the ones that get all the credit and should be excited." "I didn't realize the game was over until the kids ran on the field." I just stayed back and was so happy for the kids; the icing was on the cake.
"It was our third year in this tournament, we should have been in four, but the pandemic knocked us one year." "The first year we entered the tournament, we were respectful, but we continued to get better and better." Last year we lost in the championship, and with 14 new eighth-graders, this was the last year you could be eligible to play in the tournament, and it's for a great cause and gratifying to win.
"The most important thing is representing your family first." "It's all about being proud, just go out there and be proud of the town you play for, and you live in a great town." It's a great community with great people.
Jordan Mellaci winning the Bergen County Charity Classic Championship Title, "The team chemistry was absolutely phenomenal, we picked each other up all the time and supported each other from the first pitch of the game one to the final pitch of the championship game."