River Dell varsity girls basketball team magical 2021-22 season ends in 53-52 loss to Montville in the quarterfinals of North 1, Group 3 Tournament
Image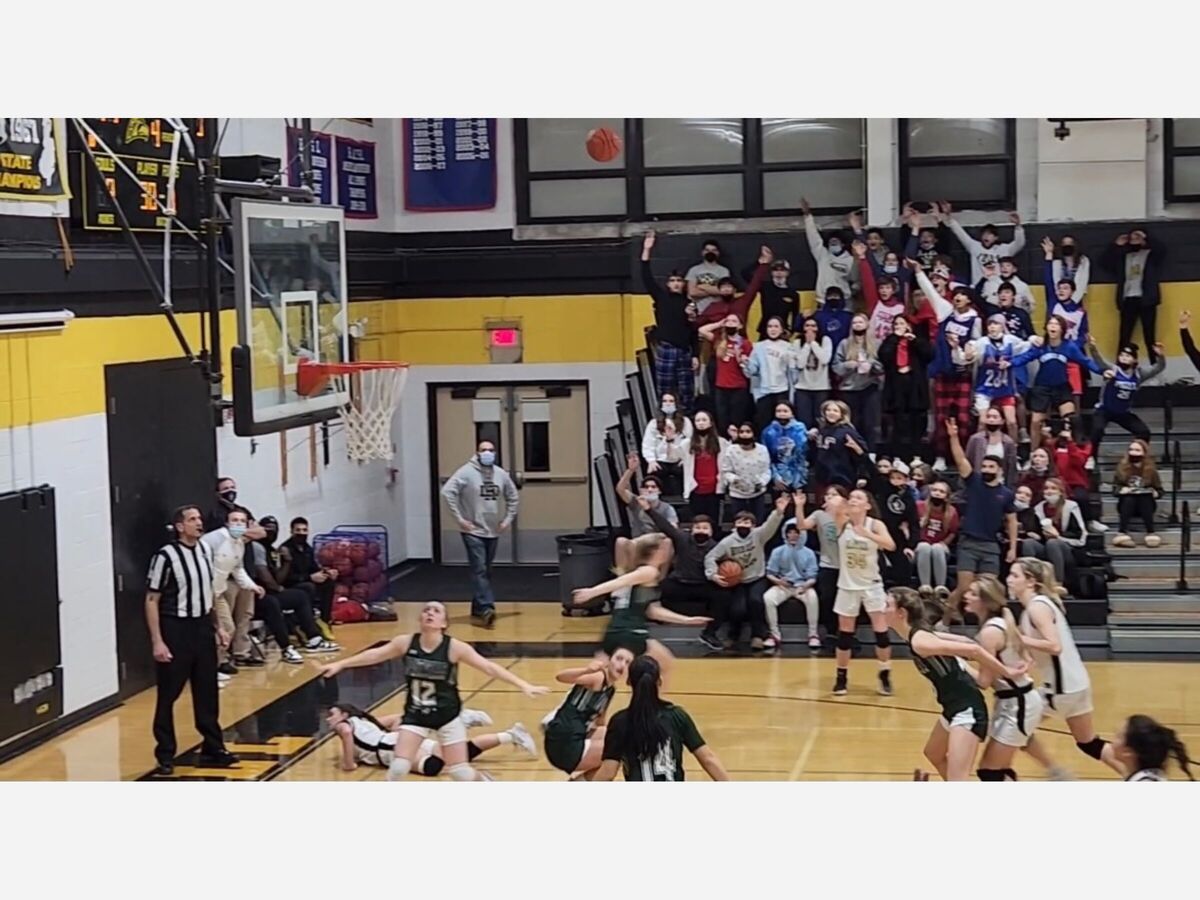 The River Dell varsity girls basketball team (21-4, 8-0 Big North Patriot) bounced back from a regular-season finale loss to Paramus Catholic by rolling past Tenafly 67-44 in the first round North 1, Group 3 Tournament at River Dell High School.
River Dell returned to action not even forty-eight hours later, hosting Montville (16-10) in the quarterfinals in the tournament. The Mustangs defeated Paramus 53-36 in the first round at Montville High School.
Montville was off and running out of the gates to a 7-2 advantage with four minutes remaining in the first quarter. The Golden Hawks responded, scoring four points to trim the deficit. Trailing 12-9 late in the quarter, Lily Crowder knocked down a three-pointer as the teams were tied at 12-12 once the buzzer sounded.
River Dell Head Coach Lindsay Steffner on the first quarter, "We came out very strong which I was very happy to see, and they understood the game plan as far as defenses is concerned." "It's a little different with Ari(Rodriguez) so I'm just trying to read a lot of things offensively and she did a great job."
"We did a great job of attacking the rim and taking good outside shots." "We limited turnovers which I was nervous about because they were very long and lanky and reading the passing lanes and trying to shoot some gaps defensively."
The scoring output reduced significantly in the second quarter as the teams combined to tally 14 points. Ari Rodriguez buried a trifecta to put River Dell up briefly before Montville answered back with a bucket to tie the game up at 19-19. Isabella Gilmour the primary source of offense for the Golden Hawks, dropping in 11 points.
Isabella Gilmour, on the message from Head Coach Lindsay Steffner at halftime, "She said it was an outstanding first half and happy about we were fighting." "She just needed us to stick to defense, running our offense, and we had to go out there and leave it on the court."
The Golden Hawks indeed heeded the message as they came out a motivated bunch for the third quarter with an 8-0 run. However, the Mustangs ignited a rebuttal with a 9-1 spurt to tie the game up.
"Consistently this season we have come out in the third quarter with a lot of fire," Head Coach Lindsay Steffner explained. "We did a great job, they're a very good offensive team and unfortunately we couldn't sustain the lead as they caught fire a little bit and knocked down some shots."
Ari Rodriguez kept up her hot shooting from behind the arc, draining her third triple on the night to put River Dell back in front 31-28. A see-saw contest with Montville countering a trey to even the game up.
Sophia Firneno displayed no fear driving into the paint for a lay-in as the Golden Hawks regained the lead. By the time the period ended, River Dell had led 34-33.
Carrying the momentum into the fourth quarter led the Golden Hawks to boost the advantage to 38-33 with less than seven minutes remaining. Lily Crowder with a put-back shot followed by another lay-in from Sophia Firneno.
River Dell had no answer in containing the dynamic scoring trio of Alyssa Neff, Grace Kowalski (10 points), and Carey Werheim(11 points). All three players accounted for 25 points through three-quarters of play. With five minutes left, Neff and Werheim combined to sink three triples as Montville tied the game up at 40-40. Neff poured in 14 of her game-high 21 points in the second half.
The Golden Hawks led momentarily 42-40 before the Mustangs roared back with a 10-2 run to take a 50-44 lead with a minute and a half left. Appearing as though Montville might have the game in the bag, Ari Rodriguez unleashed her fourth pearl of the game with 52 seconds to go.
With Montville up 52-47, Sophia Firneno drove the baseline for a lay-in with 32 seconds remaining. After Montville missed a free throw, the River Dell offense dribbled the ball back down the court to set up a play.
Sophia Firneno showed no fear despite suffering a severe shoulder injury in the first half, all game long and especially in the late stages, driving to the rim at full speed, colliding with a Mustangs player but instinctively passing the ball before falling to the floor and out to a wide-open Isabella Gilmour. Gilmour wasted no time at all hoisting up a high arching shot from beyond the arc as the ball rattled into the basket.
"I saw Sophia (Firneno) driving, and I was wide open and screaming for the ball," Isabella Gilmour described. "I knew how much time was on the clock, and nothing was going on in my head." I got the ball and knew I would make the shot and had been hitting my three-pointers all game.
Head Coach Lindsay Steffner on Sophia Firneno, "Just a heads up play by Sophia (Firneno) going full steam ahead." "Luckily, the Montville girl knocked the ball out of her hand a little bit and in front of her, and she's got a quick reaction to recover the ball and kick it out." "Her shoulder popped out of the socket, and that's just not an injury but a hard injury to come back in and play the game successfully, so if you want to talk about a warrior, that's a true warrior right there."
The Mustangs offense quickly got the ball back inbounds and dribbled the ball swiftly down the court and drove into the paint with a foul assessed against River Dell. Montville managed to convert one of two free throws.
With just about two seconds left, the Golden Hawks had one last opportunity to win the game, but Ari Rodriguez's desperation shot from half-court sailed over the backboard. Isabella Gilmour finished with 17 points, while Ari Rodriguez tallied 12 points.
Head Coach Lindsay Steffner on the loss and 2021-22 season, "No one likes to see it and always ends very abruptly for a team." "I'm super proud of the girls, proud of their effort and the way they conducted themselves the entire season." This team proved they were a great team, and more and more people were coming out of the woodwork to watch them play.
"They were fun to watch, played hard and aggressive, and never gave up." "They represented the towns and school in the best possible way and good kids." They go out and play the game the right way, and it's an easy team to root for these kids who have been through a lot and adversity with COVID.
"These kids have put in the time not just this year but for four years and battling and practicing for that moment." "It goes to show you the community does appreciate it and is evident with the crowd there and cheering them on." It's one of the reasons I went to River Dell, and I bleed black and gold.
"Mr.(Denis)Nelson, Mr. (Brian)Pepe and Mr.(Patrick)Fletcher manage a very successful program, it's top notch and a great place to work." "They're supportive with whatever you need, they bend over backwards whether it's through COVID or unknowns and when a kid gets injured or kid has a rough game, they feel it and get upset and this isn't just a job for them."
Isabella Gilmour on the 2021-22 season, "Tears were rolling down my face, we created a family." "Every single Friday after practice, we'd go get food together, and every single Saturday after morning practice or game, we'd go out together, and it's so weird it's not going to be that way anymore."
"We have deep connections with everyone; we're all so close and such good friends." "We care and love each other, and this is the most fun I've had." Basketball is my favorite sport because of the relationship I've formed with my teammates and coaches, and so sad it's over now, and going to miss everyone.
"We all love Coach(Lindsay Steffner) because she does a great job and first one in the gym and last one out." "She's always making the scouting reports and pushes us to do our best every single moment and pulling us over the side telling us to do this and knows the game so well and inspiring." It's great to have her on the sidelines because we know that whatever she tells us will work, and we trust her 100 percent.
"We all get along with her, it's great having a relationship with a coach you're so close with, she puts things together and we know that it'll all work because she understands everything so well and can make it click like that." "A lot of our success this season is 100 percent because of her matchups on the plays."
"It's great having so much support around this season; you never realize playing a simple game of basketball will impact so many people, watch you, and want you to win." "Hearing their support and providing us with the energy means so much to us." There were so many girls from the elementary school, and they are the future of our program.
"We don't have that many students come out to games, but as we were doing well, more and more people came out to support, which is great, and got to see how good we were this season." "We rose and played our best games and more people standing up and cheering for us." You played to a different level when there were many people and wanted us to win.