River Dell varsity girls basketball team cruises to a 67-44 win over Tenafly in the first-round of the North 1, Group 3 Tournament
Image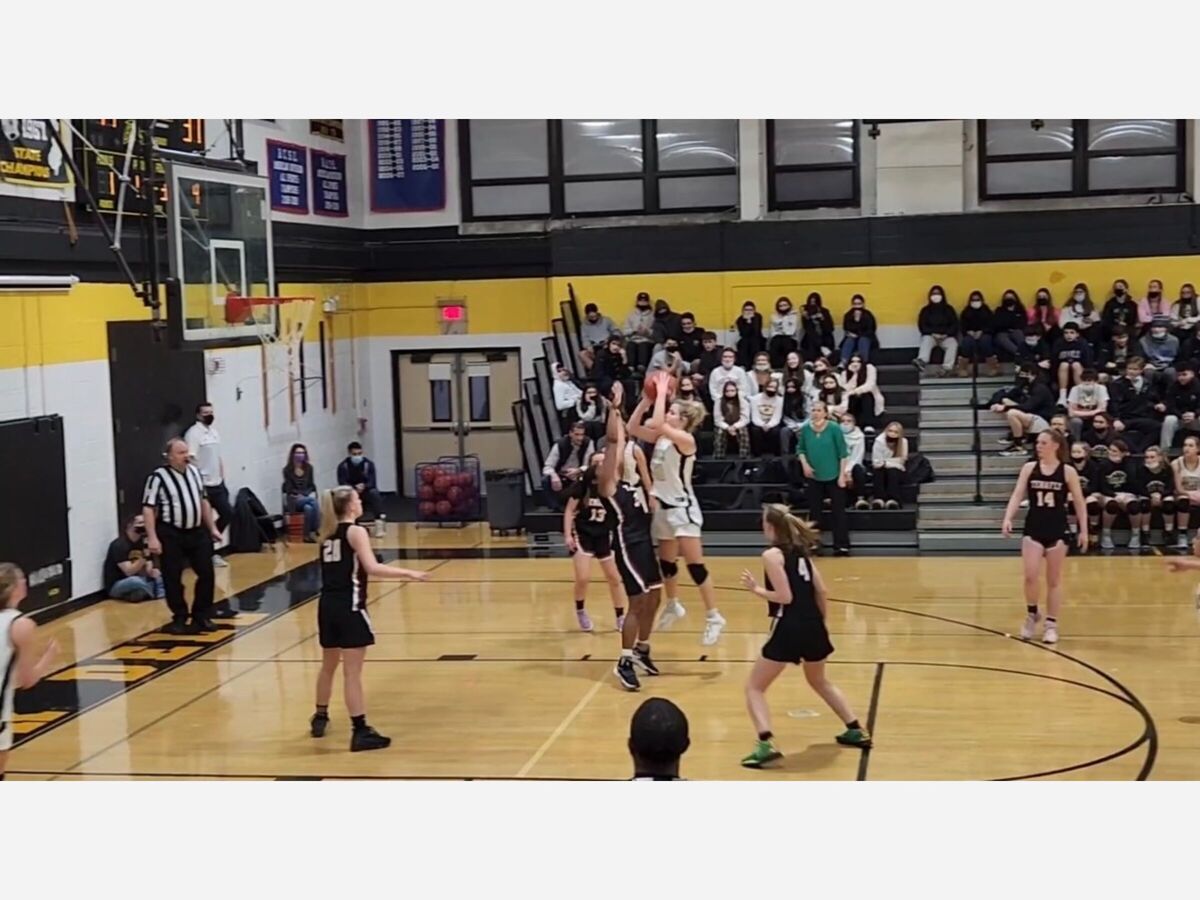 The River Dell varsity girls basketball team (21-3, 8-0 Big North Patriot) was coming off a 42-32 loss to Paramus Catholic in the 2021-22 regular-season finale last Saturday at River Dell High School. River Dell played its first game without starting point guard Sarah Vanderbeck who sustained a severe knee injury in practice.
The Golden Hawks returned to the hardwood court facing Tenafly (10-15) in the first round of North 1, Group 3 tournament at home. Even with a late afternoon start time, the stands were fully packed and exuberant.
River Dell came out sizzling in the first quarter, jumping out to an early 7-0 advantage. The Golden Hawks offense displayed aggressiveness in driving into the lane for lay-ups.
Tenafly did not score their first point until the four and half minute mark. After the Tigers cut the lead to 9-4, River Dell scored the last four points of the quarter to go up 13-4 at the end of the period. The trio of Sophia Firneno, Isabella Gilmour, and Lily Crowder accounted for all of the Golden Hawk's points.
Lily Crowder, on the first quarter, "We came out strong but not our strongest, but Coach (Lindsay Steffner) told us this was the type of game that was going to go back and forth offensively."
On the opening start of River Dell Head Coach Lindsay Steffner, "We looked at the film and realized the high post was going to be extremely open." "I wanted Lily (Crowder) to get some offensive rebounds and put-backs because they didn't have the height to match Lily's height, so the game plan worked pretty well." The more we started shooting the ball on the outside, the little better than extending their zone a little more, giving us more freedom to drive.
In the second quarter, River Dell kept attacking with drives into the paint that led to the trip to the foul line. Cashing in on those opportunities pushed the Golden Hawk's advantage to double figures at 19-9.
With less than four minutes remaining, River Dell led 22-13, but the Tigers answered back with a 7-0 spurt over a minute and a half span. Rylie Theuerkauf (29 points) tallied 14 of her 16 first-half points in the quarter.
Sophia Firneno ended the run on a lay-in with less than two minutes to go. Despite sustaining a vicious cut to her face, Firneno refused to stay out of the game. By halftime, the Golden Hawks were up 26-23.
Head Coach Lindsay Steffner on the grittiness of Sophia Firneno. "I can't say enough about her; the referee was trying to get me to get her out of the game because she was bleeding." "I should have called the timeout, but I couldn't afford to have her come out of the game because she does everything for us." It was worth me blowing a timeout there to give her a chance to recoup, but honestly, her getting hit to the face got her going even more.
Once the third quarter commenced, River Dell's offense fired on all cylinders. Holding a 34-31 lead with less than five minutes left, the Golden Hawks erupted for a 12-0 run. Lily Crowder flourished on the offensive end, netting seven points. Ari Rodriguez put an exclamation on the outburst burying a trifecta at the buzzer to widen the margin to 49-35.
"They were fouling a lot of when we would drive at them, so we were not making our shots," Lily Crowder explained. "Coach (Lindsay Steffner) told us if we are going to win this game to drive at them and knocking down those free throws was huge and attacking the basket." I was kind of shocked at how open I was down low, and once I realized that I kept going at them and just taking short jumpers. It was just a matter of confidence and the ball going in.
In the fourth quarter, the Golden Hawks did not step off the gas pedal. Kayla DePol scored eight of her 15 points in the quarter. River Dell outscored Tenafly 18-9 to coast to the 67-44 victory. Lily Crowder poured in 19 points, while Sophia Firneno and Ari Rodriguez had 11 points apiece.
Kayla DePol on the win, "It was definitely a great game, the second half was obviously much better than the first." "We didn't want to take Tenafly lightly because they're capable of scoring especially Riley (Theuerkauf) is really hard to stop."
"We had to adjust playing without Sarah (Vanderbeck) which has really bene tough but Ari came in and did a great job of playing the point." "We had to adjust at halftime because it was a close game but then everything started clicking on offense."
"We had a solid third quarter, came out powerful and attacked them on offense because a couple of their girls were in foul trouble." "We were driving into their zone and finishing." We also switched to a three-two zone because it covered Rylie (Theuerkauf) on the perimeter and didn't allow other players to screen for me, and she struggled to score."
"Lily (Crowder) had a great game in the post and Coach(Lindsay) Steffner pointed out the reason why we won because me, Lilly and Bella(Isabella Gilmour) all had double digits in rebounds." "We started getting more offensive and defensive rebounds and second-chance shots."
"I love having the crowd at the games; they just bring much energy and excitement into the gym." "The cheering uplifts us and gives us more energy and confidence on the court." It's great being on the home court with all our fans there, and so glad we're home Thursday.
River Dell returns to action squaring off against Montville (15-10) on Thursday, March 3rd at River Dell High School, with tip-off set for 7 p.m.
Head Coach Lindsay Steffner, on the match-up against Montville, "It's going to take a lot more of a defensive effort; they have three outstanding players on the team and taller than us." "They're long, lanky, and athletic and play very well together." I hope that we will have the crowd's support to get us through the ups and downs of the game, but we must fight and rebound the ball and slow down their top scorers.
Lily Crowder on the quarterfinal game vs. Montville, "Montville is a strong team, and they play huge teams in Morristown and Sparta." "Their record may not look great, but the fact of who they are playing." They have two outstanding players, and I played club with their point guard; she's an excellent player, a good shooter, and can drive to the basket. If we lock those two players down, we have a chance.