River Dell varsity girls basketball team falls to Paramus Catholic in the 2021-22 regular-season finale
Image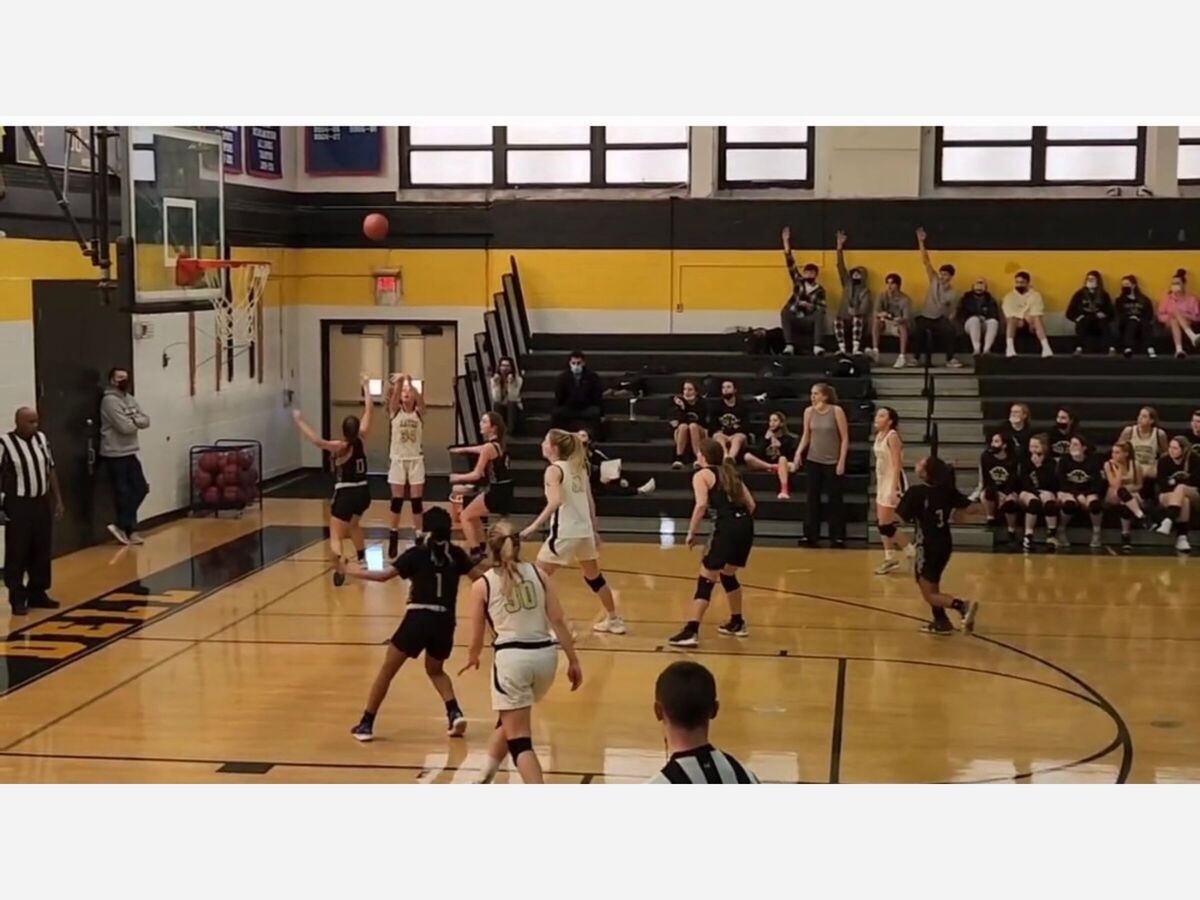 The River Dell Golden Hawks varsity girls basketball team was a happy bunch coming off a 46-26 victory over Holy Angels that marked their 20th victory of the 2021-22 regular season. River Dell was looking forward to wrapping up the regular-season portion of the schedule hosting Paramus Catholic at River Dell High School.
The day before the game, the entire season took a significant hit with the devastating news that was starting point guard Sarah Vanderbeck sustained a severe knee injury in practice. Vanderbeck poured in a game-high 17 points and knocked down three trifectas to win over Holy Angels.
Isabella Gilmour, on her and the rest of the team witnessing Sarah Vanderbeck's injury, "I was right in front of her when she fell." "We were doing a drill where it was five on five, and she was taking a lay-up, and her knee just buckled." It was just so surreal to see it happen, and I had never seen her be upset and cry.
"It was shock, and I just said no way this happened, someone pinch me, and this is a dream." "Everybody was thinking Sarah is a special leader on the court, our starting point guard and picks up everyone when something is not going our way and makes the shot." A moment of disbelief how something like this could happen so close to the state playoffs.
River Dell Head Coach Lindsay Steffner on the impact of Sarah Vanderbeck's injury, "She does everything for us, it's a hard time to try to get the team to bounce back and focused on what we need to do." "The whole team saw Sarah go down and typically Sarah bounces right back right up and when she didn't it's a hard thing to wrap your brain around right now."
Ari Rodriguez was inserted into the starting lineup; right off the bat in the first quarter against Paramus Catholic, Rodriguez flashed her ability to bury shots from behind the arc. A back-and-forth quarter as the teams were tied a couple of times.
The Paladins, led by Kylie Cabana, tallied nine points in the quarter. River Dell still managed to take an 11-9 lead at the end of the period,
"I told Ari how proud I was of her to fill that void and role," Head Coach Lindsay Steffner explained. "She has never been in that situation and always come off the bench and been ready to fire away some shots, play defense, and rebound." She has a lot on her shoulders to run the point and defend the other team's point guard, and I was aware of that.
The scoring output slowed down considerably in the second quarter, but River Dell held on to the advantage at the four-minute mark. The Golden Hawks then falling into a scoring drought enabled the Paladins to respond with back-to-back triples to reclaim the lead and go into the locker room at halftime up 20-15.
"We got into some foul trouble that ended up making us play a little bit out of our normal lineup," Head Coach Lindsay Steffner described. "I went with a bigger lineup to get more offensive rebounds, and because of that, we just didn't cover the perimeter as well and had three post players essentially on the floor for longer than I wanted to." Unfortunately, we missed a few more shots than we usually do.
Once the third quarter commenced, River Dell's offense started to get into a rhythm. The trio of Isabella Gilmour, Sophia Firneno, and Lily Crowder combined to score 11 points. By the quarter ended, Paramus Catholic had led 29-26.
Isabella Gilmour, on the message from Head Coach Lindsay Steffner at halftime, "She just said we needed to step up our energy, keep on shooting, and the shots will fall in the second half." "They were having more energy than us and wanted to crush us, so let's put the pedal to the metal and show them who River Dell is.
In the fourth quarter, the Paladins were up 31-28 with five and half minutes remaining. Still, the Golden Hawks ignited a rebuttal with Kayla DePol knocking down a jump shot, followed by Isabella Gilmour sinking a pair of free throws.
Once again, a significant dry spell affected River Dell in the last four minutes of the contest as Paramus Catholic ended the game on an 11-0 spurt to win 42-32. Isabella Gilmour finished with a team-high 11 points for the Golden Hawks. For the Paladins, Kylie Cabana poured in a game-high 18 points.
Head Coach Lindsay Steffner on the loss, "We won the third quarter and kind of what I was hoping for to chip away." "We took the lead in the fourth quarter but didn't sustain it for too long." To their credit, their coach mixed up defenses and kept us off balance once he realized we didn't have Sarah(Vanderbeck).
"It took us a while to get a shot off against the zone and then man-to-man, and we ended up picking up three offensive fouls." "I think we were too impatient because we haven't been in that position all season where we had to score." There were some positive things to take out of the game, and glad to see people are stepping up and doing the right things at this time of the year.
Isabella Gilmour on the defeat, "Paramus Catholic is an outstanding team; they are strong and have so many different elements to their offense and work well together." "We were not sharp as we have been all season long." Today was an adjustment game without Sarah(Vanderbeck), and we had to re-work some things because she is such an influential player. Ari's(Rodriguez) first-time in the starting lineup, everyone knew she would have some nerves, but she has been doing such a great job all season and an excellent experience for her.
The Golden Hawks(20-3, 8-0 Big North Patriot) shift their attention to a North 1, Group 3 first-round state playoff against Tenafly(10-14) at River Dell High School on Tuesday, March 1st, with tip-off set for 5 p.m.
"I have watched a lot of film and Tenafly play all season long," Head Coach Lindsay Steffner noted. "I'm very familiar with their best player Riley Theuerkauf and she is averaging a lot of points and high-level player." "We need to just slow down Theuerkauf down as much as possible, we all know she is going to score and just a matter of how much." The game plan is to slow her down, put a couple of different matchups on her and mix in some zone and man-to-man.
"They play a lot of two-three zones that should benefit us, and we're going to be playing at home, so hopefully, the shots will be falling better." "We were sitting at the five or six seed most of the season until we started beating some teams with wins and how that power points system works." To finish as the three seed was good and guaranteed two home games versus being on the road, and that's a credit to the girls playing as well as they did this season and getting the wins we needed to.
Isabella Gilmour on the upcoming matchup vs. Tenafly in the state playoffs, "Tenafly is a pretty good team, I have been playing against Riley Theuerkauf since third grade and she is good and can drive and shoot." "We have to work on our defense to shut her down because then we have a good shot at winning." We're going to focus on making our shots.
"I really hope that a lot of people come out because we play better with fans and boosts our energy when we go on a run." "I'm glad we are playing at home and people come out to support because we are having a great season."