River Dell varsity girls basketball team puts forth a valiant effort in BCWCA Tournament Semifinal loss to Saddle River Day
Image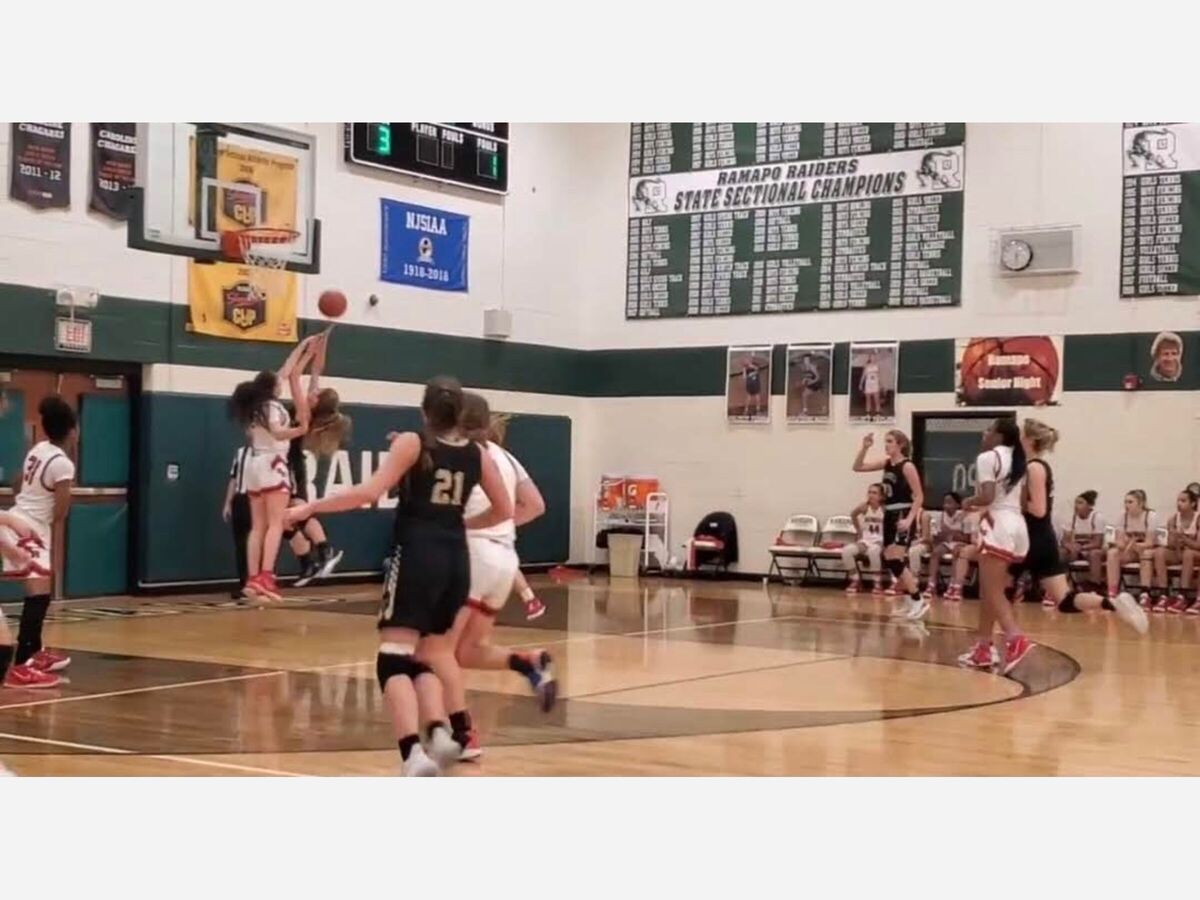 The River Dell Golden Hawks varsity girls basketball team (19-2, 8-0 Big North Patriot) returned to action against number one seed Saddle River Day (20-1) in the Bergen County Women's Coaches Association Tournament Semifinals at Ramapo High School. Coming off not only an emotional Senior Night win over Pascack Hills at River Dell High School and wrapping up the Big North Patriot league play undefeated,
The Golden Hawks were facing a potent Rebels squad that had won the tournament championship five years in a row. Saddle River Day won their first 16 games in a row this season before falling to St. John Vianney 76-51 in the Coaches Choice USA College Showcase on February 6th.
There was plenty of buzz for this game as the parking lots were at total capacity. The scene was no different inside the gym as the fans packed the stands.
River Dell Head Coach Lindsay Steffner on the crowd at Ramapo High School, "It was fun for our girls to see that environment and what high school basketball should be." "I was telling them about my experience when we played at Ramapo College, and it was packed with three to four thousand people." We played almost every round there.
"You want that energy and climate, and it was really fun to get to that point win or lose and come out of there with a lot of support." "There were alumni, parents', teachers, board members, and there were random River Edge and Oradell residents there that had nothing to do with the program and goes to show you people are following the girls and are really proud of their effort and how we represent the community." They were clapping and cheering and even had random people cheering for us because they didn't want Saddle River Day to win.
River Dell did not display any jitters in the first quarter jumping out to an 11-8 lead at the end of the period. Isabella Gilmour led the Golden Hawks leading the charge tallying five points.
"We were preparing for this game on Saturday and knew it was going to be a big game with a lot of people there," Isabella Gilmour explained. "We knew that Saddle River Day had a good program and players and knew it was going to be a challenge ahead of us." We were excited to play, show them were made of, and go in there with a positive attitude.
"We put forth new defense and offenses and trying to get the ball to spots where we could make shots." "Coming out and winning that first quarter we were really happy."
In the second quarter,  Ari Rodriguez drained a triple that extended the Golden Hawk's advantage to 14-8. Holding a 15-10 advantage, Saddle River Day responded with an 8-2 run to jump ahead with four and half minutes remaining. The Rebels utilized their size and length for offensive rebounds and second-chance opportunities.
 Sarah Vanderbeck drove to the rim for a lay-in that put River Dell back in front 19-18. Once again, the Rebel ignited a rebuttal ending the going on an 11-3 spurt to reclaim the lead. The duo of Paulina Paris and Dakota Corey combined to score 13 of Saddle River Day's 21 points in the period.
Head Coach Lindsay Steffner on the team's performance in the first half, "They understood the game plan and did a nice job following it." "We surprised some people hanging in there throughout the first half." We talked at halftime about what we were willing to give up and weren't and gave up too many threes.
"We gave up some things inside because of offensive rebounds." "With them shooting the ball from the outside, we were giving up offensive rebounds." Sometimes that isn't easy when we play a three-two zone that we have not worked on all season. They're an outstanding team, and it was picked and choose your battle.
Once the third quarter got underway, the Golden Hawk's offense worked the ball patiently around the perimeter, looking for a good scoring opportunity. Milking the clock down forced the Rebels to play defense and move around consistently.
The disadvantage of Saddle River Day was up to the task with their starting five but depth on the bench. Dakota Corey picked up where she left off in the second quarter notching seven points. By the quarter ended, the Rebels outscored River Dell 11-3 to extend their advantage to 40-25.
"I said at halftime the game plan is working, the team was a little tired, but it's mentally challenging as well because it's something that is not in our comfort zone because we like to play fast, press, and gets up and down the floor, Head Coach Lindsay Steffner noted. "We started to slow the game down and hoped to stay in the game as long as we could, so it was hard for the team to understand that role."
"To their credit they did and trusted and it's not easy for a school kid to understand here's a different game plan that you have never done before we're going to do and goes to show you the basketball IQ is there, and skill set was there to handle that game plan."
Saddle River Day managed to pour it on the final frame, with Paulina Paris(21 points) dropping in seven additional points as the lead swelled to 46-27 at the four and half minute mark. The Golden Hawks refused to throw in the white towel as they battled to the end, but time just ran out as the Rebels cruised to the 54-36 victory. Isabella Gilmour finished with ten points, while Sarah Vanderbeck and Kayla DePol finished with seven points apiece.
Head Coach Lindsay Steffner on Isabell Gilmour, "Bella did a great job, that's the kind of job that highlights her skill set the best because she just finds the open lane and can get through defenders pretty quickly and has the knack to get the ball in there and score the basket." She can cause a lot of disruption, jit that outside shot, and become very hard to guard offensively, showing her improvement as the season goes on and leading how confident she is in her abilities.
Isabella Gilmour on the loss, "We wanted to go in there and hold our heads high and leave everything on the court and I think we did." "We tried our hardest, put all of our energy, working well together and wanted to show Saddle River Day what were made of."
"We loved the support; it was so nice to see people from the community coming out and watching us play." "It makes us play better and love hearing people cheering for us and a big momentum shifter and shows us how good we are doing this year."
The Golden Hawks return to the hardwood court on Tuesday, February 22nd, hosting Holy Angeles on Rec Night at River Dell High School with tip-off set for 7 p.m.
"Our girls are ready to go compete, and it doesn't matter who we are playing," Head Coach Lindsay Steffner stated. "There will be a lot of kids there cheering us on and a fun environment." The girls understand they are role models, and I think that's important for many kids to know that you represent the school community when you put on a jersey. Sometimes they forget about the bigger picture, and I want to remind the girls constantly and recognize that it is a fun night for that to happen.