River Dell varsity girls basketball team rolls to Senior Night win over Pascack Hills
Image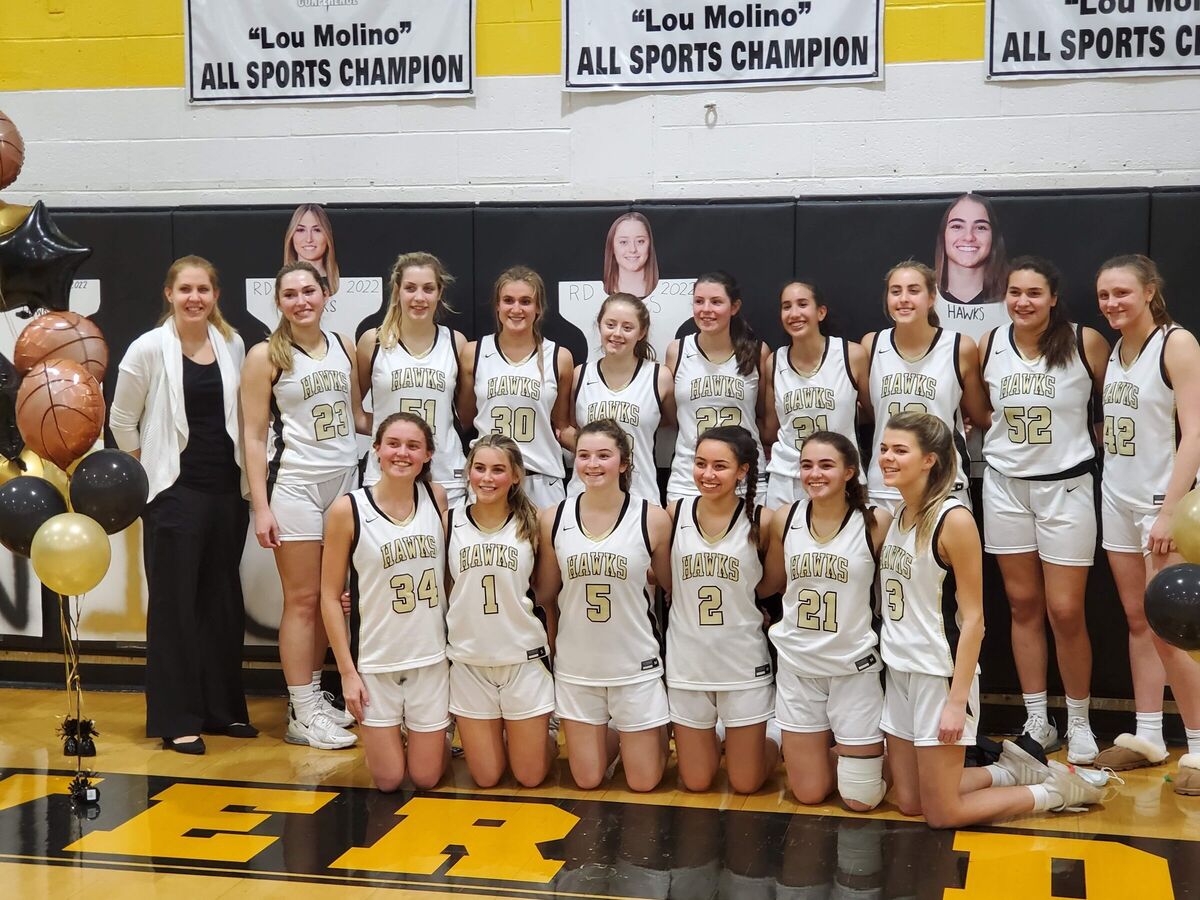 Fresh off clinching the Big North Patriot league title in a 39-22 win over Ramsey at Ramsey High School, the River Dell Golden Hawks varsity girls basketball team returned to action facing off against Pascack Hills on Senior Night at River Dell High School.
In pre-game festivities, six seniors were honored: Kayla DePol, Sophia Firneno, Sarah Vanderbeck, Melissa Goldstein, Katelyn Kreutzer, and Anna Lewis.
Kayla DePol on the seniors honored before tip-off against Pascack Hills and playing for the River Dell basketball program, "It was a special night and ceremony, this season went by so fast and doesn't feel the season is over yet. "We took pictures with the parents, and there were a bunch of team pictures."
"A bittersweet feeling because everyone's celebrating you and our past years in the program." "We're getting flowers, but it's sad because we're now moving on and it's almost over and going to be one of our last times playing on the court."
"We're a really special group, Sarah (Vaderbeck) and Sophia(Firneno) has been on varsity since freshman year." "I went to IHA (Immaculate Heart Academy) but then as a sophomore year I came back to River Dell and the three of us have been always on varsity together and a tight knit group." We have been playing club together since Middle School.
"The other seniors Melissa (Goldstein), Katelyn (Kreutzer) and Anna(Lewis) honored also and have put in a lot of commitment towards the program and improved greatly over the past couple of years and working hard in practice." We're a great group of hardworking and talented girls.
"I have changed as a player and person; the first time I put that varsity uniform on the sophomore year, I was young and kind of wide-eyes coming into the program and just excited to be there necessarily." "I was excited to be on the team and play a role." There were a lot of seniors and upperclassmen on the team that year who took me in and under their wing and made me feel part of the team right away, and family feels.
"I went from being one of the younger ones on varsity to becoming a leader and now a senior and captain on the team." "Now I try to be like those seniors that I had as an underclassman and make the younger players feel welcomed and part of the team." I was just a role and leader for all my other teammates on and off the court.
River Dell Head Coach Lindsay Steffner on Senior Night, "It was a great night, the booster club always has done a fantastic job, getting the gym prepared and the all the girls who are underclassmen make posters for the seniors." "They really want to go out and celebrate the seniors as best as they can, and the gym was decorated nicely."
Once the pre-ceremonies concluded, it was time for the Golden Hawks to play another vital league game vs. Pascack Hills that featured a new starting lineup consisting of all seniors.
Despite falling behind early, River Dell stormed back behind the stellar play from Kayla DePol, scoring eight points as the Golden Hawks led 18-12 at the end of the first quarter.
"The first two minutes wasn't looking too good, and they got on a little streak," Kayla DePol explained. "We had to get our momentum, but once we did, I knew I needed to take the ball and make my shots, and it was senior night, and I wanted to have an excellent game, and I looked to score and to be offensive."
Head Coach Lindsay Steffner on the opening start to the game, "Give credit to Pascack Hills, they had a very good player back in the lineup who they didn't have the first time around and they improved as the season went on." "I wanted to make sure the girls understood that it wasn't just because we are showing a different lineup in a game, and we're not prepared."
"It was just a matter of our girls taking a little bit of time to adjust just not to the pace of the game but the zone and who's on the court and in different positions." "Sophia (Firneno) hasn't played an inside presence at all this season and been on the wing, and she was in a different position." Once we settled into the game's rhythm, the girls took off and never looked back.
In the second quarter, the scoring output decreased significantly as the teams combined to score 16 points as the Golden Hawks led 27-19 at halftime.
Kayla DePol on the message from Head Coach Lindsay Steffner at halftime, " Coach Steffner talked to us and said she was happy with the way we were running the offense but didn't think our defense was as good as it could have been, and we gave up more points than we should have, and we needed to step up on defense."
Once the third quarter commenced, River Dell started on a flourish with a 6-0 spurt. Kayla DePol continued to excel on the offensive end, tallying seven additional points. When the period ended, the Golden Hawks stretched their advantage to 40-23.
"I was proud of Kayla (DePol) and showing how versatile she is and hit outside shots which she is capable of doing." "Teams Scouters know they have to guard her against the perimeter, and then it opens more lanes for her to drive." She's just got a terrific first step and aggressive going to the rim, and it's impressive to watch how easy she makes some tough shots go in.
The Golden Hawks did not step off the gas pedal in the fourth quarter, knocking down a couple of trifectas as the lead swelled to over twenty points. As the final minutes ticked down, players off the bench got the opportunity to play.
River Dell went cruise to the 57-32 victory, finishing the Big North Patriot league play undefeated, and Kayla DePol dropped in a game-high 22 points. After the game ended, the team celebrated at center court, shooting confetti cannons into the air and taking team photos.
Kayla DePol on the win over Pascack Hills, "At the beginning of the season, we said our goal was to win the league, and if we could go undefeated, that would be even better, and to accomplish that goal was great." "Last year, we wanted to win this league, but unfortunately, we tied Westwood." To have this game on a senior night made it special.
"That was super fun, we did that two years ago and the same thing it was senior night and our last league game." "It was a huge celebration and a flashback to two years ago and we had confetti cannons and taking a bunch of pictures celebrating and a really great moment." We're more than a team, a family and have strong bonds with each other.
Head Coach Lindsay Steffner on the victory, "This is a fantastic group of seniors, six of them have been with me for so long and not just a matter of six seniors of only this year on varsity." "The way the pandemic has been two stressful seasons, and we've grown close together, and we have relied on a lot of communication back and forth." You never know what each day and week brought and how things would unfold. That's a credit to this group and how they handled being leaders on and off the court.
"I wanted them to feel like they are celebrating something, winning the league three years in a row and going undefeated as seniors is a big moment." "We talk about this every year and were so close to winning a league championship." It's something I don't want the girls to take for granted.
"We played a tough schedule on purpose, and we prepare for that." "Putting your graduating class upon a banner as a senior and then to come back and see their numbers on those banners, and it should mean something when they come back to visit in the future." Every year we win the league in the future, it gets bigger and better.
Now the Golden Hawks (19-1, 8-0 Big North Patriot) shift their attention back to a Bergen County Women's Coaches Association Tournament. They face the number one seed Saddle River Day Rebels (19-1) at Ramapo High School on Sunday, February 20th, with the tip-off set for 3 p.m. The Rebels have dominated, winning the tournament five years in a row.
Kayla DePol on the upcoming matchup vs. Saddle River Day, "I know Coach Steffner said a River Dell girls basketball team had not made it to a county semifinal in years." "The last time was when she played at River Dell, so it does show how great of a team we are and how successful we have been." We know how good they are and how talented of a team and deep, but we still have to go out there and play intensely and not back down even we are losing and can't put our heads down." We must keep our heads up high, play our game, and with energy for all 32 minutes.
Head Coach Lindsay Steffner on the game against Saddle River Day, "It's going to be a challenger, but it's not something we are scared of and take it one possession at a time and follow the game plan." "Just putting our best foot forward in this matchup, we will watch the film and have a scouting report just like every other game." We'll have one day of practice to prepare for what we're going to do, give it our best shot on Sunday and represent the school the best way we can.