River Dell varsity girls basketball team clinches Big North Patriot Title in win over Ramsey
Image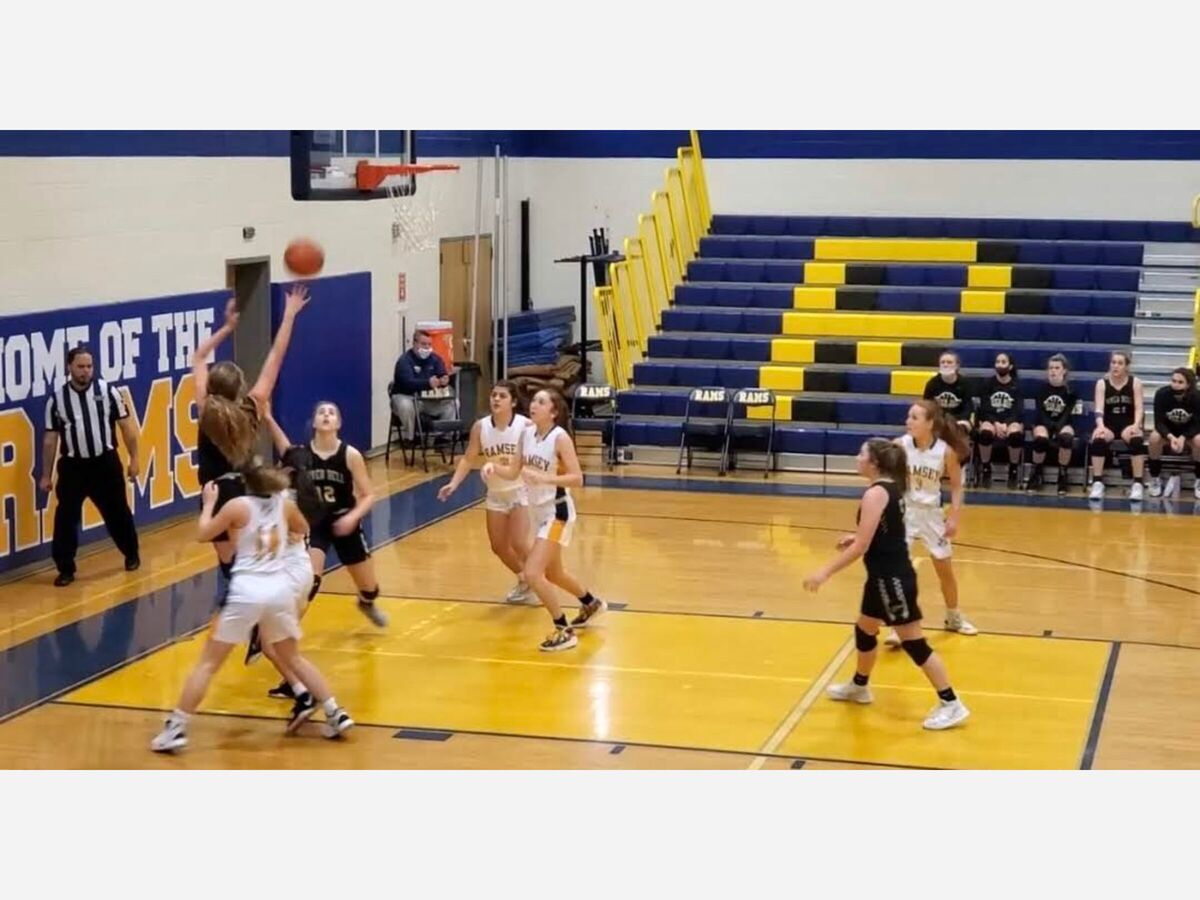 Fresh off a dramatic 47-45 victory over Dumont in the Bergen County Women's Coaches Association Tournament Quarterfinals at Pascack Valley High School, the River Dell Golden Hawks varsity girls basketball team (17-1, 6-0 Big North Patriot) returned to the hardwood court squaring off against Ramsey (11-10, 2-5 Big North Patriot) at Ramsey High School.
In the first quarter, both teams looked sluggish, with shots not falling on either side. By the time the quarter closed, the Golden Hawks had held a slim 6-3 lead.
On the opening start, River Dell Head Coach Lindsay Steffner said, "Ramsey is athletic and tough, and their kids are well-coached." "After a big win, you never know how people are going to respond, and this part of the season, there are some bumps and bruises along the way." As soon as the ball gets tipped in the air, you must overcome challenges and play the game.
"Early on, our shots were not falling; they were good shots and all within the rhythm." "I wasn't frustrated at all but could tell they were frustrated but told them a couple of times they could have been a little bit more selfish and take the shots." We still held them to three points, and they didn't get good looks."
Once the second quarter got underway, Ari Rodriguez and Sarah Vanderbeck provided a massive burst of energy-burying trifectas that extended the lead to 12-6 with five minutes remaining.
However, it was a spectacular performance from Isabella Gilmour that played a crucial role in the lead swelling to double digits at 22-12 at halftime. Gilmour tallied ten points and displayed the versatility to score on the fast break, transition, and free-throw line.
"Driving to the basket has always been my strong suit and since I was very young," Isabella Gilmour described. "I was happy that I was able to get in there and score some points."
After Ramsey scored the first points of the third quarter, the Golden Hawks seized control. Isabella Gilmour hit a jump shot followed by Lily Crowder canning a triple to widen the margin to 27-14 with less than four minutes left. By the quarter ended, River Dell had led 34-18.
Despite scoring only five points in the fourth quarter, the Golden Hawks locked down defensively, limiting the Rams to four points as they cruised to the 39-22 win and wrapped up the Big North Patriot Division Title. Isabella Gilmour dropped in 17 points, while Ari Rodriguez and Sarah Vanderbeck had seven points apiece.
Isabella Gilmour on the victory, "Ramsey's a good team, and their record doesn't show how good they are." "Being able to go in there and away game and a win were big for us." It was a good momentum setter after losing to Dumont two weeks ago, and we've stepped up our game and want to show people how good we are.
"Coach (Lindsay)Steffner said we were able to keep our composure in a tougher game when we were not scoring as much and there wasn't really a flow and how we usually play and to still come out of there with a win."
The Golden Hawks return to action on Thursday, February 17th, in a Big North Patriot duel versus Pascack Hills at River Dell High School, with tip-off set for 7 p.m. Not just a league game but more importantly, "Senior Night" as six seniors will be honored before the start of the game. Sarah Vanderbeck, Sophia Firneno, Kayla DePol, Melissa Goldstein, Kaitlyn Kreutzer and Anna Lweis.
Head Coach Lindsay Steffner on the impact the six seniors have made on the varsity girls basketball team, "This is a great group of girls, they're easy to root for, good teammates and good people and good students in the class." These are the kind of role models you want on your team to give back to the next group of athletes coming up.
"I have known these kids for a long time; that's what makes this hard as a coach to celebrate with them but know this is their last go around." "It's bittersweet for me to see them grow up as individuals; they have been coming into camps in third and fourth grade and improved not just as basketball players but outstanding leaders and proud of them as a coach."
"We're celebrating them but also here to do our job, and there's a balance there." "I'm going to start the five seniors, and that is a different starting lineup." There will be uneasiness of new roles and energy to start a game and what my expectations are for them is different. It's a fun game to be part of, and make sure we go out there and win.
"Sarah (Vanderbeck), not just a four-year varsity member but four-year starter, we have a had a lot of time together, built a relationship there and she has improved her game."
"Sophia (Firneno) a remarkable young lady and been with me on varsity for four years, battled back from a hard injury and played great and a good leader and you can't ask for anything better." "From a coaching perspective to see a kid that resilient and to see someone put that into action and I'm just really proud of her."
"Kayla (DePol) went to IHA(Immaculate Heart Academy) as a freshman, and when we got her back, she feel right into the varsity lineup as a sophomore and she's only improved every single step of the way." "Every season she'd doing better and better and taken on more of a role and leads is in every statistical category." We're not the same team if she does not come here. I'm proud of the way she has transitioned back to River Dell and has made an impact here in three sports, just not basketball.
"I love Mel's (Melissa Goldstein) defensive intensity, for her size she's the first one to go up against anyone, first one back up and willing to fight again and she brings toughness to our team." "Even though she is 5'1 or 5'2 Mel brings and helps us every single day go against Sarah (Vanderbeck) in practice is not an easy job."
"Katelyn (Kreutzer) has been with me on varsity for two years and such a great kid." "She is always smiling, very positive in general and great outside shooter." "She works hard in practice, never complains about her role and comes every day to work."
"Anna (Lewis) went to IHA as a freshman and we got her back." "She works hard every single day and improved over her four years." "It's been a joy to watch her improve and get to know her as a person." She was coming to camp when she was in fifth and sixth grade.