River Dell varsity girls basketball team gets redemption in winning a rematch against Dumont in BCWCA Tournament Quarterfinals
Image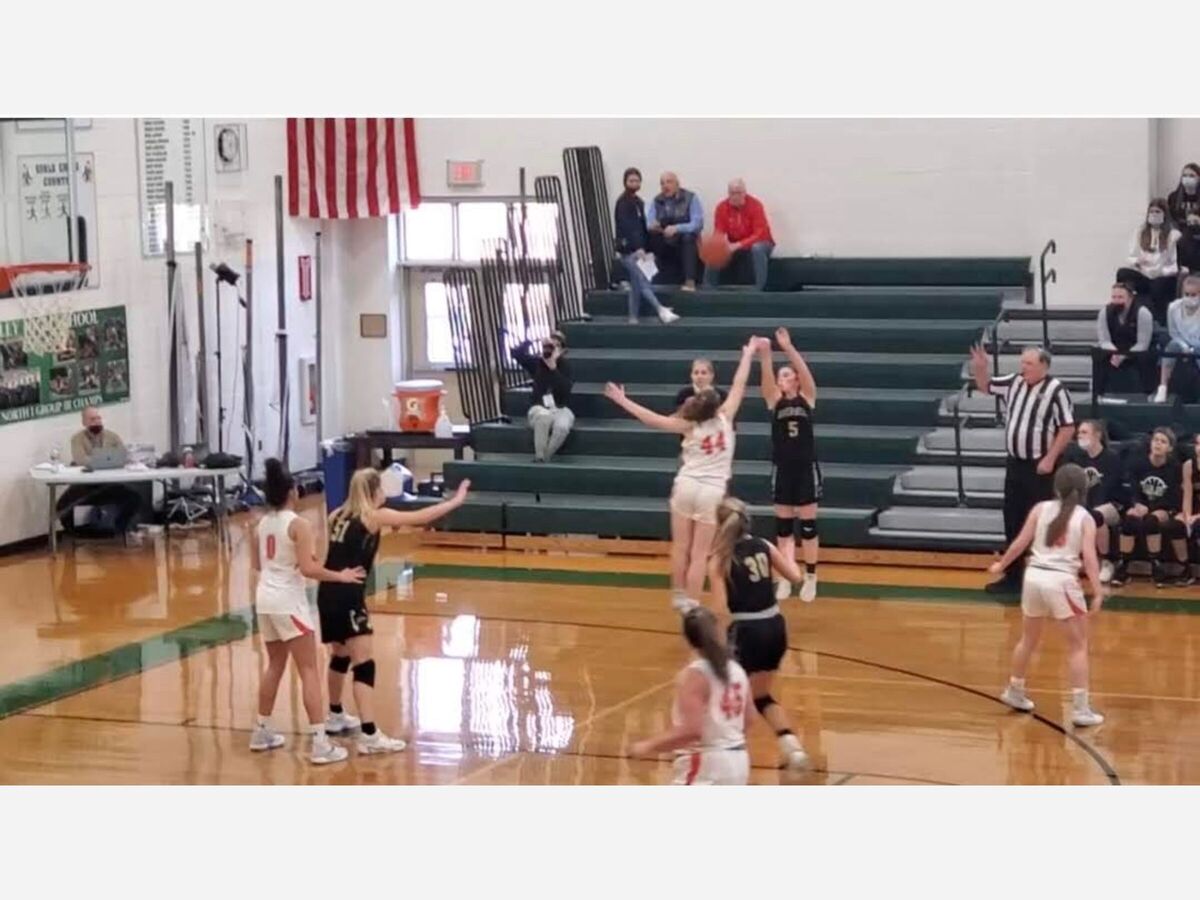 The River Dell Golden Hawks varsity basketball team (17-1, 6-0 Big North Patriot) got back on the winning track after rolling past Mahwah 58-22. River Dell had three days to prepare for a rematch against Dumont (16-2) in the BCWCA(Bergen County Women's Coaches Association) Tournament Quarterfinals at Pascack Valley High School.
Sophia Firneno on the light schedule this week, "Definitely having those couple of days off helped relax our bodies. "Mentally, we were able to relax about what we've been doing the last couple months and a nice little breather that all needed."
A lively atmosphere for a noon tip-off as supporters of both teams packed the bleachers. The Golden Hawks came out firing out on all cylinders jumping out to a quick 9-3 lead.
Picking up where she left off against Mahwah knocking down four three-pointers, Sarah Vanderbeck was on fire burying two trifectas.
"Knocking down that first three early in the game really gave me confidence for the rest of the game and just to keep shooting," Sarah Vanderbeck described.
River Dell Head Coach Lindsay Steffner on Sarah Vanderbeck, "I told Sarah before the game she had to be the difference-maker, we watched the film and showed her where she was going to get her shots, and she passed up shots in the last game." "I told her if we are going to win, she has to shoot the ball." She got hot, was confident in taking shots, and I know her potential.
Dumont responded with a flurry going on an 11-0 run in the quarter's final three and half minutes to take a 14-9 lead at the end of the quarter.
The Golden Hawks offense hit a significant dry spell just as they did in the first time around against the Huskies in the Pool Play 3 game without a point for over six minutes of action.
Sophia Firneno ended the drought with a put back lay-in with less than eight minutes left. However, Dumont managed to bump their advantage back up to 19-11 with less than six minutes to go.
Looking as though the Huskies might break the game wide open, Sarah Vanderbeck drained her third triple of the game. Sophia Firneno added to the run, tallying five straight points as River Dell tied the game up at 19-19 at the four-minute mark.
"When we started tallying up all those points you could tell the momentum was shifting in the crowd in our favor and on the court and just harp on that and keep pounding," Sophia Firneno explained.
Head Coach Lindsay Steffner on the Dumont run, "I told them before the game we're playing a very good team that's going to make a run and they score a lot of points." "It's just a matter of dealing with their runs and then coming back at them." It's taking the brunt when they have them and then going right back at the fighting and chipping away offensively and defensively and wearing them down as much as possible.
With Dumont up 20-19, Ari Rodriguez came off the bench and sank a rainbow trey to put the Golden Hawks for the first time since the first quarter's three and half minute stage. Sophia Firneno scored her ninth point of the quarter, driving fiercely into the paint for a left-handed lay-in-off glass.
The Huskies answered back with twenty seconds left on a trifecta from Kelsey Boyhen. Going into the locker room at halftime River Dell led 24-23.
Having scored 21 points in the first game against River Dell, Colleen Heaney registered ten points while her sister Meghan Heaney notched six points.
Head Coach Lindsay Steffner's message to the team at halftime, "I wanted them to understand we were forcing the ball too much to the high post and leaving many options to drive and kick in." "I wanted more movement because the high post would be open on ball reversal."
In the third quarter, the action went back-and-forth, but the Golden Hawks managed to push the lead to 29-25 with less than six minutes remaining. Dumont countered with a 5-0 spurt to go back in front.
Isabella Gilmour knocked down a jump shot to put River Dell ahead 31-20 with less than a minute to go. Kelsey Boyhen sparked the Huskies canning a triple at the buzzer.
With Dumont leading 35-31 in the fourth quarter, Isabella Gilmour drove into the paint and lift as shot up off glass while getting fouled in the process. Gilmour sank the free throw to complete the three-point attempt.
Trailing 37-34, Lily Crowder found an open space in the lane to drive into and put the ball in the basket while fouled on the play. Crowder drained the free throw to tie the game up at 37-37 with six minutes to go.
The heavyweight duel continued with the Huskies re-taking the lead 39-37. Sarah Vanderbeck caught lightning in a bottle posting the following five points for the Golden Hawks, including connecting on her fourth trey.
Dumont refused to back down as they clawed back with a 6-0 run, with the points coming on back-to-back triples. With time winding down in the final frame, Sarah Vanderbeck stepped up in the clutch, nailing her fifth trifecta to tie the game up at 45-45 with a minute and a half left.
"We're taking the ball out of bounds, and we call this play called "Gold" to get me a shot," Sarah Vanderbeck noted. "The first time we ran it I didn't get open because we kept it inside instead to taking it out again."
"Dumont knew it was coming because they cheated out on me so I took a jab step click to the right and Colleen Heaney stepped off and I just found that open space and shot it and went in."
Both teams had opportunities to re-take the lead but could not cash in. The Huskies attempted to dribble the ball past half-court with less than forty seconds to go, but Sophia Firneno wrestled the ball away from Colleen Heaney.
"I was guarding Colleen (Heaney) in the previous game, and she scored 21 points against us and so there was no chance that was going to happen and scoring the game-winning point and made sure I was up in her grill the whole time and second she touched the ball," Sophia Firneno mentioned. "She ended up getting the ball at half court and saw her back to me and said this is a perfect opportunity for me to grab the ball."
Firneno quickly dribbled the ball towards the bucket and lifted a lay-up off the glass as Heaney fouled her during the play with 32 seconds to go.
"I don't even know how to describe it, there was immense pressure, but I knew I was driving in there, putting in the lay-up and ball is going into the hoop no matter what," Sophia Firneno stated.
The Huskies still had ample time to either tie the game up or win it with twenty seconds left. Milking the clock down, Dumont attempted a shot inside the paint, but the ball bounced off the glass out as Lily Crowder corralled the ball as the buzzer sounded for a River Dell 47-45 victory.
Sarah Vanderbeck finished with 17 points, while Sophia Firneno added 13 points. Kelsey Boyhen totaled 12 points for Dumont, and Meghan Heaney supplied 11 points. After dropping in ten points in the first half, Colleen Heaney was held scoreless in the second half.
Head Coach Lindsay Steffner on the win over Dumont, "It's unbelievable, the girls played hard and deserve to be where they are 17-1." "This means a lot to the community, for the two towns they represent and alumni that played before them." It's bigger than just the team and something they will remember the rest of their lives.
"I remember the county finals when I played and something that is going to be a part of them and going to be able to tell people what they did and kind of run they had." "I'm overly proud of them for the pride they had wearing the River Dell uniform and energy they brought, and resiliency they kept showing in a challenging situation.
Sarah Vanderbeck on the victory, "It definitely felt extra special since Dumont was our only loss, we beat them in a close game and now we're in the Final Four." "Our program has played very well in this gym and to have the fans being able to come, the whole community and younger underclassmen that are also supporting."
Sophia Firneno, on the win, "I had this rush of extreme happiness that overcame me." "This is a huge win because we beat a team that ended our undefeated record." We have been gaining more and more of a following because we've been so successful."
"We love having all the fans, seeing more and more people showing up." "Teachers, grandparents, neighbors, and all the people from the community showing up to watch us and only tell us what we're doing is helping the school and influence the community." It hits home knowing we can affect many people so quickly by just playing basketball.
The Golden Hawks advanced to the BCWCA Semifinals, where they will play the number one overall seed Saddle River Day Rebels on Sunday, February 20th, at Ramapo High School, with tip-off set for 2 p.m.
River Dell gets back to league play facing off against Ramsey (11-10, 2-5 Big North Patriot) at Ramsey High School on Tuesday, February 15th, with tip-off set for 7 p.m., followed by Senior Night against Pascack Hills on Thursday night at River Dell High School.
"Our main goal is to win the league," Head Coach Lindsay Steffner remarked. "I'm keeping them focused on what to this week and enjoy Senior Day on Thursday."
Sophia Firneno, on her senior year, "This is an absolutely amazing senior season any senior could ask for." "This is exactly what all of us wanted going into the season to be successful as possible and we're doing just that." I'm incredibly thankful for all the effort every person on this team has put in. We want to represent River Dell as best as possible and show two small towns can be just as competitive as every other team.