River Dell varsity girls basketball team bounces back from first loss with a dominant win over Mahwah
Image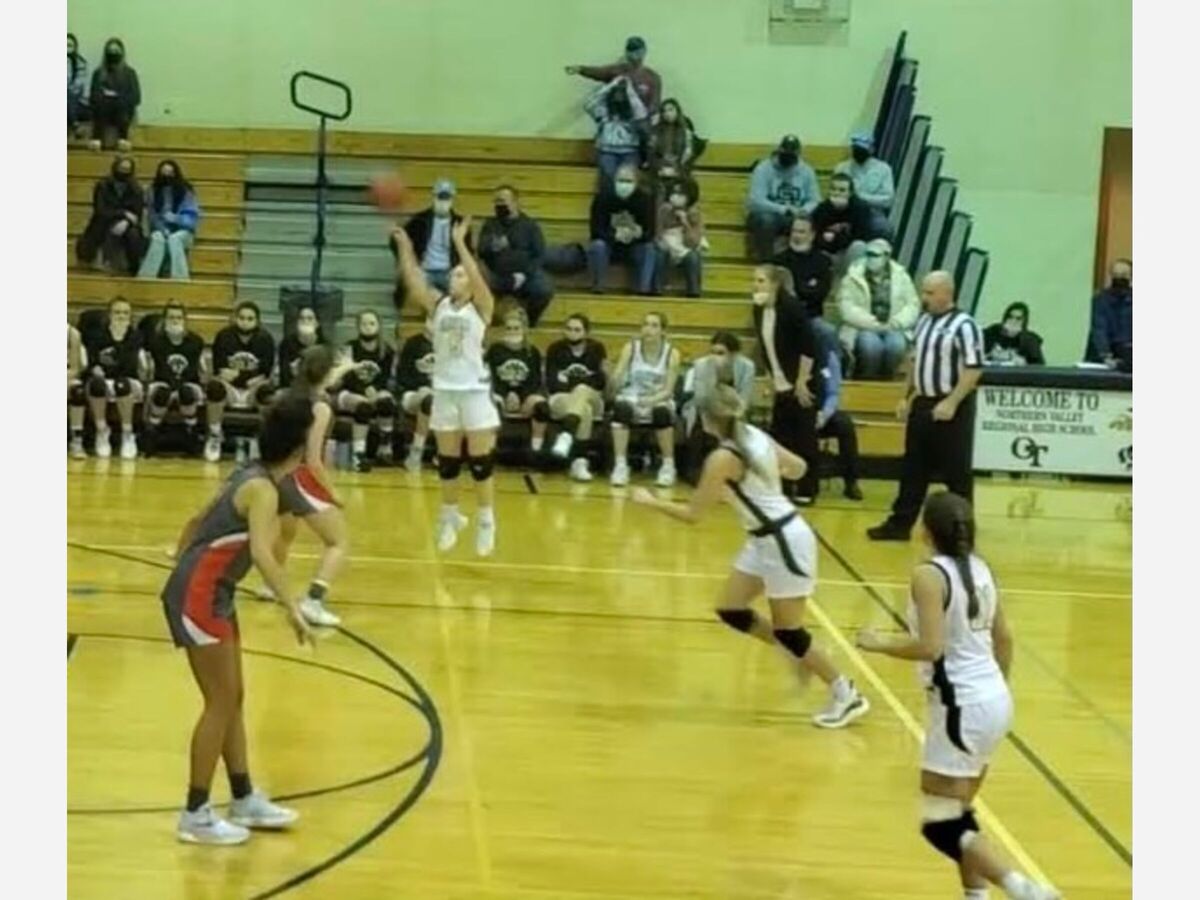 The River Dell Golden Hawks (16-1, 6-0 Big North Patriot) varsity girls basketball team recently faced a grueling schedule. Playing three games in five days eventually caught up to the Golden Hawks.
Squaring off against a top-notch team in the Dumont Huskies in the Bergen County Tournament Pool Play 3 at Northern Valley Regional High School at Old Tappan, Dumont came out firing from behind the arc canning nine trifectas.
Colleen Heaney buried six of them and poured in a game-high 21  points to lead the Huskies to the 54-45 victory, thus ending the Golden Hawks undefeated record.
The Golden Hawks looked to bounce back from the loss against Mahwah at Mahwah High School. The last time the teams played on January 6th, the Thunderbirds displayed a ton of grit and determination, but River Dell held on for a 45-40 win.
This time around, the Golden Hawks wasted no time at all jumping out to a 21-5 lead at the end of the first quarter. Sarah Vanderbeck sizzled from behind the arc, canning four trifectas. Even scoring ten points in the second quarter did not matter as River Dell led 31-7 at halftime.
"I have been focusing on getting my shot better and practicing a lot," Sarah Vanderbeck described. "I take a lot of shots after practice with Coach (Lindsay) Steffner." She has been putting into my head that she wants me to be a leader on the court and make sure I'm not being defensive-minded but also offensive-minded.
"I think as a whole we were definitely disappointed because of our first loss and the winning streak was over but we just put that loss away and started fresh this week," Sarah Vanderbeck explained. "Coach Steffner was impressed in this game she was able to sub in multiple sets of five different people on the court." It didn't matter whether it was the starting five or five off the bench.
"Coach Steffner always says how difficult it is to come off the bench because whoever is on the court already has the mindset and groove of how the game is going on you get on the court and it's a whole new start for them." "I think our subs that come in do a really great job and they don't get enough credit for it."
River Dell Head Coach Lindsay Steffner on Sarah Vanderbeck, "I know what Sarah's potential is and how good she is." "I stayed after practice with Sarah and shot with her a little bit," I told her going forward; we have a month left. It's all about the seniors right now and the season we want to have and how people will remember this group, and she needs to step up and start knocking down some shots and being a floor leader, and she took it to heart and came out strong.
The Golden Hawks kept their foot on the gas pedal in the second half, outscoring the Thunderbirds 27-15, leading to a 58-22 win, and remaining undefeated in league play. Remarkably 15 players saw court time, with 11 of them tallying points.
"I was happy with the girls played, and it's been a while since we won at Mahwah," Head Coach Lindsay Steffner mentioned. "The last game was so close, and their head coach did not coach against us." I made sure the girls knew what was on the line and wanted to win the league. Our focus was Mahwah and not looking ahead and worrying about anything else. I was just happy we came out of the gates and finished and ended the game on such a great note.
"We got everyone in, and all got on the stat line somewhere along the line and looked great." "It's just so rewarding as a coach to know that whoever I'm putting on the court at that moment is executing what we need to do." They're able to fill some spots, and it gave me a lot of confidence.
Now, River Dell shifts its focus to re-match against Dumont(16-1) in the quarterfinals of the Bergen County Tournament on Saturday, February 12th at Pascack Valley High School, with tip-off set for noon.
Sarah Vanderbeck on the upcoming game versus Dumont and the importance of the starting five, "We all have to work together and help each other out on defense because they set a lot of screens and do a lot of handoffs." "We have to make sure we pressure Colleen (Heaney) so she can't get her shot up."
"Offensively we need to attack because they played zone, Coach Steffner was trying to make us drive and kick to get our shooters open and we definitely have to work on it in this game."
"What made the five of us so special is we played with each other last year, we had one senior in Caitlin Nader an amazing shooter and a tough loss but me, Kayla (DePol) and Sophia(Firneno) have been playing with each other since we were little and played against each other and on our travel teams I played with Sophia." "I think that connection compared to other teams and having Bella(Isabella Gilmour) and Lily(Crowder) and knowing what each other can do on the court is perfect."
Head Coach Lindsay Steffner on the re-match against Dumont, "We have to make sure we are playing them beyond the three-point line and the last game a lot of their shots fell early." "Our defensive intensity got better as the game went on, and they weren't getting as many good looks." We must make sure we put a little more pressure out on the perimeter, which we hadn't had to do all season, and we force a lot of things going to the rim and rotating over to pick up charges, and they are not that type of team. They want to be on the arc, and we must make that adjustment and be ready for that.
"They took away our three-point opportunities by moving very fast on defense." "The fact we already saw them, it's hard to beat a team twice in a week so as long as we understand how to move the ball and where our looks are going to be and get to the rim and foul line." I like the way we play defense and pride ourselves on being a defensive team, and if we can shut them down a few points here and there and put some more points on the board, it's going to be a different game.
"This tournament is a different format and has been a fun ride." "Having these harder games in between our league games makes the kids resilient about what they're focused on, how to keep our focus and keep our composure with each opponent and what each game means." It means a lot for the state tournament seeding.
"It's kind of a fun numbers game right now to see how we look and match up against other teams outside of this league." "If we could get this win and be in the final four of the county tournament, I would be thrilled and proud of this group and they've worked very hard for it."