River Dell freshman boys basketball team extends winning streak to 12 games
Image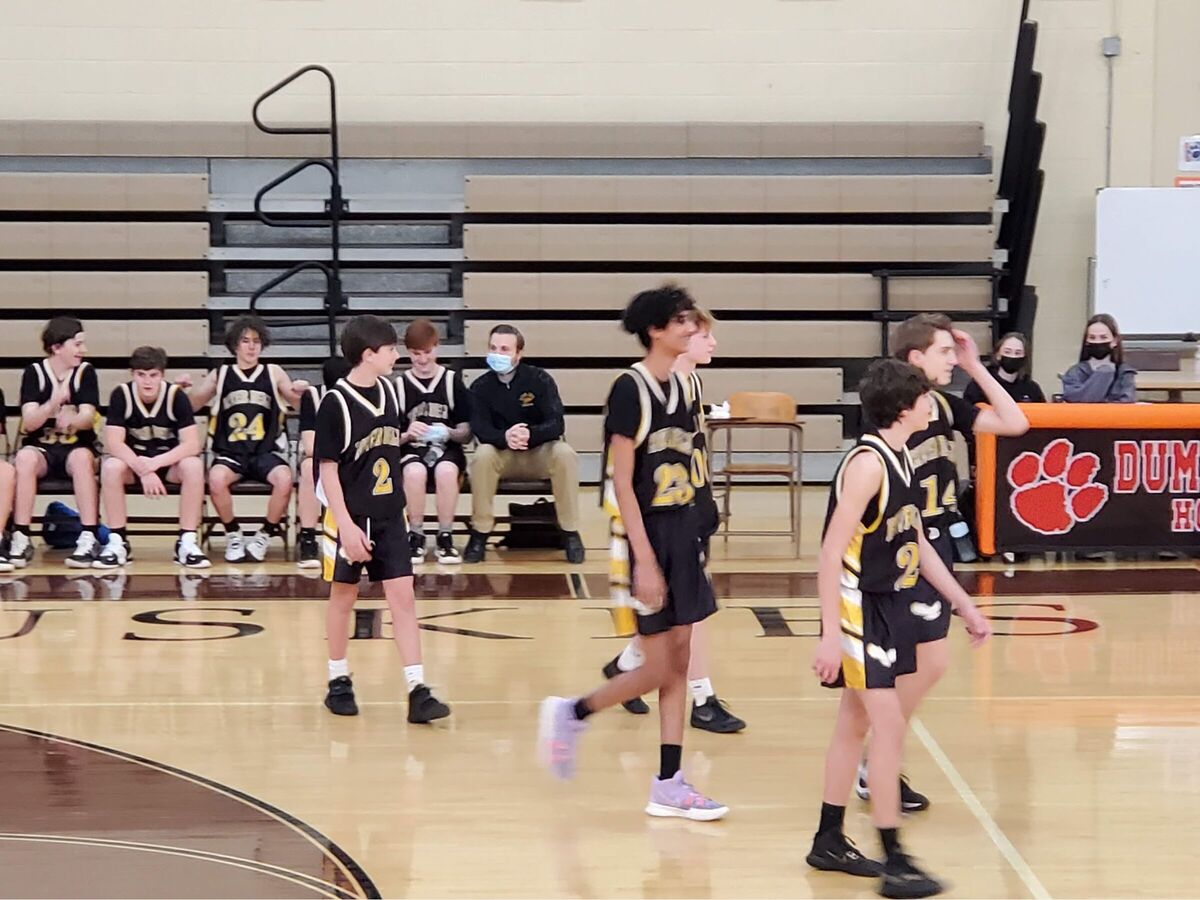 Crossing a significant hurdle with three wins in four days at home that extended their winning streak to ten games in a row, the River Dell Golden Hawks freshman boys basketball team hit the road with away games at Dumont and Westwood.
The Golden Hawks were off and running from the opening tip, jumping out to a double-digit advantage at 12-1 with four minutes left in the first quarter. River Dell scored from all areas of the floor against the Huskies.
Brendan Miceli put on a show offensively, scoring 12 of his game-high 16 points in the quarter. River Dell held a commanding 22-3 advantage when the period ended.
Head Coach Ben Orth on the dominating first quarter, "We have won the first quarter in probably 13 of our 14 games which has been huge for us because it makes the other team chase us and not the other way around." "There wasn't really much we did wrong in the first quarter."
Brendan Miceli, on his blazing start to the game, "It's always a great feeling to put up those points." "I got two fast breaks in a row, and then the rest of the game, I was able to create shots for myself and teammates."
Head Coach Ben Orth on the offensive production from Brendan Miceli, "He's just slowly continued to improve on it and become a three-level scorer." "It's just not going all the way to the rim or shooting a three but starting to pull up and shoot floaters and little baby shots and really expanded his game."
In the second quarter, the players off the bench got most of the playing time that allowed the starters to rest. However, Dumont answered back in the quarter, outscoring the Golden Hawks 12-2.
With the starters back in the third quarter, the River Dell offense wasted no time boosting the margin to double digits. The Golden Hawks continuously drove to the rim for lay-ins and getting to the free-throw line. Once the buzzer sounded signaling the end of the quarter, the lead swelled to 43-25.
Holding a sizable advantage allowed the players off the bench to get some quality playing time and score some points. River Dell went on to cruise to the 55-34 victory. Regan Joyce finished with 11 points.
"When you are getting contributions from all 13 guys, it's a great thing to say," Head Coach Ben Orth explained. "One of the biggest things we talked about before every single game is playing with confidence." We talked about before every game that you can't play the game of basketball without confidence and can't have one without the other, and I think they take that to heart.
"If you watched Regan(Joyce) play this in early January, late December compared to now he has improved." "His role has expanded as he improved and great to see him step up and hit double digits in games and rebound the basketball where he can be a presence down there."
Brendan Miceli on the win, "As Coach Orth said River Dell is not a team that just shows up, they are always in a game." "We know that teams are going to go on a run but we can't get distracted and just have to keep playing our game." I think we have done a very good of that except for the Glen Rock game.
"I love our team depth, Regan(Joyce) with 11 points was huge and it's always great when it's someone not in the starting five who comes in and has a big game and helps us to a victory." "To get some rest and time-off is always good leading into the counties (Bergen County Tournament)."
Back in action two days later against Westwood, the Golden Hawks were off to a sluggish scoring just six points in the first quarter.
As the next three quarters progressed, the River Dell offense found a rhythm to build up the lead and eventually register the 45-24 win and 12th straight victory.
Brendan Miceli reached double figures for the second game in a row totaling 15 points, while Regan Joyce and Patrick Sweeny chipped in with eight points apiece.
Head Coach Ben Orth on the win, "They are getting ready for the county tournament and it showed but I think our kids did a good job." "We were able to weather it in those first 13 to 14 minutes and able to get a 8/9-0 run sparked by Deacon(McGovern), Dylan Gastman and Brendan(Miceli) towards the end of the half that got us to 21-11 and allowed us to play with the lead the rest of the game."
" One of the biggest things we talked about is nothing gets started unless we defend and really get after it and done that most of the year." "To go into a game and hold a team to 24 points and one of the county tournament teams is a great effort from them."
Brendan Miceli on the victory, "We came out with one of the slowest games we ever had; it might have been slower than the Ridgefield Memorial game when we were down big." "I think part of it was we were kind of frazzled, our bus got there late, and we didn't have much time and let it affect us." After the first quarter, we picked up our heads, realized we couldn't just show up and get the win, and we put effort into it."
"Defensively we were getting more rebounds and Dylan Gastman and Regan Joyce stepped in and had huge rebounds." "All season we have stepped up on defense and the difference in winning and losing."
The Golden Hawks(13-1) return to action this week with a home game at River Dell High School against Ramsey on Tuesday, February 8th, with tip-off set for 4:15 p.m. This season River Dell has already registered two wins against the Rams.
Next weekend the Golden Hawks face another steep challenge with back-to-back games. On Saturday, February 12th at Cresskill, with an early morning tip-off at 10:30 a.m. followed the next day, squaring off against the winner of Demarest/Bergen Tech in the second round of the Bergen County Tournament at Bergen Catholic High School with tip-off at noon.
"I think my guys can handle it and good for us to get up on Saturday and Sunday morning," Head Coach Ben Orth stated. "We got Mahwah this week, a league game that's going to be tough and a team that makes you really earn it out there and our kids are looking forward to that game."
"This is a team that's bought in all the way and I don't have many complaints in terms of what we try to put in and they go out and execute it the best they can and usually do it." "We put in new things today and right away they were running and executing them and great to see."
Brendan Miceli on the team's success, "It's not common for a River Dell freshman team to be the sixth seed and get a bye in a county tournament and we were able to do that." "What we are trying to do clinch 20 wins and Coach Orth says that has rarely happened in River Dell freshman(basketball) history." It's just grit, and we all play for each other, and that's the most significant benefit and all 13 guys.