River Dell varsity girls basketball team holds off late Westwood rally to extend the undefeated record to 15-0
Image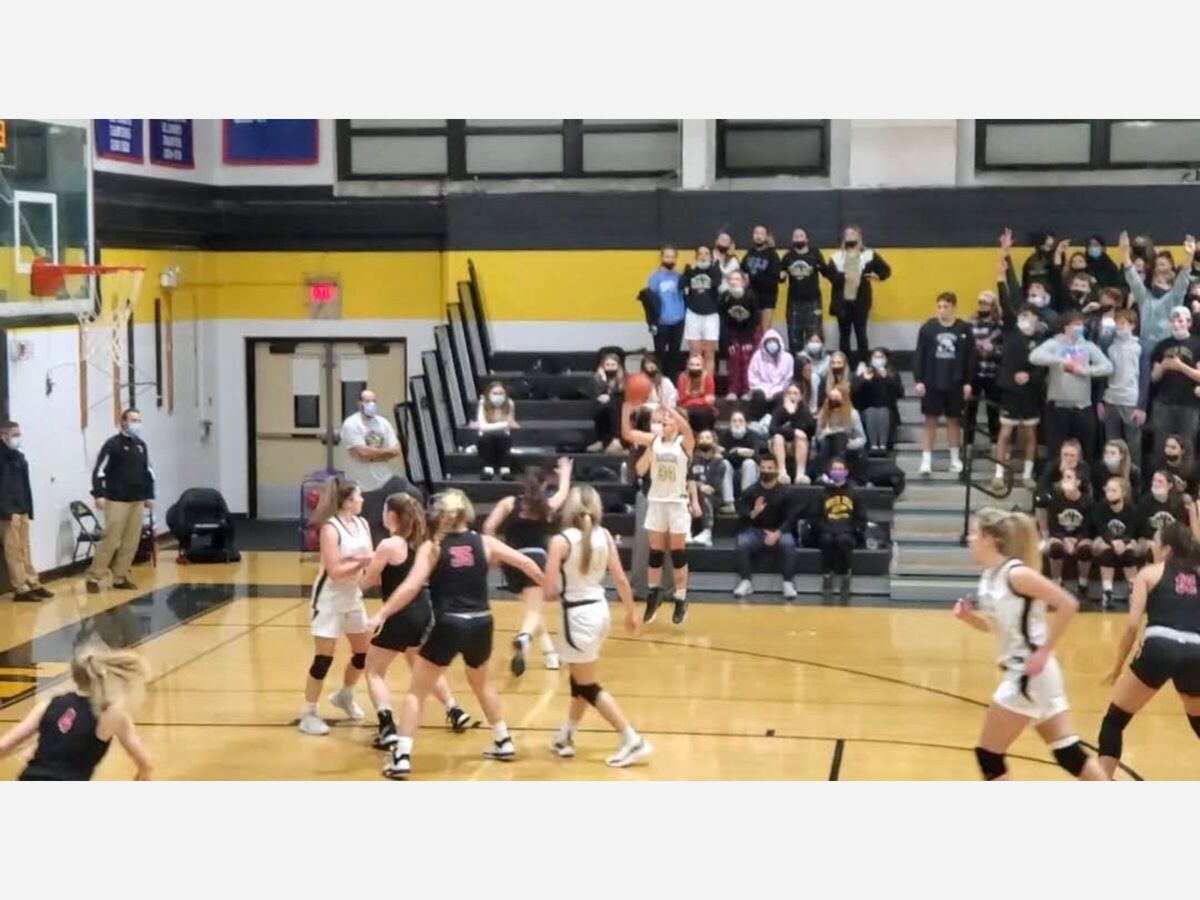 After a thrilling 52-50 overtime win over Jefferson, the River Dell Golden Hawks varsity girls basketball team kept their undefeated record alive. However, they did not have much time to celebrate hosting Westwood in a critical Big North Patriot league game not even 48 hours later.
Having exerted so much energy and energy against Jefferson, you would think River Dell would be tired, but the opposite occurred as the Golden Hawks jumped to a quick 10-1 lead five minutes into the first quarter.
Isabella Gilmour was on fire from the start accounting for all ten points. Gilmour scored from all vantage points, whether driving to the bucket for a lay-in, getting fouled and sinking the free throw to complete the three-point play, getting to the charity stripe line, and burying a trifecta.
"Last year, I wasn't able to hit my three-pointers, I was not confident, and I worked on it," Isabella Gilmour explained. "I started this season making the three-pointers and gaining more confidence and knocking down those shots adds to my offensive game." Driving has been my top skill and practicing my free throws as well.
On Isabella Gilmour's scoring output, River Dell Head Coach Lindsay Steffner said, "She came up and set the tone, and exactly what I needed her to do."
Westwood quickly responded with a 7-2 spurt to cut the gap to 12-8 with less than four minutes remaining. Sophia Firneno stemmed the tide with a lay-in.
Holding a 14-12 lead with a minute and a half remaining, the Golden Hawks relied on long-distance shooting to boost the margin on back-to-back triples from Lily Crowder and Sophia Firneno. Even with the Cardinals hitting a trey at the buzzer, River Dell led 20-15 at the end of the quarter.
Tallying seven points in the first quarter, Sophia Firneno did not cool off, sinking her second consecutive shot from downtown early in the second quarter. After scoring the game-winning lay-up at the buzzer in overtime against Jefferson, Sarah Vanderbeck buried a baseline jump shot to widen the Golden Hawks lead to 25-15.
"Throughout the season, my points haven't been this high, and now everything is clicking," Sophia Firneno noted. "From the outside, after I hit the first three-pointer, everything just fell in sync with me." As the game went, everything was clicking together.
The Golden Hawks held a 27-20 advantage with less than two minutes remaining; a pivotal sequence occurred with the Westwood head coach Charles Collis assessed double technical fouls that led to his ejection from the game and four three throws for River Dell.
Stepping up to the line, Kayla DePol drained three out of four shots. The Cardinals answered with a 4-0 run as the Golden Hawks were up 31-24 at halftime.
Catching lightning in a bottle, Sophia Firneno(15 points) canned her third triple of the game to start the third quarter. The River Dell offense maintained a good rhythm as the margin swelled to 38-27 at the four and half minute mark.
Seeing as the Golden Hawks might be on the verge of breaking the game wide open, Westwood reduced the deficit to 40-34 at the end of the quarter. Carrying that momentum over into the fourth quarter, Westwood pressed on even further, narrowing the River Dell advantage to 44-39.
Scoreless for over three minutes of action and in desperate need of a spark, Isabella Gilmour(13 points) stepped up in the clutch. With the Golden Hawks working the ball around the perimeter, Gilmour found an open space and rose into the air hoisting up a shot from behind the arc that found the bottom of the net.
"It was a good momentum shift for us; they were making a run, and Coach(Lindsay)Steffner called a timeout and told us the shots are going to be there and focus on making them." "A good job of us being patient and finding the open man." It could have been anybody, but I was in a spot and open. Kayla(DePol) ended up double-teamed, and she was able to find me.
After the Cardinals trimmed the lead to 44-42, Sarah Vanderbeck displayed a signature moment just as she did with the game-winning lay-up at the buzzer in overtime against Jefferson. Vanderbeck did a complete 360 spin around a Cardinals player with the ball, then drove into the paint rapidly before laying in the ball off the glass with two minutes left.
"I took a nice deep breath after that and I felt all is right and that was the one that is going to win it for us," Head Coach Lindsay Steffner stated. "We needed a little bit of separation but that was a huge play and again another senior stepping and taking care of what needs to be done."
Clinging on to a 46-42 advantage with less than a minute to go, River Dell sealed the 50-42 win and extended the undefeated record to 15-0 as Kayla DePol(9 points) and Sarah Vanderbeck(8 points) sank four free throws.
Head Coach Lindsay Steffner on the victory, "I could not be any prouder, and I said that in my post-game speech and just speechless." "I'm so proud of their composure and the way they handled the adversity and environment." It was an emotional game, and in the back of my mind, we just played a highly dynamic overtime game, and they were tired.
Isabella Gilmour on the win, "A big one because we beat Westwood the first time at their court, and they wanted to come in here and beat us on our home floor." "Last year, we split with them, and we won a game at home and lost there." We didn't want to give them that opportunity, and everyone was just really excited with energy, and having a bunch of fans and supporters tonight helped us out.
Sophia Firneno on the 15-0 record, "At the beginning of the season, we always set several goals, and this year's goal wasn't necessarily several undefeated games but just go undefeated for as long as you can." "We went into the season if we can get 10 in a row is amazing, but to reach 15 I'm not shocked at because of how amazing of a team we are."
"This week by far has been the toughest week of the season." "Coach(Lindsay)Steffner has always told us how proud she is of how hard we are working." "She told us not to allow it to get to our head, move on to the next competition, and always someone is gunning for River Dell, and we have a target on our back."
"She loves to tell us not to ever get too cocky and 15-0 is until someone beats you and we have to take pride in what we do and always work just as hard as we did in the beginning of the season."
"Coach(Lindsay)Steffner is the ultimate fan of basketball, and I have never seen someone so invested." "Having her as a coach is almost a privilege because she worked so hard to get us prepared for this season and every game." She spends countless hours watching films of other games, taking notes, and relaying that to us. We feed off her work, how much effort she puts in, and we take that on to the court, and we say we are doing it for her because she worked so hard for us and work ten times harder for her.
The Golden Hawks(15-0, 5-0 Big North Patriot) return to the hardwood court on Saturday, February 5th, when they square off against Dumont(13-1) in the Bergen County Tournament Pool Play 3 at Northern Valley Regional High School at Old Tappan with tip-off set for 12:15 p.m.
"We're going to have to shoot the ball well; they play a good 1-3-1 and run up down the floor, Head Coach Lindsay Steffner remarked. "We have a target on your back; they're a good program and going to want to knock us off." It will be a fun match-up, and I'm looking forward to it.
Isabella Gilmour on the upcoming game against Dumont, "We're really excited to play Dumont on Saturday, no more thinking about past games and if we beat Dumont we win our pool play and for counties to come out on top of our pool would help us in the elimination brackets."