River Dell freshman boys basketball team blows out Bergenfield for 10th straight win
Image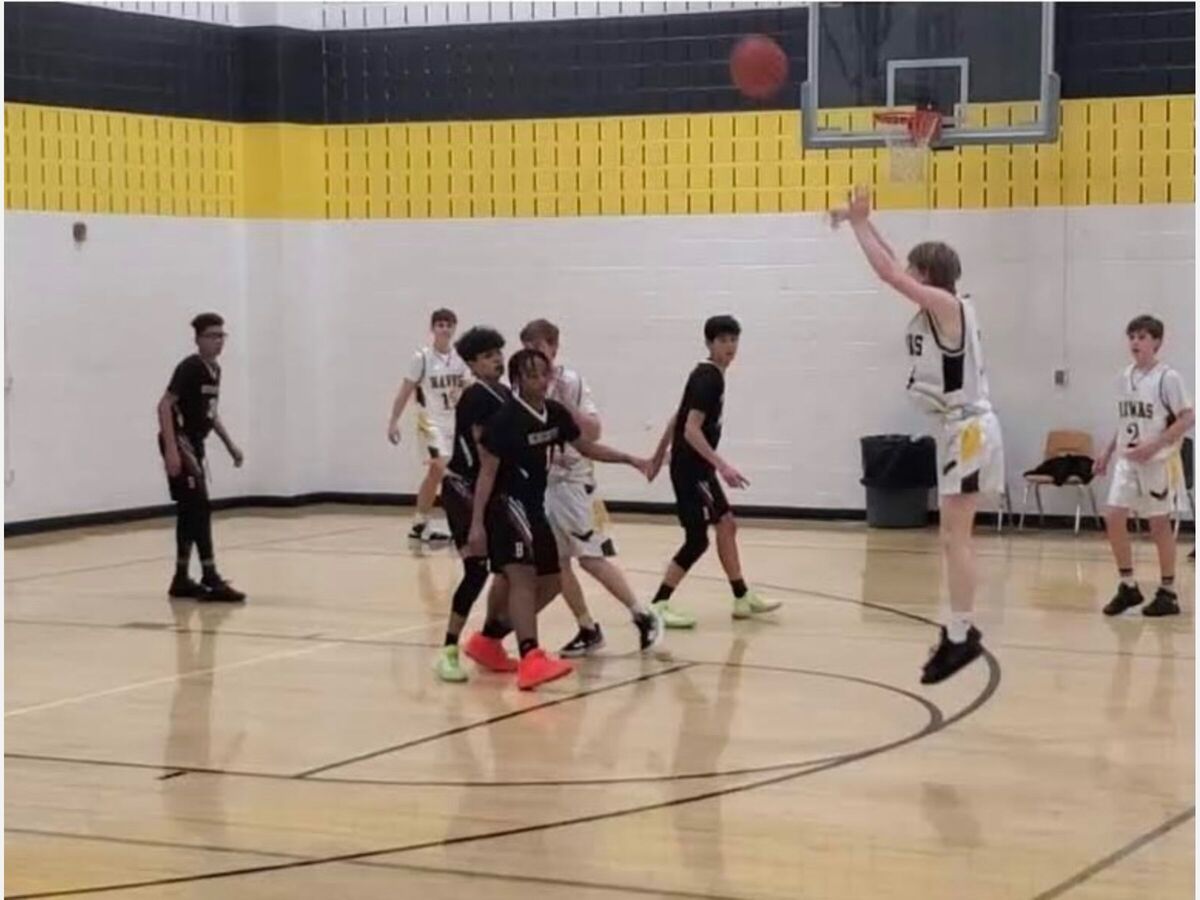 Coming off back-to-back wins that extended their winning streak to nine games in a row, the River Dell Golden Hawks freshman boys basketball team enjoyed a much-needed day off before returning to action against the Bergenfield Bears. The Golden Hawks played their third game in four days.
The Golden Hawks had to shift their game against Bergenfield to the lower gym due to the varsity girls' basketball first-round game against Paramus Catholic, the Bergen County Women's Tournament in the upper gym.
On playing in the lower gym, River Dell Head Coach Ben Orth said, "It was nice to see to see regardless of where we were the kids had their friends from the freshman football team and now on track there." "I know those kids and work within the school, and it was nice to see them support the team."
The Golden Hawks displayed no fatigue at all from the get-go; Patrick Sweeny had the hot hand early on, registering eight points, including draining two trifectas that put River Dell up 12-6 with two and half minutes remaining. By the time the quarter ended, the score was 18-10.
"Setting the tone and getting off to good starts is really part of our team," Patrick Sweeny explained. "To come out and score eight points really quickly and get the lead."
In the second quarter, the bench's production and a stifling full-court press defense contributed to the Golden Hawks expanding the advantage. Dylan Gastman tallied four while Deacon McGovern sank a triple at the buzzer as River Dell led 28-12 at halftime.
Head Coach Ben Orth on the start to the game against Bergenfield, "It's kind of back-and-forth and both team's answering each other's possessions, but we were able to settle in on the defensive end and glass, which I think helped propel us a little bit into the second quarter."
"We've done an excellent job going game by game and not trying to think about our big goals too much." "We have bigger goals for the season, but they do a good job of chomping that up into little bits." We had two nice wins on Monday and Tuesday, and then a lot of times, a freshman team might be poised to have a significant setback at the end of the week, but they didn't and came out with fire and energy to start the game.
Once the third quarter got underway, a critical sequence occurred with a Bears player earning a double technical foul that resulted in an automatic ejection.
Brendan Miceli ended up shooting four free throws, with Miceli knocking down three of them. A spark the Golden Hawks utilized to go on a 10-0 run and break the game wide-open.
"Sometimes you get lucky in terms of getting a possession like that and the technical happens and Brendan(Miceli) was able to capitalize and that run was pretty backbreaking for Bergenfield," Head Coach Ben Orth described.
The lead snowballed as the third quarter progressed into the fourth, allowing Head Coach Ben Orth to empty the bench as eight players accounted for 26 points.
"We have a pretty deep team, to begin with, and everyone that I know wants to contribute and score on the team, which is great, Head Coach Ben Orth noted. "To get big minutes like that as we enter the second-half and back end of the season is very valuable for them."
Fresh off an outstanding 21-point performance against Ridgefield Park, Ryan Rossig picked up where he left off, totaling 15 points. Rossig showed his versatility on the court by burying long-range shots while driving to the bucket for lay-ins.
"The other day before the Ridgefield Park game, Coach(Ben) Orth was telling me about my attitude and how I need to want it more than everyone else,' Ryan Rossig mentioned. "I went into this game wanting it more than everyone and have that mentality." When I was on the court, I stopped thinking and thinking and making a lot more plays.
River Dell coasted to the 60-16 victory over Bergenfield that widened the winning streak to 10 games. Patrick Sweeny finished with 11 points.
Patrick Sweeny on the winning streak, "It's really good to get a 10-game winning streak, we have been working really hard and it's starting to pay off." "The offense and defense have been great and contributed to the 10 wins."
Ryan Rossig on the team's success, "As a team we have progressed a lot and realized how much we want this and want to win especially the starting five." "This group of kids I have been playing with since second grade." We laugh at practice and have a great time.
"These past ten games have been the best weeks of my life obviously because we are winning and enjoying my time with my teammates and Coach(Ben)Orth. "It's a great feeling because I have only lost one time in my career and crazy to think of; we've already played a full season of (freshman) football and did not lose in basketball once, and that's remarkable." I cherish playing for the Hawks and love it so much.
The Golden Hawk's upcoming schedule is rigorous, with four out of five on the road starting next Tuesday, February 1st, at Dumont, with tip-off set for 4:15 p.m. On Thursday, February 3rd, a match-up against Westwood at Westwood Regional High school with tip-off set for 4:30 p.m. In addition, the stakes become much higher with the Bergen County Tournament commencing.
"I think we have been used to this all year," Head Coach Ben Orth remarked. "It's going to be another road trip for us which is good before the counties and we're not going to play any games in our gym." It's good for us to get out of our comfort zone right away.
Ryan Rossig on the keys to the team continuing the winning ways, "The team's we have we've played all before, so I think we have a good shot at winning, but we have to come in and be ready to play." "We can't come in and say we already have this game in the bag because we beat them before, and that's not a good mentality to have." We got to have the mentality of wanting every game.