River Dell freshman boys basketball team hangs tough against Pascack Hills to extend winning streak to five games
Image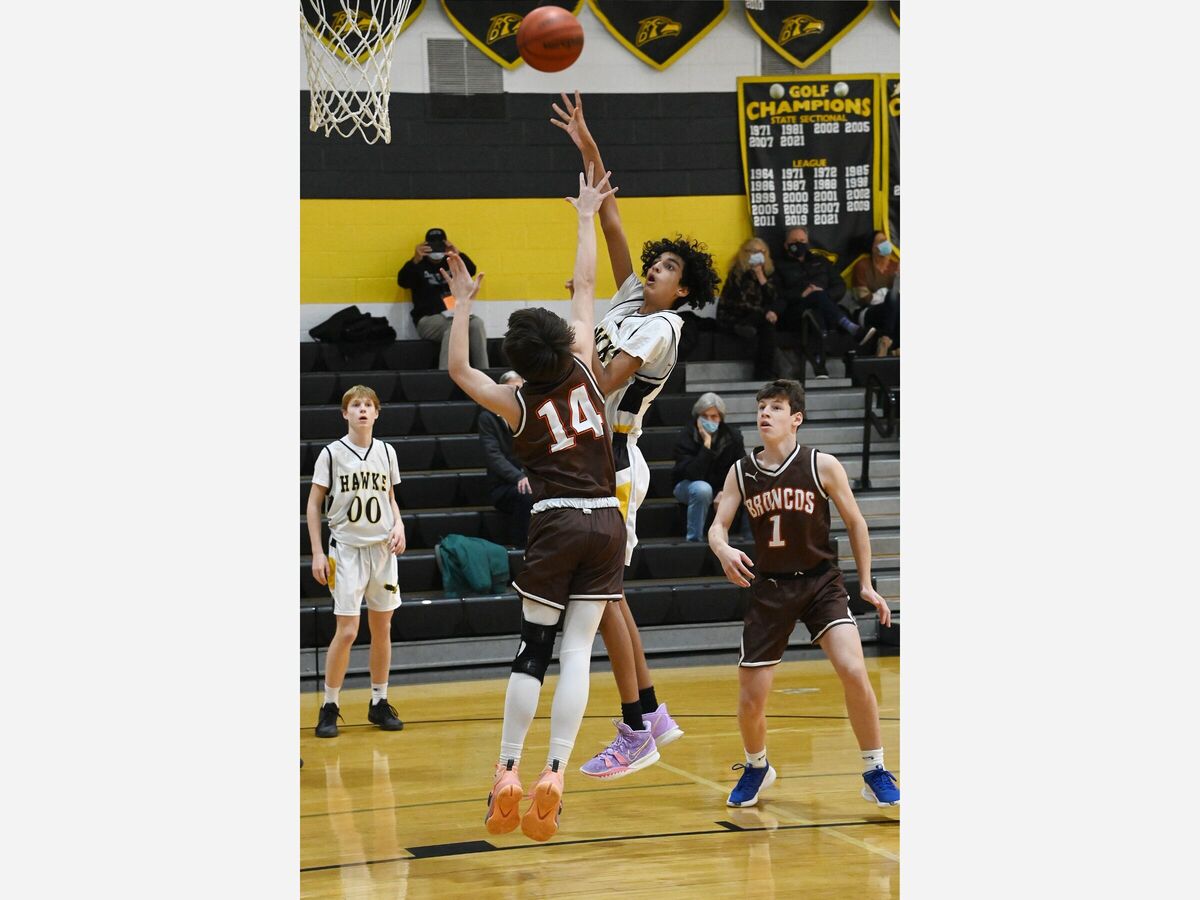 Winners of four in a row, the River Dell freshman boys basketball team (6-1) returned to the hardwood court hosting Pascack Hills at River Dell High School.
The Golden Hawks quickly raced out to a 10-0 lead five and half minutes into the first quarter. Brendan Miceli had the hot hand early on, scoring six points. River Dell held a 15-4 lead at the end of the quarter.
"We said coming into the game it was going to be a county tournament match-up between the two games," River Dell Head Coach Ben Orth explained. "I told the boys that I have high expectations for you guys."
"That's the common thing we've done almost every game and the boys do a really good job of when that gate opens, they are ready to play." "We started the game up 10-0 and that really makes a difference, and they are excited to play."
The Golden Hawk's offense showed no signs of slowing down in the second quarter. Brendan Miceli tallied his tenth point of the game on a put back lay-in with less than four minutes left. Deacon McGovern followed Miceli canning a trifecta to push the lead to 25-11.
However, the Broncos closed the gap on a 6-0 run to end the first half as they stepped up their defensive intensity with a full-court press that caused River Dell to commit several turnovers.
"The one thing we talked about is we knew they were going to go on a run," Head Coach Ben Orth noted. "They're a good team and program."
Limited to two points in the first half, Aditya Pandya rose to the occasion on the offensive end in the third quarter registering six consecutive points that expanded the Golden Hawks lead to 33-21 at the five-minute mark.
With the Pascack Hills defense collapsing in the paint every time Pandya touched the ball in the first half, Pandya managed to find open space and shooting lanes in the post in the second half.
"It was really good and built my confidence up," Aditya Pandya described. "I just made good decisions and used my length on the put back lay-ins and short jumped to my advantage to score."
Head Coach Ben Orth on Aditya Pandya, "He is someone that enjoys playing and takes pride in how he plays." "He didn't have a great game against Ramsey last week, but he corrected a lot of things he did wrong into this week." He hit a few shots in the mid-post, played his most complete game of the year by far, and had eight rebounds and five blocks.
After a lay-in by Regan Joyce that padded the River Dell advantage to 35-22, Pascack Hills once again ended a quarter on a 6-0 spurt.
The Golden Hawk's offense sputtered, enabling the Broncos to melt away the margin. A 12-0 run by Pascack Hills made it a 35-34 game with six and half minutes remaining.
With the game hanging in the balance, the next River Dell offensive possession turned into textbook success as they shaved time off the clock by swinging the ball around on the perimeter several times.
Ultimately, Regan Joyce fed Aditya Pandya in the low post for a short jump shot that ended up a three-point play as Pandya got fouled in the act of knocking down the jumper.
"Even as close as Pascack Hills came to tipping the game in their favor our kids didn't really flinch," Head Coach Ben Orth stated. "After that 12-0 we had one of our best possessions of the game, had the ball for 20 seconds and got a nice open shot for Aditya and hit the and one and that's just doing a good job."
Pascack Hills refused to throw in the white towel down the stretch. Holding onto a 38-35 advantage with four minutes to go, Ryan Rossig delivered in the clutch burying a triple.
"There were two or three moments that really kept the game in our favor and that was one of them," Head Coach Ben Orth mentioned. "When you're in that kind of position and need to hit shots to keep them at bay and kept them chasing us versus the game flipping."
In the final two minutes, the contest came down to free throws where the Golden Hawks thrived on the pressure sinking five shots from the charity-stripe line. The play that cemented the 48-41 victory occurred on a fast-break lay-up from Will Brunner.
"Will is not going to show up scoring the ball as much, but he does a lot of little things that help us go," Head Coach Ben Orth cited. "He does an excellent job of pressing people on defense in the half-court, and for his size, he rebounds the ball and got six rebounds and three assists." He can still put up five points, and the two points late impacted the game.
Aditya Pandya totaled 13 points, while Brendan Miceli accounted for 11 points, and Ryan Rossig added 10 points.
"Despite Ryan being in foul trouble he still performed very well," Aditya Pandya said. "That three he hit helped us build our team confidence back up." "Brendan with his scoring input helped us and just good to know that you can depend on people on our team to score the ball efficiently."
There is no rest for River Dell playing five games in eight days and starting with back-to-back games on Thursday, January 20th and 21st at Cliffside Park(4:15 p.m.) and Montclair(4:00 p.m.) before returning home to River Dell High School next week for back-to-back games versus Ridgefield Memorial and Ridgefield Park on Monday, January 25th and Tuesday, January 26th.
"We're in that part of the season that's real busy and we have a lot of games in a certain number of days," Head Coach Ben Orth remarked. "I think our depth on our team play and depth is going flourish."
"We had guys on the bench with fouls late in the game, and whatever five was on the floor for us were bringing it and doing what we needed to do." "I think that's something that's going to get us through the next three or four games and before that county(tournament) cut-off.