River Dell varsity girls basketball team cruises to 40-24 win over Ramsey
Image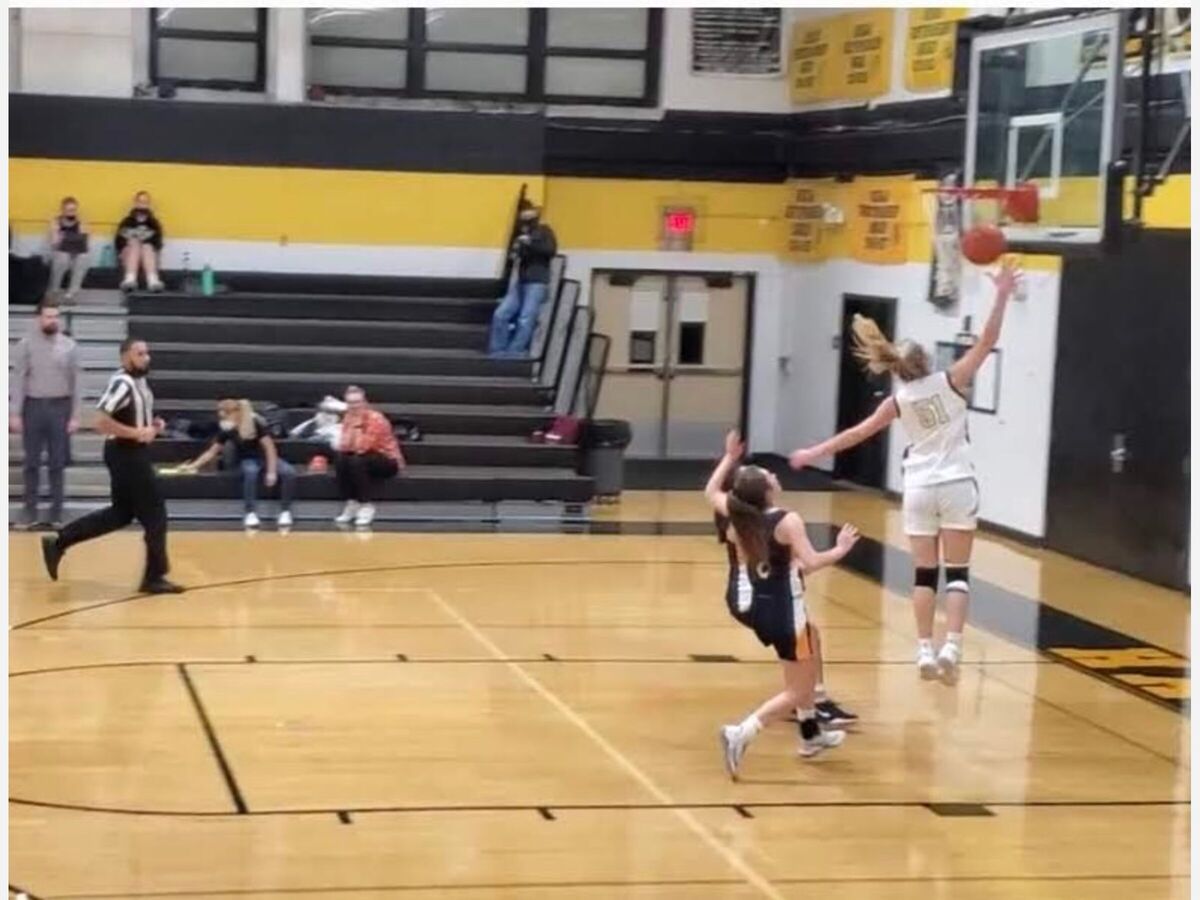 Following a hard-fought 32-27 win over Old Tappan, the River Dell varsity girls basketball team (7-0, 2-0 Big North Patriot) continued their road trip with a game at Dwight Morrow.
There was no fatigue from the game against the Golden Knights as the Golden Hawks put on a scoring clinic in a 62-22 win with a jaw-dropping 20 players seeing action on the floor. Remarkably 16 players scored a point, with senior Lily Crowder leading the pack with eight points.
Returning home two days later at River Dell High School against Ramsey (2-7, 1-3 Big North Patriot), River Dell jumped out to a 7-3 advantage. Sarah Vanderbeck served as the primary scoring option tallying five of the Golden Hawk's points. However, the Rams answered back with a 5-0 run in the last two minutes of the quarter.
In the second quarter, the Golden Hawks managed to reclaim the lead at 11-9, with Lily Crowder connecting on a trifecta. Freshman Kasey Ziegler came off the bench and instantly provided scoring with a put-back shot increasing the margin to 13-10. By the time halftime reached, River Dell had led 15-10.
"Sarah(Vanderbeck) is a such a staple player, very consistent and I keeping trying to get her to take more shots during the game," River Dell Head Coach Lindsay Steffner explained. "That is going to come as the season goes on and she's got the capability and ability there."
"As the season goes on, I'm getting a lot more minutes out of people that we're a little bit behind with the schedule has been and shutdown." "Just trying to figure out what everyone's role is and tonight's game proved I can go to my bench and even at Dwight Morrow."
After struggling from the free-throw line in the first half making just one of six, the Golden Hawks lived off the charity stripe line in the second half. Going to the line 20 times, River Dell drained 14 of them.
Not even 30 seconds into the third quarter Lily Crowder converted four free-throws to expand the lead to 19-10. Ramsey ignited a rebuttal to cut the gap to 23-19 at the three and half minute mark.
"Lily(Crowder) is very versatile and athletic, and she is hard to guard when she is making good decisions," Head Coach Lindsay Crowder described. "I keep working with her on trying to get her to be a stronger basketball player in the low post." She is almost like a giant tall guard down there, got great hands and ability. She gives me a lot of flexibility as a coach, and I want the ball in her hands as much as possible.
Once again, the Golden Hawks were aggressive, driving the ball consistently towards the rim to draw fouls. Kayla DePol, Sophia Firneno, and Ari Rodriguez combined to bury four of six free throws to stem the tide. Firneno came up with a clutch steal and transition lay-up to boost the advantage to 30-22 heading into the final quarter.
"Unfortunately Kayla(DePol) missed a few(free throws) that she normally knocks down but she came up with some big offensive rebounds and is just so athletic," Head Coach Lindsay Steffner mentioned. "She makes such hard shots look easy sometimes you can't believe she is able to make and keep the ball alive with hustle plays."
When the fourth quarter commenced, Firneno made her presence known again, recording four additional points, including a spectacular flip-up shot off the glass that pushed the lead to 36-22. River Dell went on to cruise to the 40-24 victory. Lily Crowder totaled a game-high 11 points, Sarah Vanderbeck and Sophia Firneno chipped in with nine points apiece, and Kayla DePol added seven points.
"In that situation, I know Sophia is going to make that lay-up, and the pass is going to get there to her," Head Coach Lindsay Steffner noted. "She just makes plays when you least expect it and always in the right spot." She reads the situation well and is very sneaky and athletic."
"We've been struggling offensively a little bit, but when it counts and comes down to the wire, these seniors are stepping up whether it's at the foul line, coming up with a steal or loose ball." Sometimes it looks a little ugly, but the seniors are doing an excellent job setting the tone and keeping that throughout the game.
The schedule does not get any easier for the Golden Hawks with the following four of five games on the road starting at Pascack Hills on Tuesday, January 18th, with tip-off set for 4:15 at Pascack Hills High School.
"We have two or three league games and then got a crossover and I'm trying to pick up another game because I feel we need to keep playing to get better," Head Coach Lindsay Steffner stated. "I tell the girls right now you have a little target on your back and people are going to give their best effort against you."
"Their responsibility is to embrace it and be confident but also know they deserve and worked for it." "They can't be complacent and when you have to play on the road it's a much bigger of a challenge." We have our work cut out for us in the next couple of games here.
"Last year Pascack Hills was a really tough game for us, and we lost to Westwood on the road." "I'm going to make sure I remind them of the rivalry we have with Westwood, and these are big games and I want the girls to be up for them."