River Dell varsity girls basketball team rallies in the 4th quarter to down Old Tappan
Image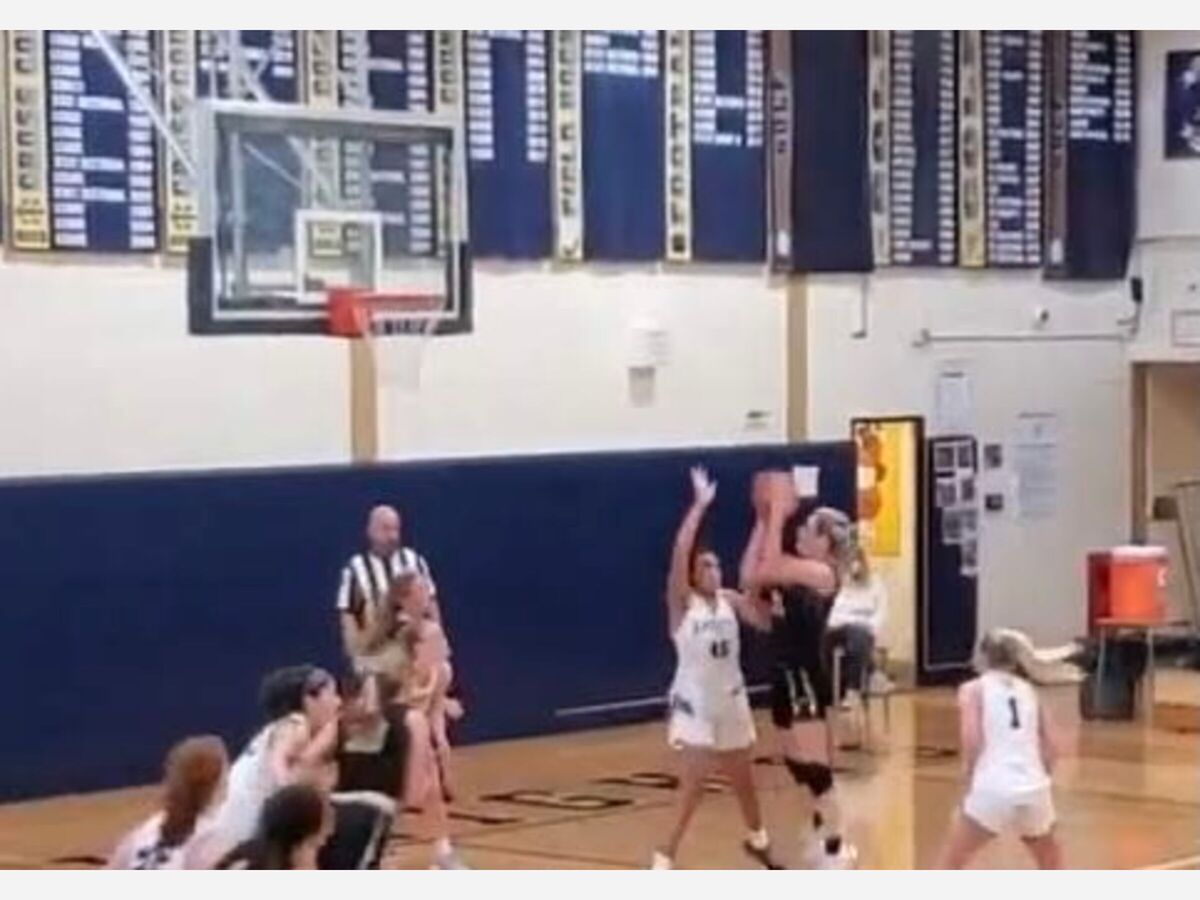 Fresh off a 45-40 win over Mahwah on Thursday night at River Dell High School, the River Dell Golden Hawks varsity girls basketball team(5-0, 1-0 Big North Patriot) returned to action with an early Saturday 11:30 a.m. tip-off against Old Tappan(5-3) at Northern Valley Regional High School at Old Tappan.
Early on, the Golden Knights had the upper hand, jumping out to a 7-3 at the end of the first quarter. In the second quarter, the margin would increase to 11-3 at the six-minute mark.
However, River Dell began to right the ship due to the aggressiveness on the offensive end from senior Kayla DePol. She relentlessly drove to the rim, leading to DePol reaching the foul lane and draining six throws. The Golden Hawks trim the Old Tappan advantage to 13-12 at halftime.
River Dell Head Coach Lindsay Steffner on Kayla DePol, "When the game is on the line, you want her to be on the foul line, she is very composed and has great poise."
Kayla DePol on the first half, "They were playing well and showing us everything they could do on offense but Coach(Lindsay) Steffner said they haven't seen how good we can play and do on offense." "We needed to slow it down, it was a really fast-paced game and we were running up and throwing up shots and had to slow down and re-group."
"We knew how aggressive they play on defense and we would draw fouls if we kept driving and really opened up a lot of opportunities." "We started getting their players into foul trouble, they had to make substitutions and were getting rattled."
Sizzling from the free-throw line, Kayla Depol drained a pair of free-throws to reach double figures in points with ten and put River Dell up for the first time in the game 16-15 with three and half minutes remaining in the third quarter.
With the score tied at 16-16, junior Lily Crowder displayed her tenacity on the offensive glass. She grabbed a rebound and put back a shot that turned into a three-point play at the one-minute mark.
"One of the top things about me is my rebounding and being able to get a rebound off the boards and put it back right up and getting fouled," Lily Crowder explained. "It was a great feeling and increased my energy because I felt most of the game, I was allowing my emotions to get the better of me and helped me re-focus on the game."
The Golden Hawks looked primed to go on a run, but Old Tappan closed out the quarter on a spurt highlighted by a three-pointer at the buzzer. Carrying that momentum over into the fourth quarter turned into an 8-0 run and 25-19 advantage with less than seven minutes to go.
"Those shots at the buzzer as soon as leave a kid's hand are going in," Head Coach Lindsay Steffner. "I talked to the team at the end of the quarter and said don't worry about it and could have been a momentum shift for them."
Shooting lights out from the free-throw line against Mahwah sinking 11 of 12 free-throws, junior Isabella Gilmour hit a pair of shots to stem the Golden Knights tide. Following Gilmour, junior Ari Rodriguez buried a triple. Gilmour made it a 7-0 run canning a jump shot. Lily Crowder capped the 9-0 run hitting a pair of free throws.
"We were trying to spread the floor a little bit and allow us to drive for opportunities and kick it out," Head Coach Lindsay Steffner noted. "Ari Rodriguez hit a nice outside shot, Isabella(Gilmour) had a nice steal in the backcourt and had the composure to take it and a nice pull-up(jump shot)." I'm proud of Isabella because she had seven steals and ten rebounds and was a difference-maker today.
The game still clung in the balance in the remaining seconds. After Old Tappan cut the lead down to 28-27 with 17 seconds left, Lily Crowder proved to be the hero for River Dell, calmly stepping up to the charity-stripe line and draining four three-throws to seal a 32-27 victory and totaling a game-high 13 points.
In the fourth quarter, the Golden Hawks defense turned up the defensive intensity, limiting Old Tappan to two points in the last six and half minutes of action.
Lily Crowder on knocking down pressure free-throws and win, "My whole life I have told those are the key to the game." "It felt great getting through the pressure and making those free throws." When the final buzzer went off, I was excited; we ran into the locker room and just started cheering and yelling."
Kayla DePol on the victory, "Old Tappan has always been a rivalry; they're an excellent team and always great competition and glad we got this one." "The past couple of years they've been beating us when we play each other, and this year finally able to get the win." Coach Steffner works at Old Tappan, and she wanted this one and can go into school feeling confident and happy.
"A super defensive game, very low scoring, and we take pride in our defense." "We were able to pull through in the end even after being down." Coach Steffner consistently enforces how important defense is and wins games, and holding a powerful team to less than 30 points shows how serious we are.
Next up for the Golden Hawks is an away game at Dwight Morrow on Tuesday, January 11th, with tip-off set for 4:30 p.m. before returning home to River Dell High School on Thursday, January 13th against Ramsey.
Lily Crowder on this week's schedule, "Away games are always a challenge because it's not our home court and not as comfortable, but we got in with the attitude that we work our hardest in practice and preparing for them."
Kayla DePol on the 5-0 start to the 2021-22 season, "We're pretty confident right now, a great start to the season and want to continue that momentum." "We're going to get better from here because this past week we had just come back from being shut down and a lot of our players were quarantined for two weeks."
"We just got back into everything and adjusting and managed to win all of our games this week show how strong we are." "We have Dwight Morrow and two more league games and those league games are really important because we want to win the league."