River Dell varsity girls basketball team relies on clutch free-throw shooting to defeat Mahwah in home opener
Image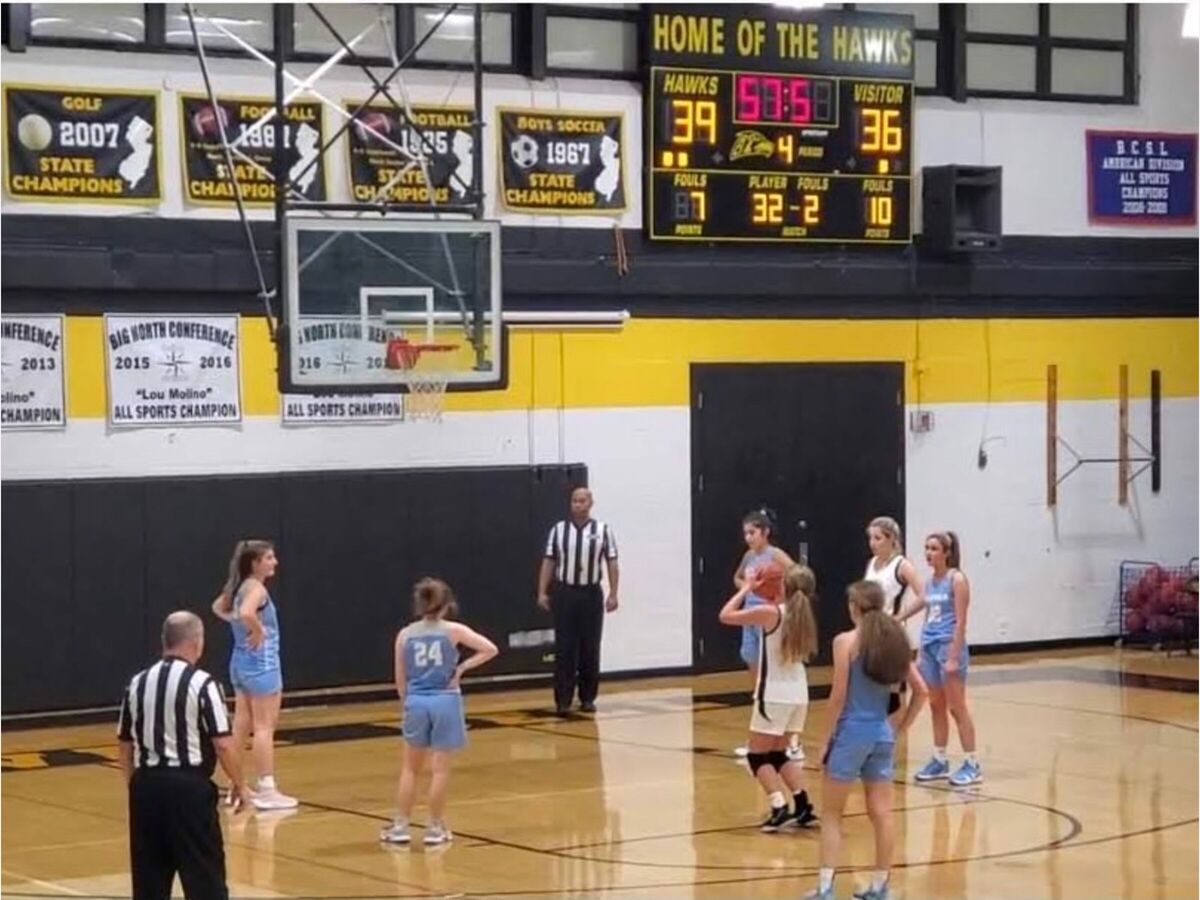 The River Dell Golden Hawks varsity basketball team got off to a solid start in the 2021-22 season, rolling past Fort Lee 40-15 in the regular-season opener, followed by a 36-32 win over Ridgewood. However, the COVID-19 Pandemic and Omicron variant combination shut the program down for two weeks.
Heading into the regular-season opener, Head Coach Lindsay Steffner talked about this year's team and dealing with the challenges of COVID.
"We only graduated Caitlin Nader from last year's team, so we kind of started in a different gear because we had so many people returning and wasn't re-inventing the wheel." "The pre-season was a little bit different with a not a whole lot of teaching and an excellent nucleus of players. They are fantastic kids and have developed into leaders over the years, and we're just excited to get back onto the court and have some fun.
"Sarah Vanderbeck is a four-year starter which is rare to have in high school these days, she is going to be the point guard and understands what my expectations are and a very good court leader and hoping she steps into more of scoring this season." "Sophia Firneno has been on varsity for four years, unfortunately lost a lot her sophomore year due to an ACL injury but she came back firing last season and 100 percent healthy and a very smart player."
"Kayla DePol missed a lot of games last season with an ankle injury and restricted with COVID, but I'm looking forward to getting her back at full strength and kind of letting her loose." "She is just so unbelievably athletic and reads the passing lanes on defense." She's got a ton of athleticism and will have a breakout season if everything goes well.
"COVID is something constantly in the back of our mind, and I talk to the girls about being safe and doing the right thing." Wearing their masks when they are supposed to and being disciplined on and off the court." Keeping our season intact, especially with the rising numbers in the community." The seniors watched it unfold last year, and I want them to have that reality check.
Finally returning to action on Tuesday, January 4th, the Golden Hawks did not mind playing their consecutive away game as they defeated Northern Highlands 42-37.
A long-awaited 2021-22 regular-season opener against Mahwah(2-2, 0-1 Big North Patriot) would occur two days later at River Dell High School. Head Coach Lindsay Steffner on the significance of home openers and coaching River Dell girls basketball.
"We talked about before the game it's a comfort level to play in front of crowds, run out of that locker room and be on that court." "What comes to my mind about River Dell it's all about community and trying to do my best to get out there for the younger kids and host clinics." Make sure they realize they must start playing at a young age, and it's all about commitment.
"I count on the rec leagues to be successful, and that's where the community is just giving back to the kids and getting the kids involved at a young age." "By the time I get them, they have already played a lot of basketball and involved coming to my camps and establishing a relationship."
River Dell jumped out to a 9-4 lead at the end of the first quarter. Once the second quarter got underway, junior Ari Rodriguez provided a spark off the bench by canning back-to-back trifectas that boosted the Golden Hawk's advantage to 17-11 with less than three minutes remaining.
"I was really happy with Ari's performance off the bench and it's not an easy role after you warm up and then have to sit for a little while," Head Coach Lindsay Steffner explained. "I was really proud of her poise and confidence coming in and making those shots for us and providing a lift for us."
Junior Lily Crowder netted six points, including burying a triple that made it 20-13 River Dell at the two-minute mark. Mahwah responded with a run to cut the gap to 22-19 at halftime.
The Thunderbirds tied the game early at 22-22 on a trey in the third quarter. The Golden Hawks managed to reclaim the lead on several occasions as senior Isabella Gilmour sank four straight free throws.
However, Mahwah took their first lead of the game on another three-pointer with less than four minutes to go. On fire from the charity stripe line, Isabella Gilmour drained a pair of free throws to put River Dell back in front.
The Thunderbirds ignited a rebuttal with a 5-0 run in 30 seconds. Isabella Gilmour continued to sizzle for the Golden Hawks, knocking down two more free throws.
"Isabella came and did a great job offensively and getting to the rim," Head Coach Lindsey Steffner described. "My goal in the third quarter was making the girls attack the rim and knowing Mahwah was in foul trouble and we accomplished that getting a couple of their players with four fouls."
"In the third quarter we were struggling from the outside, we just turned to driving to the rim and drawing more fouls." "Isabella put two of their top players in foul trouble and we knew they had a short bench."
Trailing 34-33 in the fourth quarter, Sarah Vanderbeck( 9 points) played an instrumental role in putting River Dell back in the lead for good. Vanderbeck dribbled the ball quickly up the floor and converted a spectacular lay-up off the glass with less than six minutes left.
"It takes one play to change the momentum, and that was the play, Head Coach Lindsay Steffner noted. "It was an inbounds play; she got the steal, and we were playing good defense." It was up for grabs; she ended up with it and went coast to coast. That's what you expect out of a senior captain and point guard.
Down the stretch, Isabella Gilmour was lights out from the free-throw line hitting three out of four shots that made it 11 from the 12 on the line and 13 points. Meanwhile, Sophia Firneno made noteworthy contributions and buried four shots to finish with seven points and seal the 45-40 victory.
"Sophia is such a great athlete and all-around good player," Head Coach Lindsay Steffner remarked. "She had seven points, every possession counts in close games, and she had an offensive rebound late in the game to keep the possession alive."
"She does things that don't show up in the box score and why she is so valuable for us." "She sets the tone defensively on one of the other team's best offensive players and is getting rebounds and hand in the passing lanes and dives for loose balls." There are a lot of intangibles, and she's a very gritty player.
"Being a league game that was a big win for us especially coming off the shutdown." "We haven't had a chance to practice as a full team, probably for almost three weeks now." We struggled a little bit offensively; after a challenging game against Northern Highlands and going up against a tough Mahwah team, and I'm proud of our girls.
River Dell(4-0, 1-0 Big North Patriot) hits the road for the next three out of four games starting at Old Tappan(5-2) on Saturday, January 8th, with tip-off set for 11:30 a.m.
"They're an outstanding basketball team right now, Head Coach Brian Dunn has got a great athletic team at full strength now, and it's always a nice battle between Old Tappan and River Dell," Head Coach Lindsay Steffner mentioned. "They always play hard, great defense, and it's going to be an excellent match-up for us.