Brendan Miceli-Regan Joyce duo leads River Dell freshman boys basketball team to home opener win over Westwood
Image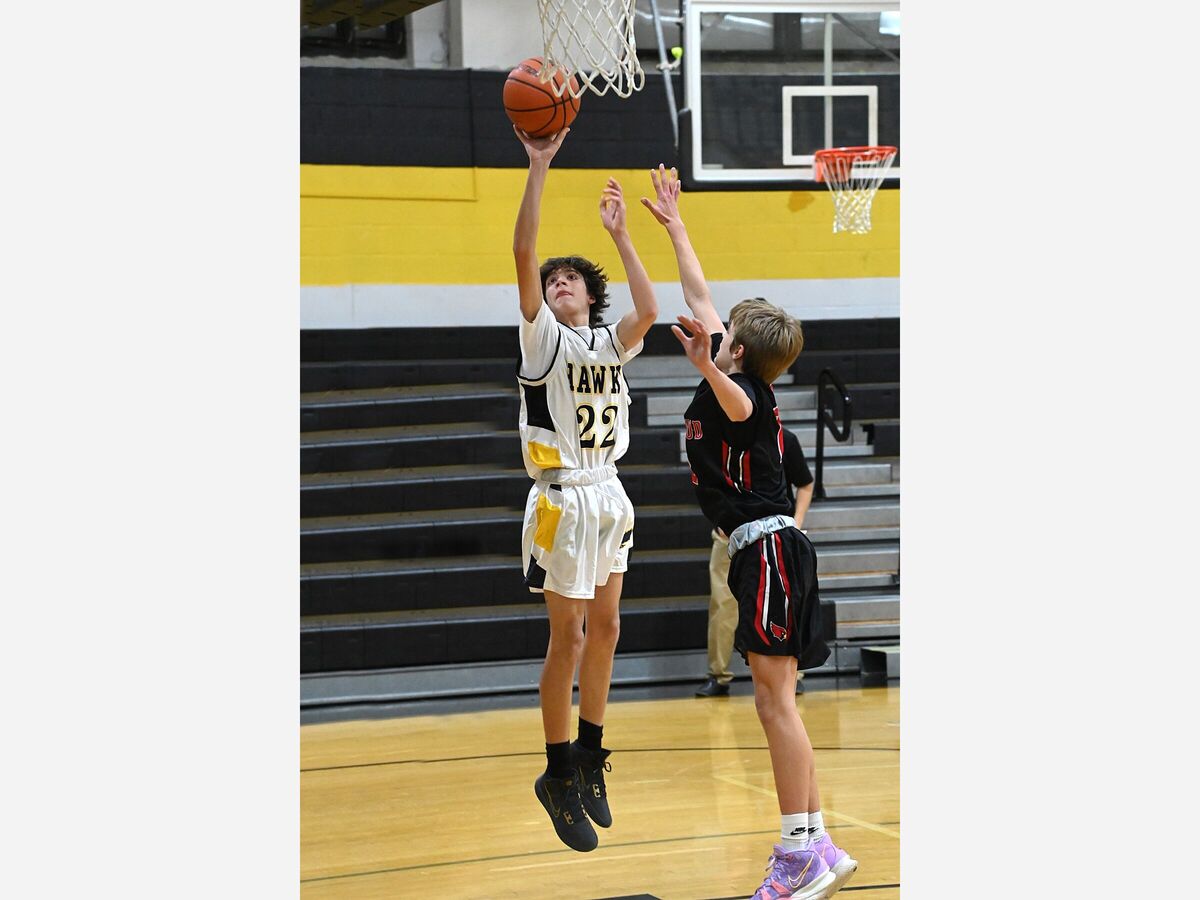 Fresh off splitting a pair of games in a holiday tournament last week at Saint Joseph's Regional High School in Montvale, the River Dell Golden Hawks freshman boys basketball team returned to the hardwood court this week in the 2021-22 home opener at River Dell High School against Westwood.
Despite new restrictions due to the rise in COVID-19 cases and the Omicron variant that limited spectator capacity in the Upper Gym, there was still a solid turnout for the afternoon tip-off.
On the home opener, River Dell Head Coach Ben Orth said, "River Dell always has a strong parent and fan support and pretty much across the board in all sports." "Whatever the max amount of people they let into the gym River Dell is going to get close to that. The support from the parents in the community is one of the reasons I enjoy coaching here.
Brendan Miceli on the home opener "It was great, especially with the school going virtual, we weren't too sure what was happening with basketball, but the fact we can see our fans and other people helps us get into the game and excited."
"For the last couple of weeks, with the varsity team shut down, it's huge for us because we're the only ones representing the school, and to be able to get two out of three wins was big for and we stepped up." "It's tough because no one wants to see basketball shut down, and for everyone on our team, it's their primary sport.
Shooting lights out from behind the arc in the holiday tournament canning 19 trifectas; the Golden Hawks buried two triples in the first quarter that led to a 12-7 advantage at the end of the first quarter.
The River Dell bench provided a lift in the second quarter, with Regan Joyce netting four points that boosted the lead to 16-9 with four minutes left. When the buzzer sounded signaling halftime, the Golden Hawks were up 20-13.
River Dell came out of the locker room a motivated group. Six seconds into the third quarter Brendan Miceli converted a three-point play. Miceli tallied his 10th point of the game on a jump shot that expanded the margin to 27-17 with less than six minutes remaining.
"In the first half, we weren't ready for their physicality, we were losing the rebounding contest, and boxing out was a little bit difficult for us," Brendan Miceli explained. "To hold them to 13 in the first half was huge." I needed this game to boost my confidence and came out, and I told myself I must start playing up to my potential.
However, Westwood managed to slice the lead with a 6-0 run over three minutes. With the momentum clearly on the Cardinals' side, Regan Joyce played an instrumental role in squashing the run by reeling off five straight points. Joyce converted a lay-up followed by unleashing a corner baseline trey that bounced off the iron and fell through to bump the lead to 32-23 with 1:20 to go.
"When they had the 6-0 run I don't we lost a lot of confidence but then we went on the run and definitely used that momentum," Regan Joyce described. "Coming off the bench it feels good to what is going in the game."
"When Deacon(McGovern) comes off the bench he knows what to do, can shoot and hits his shots and plays good defense." "Dylan(Gastman) came in and played well in the middle and had some good possessions in the paint on offense and defense."
"The starters are our top five but there isn't really a drop-off with our bench, and we have a great team and just get along so well with each other." "Coach Orth is a great coach, it's a great group of kids and no matter what five you put in we will be playing our best ball no matter what."
Heading into the fourth quarter up 34-27, the Golden Hawks ripped off a 6-0 run to widen the advantage to 40-29 at the six-minute mark.
Exhibiting a tenacious man-to-man defense River Dell limited Westwood to five points in the quarter. The Golden Hawks continued to shoot the ball effectively from the perimeter while knocking down free throws. They eventually rolled to the 51-32 victory and improved to 3-1 on the season.
Brendan Miceli poured in 19 points, while Regan Joyce totaled 13 points and Ryan Rossig added seven points.
Head Coach Ben Orth on the win, "We talked about at halftime, don't forget the Glen Rock game where we had the lead in the third quarter and snake bit us a little bit." "We did a really good job of handling the runs Westwood made and we were able to punch back and had a few runs ourselves. "
"Brendan(Miceli) is starting to become a three-level scorer and he is going to continue to develop that way." "He had one or two three-pointers, also drove to the basket and had a nice couple of mid-range shots." He had a bunch of steals and assists and a complete game and probably the best of the year so far.
"Regan(Joyce) with 13 points, the 5-0 run on his own was huge and had a bunch of rebounds." "He had a bunch of little plays that made a difference and gave us an edge." Regan did bring it on both ends.
River Dell returns to action on Thursday, January 6th facing off against Mahwah at Mahwah High School, with tip-off set for 4:15 p.m. Next week the Golden Hawks return home to River Dell High School when they square off vs. Dwight-Morrow on Tuesday, January 11th at 4:15 in the Upper Gym.
Brendan Miceli on the upcoming match-up against Mahwah, "Mahwah has a little more size that could be more difficult for us we just need to continue to do what we did in in this game." "I think if we can play defense the way we did while on offense we have a lot of shooters and inside scorers."
Head Coach Ben Orth on the next two out of three games on the road, "The Mahwah game is going to be another physical one and they are going to play hard." "They're going to get after you just like Westwood did and we're going to have to be ready for that."
"Dwight-Morrow is a team that we have historically played and tend to play every year and in did for years in the BCSL American(Bergen County Scholastic League)." "That is a match-up we always get up for and we will be ready to go."
"The home games are our comfort place/zone, where we practice and go to school." "I really like getting outside of it, trying to get over the hurdle of playing on the road and going into another person's gym."