River Dell freshman boys basketball team splits pair of games in a holiday tournament
Image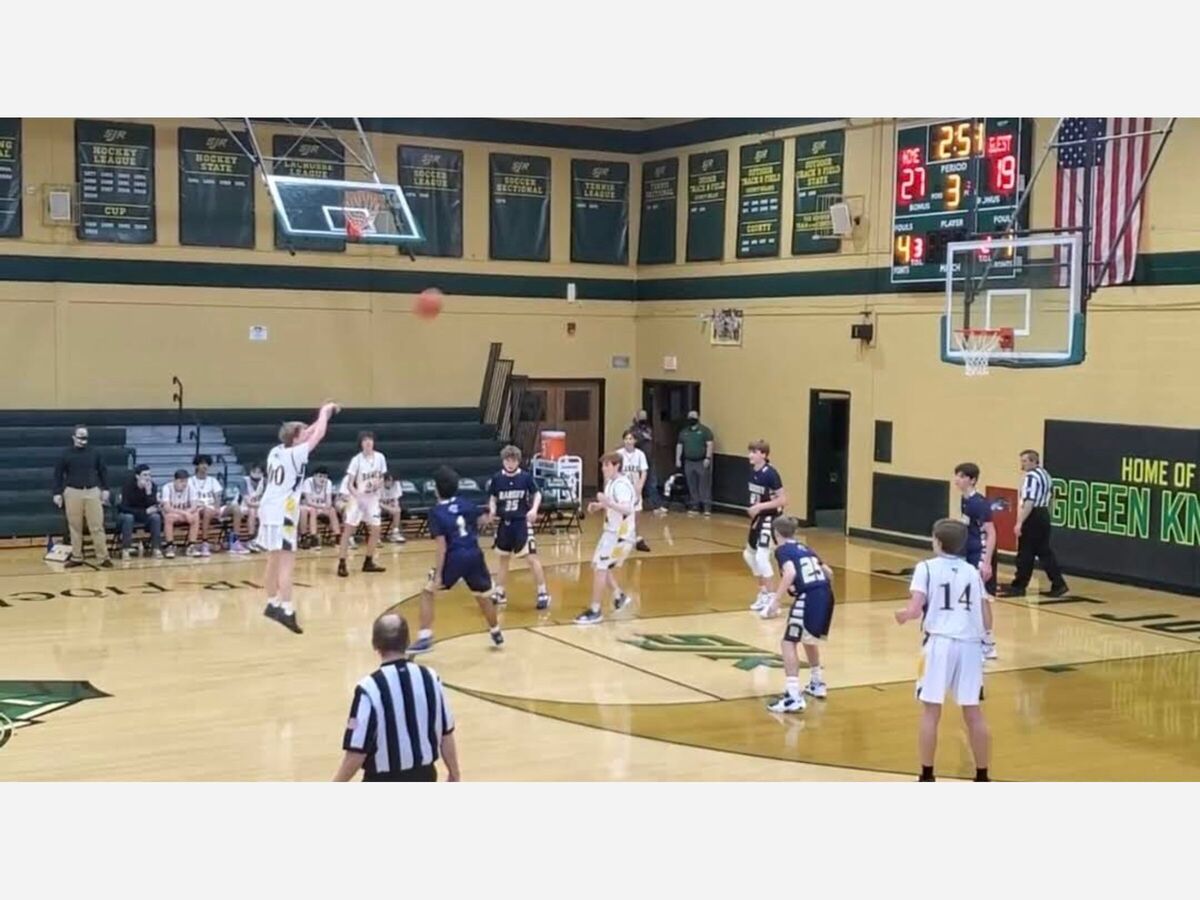 The River Dell Golden Hawks freshman boys basketball team opened up the 2021-22 season on a triumphant note. They displayed a balanced scoring effort that led to dominating 49-23 victory over Fort Lee at Fort Lee High School on Friday, December 17th.
Initially scheduled to play Pascack Valley at Pascack Valley High School on Tuesday, December 21st, word came down about the game's cancelation at the last minute.
Almost two weeks removed from the Fort Lee game, the Golden Hawks participated in a holiday tournament that started on Tuesday, December 28th, at Saint Joseph Regional High School in Montvale, New Jersey.
Squaring off against Glen Rock, River Dell led 9-8 at the end of the first quarter. In the second quarter, the Golden Hawks erupted from behind the arc, canning four consecutive trifectas.
Trailing 15-11 at the four-minute mark turned into a 14-0 run and 25-15 advantage. Ryan Rossig and Brendan Miceli provided the bulk of offense combining for 15 points.
Glen Rock answered back in the third quarter with a 9-0 run to trim the deficit to 28-26 with three and half minutes left. Ryan Rossig put an end to the run burying a triple. However, the Panthers kept up the pressure, shaving the River Dell lead to 31-30 at the end of the quarter.
Patrick Sweeney provided some much-needed breathing room in the fourth quarter for the Golden Hawks by knocking down back-to-back treys that pushed the margin up to 37-33 with less than seven minutes remaining.
Glen Back ignited a rebuttal with an emphatic 11-0 run over the next three minutes of action. The Panthers were cooking from long distance range sinking three straight three-pointers.
With less than two minutes left, River Dell cut the gap to 49-42 on a three-point play from Aditya Pandya. Unfortunately, time ran out of the Golden Hawks, and the Panthers drained four free throws to seal a 56-48 win.
River Dell sizzled from beyond the arc knocking down 11 shots. Patrick Sweeney and Aditya Pandya poured in game-high 12 points apiece, while Ryan Rossig added 11 points.
Golden Hawks Head Coach Ben Orth on the loss, "Whether it's a holiday or county tournament and you play in the morning it's really about how you come out and what effort you come out with." "They're a good team and made the plays down the stretch."
"We talked about putting runs on teams and on their heels." "You'll get good shots on offense, and they start falling and we got some kids that can shoot the ball on this team and shoot it with confidence."
"This team is for the most part battlers; that's something we stress as a program from top to bottom and want in the make-up of our kids." "They get knocked down but going to keep coming back." Glen Rock went on a 9-0 run, but we cut it right back to four within a minute, so there's not much back down from our kids, and as long as we can keep that mentality going, I think we are going to be successful.
Brendan Miceli on the defeat, "We knew that they were going to come out strong and fighting when we had the ten-point lead." "I think we assumed we had the game won but there was still another half to play so we weren't as strong as we were in the beginning of the game."
"We just got to play until the last whistle; it was tough watching them coming back and taking the lead." "None of us stopped, we all kept fighting, and time just ran out as we were starting to build back up again." We need to play all 32 minutes and can't take time off.
"We have a lot of shooters on our team; once we all start coming together and believing in each other, shots will fall, and the team has to work together and build everyone up." "We have a lot of depth; we have faith in everyone because everyone can do something and contribute in some way. We trust each other to pass the ball, allow other people to take control and contribute, whether it's offense, defense, or rebounding.
The Golden Hawks did not have much time to dwell upon the loss against Glen Rock with an early 11 a.m. tip-off the next day versus Ramsey. Displaying no effects of fatigue River Dell raced out to a 9-2 lead in the first quarter.
Ramsey countered a 7-0 run to tie the game up with less than seven minutes left. However, the Golden Hawks ended the quarter on a high note with a 10-0 run. Ryan Rossig scored five of the ten points.
The scoring output came to a screeching halt in the second quarter as both teams struggled from the perimeter inside the paint. The Rams tallied six points to trim the deficit to 19-15 with two minutes remaining.
Ryan Rossig continued to light it up from behind the arc, burying his second triple that proved to be the only points River Dell scored in the quarter as the Golden Hawks led 22-15 at halftime.
"That second quarter we scored three points, we didn't score until about two minutes to go and our shots were not falling but over defensive level stayed at 100 percent," Head Coach Ben Orth described. "That's why we were able to still be up by seven going into the half and what we preach."
Once the third quarter got underway, Ryan Rossig picked up where he left off in the first half. On fire from long-distance range, Rossig nailed two treys to expand the River Dell margin to 30-19 with less than three minutes to go.
The Golden Hawk's offensive contributions paid off again, with Will Brunner scoring his seventh point of the game on a three-point shot while Brendan Miceli dropped in seven of his ten points in the quarter. Heading into the fourth quarter, River Dell widened the advantage to 38-24.
"We're a team that if we want to be the aggressor usually we're not going to let the other team come in and dictate what's going to happen," Head Coach Ben Orth stated. "We try to go and dictate it ourselves and early in that third quarter we went on a little run."
"Ryan(Rossig) got our offense going, he handles the ball for the most part and there's a lot of pressure for him to get us into the offense and people in the right spots and he does a great job of handling that." "If he can score every now and then like that going to really boost our team and give them a big advantage if he is able to put the ball in the rim like that."
"Brendan(Miceli) grew up being a shooter and a kid that scored a lot." "I think over the last few weeks Brendan has improved on becoming a complete player and really impacting everything we do defensively, rebounding and handling the ball and if he continues to develop that way is going to have a nice career."
River Dell did not step off the gas pedal in the fourth quarter bumping up the lead to 22 points. When the buzzer sounded, the Golden Hawks emerged with a 50-32 victory.
Overall, River Dell shot lights out from three-point range in the tournament, hitting 19 shots. Ryan Rossig(7) and Patrick Sweeny(6) combined to bury 13 triples.
Head Coach Ben Orth on the play of Patrick Sweeny, "He is a shotmaker, does a really good job and doesn't have any fear." "When the defense is closing out he is going to catch and stick it." That is tough for defenses to deal with, and we could get Ramsey out of the zone a little bit because he hit one or two threes.
Brendan Miceli on the third-quarter run and win, "The third quarter was huge, a lot of our first-half shots were not falling, and I think we started to get down on ourselves." "After halftime, our coaches were saying don't stop shooting, and that's when we came out with full confidence and started hitting our shots and playing more as a team."
"It always comes down to trusting each other because we are able to give the ball up and know nothing will happen with our shots." "Even back in third grade when we started playing with each other we just had a love for basketball and haven't stopped practicing."
"We were still worked up and upset about the day before and wanted to bounce back and get a win and redeem ourselves." "Our coaches were saying Ramsey is in our division; we play them all four years and three times this year." It was an important game, one of our division rivals, and big for us to step up and play as we did.
River Dell returns to action in 2022 on Tuesday with the home opener at River Dell High School against Westwood, with tip-off set for 4:15 p.m.
"We want to win one here and go on a run and it starts with Westwood," Head Coach Ben Orth said. "They're a team that constantly battles and a close game always as we're familiar with each other and a league game."
On the upcoming match-up versus Westwood, Brendan Miceli said, "There are going to be some tough practices, and we need to make sure that we are mentally and physically prepared." "The games with Westwood are always close but we're all excited to get back after the break and coming right to the game and practices after school."