River Dell High School freshman football team wraps up undefeated season with a 28-0 win over Clifton
Image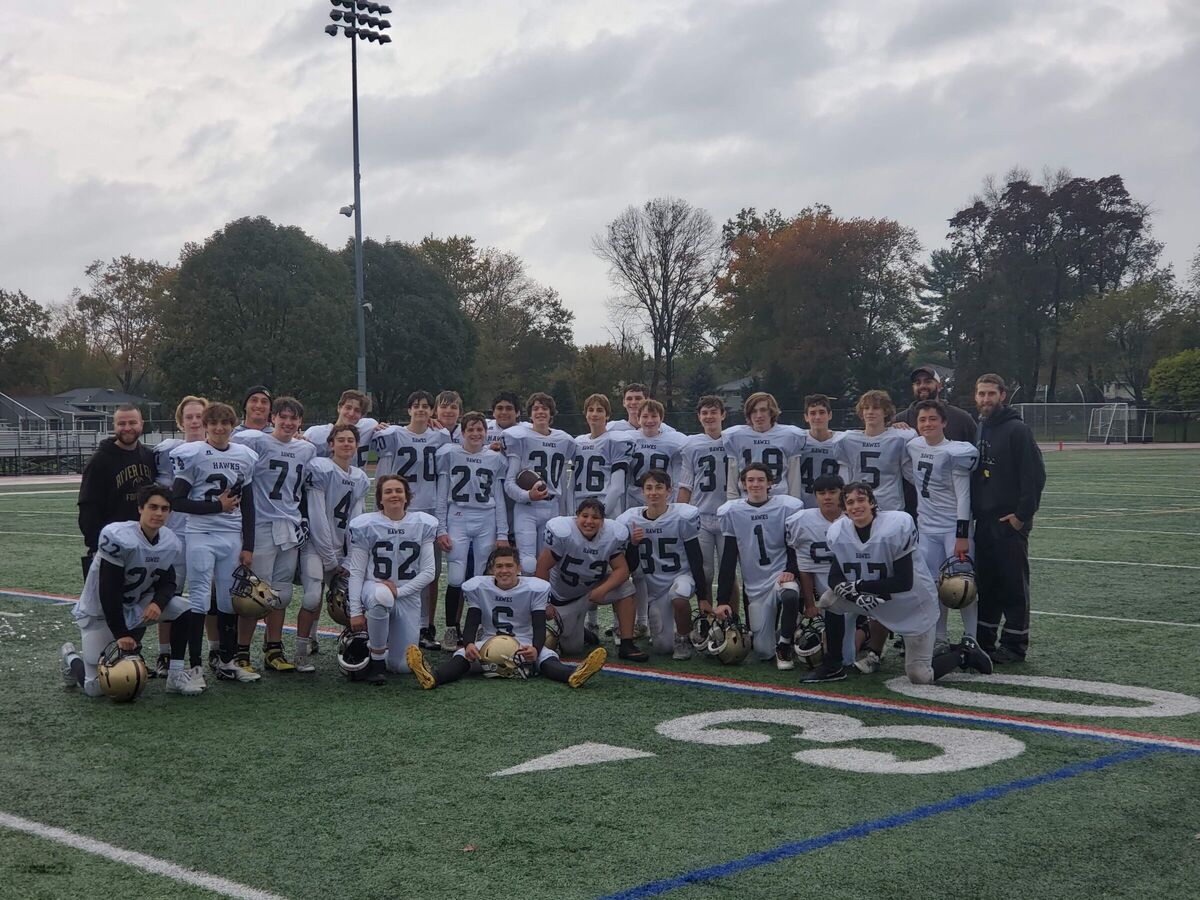 Coming off a dominating 36-14 victory over an undefeated Ramsey Rams squad at Ramsey High School the week before, the River Dell Golden Hawks freshman football team kept their perfect season intact at 8-0.
River Dell was attempting to complete an undefeated season; the last time a freshman team went undefeated was over a decade ago. On a rain-soaked, overcast, and chilly morning at River Dell High School, the Golden Hawks hosted the Clifton Mustangs.
"There's a lot of different parts that go into it and these kids have bought into it," Head Coach Mike Aliano noted. "Last year's group were undefeated until we got to the last game." We told them this was your redemption, and now it was time to finish that last game and excel forward.
On the first offensive possession of the game, the River Dell offense steadily moved into Clifton territory. At the 12-yard line, running back Chris Kelm took the handoff from quarterback RJ Weiss and cut towards the middle, then darted to the left into the end zone. The extra point attempt was no good, leaving the score at 6-0 Golden Hawks.
In the second quarter, the River Dell defense came up with a clutch stop on fourth down. With excellent starting field position, the Golden Hawks offense led by RJ Weiss did an efficient job of running and passing the ball.
Although an initial touchdown run by Chris Kelm ended up wiped out due to a holding penalty did not deter the River Dell offense. With the ball at the 15-yard line, RJ Weiss took the snap in shotgun formation and fired a strike to a wide-open Mason Nagle in the end zone.
Going for the two-point conversion, the duo of RJ Weiss and Mason Nagle worked to perfection. Weiss took the snap and lofted a pass to Nagle in the end zone extending the River Dell advantage to 14-0.
Mason Nagle not only contributed on the offensive side of the ball but defensively registered a sack and recovered a fumble.
Head Coach Mike Aliano on Mason Nagle, "He is a good all-around player, he likes football and it's in his DNA." "He does all the basic things right and that's very important when it comes to football." I think he is going to be a good football player for us down the road.
Once the second half kicked off, the Golden Hawks special teams unit caught Clifton napping as placekicker Deacon McGovern pooch kicked the ball. Christian Pennetta ended up in the perfect spot to recover the ball.
"Christian Pennetta is a quick kid and got speed," Head Coach Mike Aliano described. "We call it the Pennetta drill, when we do call for an onside kick it usually goes to his side and he's quick enough to get down there fast enough to recover."
At the Mustangs 35-yard line, RJ Weiss handed the ball off to Chris Kelm. Sprinting to the right side of the line, Kelm found a crease between a host of players and rumbled into the end zone. The two-point conversion run failed as River Dell led 20-0.
By the time the fourth quarter rolled around, the Golden Hawks had switched up quarterbacks with Ashton Pastore under center. The move paid off dividends as Pastore connected on a 19-yard touchdown pass to Gavin McKeon.
Attempting the two-point conversion for the third time, RJ Weiss came back into the game at quarterback. Lined up in shotgun formation, Weiss took the snap, ran the right side of the line, and plowed forward into the end zone.
"Ashton is the backup right behind (RJ)Weiss and you need more quarterbacks to play in case a kid gets hurt," Head Coach Mike Aliano stated. "We have the Doornheim brothers' on the JV team but RJ primarily the quarterback all season long but to have Ashton come in and throw that touchdown pass to Gavin was great to see."
"Coach (DJ) Nimphius expects a lot out of his quarterbacks and he wants at least two quarterbacks per level each year." "In case something happens, you got to be able to stick somebody in there and there really shouldn't be any hiccups."
The River Dell defense sealed the 28-0 win and undefeated 9-0 season as Jake Hughes recovered a fumble at the Clifton 45-yard line. The Golden Hawks players and coaches received rousing applause from the parents and fans as the final whistle sounded.
Head Coach Mike Aliano on the win and undefeated season, "It's kind of surreal, there's a lot of hard work that goes into it and our coaches played a huge role in this." "Coach (Sammy)Halabi, Coach (John) Budka and Coach (Steve) Iafrate and it's phenomenal what they did."
"It's a long haul and season, and people don't understand what it means to be a freshman football player." "We started way back in January, and this was pretty much the ultimate goal." We had high expectations coming in with this group, we knew that there were going to be some good players, wanted to fulfill that goal, and we were fortunate enough to follow through with it."
"Everybody plays a role at one point or another, one person's not bigger than the other and some kids plays make more plays than others and given other opportunities, but this was a good group overall." "They proved that, we practiced with a different variety of elements that could be faced and even with the rain we practiced with a wet ball all week knowing that we were going to play in the rain and that's why we could do certain things that other team's might not think about."