River Dell puts up a valiant effort in a 29-28 loss to Nutley
Image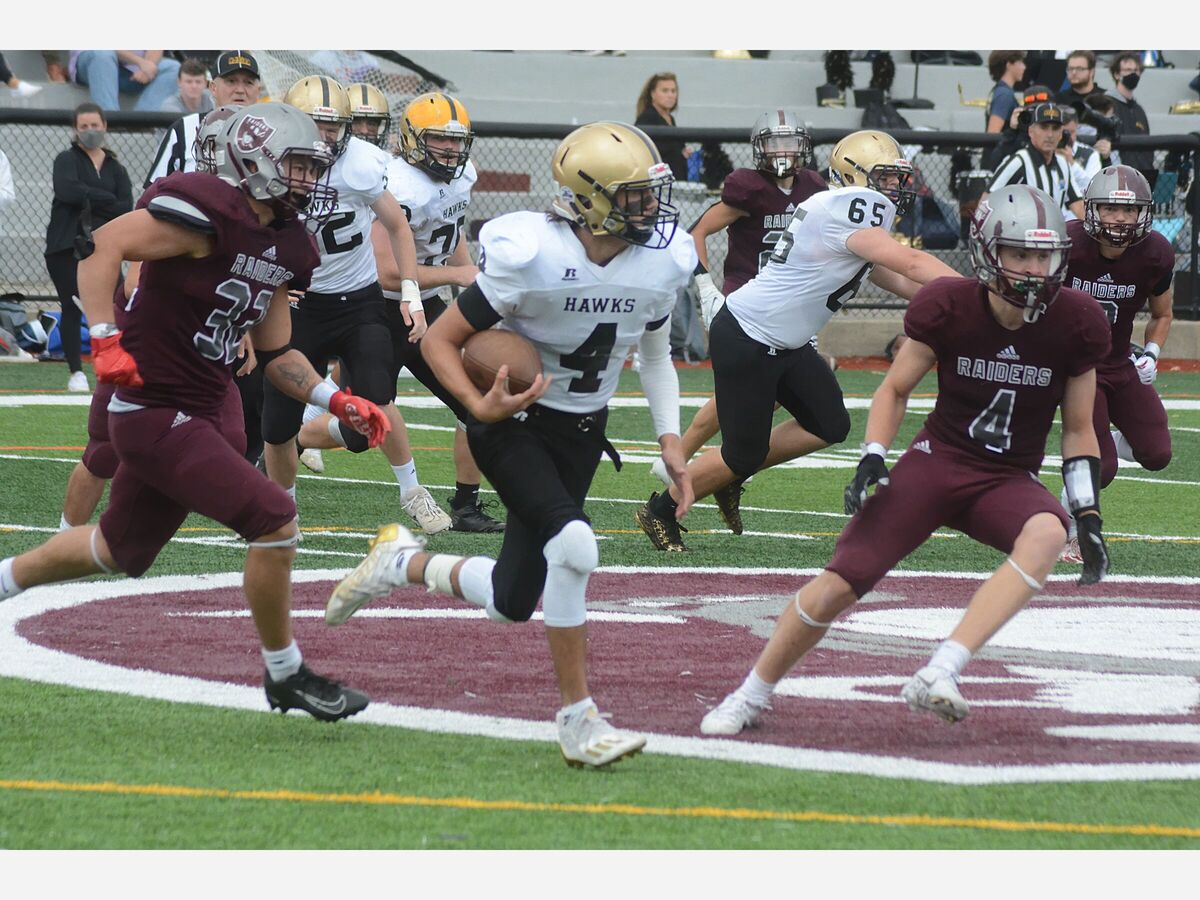 Riding a wave of momentum with a three-game winning streak, the River Dell Golden Hawks varsity football team (4-2) hit the road for the next two games. Facing the Nutley Maroon Raiders on Saturday afternoon at the Nutley Park Oval located on the grounds of Nutley High School.
Leading up to the match-up against Nutley, River Dell had several players on the offensive and defensive side of the ball, tallying impressive statistics that ranked highly in North Jersey High School Football.
Quarterback Jake Sconza amassing 1,421 passing yards, 14 touchdowns, senior wide receiver Colin Quinn totaling 35 receptions for 547 yards, 6 TD's, senior wide receiver Kyle Case posting 369 yards five touchdowns, and senior wide receiver Ryan Gillies reeled in four touchdowns.
On the flip side, linebacker Nick Sybel ranked fourth in tackles with 57, defensive back Gabriel Case with 53, linebacker John Magliula with 46, and defensive back Nolan Gilmour with 42.
John Magliula and Nolan Gilmour both spoke about how the team has performed during the 2021 regular season. "When we get pushed by another team makes us feel confident and our coaches do a really good job of hyping us especially at halftime," John Magliula described. "Our offense and defense feed off each other, I'm really excited to be playing with my friends and a lot of them I have played since freshman year."
Nolan Gilmour on the recent winning ways, "I think it's been a lot of fun, we're really starting to get to know how to play with each other and we're practicing hard." "We're figuring how each other plays, starting to look like a good defense and the first couple of weeks we gave up big points but we're starting to lock it down and just get better as a unit."
"I give the coaches a lot of credit, they put so much effort into this and a lot more than we do." "They are meeting every day, they take this very seriously and they're not going to let their foot off the pedal until the very end."
"We're going to have to have a good week of practice, go out there and give it our best and doesn't matter who the opponent is but we want to dominate the game from the start." "We don't want to let up at all, keep on pushing and whatever happens on the last play whether if you do bad to forget it and on a good play remember you still have to go out there and win."
There was a decent turnout in the stands on an overcast, breezy, and relatively warm fall day at the Nutley Park Oval. Both marching bands from the school got the crowd and students excited, and the loud cannon shot off when the Nutley varsity football team came out onto the field.
Both teams entered the game with identical records at 4-1. The Maroon Raiders were coming off a 27-0 loss at Demarest the week before.
The Golden Hawk's offense blasted right out of the gate on their opening offensive possession of the game in the first quarter. Quarterback Jake Sconza completed passes of 34 yards to Colin Quinn, 29 yards to Kyle Case, and 14 yards to Ryan Gillies to quickly advance the ball deep into Maroon Raiders territory.
On first and goal at the seven-yard line, Sconza took the snap in shotgun formation, faking a quick handoff and quickly sprinting to the right of the line before finding an open avenue just inside the right pylon for the score with less than seven minutes left.
Late in the first quarter, River Dell was forced to punt the ball away instead of turning into a miscue in handling the ball that resulted in Nutley taking over at the Golden Hawks five-yard line. Working with the short field, the Maroon Raiders capitalized on second and goal with running back Paul Scutti taking the handoff and scampering into the left area of the end zone to tie the game up at 7-7 with 2:25 remaining.
In the second quarter, the Golden Hawks reclaimed the lead on an electrifying play. From the River Dell 49-yard line, Jake Sconza lined up in shotgun formation again, took the snap, showcasing his arm strength, heaved a pass to a wide-open Kyle Case in stride for the 51-yard touchdown.
Field position playing a critical role with less than seven minutes to go in the quarter. Forced to punt after a three-and-out, River Dell kicked the ball away that went only for 24 yards ending in Nutley having the ball at the Golden Hawk's 42-yard line. Maroon Raiders quarterback Matthew Harbison completed a 35-yard yard pass that set up a first and goal situation.
On first and goal, Harbison handed the ball off to running back Mitchell Mainiero, who snaked his way through a pile of players and ended up diving into the end zone with 6:09 left. Initially lined up for the extra-point attempt, Brandon Lucia took the snap and lofted a two-point conversion pass to Paul Scutti in the back of the end zone.
Once the third quarter kicked off, River Dell had the ball first. Quickly faced with a fourth and one at their 43-yard line, Golden Hawks went for it. However, a botched play on the snap resulted in a turnover on downs, but Nutley took over at the Golden Hawk's 29-yard line.
Pounding the rock with the running back, Maroon Raiders quarterback Matthew Harbison ran four times before barreling into the end zone on a seven-yard run with less than nine minutes left.
Senior Aidan Cochran on Matthew Harbison, "He was a big kid, pretty hard to tackle and he didn't go down." "He was going to stick his nose in there and run the ball." We just needed everyone there to tackle, a good player, and he made the difference.
The River Dell offense hitting a brick wall with a couple of three and outs and forced to punt the ball away. However, the Golden Hawks defense made a stand forcing a turnover on downs at the River Dell 36-yard line. Early in the fourth quarter, the defense sacking Matthew Harbison ended with Nutley punting the ball.
Starting with an excellent field position at the 48-yard line, the River Dell caught lightning in a bottle. Stymied in the third quarter, Jake Sconza completed an 18-yard pass to Colin Quinn on first down. After losing a yard on a running play, Sconza completed a six-yard pass to Max Froonjian.
The most critical pass came on third down, with Sconza connecting with Kyle Case on a 24-yard pass to set up first and goal at the one-yard line. Sconza did the rest from that point, taking the handoff and plowing his way into the end zone that narrowed the gap to 22-20 with 9:08 to go. Attempting to tie the game up, Sconza took the handoff and hustled towards the right pylon before being tripped up short of the goal line.
Once again, the River Dell defense stepped up to the plate forcing Nutley to punt the ball away. A 27-yard punt ended with the Golden Hawk's offense starting at their 43-yard line with 6:13 to go. Jake Sconza completed a pair of passes that moved the ball to the Maroon Raiders 45-yard line.
On first down, Sconza took the handoff in shotgun formation, dropped back into the pocket, and launched a pass right down the middle of the seam to running back Andrew Spano for the score with less than five minutes remaining.
"Coach(DJ Nimphius) put in Andrew(Spano), he ran straight down the field and was able to score his first touchdown," Jake Sconza explained.
Looking to extend the advantage on the two-point conversion, Sconza did not hesitate to take the handoff and raced to the right corner of the goal line. This time around, Sconza succeeded in finding an open pathway making it 28-22.
Sensing the tide had turned was wiped out on the ensuing kickoff return. Brandon Lucia fielded the ball at his 25-yard line, breaking through several tackles before rumbling down the right sidelines to the house for the 85-yard touchdown. The extra point attempt was good, putting Nutley back on top 29-28.
The River Dell offense had plenty of time to work with and a pair of timeouts in hand. However, that luck ended when Jake Sconza attempted a pass over the middle of the field that Brandon Lucia swooped in for the interception. The Maroon Raiders offense was able to milk time off the clock.
With 39 seconds left and no timeouts did not hinder Sconza at all. He found his favorite target on the day in Colin Quinn on back-to-back passes that advanced the ball into Nutley territory. Appearing as though there might be a comeback win in-store ended with Sconza sacked to end the game.
"I knew coming into the game they were not a bad team; you can't compare scores because they lost to Demarest and played a bad game of football," Jake Sconza described. "We came in a little too confident, obviously it's good to be cocky, but you just have to be careful with that." We had enough to win that football game but the special teams' and snap mistakes and my interception, all those little things, added up.
"Coach(DJ) Nimmphius said we didn't play our best football, he even said before the game if we don't play our best they're going to smack us in the throat and they played good football." "He said a game is a game and we have to move onto the next."
Aidan Cochran on the defeat, "It was a tough loss for us especially it was only one point but we're going to get better and move on from this." "We have to focus more on special teams, thought we were pretty good on offense and defense even though there were a few mistakes."
Looking to right the ship, the Golden Hawks square off against Bergenfield(2-4) on Saturday, October 16, at Bergenfield High School, with kickoff set for 1:00 p.m.
"We're going to be sounder in what we're doing, go to every meeting and practice hard," Jake Sconza noted. "We just have to be a better football team than we are, this was not my best game and but I know I got to play better and practice harder."
On the upcoming game against Bergenfield, Aidan Cochran, "We felt that we underestimated Nutley and never can do that again." "We see Bergenfield as a pretty good team, you look at their losses that weren't that bad and were hard fought games and we know that coming in we got to play our best game of football and want to win this game and go 5-2."