River Dell Varsity Boys Lacrosse Team extends winning streak in a 16-3 victory over Park Ridge
Image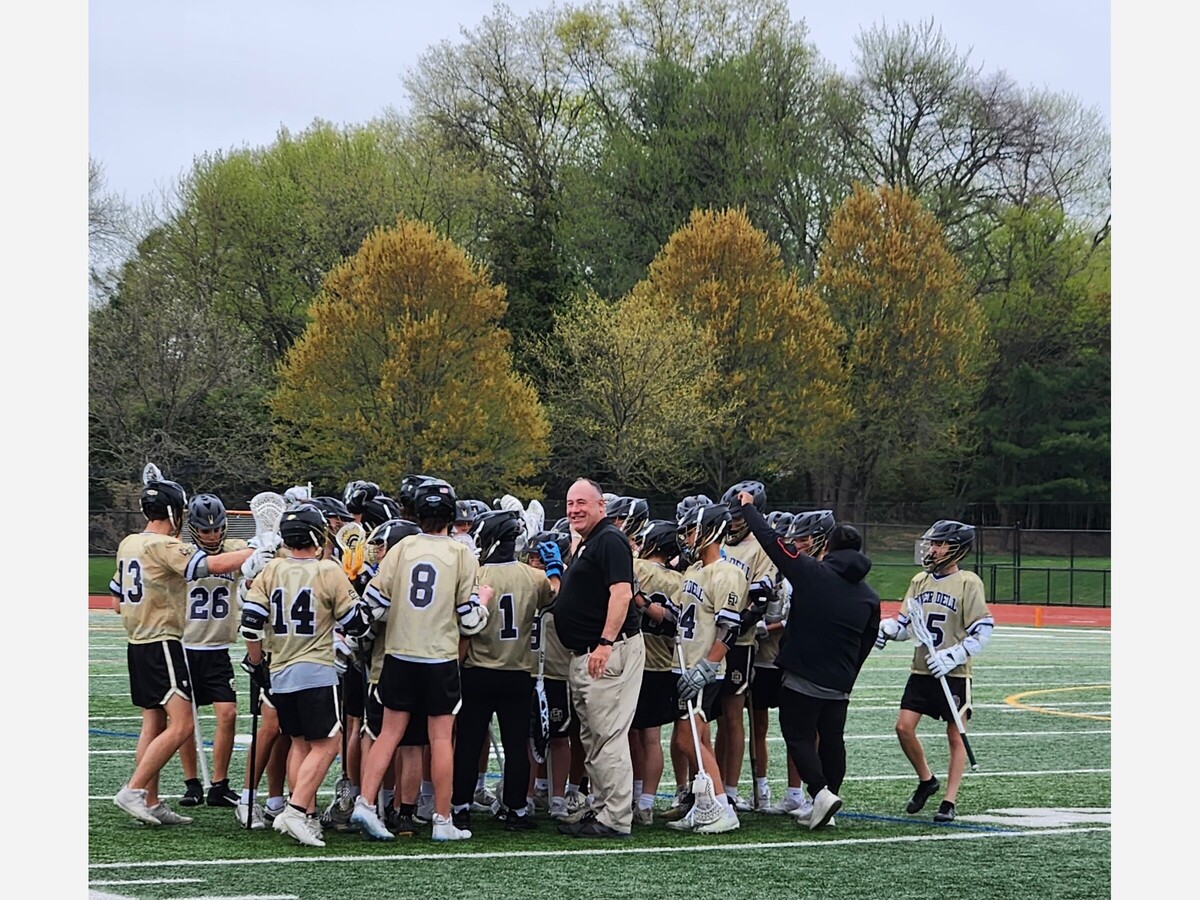 The River Dell Golden Hawks Varsity Boys Lacrosse Team(5-1, 3-0 NJILL-Curcio) squared off against the Park Ridge Owls(0-4, 0-3 NJILL-Cullen) on a warm and overcast day with plenty of people in the bleachers and standing behind the fence at River Dell High School in Oradell, New Jersey.
River Dell was off to a terrific start in 2023, having won four out of five, including their last two, compared to the 2022 season when the Golden Hawks lost their first eight games and finished 5-11, 3-3 NJILL-Curcio.
"You're looking at the future standing on the shoulders of the giants that came before," River Dell Head Coach Joe Haemmerle explained. "Honestly I have a lot of respect and appreciate what our seniors did last year." "The season didn't really go the way everybody liked to go, and we lost our first eight games."
"We learned a lot including me and gave a new whole new system for these guys and a serious learning curve." "The seniors last year (Will)Fletcher, (Mike)Crismale) and (Cavan)Hughes all stayed in and led the thing last year and held the ship together." "It paid off great dividends because in the offseason what I saw in this group was called institutional learning and they understood the concepts of what we did last year and building on it."
"We're much further ahead this year than last and it's like night and day." "I want to say we're cautiously optimistic about this season and we're very proud of the progress." "The guys are getting on the field, shooting the ball and hungry." "We're building something great in this town (Oradell) and excited for that."
"So many people have put the time into growing this and I remember when the junior lacrosse program was born here in Oradell." "You start to realize the success and so proud of our community and this is the reason why I came here."
"Mr.(Denis) Nelson is incredibly supportive and we talk and communicate after every game and he's super dialed into our team." "He's been fantastic and helped us out with something new with our uniforms this year and the kids feel good about the way they look out there." "Our administration right down the line with Mr. Fletcher the Superintendent and Principal(Brian Pepe) has been a terrific organization."
"I think pride in your town, yourself and family and to wear that gold jersey means something to these guys." "One of the first people I met when I came over here was DJ Nimphius and we talked about the colors and the black and gold." "Mr. Nelson stresses all the time about sportsmanship and doing it the right way." "Representing a community and family perfectly and as individuals and what we're trying to do is grow these guys and ultimately have great citizens in town."
The Golden Hawks fell behind early 1-0 to the Owls in Park Ridge but responded as senior Rich Ryen poked the ball into the net from close range. With six minutes remaining, senior  Finn Kristan, leading the team in scoring, broke into the offensive zone with a full burst of speed, and despite getting knocked down to the ground, Kristan wristed a shot into the net.
Thirty seconds later, sophomore Gavin McKeon evaded some pesky defenders and rifled a left-handed shot into the net. A minute a change later, McKeon tallied his second goal of the game to widen the River Dell lead to 4-1.
"I thought Richie(Ryen) had a real heads up play because the ball was saved," Head Coach Joe Haemmerle described. "He put his stick into the crease and stayed outside and the ball went through in for the goal."
Park Ridge ignited a rebuttal in the second quarter as they scored two goals to narrow the gap. However, with just under six minutes left, sophomore RJ Weiss sprinted into the offensive end and ripped a laser shot into the net as he somersaulted.
"I thought that was a critical goal and something we talked about in the pregame plan and having an opportunity to execute from the top," Head Coach Joe Haemmerle noted. "RJ does a great job dodging threats, a devastating midfielder and has such a hard shot." "From that point forward, it was a really good second quarter."
Once the third quarter commenced, the Golden Hawks erupted, amassing seven goals with RJ Weiss scoring three times to register the hat trick along with Finn Kristan netting two goals to increase his season total to 28 and Gavin McKeon and junior Santino Cartelli chipping in with tallies as well. Kristan and McKeon join the hat trick club.
River Dell continued to build up the margin in the fourth quarter, chalking up four more goals, with RJ Weiss scoring his fifth goal of the game while sophomore Deacon McGovern, junior Liam Boyle, and freshman Cain Lanza found the back of the net as the Golden Hawks rolled to the 16-3 victory and third straight win.
Finn Kristan and junior goalie Jose Martinez both attained milestone achievements as Kristan reached the 100-point plateau while Martinez registered his 300th career save.
"I'm proud of Finn and up for athlete of the week last week," Head Coach Joe Haemmerle stated. "Jose is a very exciting goalie to watch, he makes some remarkable saves and when he's on his game he's very difficult to beat."
The Golden Hawks return to action on Monday, April 17th, hosting Dwight-Englewood(4-0, 4-0 NJILL-Cullen) at 5 p.m. at River Dell High School.