River Dell Varsity Girls Basketball Team hold off Wayne Valley 54-44 for 10th straight win
Image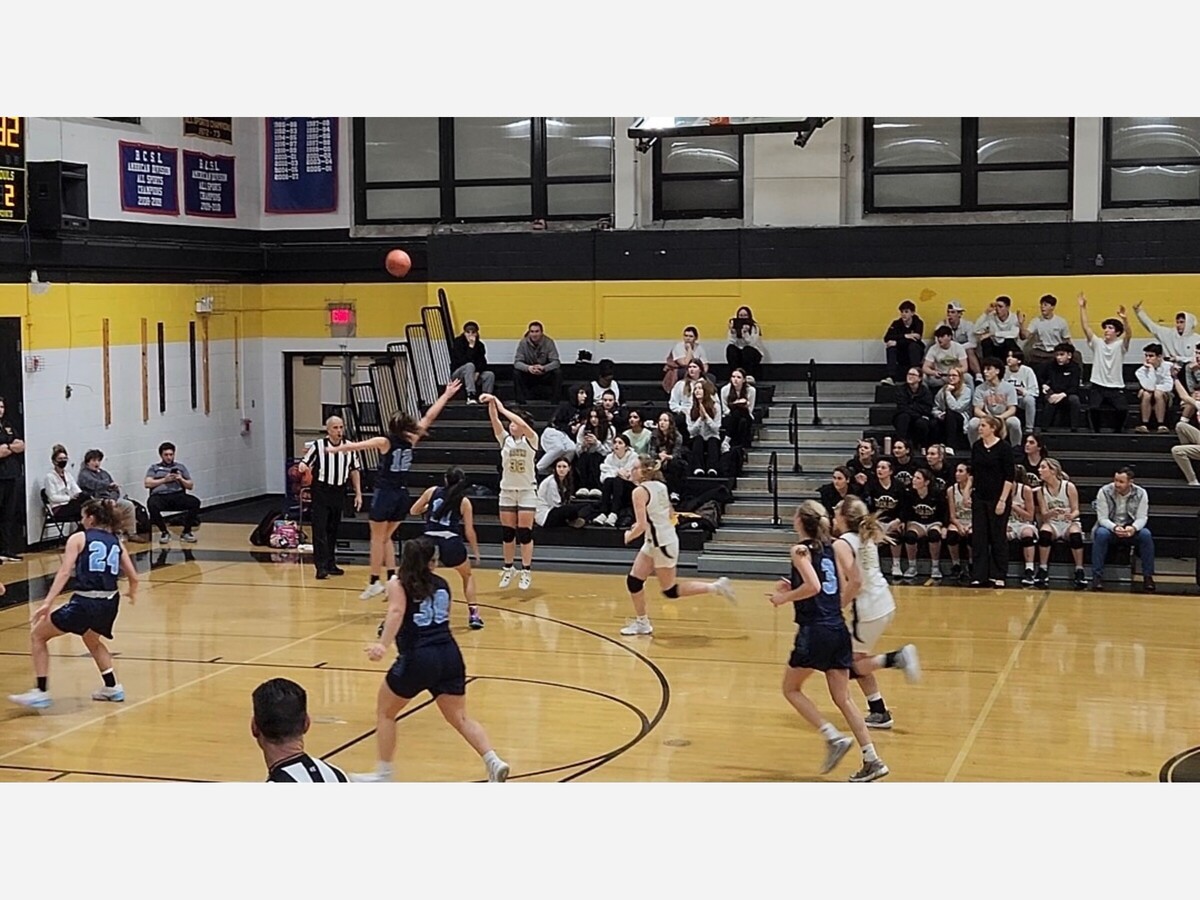 The River Dell Golden Hawks Varsity Girls Basketball Team (13-3, 6-0 Big North Patriot) faced off against the Wayne Valley Indians (6-10, 3-3 Big North Independence) at River Dell High School in Oradell, New Jersey.
River Dell was coming off a hard-fought and physical 56-44 victory over Ramsey at home, not even two days prior, that extended the Golden Hawk's winning streak to nine games. Junior Sofia Sanchez paced a balanced scoring effort with 13 points.
Senior Lizzy Puentes returned to the lineup after missing the last month with an injury. Sophomore Morgan Sconza made an incredible recovery after sustaining a severe injury against Ramsey.
The Golden Hawks had a challenge on their hands from the opening tap as the Indians, despite a below .500 record, displayed a ton of grit and determination. A low-scoring period ending with Wayne Valley up 11-10.
In the second quarter, the Indians consistently attacked the rim and successfully converted putback shots in the low post and layups. Wayne Valley extended their lead to 20-12 with less than three and a half minutes remaining. Jessica Lee (16 points) was a significant catalyst for the Indians scoring ten points. Olivia Isaacson (13 points) dropped in seven points.
When it appeared, the Indians were on the verge of gaining significant separation, River Dell answered back with a run to cut the gap to 22-19 at halftime. Sofia Sanchez scored five of her seven points in the first half, including burying a trifecta.
Head Coach Lindsay Steffner on the first half, "They ran off their offensive sets petty early in the first half against us and got some good looks. I said to the team that we can pick up the defensive intensity then our shots will normally fall, and they changed the defenses on us a lot. It was not our tempo and more of their tempo in the first half."
In the third quarter, the Golden Hawks came out of the locker room a motivated squad. Sofia Sanchez drained a triple to tie the game up at 24-24. River Dell did a spectacular job moving the ball around the perimeter and inside the paint.
The Indians reclaimed the advantage at 28-24 but had no answer for Sofia Sanchez as she was in the zone from downtown, canning two additional treys and totaling 11 points that propelled River Dell to a 36-32 lead at the end of the period.
"That's what jumpstarted us then we were able to do it from outside and able to get to the rim as well, Head Coach Lindsay Steffner explained. Wayne Valley had to come out of their zone and then went man-to-man and we were able to get some shots inside."
The Golden Hawks bench provided some valuable minutes and scoring in the fourth quarter. Sophomore Kasey Ziegler notched back-to-back layups that widened the margin to 43-32.
"Kasey (Ziegler) played a great game inside and got her hands on the ball and finished around the rim, Head Coach Lindsay Steffner described. There's not too many people that throw their body weight around like Kasey does and there were so many offensive rebounds that she kept alive and defensive rebounds she got her hands on."
"She causes such disruption on the defensive end with her athleticism and length, and she's been a goalie and softball player. She really anticipates the ball and what's going to happen offensively well and looking more comfortable. She's been finishing around the rim a lot better and a sparkplug for us."
River Dell appeared in firm control of the game down the stretch, but Wayne Valley refused to throw in the towel as they trimmed the Golden Hawks' lead down to single digits with less than two minutes left.
However, senior Ari Rodriguez displaying her long-distance range shooting unleashed two pearls, including one with less than a minute left. River Dell went on to cruise to the 54-44 victory and extended their winning streak to ten games.
A jubilant home crowd filled with the student section and on the opposite end with parents, administrative officials, and youth girls' basketball players from both Oradell and River Edge.
"You couldn't ask for a better environment with the fifth and sixth graders Let's Go Hawks, River Dell Head Lindsay Steffner noted. There was a lot of chatter in the gym and a very lively environment. When Sofia (Sanchez) and Aria(Rodriguez) were making their shots and Kasey(Ziegler) was playing aggressively you could see the girls' eyes light up and fun because they're going to remember that."
"I remember coming to River Dell when I was their age and watching the players and my eyes lighting up as a little kid and this is what it's about. That's why I enjoy coaching here because I have all those great memories from watching these great players before me. This can keep trickling down and keep building this program and establishing ourselves to the top group of Bergen County."
Next up for the Golden Hawks is a Bergen County Women's Coaches Association Tournament Round of 16 matchups against Tenafly (12-4, 3-3 Big North National) at Northern Valley Regional High School at Old Tappan on Saturday, January 28th, with tip-off set for 1:30 p.m. "They play zone on defense, and we have been comfortable with that for the past two weeks because a lot of teams play it, and going to be good for us offensively."
"Riley Theuerkauf is one of the top scorers that we faced and best shooters from deep and got to slow her down defensively. We're going to change matchups a lot and try to deny her the ball as much as we can. It's going to be a nice battle and good game and they're playing great but so have we."
"The Bergen County Women's Coaches Association Tournament is fun. There are a lot of coaches, and we are all colleagues and share film, scouting tips, and entertaining stories. I admire many coaches and use role models, so it's nice to see them in this environment. It's more of a competitive edge that comes out in everyone who wants to win that county tournament for their program, and I'm excited about it.