River Dell Varsity Hockey Team shows resilience in 4-1 loss to Passaic Tech at the Prudential Center
Image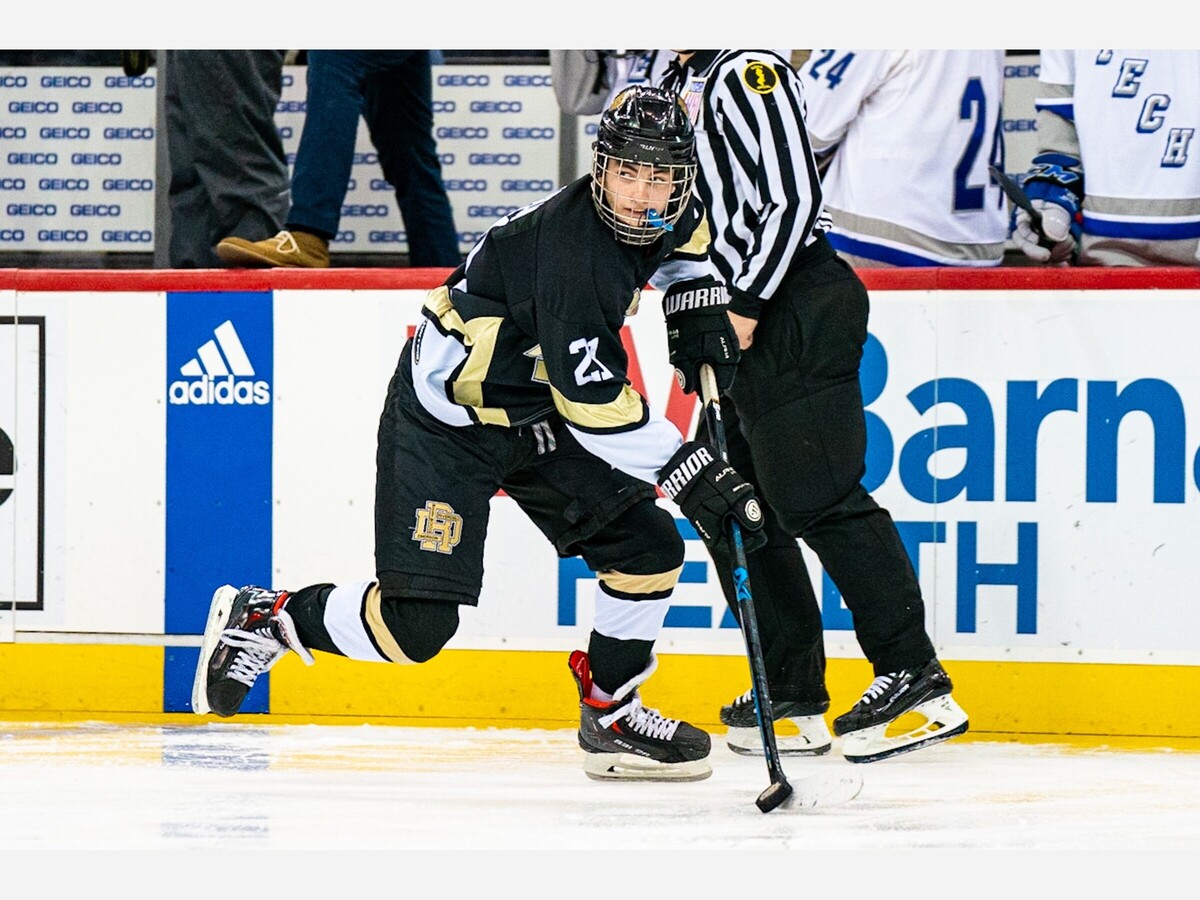 The River Dell Golden Hawks Varsity Hockey Team(5-7, 3-0 Big North Patriot) faced off against the Passaic Bulldogs(8-6-3, 1-3 Big North Stars) at the Prudential Center in Newark, New Jersey.
River Dell was coming off a 6-2 defeat to Ridgewood on January 20th at the Ice House in Hackensack, New Jersey. Senior Roman Kirilytchev tallied both goals for the Golden Hawks.
Golden Hawks Head Coach Kyle Scancerella on the opportunity for the team to play on the home ice of the New Jersey Devils. "It was awesome, we got there early and had a good pre-game meal in the concourse. We were able to look across the ice and the scoreboard had our logo."
Passaic Tech struck first in the game with seven minutes remaining in the first period on a goal from John Kensicki. However, River Dell tied the contest up before the first-period horn sounded.
The Bulldogs had an incredible opportunity to extend their lead despite being shorthanded with a two-on-0 breakaway. Still, Golden Hawks junior goaltender Liam made a spectacular sprawling save on a close-range shot by Angelo LaCognata.
Senior Riley Ehrenfels quickly drove up the ice. Ehrenfels passed the puck to Roman Kirilytchev, who did a phenomenal job bypassing a Passaic Tech defenseman and getting the puck into the front of the net, where senior Vinny Miraglia was parked in front to knock home the rebound with nine seconds remaining.
"We were on the power play, it wasn't the best we've ever run, but Liam Freel made an outstanding save on the shorthanded break, River Dell Head Coach Kyle Scancerella explained. We went right back on the attack and thanked God for Liam keeping us in the game. Vinny put away the garbage like he always did and scored a big goal.
Passaic Tech possessed the puck most of the time at the Golden Hawk's end of the ice in the second period. Once again, Liam Freel stepped up, making tremendous saves to keep the Bulldogs off the scoreboard.
"Passaic Tech has their system of they're going to grind you out, cycle the puck, stay patient and jump on the chances, Head Coach Kyle Scancerella described. They second period they took it to us, and the puck was in our own ended and we couldn't get it out. We felt lucky to be tied 1-1 and could pick it up and have a chance to win."
Once the third period commenced, the Bulldogs regained the lead 2-1 at the nine-minute mark on a power play goal from Angelo LaCognata. About six minutes later, Passaic Tech again found the back of the net via Emmanuel Follaco. John Kensicki put the game away with an empty netter with 15 seconds left.
"Liam(Freel) did everything possible to keep us in the game in my opinion, Head Coach Kyle Scancerella noted. We may have lost the game but he was the best player on the ice. That is a 7 or 8-1 game and he's a stud and we just can't give team's opportunities like we did in the game."
Despite a below .500 record, there's still plenty of optimism the Golden Hawks will rebound this season with the Big North and State Tournaments on the horizon.
"The season hasn't gone the way we wanted it, but we've had a tough schedule. We played Ridgewood and Pascack Valley twice, Monroe and Passaic Tech."
"Unfortunately, we haven't been able to pull out any wins, but we feel we're still set up to get into the states. We always go back to the game where we lost 4-3 to Ridgewood in overtime in the Bergen County Tournament. That's the game we must play and stick to that and there no reason we can't go on a little run."
"Right off the bat we have Roman Kirilytchev and Kristian Bush who are leading our team in points and could pop off for a three-goal night versus any team we play. It's always nice to have that top end scoring and Vinny(Miraglia) is having a career year. No matter what we know we're going to get 100 percent fron them."
"Every single player after that them is young and trying to work their way in. We know if we find the right combinations, we have a possibility. Our defense has struggled a little but now we feel we're finding the right pairings and younger players are starting to get more adjusted. "
"Last year Tim Wanvig was our number one defenseman and he did it all and this year we had to ask DJ(Terwilliger) and Matteo(Marinic) to step up and take that control and it was an adjustment at the start but they're coming into form."
"We also decided to put Ryan Jarski at the back at defense where he was playing offense for the first part of the year. He's solidified that d chord to the point where we're 100 percent comfortable and making the right plays. We have a few younger guys in Logan Ehrenfels, Max Silverstein and Nate Lenc and they're getting their time and starting to learn the speed of the game and once that clicks, they're going to be another three great options that constantly keep that D chord rolling."
River Dell returns to action on Friday, January 27th, against Paramus(8-3-3, 1-3-1 Big North Freedom) with the drop of the puck at 7:30 p.m. at the Ice House.
"It's going to be a battle, they're 8-3 and a powerhouse, Head Coach Kyle Scancerella remarked. They've been solid all year and taking that next step; they have a freshman with 25 or 26 goals and will have to find a way to shut him down. They also have a big defenseman who's their captain, extremely solid and skilled. It will be one of our season's best matchups, and we must win to get back on track.
"We're probably at the best we've been and always had a lot of talent and put some up some good seasons. Last year was our first year above .500 during my tenure and this year hoping to back above .500 and I believe it's just going to keep improving."