River Dell Varsity Girls Basketball Team rallies to defeat Holy Angels 40-33 in the Joe Poli Holiday Tournament
Image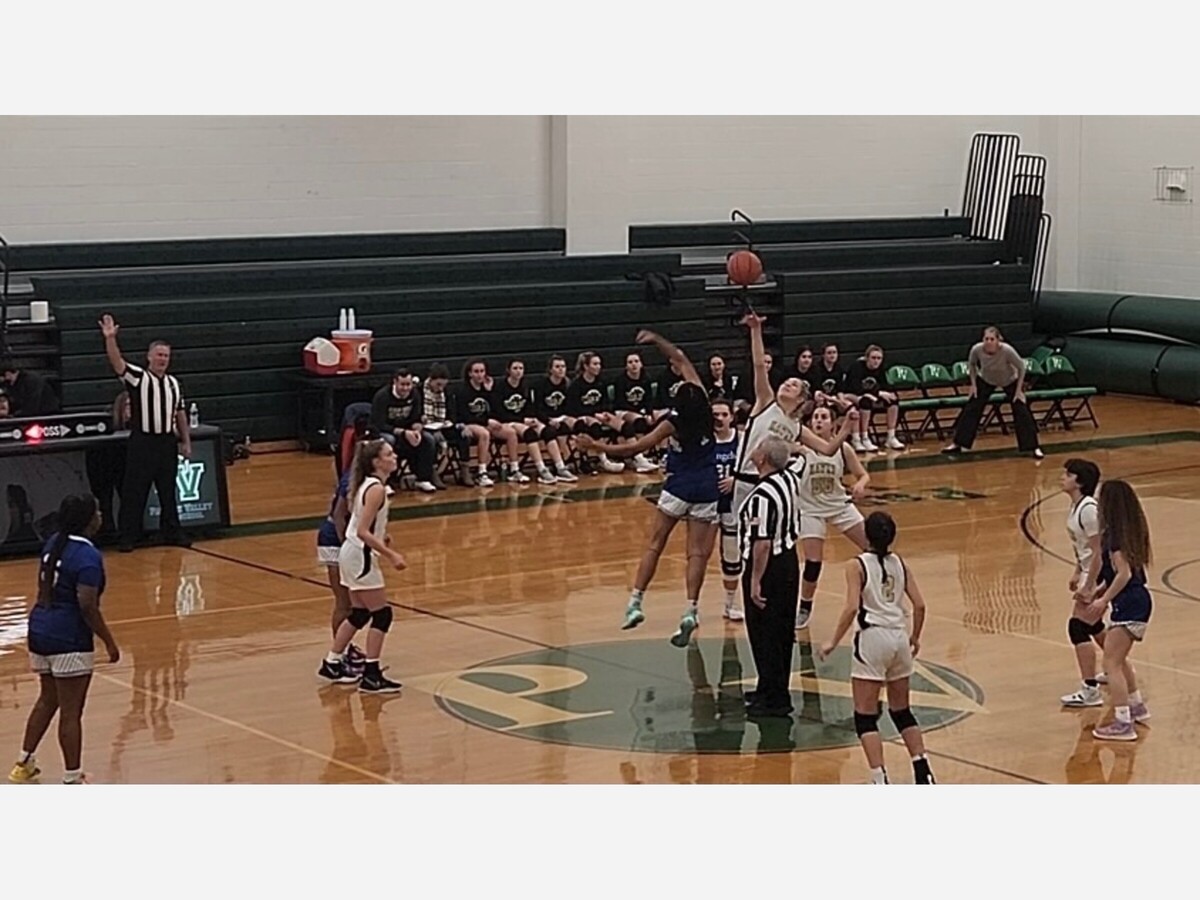 The River Dell Golden Hawks Varsity Girls Basketball Team(3-2) squared off against Academy of Holy Angels(2-3) in the first round of the Joe Poli Holiday Tournament at Pascack Valley High School in Hillsdale, New Jersey.
River Dell was coming off a tough 39-37 loss to Randolph on December 22nd that dropped the Golden Hawks back to the .500 mark.
The Golden Hawks managed to grab a quick 4-0 lead against Holy Angels in the first quarter, with senior Ari Rodriguez opening the game by burying a deep triple, but the Angels answered back to take the lead 5-4.
The teams traded baskets from that point. River Dell senior Lizzy Puentes knocked down a trifecta to tie the game up at 9-9. Holy Angels responded with a lay-up with less than a minute remaining to take an 11-9 advantage at the end of the period.
"We started strong, it was a little rock, but they're a good team," Ari Rodriguez explained. "We went back and forth with the score." Once the first quarter was over, we knew we had to step it up and keep going.
In the second quarter, the Golden Hawks ignited a rebuttal to reclaim the lead 13-11 on a lay-up from Isabella Gilmour. The lead would only last a short amount of time.
Angels Giovanna Corbisiero unleashed a pearl to put Holy Angels back in front 15-13. With time winding down in the quarter, Samantha Serrano knocked down a jumper from downtown to widen the margin to 18-13. Making matters worse on the play, Isabella Gilmour sustained an ankle injury.
River Dell Head Coach Lindsay Steffner on the offense in the first half, "Offensively, we're still trying to find our groove a little bit." "We graduated a lot of players last year and playing a lot of kids now." Lizzy(Puentes) came off the bench late last year, and Sophia(Sanchez) is entirely new.
"We're just trying to figure out where we'll get our points, and each game is a little different." "Coming off the holiday break, it was a slow start for us in the first half, and some of the shots didn't fall for us and against Randolph, and we couldn't buy a bucket.
"I said to our team our defense was outstanding and we held a good offensive team to not too many points." "We had to focus really on executing offensively and giving ourselves higher percentage shots and work harder for offensive rebounds."
Holy Angels expanded their lead to double digits in the third quarter at 24-14. The Golden Hawks' offense was ice-cold until Sofia Sanchez connected on her second jump shot from behind the arc with less than four minutes left to stem the tide.
That provided a huge burst of energy as the River Dell defense dialed up the intensity on the defensive end. The Golden Hawks denied any drives to the basket in the paint and cutting off passing lanes.
Lizzy Puentes and senior Mia Kilmurray provided vital contributions to bring River Dell within 25-21. With ten seconds left in the quarter, Ari Rodriguez swiped the ball away for a steal and accelerated to the basket for the transition lay-up that led to a 9-1 run.
"It was difficult, but we all knew we had to lift each other and keep going," Ari Rodriguez described. "We focused on the next play and not worrying about mistakes." Coach(Lindsay Steffner) switched up a few defenses that worked and helped get the ball back in our tempo.
Head Coach Lindsay Steffner on the third quarter turnaround, "We got them in foul trouble and put a little bit more pressure on them and went to a man-to-man and full court." "We got some good steals, and you could feel the energy kind of shift in our favor."
Once the fourth quarter commenced, the Golden Hawks kept pressing forward and pulled even at 25-25 on a short jump shot down low from Ari Rodriguez. Sophia Sanchez put River Dell up 27-25 and stuck a floater in the paint for the first time second quarter.
After Holy Angels tied the game up at 27-27, Ari Rodriguez sank her second trifecta as the Golden Hawks reclaimed the advantage 30-27 with less than six minutes to go.
"I knew that I had to step it up this year because we didn't have another point guard but also with Sophia(Sanchez) coming in has been a big help and both us working together as point and shooting guards," Ari Rodriguez noted.
"Last year I in practice I would always guard Sarah Vanderback, an amazing player and knew in the back of my mind senior year it would have to be me stepping up to take her spot." "Noticing the little things on how she led the floor and younger players."
"It's starting to click, more in the beginning it was rock but we're continuing to practice and play with each other and working well." "We both love shooting the ball so it really works out."
River Dell held a slim lead at 30-29, but Lizzy Puentes stepped up to the foul line and hit two critical free throws. Once again, Holy Angels made it a one-point game, but Sophia Sanchez displayed her long range on jump shots draining a clutch corner triple to bump the margin up to 35-31.
Head Coach Lindsay Steffner on the offensive output in the fourth quarter, "Lizzy(Puentes) knows where to get her shots and how to use her body." "She's an excellent athlete, a workhorse, and the last one in the gym every night." Her basketball IQ is growing, and the ceiling keeps improving.
"Sophia(Sanchez) has been a great addition to the program and team." "A nice kid, she works hard and great understanding of the game and knows where to get her shots off."
Down the stretch, the Golden Hawks were able to extend their advantage on lay-ups from Lizzy Puentes and Mia Kilmurray. Sophia Sanchez showcased her passing skills on a tremendous outlet pass to Kilmurray for the bucket that made it 39-31.
River Dell is going on to cruise to the 40-33 victory. Sophia Sanchez and Ari Rodriguez each supplied 11 points apiece, while Lizzy Puentes contributed nine points. Samantha Serrano poured in game-high 16 points for Holy Angels.
Head Coach Lindsay Steffner on Ari Rodriguez, "I have a lot of confidence in Ari, late in the season last season her role shifted with Sarah(Vanderbeck) going down and her responsibilities, confidence and leadership kind of shifted and gave her a little of a different perspective." "She's really stepped up and done a phenomenal job for us so far."
Next up for the Golden Hawks is a showdown with undefeated Old Tappan(5-0) in the second round of the Joe Poli Tournament, with tip-off set for 3 p.m. at Pascack Valley High School.
Ari Rodriguez on the upcoming match-up against Old Tappan, "They're an outstanding team; we scrimmaged them a couple of weeks back." They move the ball very well and are fast, and we must work hard, keep our heads up, carry the energy over to this game, and put it all together." We're excited to play them; it will be a good game.
"After the losses to Pascack Valley and Randolph, which were big games, it was hard not to put your head down." We showed today we wanted and needed this game." We get excited when more people come out and feed off that energy.
Head Coach Lindsay Steffner on facing Old Tappan, "Our girls always like a challenge, and this is a good one for them." "We're going to throw some defenses at them and keep them running their sets." They're incredibly athletic, especially on the perimeter, big inside, and can shoot the ball." They're the perfect team and have a lot of positive attributes and not a lot of weaknesses.
"We're planning on competing as much as we can and hanging in the game, and you never know." "This is why we play these hard games." The Joe Poli Holiday Tournament is a big one for us, and we're playing a challenging non-conference schedule this year with tough opponents in Randolph, Morristown, and Wayne Valley.
"We're still trying to figure out what and where our shots should be coming from and who's got certain responsibilities and most kids on the bench have to step up and they have a lot of ability." "We have some experience who are very athletic and can come in and help and once we get that ironed out we're going to be good in a couple of weeks."