Brianna Azevedo plays playoff hero again, tallies penalty kick goal to propel River Dell Golden Hawks Varsity Girls Soccer Team past Jefferson 2-1 and into the North Jersey Section 1, Group 2 Tournament Semifinals
Image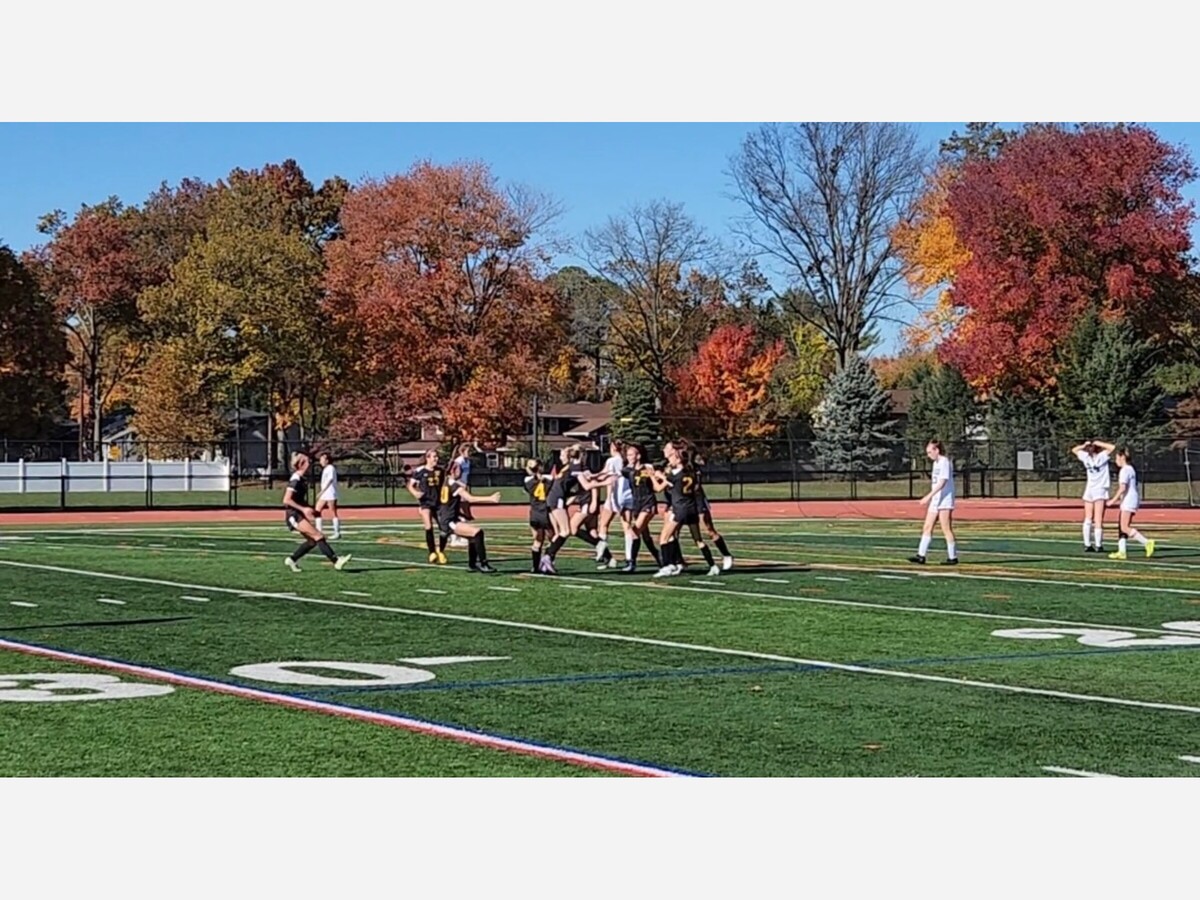 The River Dell Golden Hawks varsity girls soccer team(13-6) hosted the Jefferson Falcons(10-6-2) in the North Jersey Section 1, Group 2 Tournament Quarterfinals at River Dell High School.
River Dell was coming off a thrilling 2-1 overtime win over Newton in the first round of the North Jersey Section 1, Group 2 Tournament. Senior Brianna Azevedo scored the game-winner 26 seconds into the extra session.
A splendid day for a soccer game with golden sunshine, deep blue skies, and crisp temperatures as fans from both schools packed the stands and behind the fence.
Golden Hawks head coach Adam Herman on the crowd, "We were lucky enough to play at home then the environment we had from parents of former athletes, current athletes, football and soccer players and friends and family was awesome." "Credit goes to Jefferson for traveling well and they had great fan support."
Just as the first-round game played out, the Golden Hawks trailed in the game. Jefferson capitalized on a fluke play in the first half as River Dell goalkeeper sophomore Kasey Ziegler could not clear a ball out with a kick that led to a loose ball, and the Falcons put the ball in the back of the net.
"We have total trust in Kasey(Ziegler) and faith in her and she didn't do anything wrong at that point, " Head Coach Adam Herman explained. "She was in the right place, attempted to do the right thing and just didn't bounce she wanted to."
Jefferson ended up taking a 1-0 lead at halftime. Head Coach Adam Herman, in his message to the team at the break, "We didn't have a negative thing to say." "We knew if we kept what we were doing, we would find ways to score."
River Dell's offense had several opportunities to score in the first half that momentum carried over into the second half. The Golden Hawks drove the ball deep into Jefferson's end of the field and got shots on goal.
The hard work and effort finally paid off as the second half wore on. Once inside Falcons territory, senior Isabella Schneider flicked a pass to senior Isabella Bagnato, chipping a pass to Brianna Azevedo.
Azevedo masterfully dribbled the ball around a few Jefferson defensive players, then unleashed a cannon shot from 15 yards out that found the left corner of the net with less than 25 minutes remaining.
Brianna(Azevedo) is fantastic, and there's not one thing you can say negatively," Head Coach Adam Herman noted. "The best part about her is she's such a great teammate and works for all these girls and makes everyone around her better." "Everybody picked up their level from the first sub off the bench to the last one and every starter."
"She has the skill set and knows what she's doing with the ball before she even does it." "Some people she had out there on ice skates."
The Golden Hawks' offense did not step off the gas pedal regarding scoring opportunities. That tenacity led to a penalty kick as Brianna Azevedo was tackled from behind as she drove to the net with 12 minutes left.
"We practice penalty kicks in practice in case it comes down to that," Brianna Azevedo described." "I said if I got it, I would take it and stay calm." The team is looking at me to score, so I got to think it's going in and put it in the back of the net.
Head Coach Adam Herman on the go-ahead goal from Brianna Azevedo, "She absolutely shows no fear and to be in that moment for her to make it shows this is why she's going to play at a big time Division I college where there are some tough environments."
River Dell's defense locked it down defensively from that point on. Kasey Ziegler is coming up with some key saves to preserve the lead. The Golden Hawks are holding on for the 2-1 victory to advance to the North Jersey Section 1, Group 2 semifinals.
Head Coach Adam Herman on the win, "The girls knew if we were just attacking them as in the first half, we were going to make something happen in the box." "We knew if we kept creating, we would get the chance, and long and behold, it happened." Bri(Brianna Azevedo) knew she would finish this game for us.
"All you can ask is for an opportunity, and the girls put themselves here, and we talked about it last week; it's one game at a time now." "You go 1-0 every week and keep competing." It makes me proud to see these girls happy and all their hard work, whether winning or losing, and I told them to give the max effort.
Next up for the Golden Hawks is a North Section 1, Group 2 semifinal match-up against the third seed Pascack Valley Panthers(14-5-1) on Tuesday, November 1st, at River Dell High School starting at 6 p.m. The Panthers edged Mahwah 1-0 in the quarterfinals. River Dell defeated Pascack Valley 1-0 to start the 2022 season.
"It's going to take a full effort; you can't think back about that first game because it was the first game of the season," Head Coach Adam Herman stated. "We've changed, and so have they and adapted." We're going to have a couple of excellent practices, and on Tuesday, we'll hopefully play great River Dell soccer with everyone stepping up and doing their job.
"They're well-coached and have a very good defense and midfield." "They have a couple of great players that we're going to have to match-up with but it's going to come down to our role players." Some of those kids are ready to step and wouldn't be surprised if we get a big goal or two from some that have not scored a goal in a while.