Brianna Azevedo's overtime goal lifts the River Dell Golden Hawks Varsity Girls Soccer Team past Newton 2-1 in the First Round of North Jersey Section 1, Group 2 Tournament
Image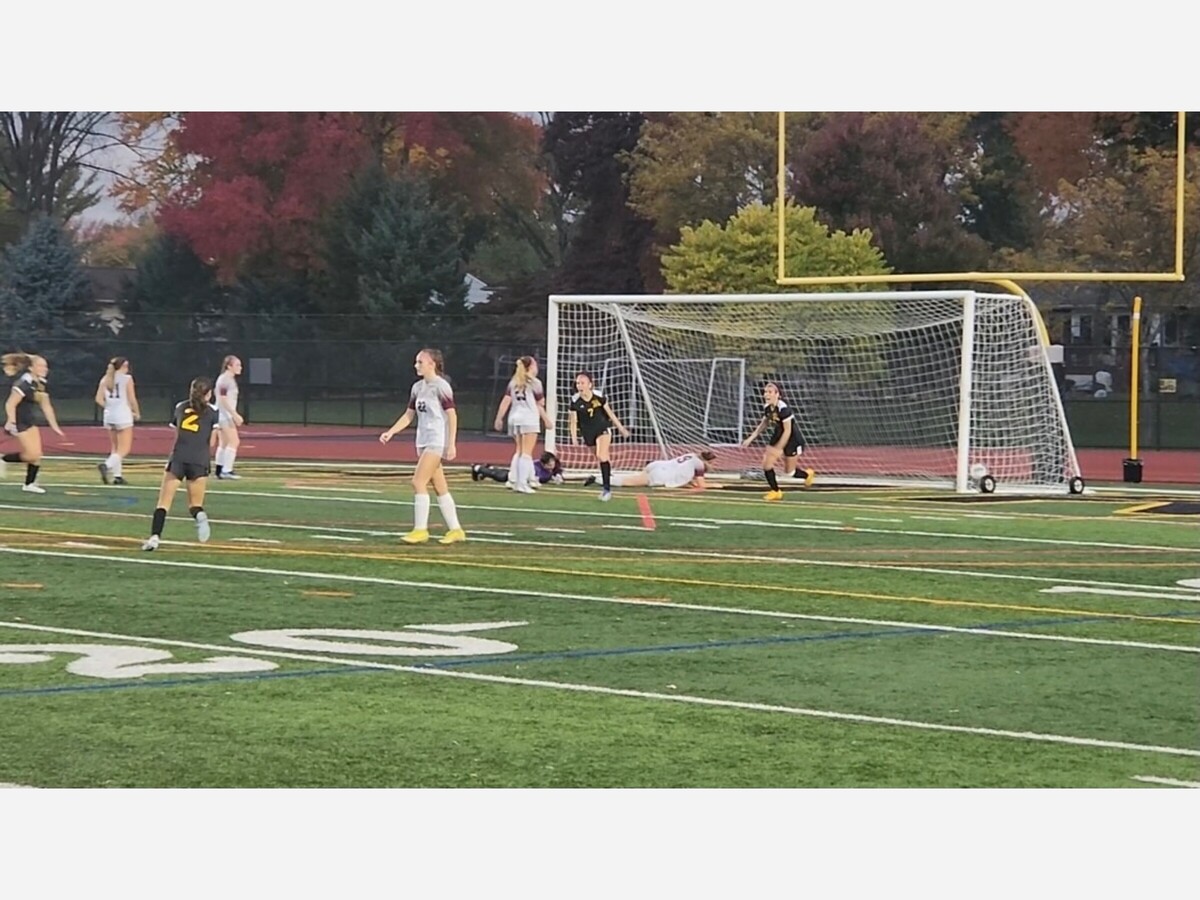 The River Dell Golden Hawks varsity soccer team(12-6) hosted Newton(2-16-1) in the first round of the NJSIAA North Jersey Section 1, Group 2 State Tournament at River Dell High School.
River Dell was the second seed, while Newton was seeded 15th. A rematch from last year's tournament, where the Golden Hawks won 8-2.
Both teams struggled down the stretch of the regular season, with River Dell dropping three in a row while the Braves were on a four-game slide.
"We don't make any excuses; we had a rough patch and a couple of injuries," River Dell Head Coach Adam Herman explained. "We had an unlucky ball bounce here and there and didn't capitalize on opportunities." They have been good enough to win many games, and four of our six games have been by one goal.
Initially, a warm and sunny day turned to overcast skies and cooler temperatures. Heavy downpours ensued out of nowhere, but it was brief as the sun broke through the clouds and shone brightly down on the field.
There was plenty of buzz in the stands with students, families, the River Dell boys' soccer team, administration, and athletic officials from River Dell High School.
River Dell Head Coach Adam Herman on the environment for the game, "I love that, and so do the girls, and they see and hear it." "They want to play hard for their families, principal and athletic director, and the boys(soccer)team." You want to represent your school and team in the best light and result and force them to play a little harder, which adds a little pressure on them.
The Golden Hawks dominated the first half offensively with many scoring opportunities but could not cash in. Newton had difficulty crossing midfield as River Dell's defense bottled up the passing lanes.
"We said to the team once the tournament started it doesn't matter if a team is 2-15, everybody's zero and zero and you got to win again," Head Coach Adam Herman noted. "Newton showed it, throw out their record and they made it uncomfortable as much as they could for us."
Scoreless at the end of the first half, Newton finally broke the deadlock late in the second half. With less than six minutes remaining on a free kick from 33 yards out, Hannah Hamilton booted the ball that skied into the air and then came down on one bounce and over the head of Golden Hawks goalkeeper Kasey Ziegler into the net.
"You control the whole game but once wrong bounce of the ball, skip and little drop of the sun is in your eyes and you're losing," Head Coach Adam Herman described.
Eighteen seniors faced the possibility of their 2022 season-ending, and River Dell soccer careers ending did not wilt under pressure. Two minutes after Newton took the initial lead, the Golden Hawks responded.
Senior Brianna Azevedo dribbled the ball rapidly past three Braves defenders towards the net, then flicked a pass near the corner as senior Emma Concannon buried a shot past the goalkeeper into the back of the net.
"Emma(Concannon) has done a fantastic job all year," Head Coach Adam Herman remarked. "She has a little added pressure that her teammate Lizzy(Puentes), who's been side by side for four years, has a concussion." In the game's flow, Emma knew she could play with Bri (Brianna Azevedo) and Bella(Isabella Bagnato) in the middle, and if she went here, Brianna would find me, and long and behold, that happened.
"The girls never panicked and stayed composed." "They were putting themselves in the right spots and doing all the right things." That team chemistry and bonds the players exactly know where they will be.
Eventually, the game went into overtime. Right off the opening tap, the Golden Hawks' offense surged quickly into the Braves' end of the field.
Brianna Azevedo maneuvered skillfully past a couple of Newton defenders, blasting a shot that the Braves goalkeeper remarkably kicked out as Azevedo hit the deck hard.
Isabella Bagnato kept the play alive, belting a kick that a Braves defender scissored away. Still, Hannah Esler found the loose ball. She chipped a pass to Azevedo, who quickly gathered the ball and ripped a shot past the diving Newton goalie into the back of the net 26 seconds into the extra session, setting off a euphoric celebration.
"I knew that I had to do something for the team and put the pressure on myself," Brianna Azevedo said. "As soon as I got it(ball), I was going to go no matter, and I'm taking the shot." Bella(Isabella Bagnato) had a great sot, Hannah(Esler) was there to follow up, and then I put it in.
Head Coach Adam Herman on the overtime victory, 26 seconds was fast; we've won and lost games in overtime this year and been on both ends." "We knew what we were doing at the end of regulation could work and figured out how simple it could be." "The girls told each other we got to win this game."
"Brianna(Azevedo) has a fantastic soccer IQ, is a high-level player, and is smart." "This is only her second year, and she's been a great teammate." If you watch many of our games, she's not selfish, but sometimes a scorer needs to be selfish. She tried to set up her teammates and assisted on the first goal and a couple of other great opportunities.
Next up for River Dell is a North Jersey Section 1, Group 2 Quarterfinal match-up against tenth seed Jefferson(10-5-2) on Saturday, October 29th, at River Dell High School with a noon start. The Eagles defeated West Milford 3-2 in the first round of the state tournament.
"We need to correct some things over the next two days," Head Coach Adam Herman explained. "They're a great team, well-coached, and been on a nice little run the past couple of years in the tournament." They have a terrific offensive attack, a good goalie, and a good team, and have been in many close games.
"We got to tighten up our defense a little bit more." "We have to be a little bit more creative with what we're going to do offensively and out a complete game tother and be ready."