River Dell Golden Hawks JV Football Team rallies late to defeat Parsippany Hills in the 2022 regular-season opener
Image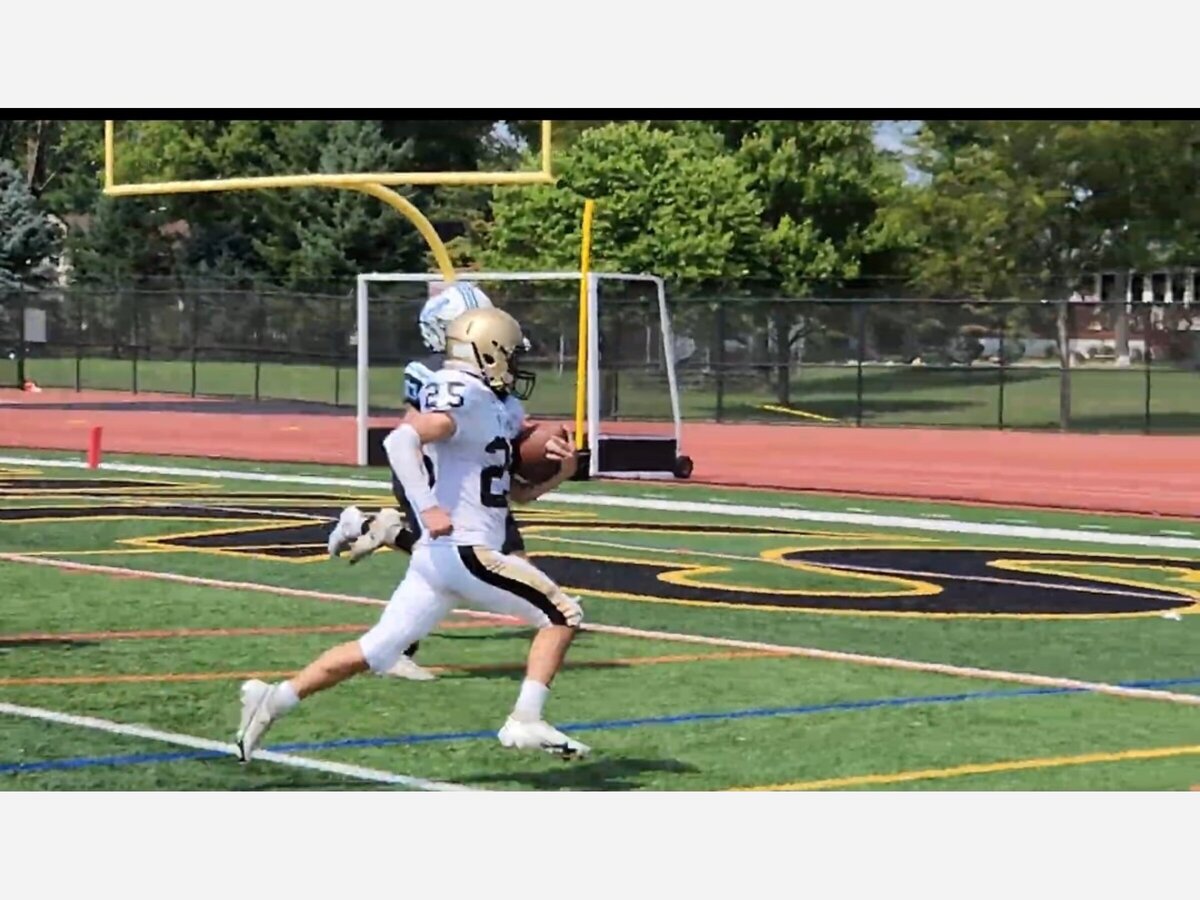 The River Dell Golden Hawks JV Football Team was looking forward to facing Parsippany Hills on Saturday, September 3rd, at 9 a.m., but the game shifted to a noon kickoff on Sunday, September 4th, at River Dell High School.
River Dell was coming off a successful 2021 season where the team posted a winning record.
Both teams had to contend with sweltering and humid conditions and forced plenty of water timeouts in the first half.
The Golden Hawks received the opening kickoff, but the first possession ended with a three and out. Parsippany Hills ended up starting at the River Dell 45-yard line. The Vikings converted a key fourth down that kept the drive alive.
On third down and seven at the 12-yard line, the Vikings quarterback fired a touchdown pass down the middle of the seam. Parsippany Hills chose to for the two-point conversion, but the Golden Hawks defense swarmed through and knocked the ball away from the Parsippany Hills quarterback.
In the second quarter, the River Dell offense managed to move the ball, but penalties prevented the Golden Hawks from putting any points up.
However, the defense and the special teams unit started to clamp down. Junior Nick Kelly delivered a massive hit on the Vikings punt returner. Freshman Will Vecsey stepped up with a tackle that dropped a Parsippany Hills wide receiver on an end-around run for a seven-yard loss.
River Dell JV Head Coach Sammy Halabi said in the first half, "The kids played their butts off; it was predominantly a very heavy freshman and sophomore team." "For some kids, their first game of the year was great for them." The biggest thing we were looking for was kids hustling, getting off the battle, and tackling.
"It's always frustrating and kids were as well and unfortunately you kind of expect those things being the first game of the year." "It's a teaching progression and you just got to learn to get better."
Even though the Golden Hawk's first drive of the second half stalled out, punter Jack Evancho unleashed a booming punt to the Parsippany Hills 25-yard line.
The Viking's offense was undeterred, backed up on their end of the field, and quickly pushed the ball into River Dell territory. On a third and eight at the 35-yard line, the Parsippany Hills quarterback attempted to launch a deep pass.
Golden Hawks defensive back Luke Tota covering the wide receiver, did not even look back at the pass thrown and, at the last split second, wrestled the ball away for the interception.
River Dell started at their 17-yard line as time winded down in the third quarter. Quarterback Zion Yion displayed elusiveness on back-to-back running plays to gain a first down.
Once the fourth quarter finished, Zion Yoon handed the ball off to running back Cain Lanza. Exploding through a line of players on the left side of the field, Lanza rumbled 43 yards down to the Viking's 20-yard line.
"Cain Lanza gets to play in two games a week and works hard in the weight room," Head Coach Sammy Halabi described. "He's a great spark for our team and wants the ball on every play."
On second down and 15 at the 25-yard line, Zion Yoon handed the ball off to Tyler Datz. Bobbing and weaving through a maze of players, Datz sprinted to the end zone for the touchdown.
Electing for the two-point conversion, Zion Yoon rolled out of the pocket and fired a pass to a wide-open Tyler Datz as the Golden Hawks led 8-6.
"Tyler(Datz) works his butt off every single day in practice and earns every rep and play," River Dell Head Coach Sammy Halabi explained. "Last year as a freshman he was predominantly a defensive player and now his taking his turn on offense and it's working out really well for him."
Head Coach Sammy Halabi on the play of Zion Yoon, "His progressions are moving a little faster because he's getting to play in two games a week and a great kid to coach and learning a lot."
After the ensuing River Dell kickoff landed out of the bounds, Parsippany Hills had the ball at their 35-yard line. Luke Tota stepped up again with a momentum-shifting play picking off a second pass in the game.
"Totanium, head coach Sammy Halabi said on the nickname for Luke Tota." "Luke is becoming that guy that young kids can lean on, and he's leaning on some older kids." He's coming into his own, becoming a tremendous help not just for these JV teams but especially for varsity practices and gives them a good look."
"Luke is a perfect example of why you want your kid to be a three-sport athlete." "Football and winter/spring track, and he's gotten better." It's what you want the progression of a high school sports athlete to be and just great to see."
River Dell's offense managed to run the clock out due to several offsides penalties against the Viking defense.
Zion Yoon on the 8-6 victory over Parsippany Hills, "We had a lot of people on the sideline ready to sub in for a starter which let both sides of the ball be constantly fresh and go at 100% every play." "That gave us an advantage since they didn't have many substitutions."
Tyler Datz said, "It was a great team win, a good experience for the freshman, and we all got better."
"We were only down by six at the end of the first half, so none of us panicked, and we just kept fixing our mistakes." "Good players like Luke Tota, Cain Lanza and Tyler Datz stepped up and made game-changing plays which helped us win the game." The coaches did a great job, as they always do, by making solid adjustments and calling good plays.
The Golden Hawk's next game is against Bergenfield on Monday, September 12th, at River Dell High School, with kickoff set for 4:15 p.m.
"Next week we want to score more, play faster and be more fundamentally sound," Head Coach Sammy Halabi stated. "It always everything coming back to the fundamentals and how well you can execute them."